Sleazy, Mindless Fun
Shattered is a sexy suspense thriller, acting mostly as a vehicle for fresh newcomer Lilly Krug strutting her stuff around more well-known performers John Malkovich, Frank Grillo and Cameron Monaghan (Gotham). A wealthy man on the verge of divorce falls for a young ingenue, leading him down a dangerous path.
While the story isn't particularly clever with its twists, Shattered stitches together an interesting pastiche of films like Basic Instinct, Rear Window, and Misery for an oddly captivating thrill ride. Shattered even borrows a little from Ex Machina. A more refined screenplay could have hit much harder, but there's no denying Shattered is a wild ride delivering edge-of-your-seat tension.
Shattered is an entertaining survival thriller marrying movies like Fatal Attraction and Misery. The execution isn't always great but the mindless thrills are trashy fun
The relatively young Chris (Cameron Monaghan) has made a fortune developing a home security app. The wealthy tech millionaire has recently separated from his wife with whom he has a daughter. Chris encounters the beautiful Sky (Lilly Krug), a mysterious woman whose story doesn't quite add up. She's a former model, sharing an apartment with a sketchy roommate. If something is too good to be true, something is probably amiss.
On the verge of an impending divorce, Chris soon falls for the alluring Sky in a madly passionate sexual relationship. When Chris becomes injured and incapacitated, Sky quickly moves in taking care of him as his nurse. Isolated and physically dependent on Sky, their relationship takes a frightening and sinister turn. Shattered spirals out into a messy but engaging fight for survival. There are twists and turns aplenty, though veteran filmgoers shouldn't be too shocked by them.
The R-rated thriller isn't reluctant or timid about its edgier content. Filled with steamy sex and brutal violence, Shattered takes pleasure indulging itself. A hint of pure exploitation spices up the trashy drama and no-holds-barred action. This is definitely for genre fans bored with the bog-standard thriller formula. I only wish the screenplay had maintained a more even tone, abruptly jumping from Lifetime fodder to over-the-top violence.
Many will give the movie a chance based on John Malkovich's presence alone. Playing a creepy motel manager, it's not a major role for the former star and popular character actor. Give Shattered a shot if you enjoy the cast and thrillers.
Shattered is an entertaining survival thriller marrying movies like Fatal Attraction and Misery. The execution isn't always great but the mindless thrills are trashy fun. Overlooking a few plot holes and exuberant direction, you can do much worse.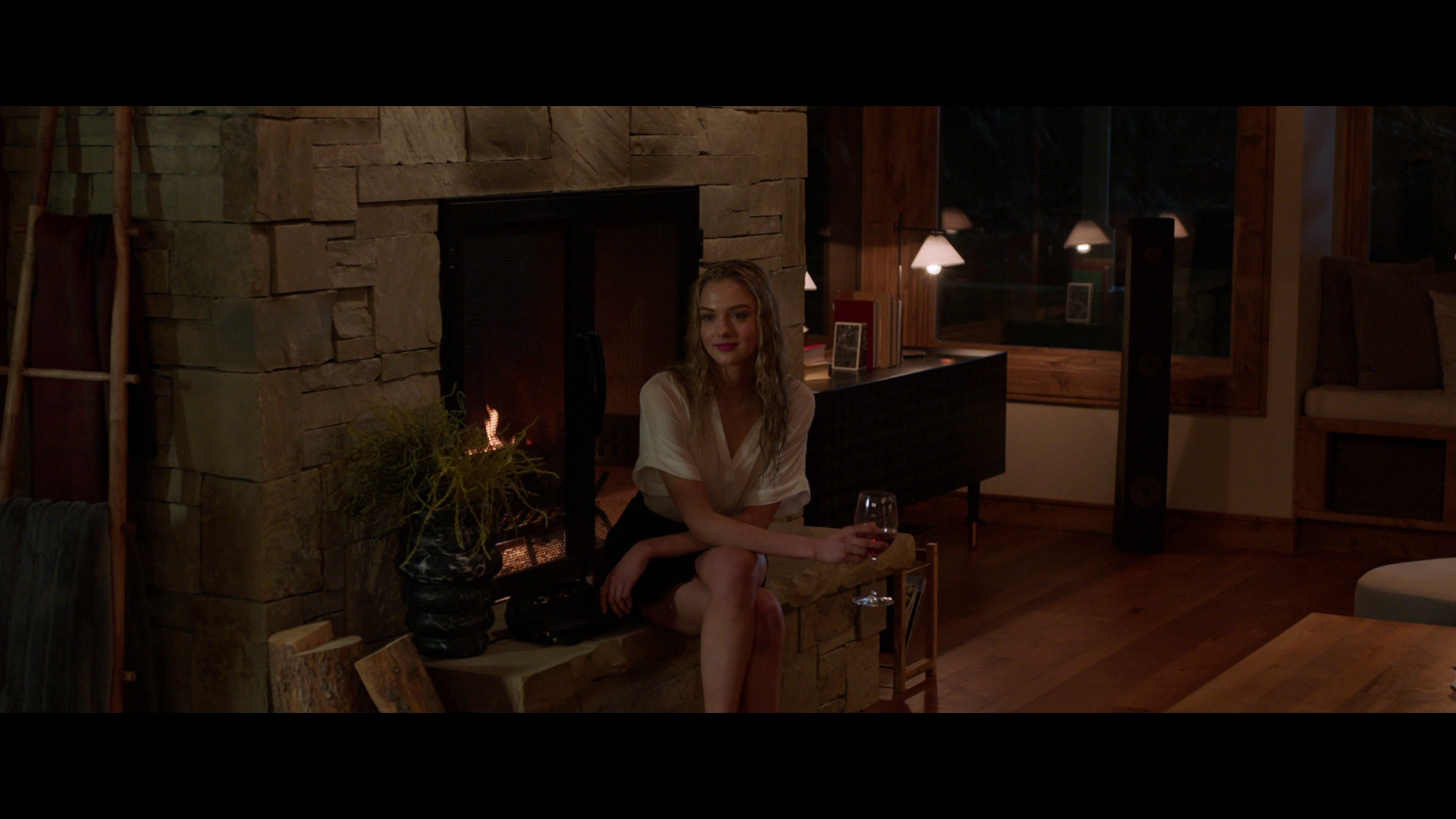 Video
Lionsgate issues Shattered on BD in a strong 2.39:1 presentation. Outside of minor issues in the shadow delineation, Shattered features handsome cinematography reflecting modern digital filmmaking. Razor-sharp definition and excellent clarity are taken from an unfiltered digital intermediate.
Exuding superior depth and dimension, the flawless video offers an abundance of fine detail. Bright and lively exteriors filmed in Montana match the rich contrast and clarity of the generally superb interiors.
The color grading is tasteful and restrained. Flesh-tones are a little uneven between scenes, possibly a result of the rushed production. The main feature runs 91 minutes, encoded in transparent AVC on a BD-25. Compression artifacts aren't a problem.
Audio
The 5.1 DTS-HD MA audio highlights a soundtrack which cheekily employs famous classical music excerpts for heightened drama and suspense. Dialogue reproduction is excellent and cleanly intelligible. Bass is tight but rarely common in Shattered.
A decent surround mix utilizes the rear channels for discrete action cues as the drama heats up. Firmly average in scope and quality, the sound design fits the direct-to-video thriller's budget.
Optional English SDH, Spanish and French subtitles play in a white font outside the scope presentation.
Extras
Shattered has a glossy slipcover available. A digital copy is included which redeems in HDX quality on VUDU.
Mischief in the Mountains: The Story of Shattered Featurette (09:57 in HD) – Director Luis Prieto and prominent cast members like John Malkovich and Lilly Krug discuss the thriller in a hammy making-of bonus feature. It's interesting viewing mostly for Malkovich's comments, picking the project because of his prior working relationship with the producers.
Shattered Trailer (02:36 in HD)
Full disclosure: This Blu-ray was provided to us for review. This has not affected the editorial process. For information on how we handle review material, please visit our about us page to learn more.
Shattered
Movie
Trashy, derivative suspense thriller works thanks to a cast working overtime and newcomer Lilly Krug.
The following six screen shots serve as samples for our subscription-exclusive set of 49 full resolution, uncompressed HD screen shots grabbed directly from the Blu-ray: