Peace and Prosperity Through Trust
Luke Skywalker went into hiding post-Return of the Jedi. It's clear why during The Last Jedi. In time, Luke (Mark Hamill) makes the same mistakes as his fore-bearers. Jedi failed to stop Palpatine's ascent, and Luke failed to control Kylo Ren (Adam Driver). The cycle begins anew, and Luke is at fault.
The Last Jedi is a story of trust – trust in self, trust in others, and trust that good people will make the right decisions. That's everywhere in The Last Jedi. Rey (Daisy Ridley) trusts Kylo Ren in fighting against Supreme Leader Snoke. Finn (John Boyega) and Rose (Kelly Marie Tran) trust a thief to disable a critical shield. Pilot Poe Dameron (Oscaar Isaac) doesn't trust his orders, and fails. Princess Leia (Carrie Fisher) trusts Vice Admiral Holdo's (Laura Dern) strategy in saving the Resistance.
It's a nuanced Star Wars movie, if one better aligned with a side story akin to Rogue One. Where that film told of how the Death Star plans were stolen, The Last Jedi explains how the Resistance escaped the First Order after Force Awakens. Usually in Star Wars, such a story becomes the first paragraph in the opening text crawl. Not here. Rather than an entire galaxy at war, it's a minuscule area in empty space.
Last Jedi is a nuanced Star Wars movie, if one better aligned with a side story akin to Rogue One
There's purpose to the intimacy. After the fight in Force Awakens, the Resistance is reduced to nothing – they no longer have the numbers to take down a planet. Hence, the desperation to find Luke who will "wave his laser sword," as he says, and save the galaxy. But, he doesn't have the trust, not of himself or those who trained alongside him. His isolation, unlike the indifference shown by Han Solo in Force Awakens, is for the greater good (so he thinks). Yoda rejects that idea: "The greatest teacher, failure is," nicely bridging The Last Jedi's overall arc, and moralizing the Resistance's loss. They learn, they grow. They trust.
Although interwoven with George Lucas' original '70s-era concepts, Last Jedi bends lore to the modern perspective. A younger generation takes their fight to war profiteers, and come to a realization that war is an economy in which all sides participate. The Last Jedi's conflict is one started decades prior, of which the young now fight so others increase their wealth. General Hux (Domhnall Gleeson) accuses the Resistance of war crimes, revealing that laws developed by the ruling class are often designed to keep them there, and others down. And, although things look bleak and hopeless, trust in right people; then things will be okay.
Like Empire Strikes Back, The Last Jedi is a downer as the middle film in a trilogy. It's about loss and sadness and realizing some truths – like those of the Jedi order – do not represent real history. Smartly conceived thematically, if ruinously upsetting the lore with one film to go.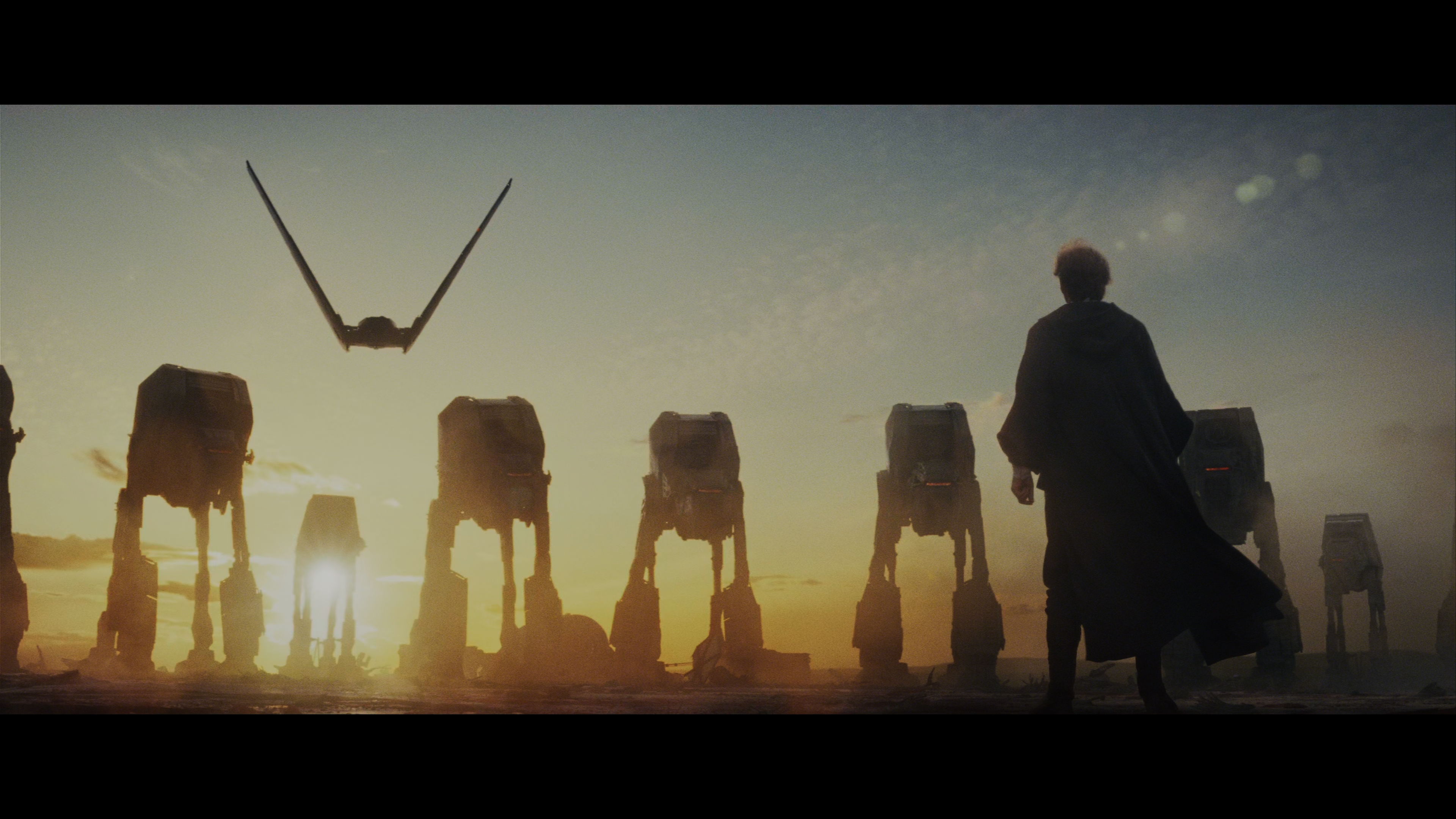 Video (4K UHD)
Update: Disney's recent re-release in March 2020, discards Dolby Vision, replacing it with HDR/HDR10+. The review is unchanged as the transfers show no visible difference. The original disc review follows:
Shot on a variety of formats with a 4K finish, the results certainly grace Last Jedi with stellar definition. Close-ups resolve high-grade facial definition with aplomb. Costumes and worn ship interiors produce the minutiae put into their design. The real breathtaking material concerns scenery fly-bys and wide shots, showing every wave's ripple and every rock formation's crevice. Even CG sets, rendered at 2K, look splendid.
A mild grain remains consistent, hiding the differences between digital and film cleanly. Disney's encode shows no struggle in maintaining clarity, short of hardly visible chrome noise. Behind that is an often dour film, tonally pleasing in terms of color though. Greenery shines and the dazzling reds in Snoke's throne room both stand out and add a challenge for the encode. No worry – not a bit of artifacting shows.
As the first Star Wars on this format, Last Jedi does (somewhat) serve as a preview. If that's the case, bring on more HDR lightsabers. The crackling beams show off grand brightness, adding bite and power to the duels. Likewise, lasers and explosions pop from the screen.
What's missing though? Black levels. Although true black is utilized, it's rarely at full impact. There's a loss of density, especially scenes with Mark Hamill, considering his possible future in the shadows. Those shadows waver toward gray or even blue, dampening Last Jedi's visual prowess. The same goes for space. After the opening text crawl and into those images of First Order ships hovering in space, the lack of true black stand outs in a negative way.
Video (Blu-ray)
Bright and chipper, the Blu-ray edition uses the 4K master well with a strong down conversion avoiding any pitfalls. Even on the fine lines of Star Destroyers, Last Jedi doesn't fall to aliasing or shimmering. That's great work.
Great color highlights the Ireland location shoot, with expansive greenery, gorgeous oceans, and burning sunsets. The same goes for the Blu-ray as with the UHD: Black levels fails to play nice, falling off into grays and leaving Last Jedi without the full range it seems to aim for.
Audio
The two disc formats create a duel between audio codecs. The Blu-ray sticks with last generation DTS-HD (in 7.1) while the UHD offers Dolby Atmos. The trend continues of unnecessarily handicapping the Blu-ray. It's absurd.
Regardless, both mixes offer powerful range, rocking the low-end with intense explosions from the outset. That doesn't stop. It's a powerful, thick audio track, hitting bass cues and giving any home theater a suitable, well-sized shake. Any action scene holds up as a premiere example of high-dollar studio mixing, including the stampede through the casino. Note however the Atmos mix is the weaker of the two. Range isn't the same, per Disney's disappointing norm.
Positional use spreads wide (and frequently), keeping ships moving between channels and overhead. Tie Fighters sweep and world building plays a role too. Inside command centers, computers beep and voices pan, selling the idea of Last Jedi's available space. Subtly isn't lost either. During the final battle, under the bombastic laser fire and ship engines firing full, you can still hear the turned up salt being thrown into the rears or heights. Awesome work.
Extras
Bonus features seemed dead on home media to big studios. If they were included at all on mainstream releases in recent years, they steered toward the generic. Last Jedi destroys those expectations. Beginning with director Rian Johnson's commentary (only available on the Blu-ray sadly), an additional bonus disc comes with Director and the Jedi. It's a spectacular look into the production and easily the best feature length, making-of documentary of the past few years.
From there, quality continues. Johnson delves into what the Force is to him in Balance of the Force. It's brief comparatively (10 minutes), but has depth. A half-hour of scene breakdowns eschew the typical formula for another documentary style look at how key scenes came together. Untouched footage of Andy Serkis acting out Snoke is a neat behind-the-scenes look at his performance.
Even the list of deleted scenes excel, with an optional commentary with Johnson describing the cuts. These run 23-minutes. Everything on this disc is worth watching. Twice, in some cases.

The Last Jedi
Video (4K UHD)

Video (Blu-ray)

Audio

Extras
Movie
There's a universe of potential stories and characters in The Last Jedi, but this latest Star Wars narrows its view to a small pocket of space with no room to maneuver.
The 15 unaltered images below represent the Blu-ray. For an additional 58 The Last Jedi uncompressed screenshots, early access to all screens (plus the 10,000+ already in our library), exclusive 4K UHD reviews, and more, support us on Patreon.
The following six screen shots serve as samples for our Patreon-exclusive set of 75 full 4K screen shots grabbed directly from the UHD:
---