Breaking Through the Brits
Mark Thackery (Sidney Poitier) stands amid his high school class, a room filled with Britain's underprivileged kids, and opens a discussion. Any topic, he says. Rather than math, reading, and history, Thackery teaches life lessons about marriage, cooking, rebellion. That's how he gets their attention.
To Sir, with Love doesn't deviate from this small genre's formula in the basics, where the headstrong teacher steps into a rowdy school and changes lives. The difference is Poitier. He commands the screen – he always did, no matter the role. In To Sir, with Love, he's a dominating figure. Speaking about making a salad, he has the class enraptured. The audience is too.
To Sir, with Love advocates for rebuilding the system
There's a satisfying reality to this movie, speaking as much on education's difficulties as the process. Thackery's realization that he's teaching men and women – not kids – changes his entire perspective. Adulthood looming, he needs to prepare them for that, not random calculations or immaterial tests. To Sir, with Love advocates for rebuilding the system that allowed these students to fall behind. It's about reaching them on their level, not trying to push poetry onto hormonal teens.
Released in 1967, the script falls to understandable cultural distance. Imagine, in 2022, a student and teacher having a boxing match for gym class. Or, a teacher asking a woman to help his female students use makeup so they'd be "beautiful." A lengthy field trip montage told entirely with stills is a stylistic mess, also of its day.
What counts is the core lesson, Poitier fighting to make education matter not to principals or bureaucrats, but the coming-of-age men and women themselves. Garnering support rather than derision, that's where To Sir, with Love breaks formula and keeps focus where it belongs, same as it should be in real life.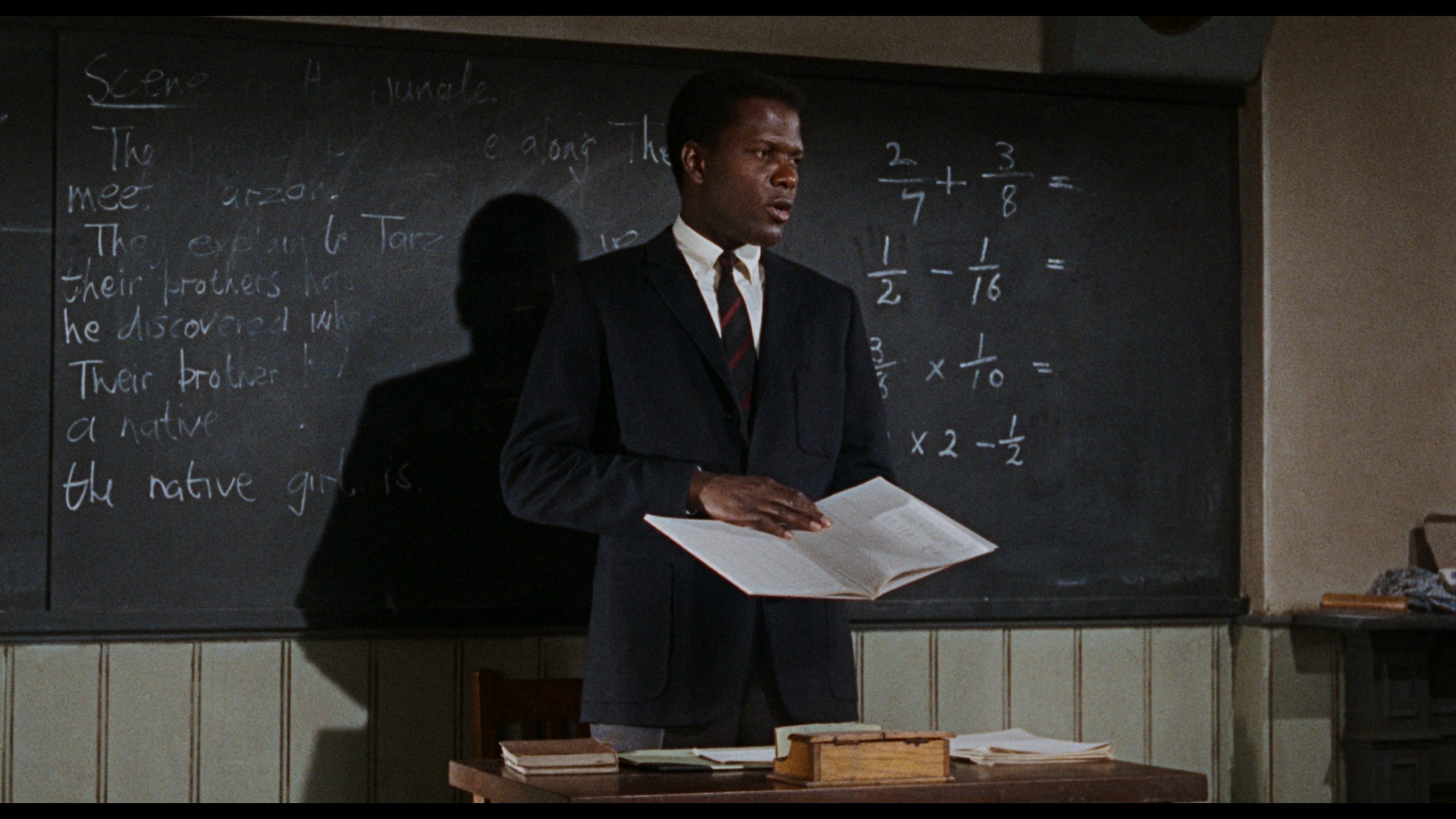 Video
Utilizing a coarser-than-normal film stock, grain poses a threat to this encode. Sony's compression handles itself decently enough, sustaining the material's natural roughness aside from minor chroma noise. It's flawless as a source; dirt and debris disappear.
Leaning toward the softer side, fidelity fights for attention behind the grain. Sometimes it escapes, like close-ups with their facial definition, or wide shots of the town/yards. Generally though, To Sir, with Love isn't bursting with definition, murkier mid-range shots a hair above the Blu-ray. Limitations stem from the 35mm print, not the mastering.
Better is color, rich, dense, and saturated aplenty. Flesh tones bring zest, and primaries glow with intensity. Excellent contrast utilizes Dolby Vision to its fullest, intense enough to be noticeable but not betray the original intent. Crisp black levels keep shadows thick, respectful to detail.
Audio
Bringing a fresh Dolby Atmos remaster long with DTS-HD 5.1 and mono, the remix pushes aggressively to make itself known. When Poitier first walks in on the dancing students, music swells into the rears and heights, but it's overdone, overwhelming the soundstage. The same goes for the score, which sounds oddly exaggerated, as if from a different movie all together. Thankfully, the original mono suffers no such issues.
Inside the classroom, To Sir, with Love stays primarily centered in Atmos. There's limited outreach to the other speakers, respecting the mono. Any noticeable age is as expected.
Extras
On the UHD itself, a 16-minute tribute to Sidney Poitier and the To Sir, with Love TV pilot. The Blu-ray contains everything else, and it's a lot. Beginning with two commentaries, the first includes co-star Judy Geeson alongside historians Julie Kirgo and Nick Redman. The second brings in author E.B. Braithwaite with teacher Salome Thomas-El. To Sir, with Love's TV sequel comes next, featurettes galore following, totaling out to around two hours all together. These include cast/crew interviews, music discussions, and more. It's spectacular work.
To Sir, with Love
Movie
Sidney Poitier commands the screen, and raises To Sir, with Love's credibility in spite of dated cultural attitudes.
The following six screen shots serve as samples for our subscription-exclusive set of 38 full resolution uncompressed 4K screen shots grabbed directly from the UHD:
---