King Hu's Early Wuxia Masterwork
Lee Khan, a powerful general under the Mongolian Emperor in the Yuan dynasty era, acquires the battle map of the Chinese rebel Chu Yuan-chang's army in this engaging wuxia masterpiece. Rebel spies, aided by an undercover gang of female resistance fighters, strive to corner him in an inn to prevent the map's use. The trailblazing Hong Kong film places those women in the thick of its martial arts action.
Directed by revered filmmaker King Hu (A Touch of Zen, Dragon Inn), The Fate of Lee Khan is classic wuxia filmmaking with action, drama and taut suspense from 1973. Combining intense action with slow-boiling drama, it's classic Hong Kong storytelling.
Featuring action sequences choreographed by Sammo Hung and featuring Hong Kong cinema stalwarts Li Li-hua and the legendary Angela "Lady Kung Fu" Mao, the movie is a firm part of wuxia's historical canon. The building plot ends with a fiercely choreographed battle that caps off a number of stunning climactic set pieces.
…more action-oriented than his best films while still delivering dynamic drama
The Fate of Lee Khan has deliberate storytelling and the bulk of its story takes place in one inn. The inn employs four new women that happen to be underground fighters aiding the rebel army. Constructed around building intrigue and the dangling suspense of spies versus the Mongolian powers in place, a healthy mix of humor and crisp action make for delightful Hong Kong cinema.
The follow-up to King Hu's acclaimed A Touch of Zen, The Fate of Lee Khan has its own rewarding wuxia charms. A recognizable cast in familiar roles, finely-crafted storytelling and dynamic kung fu setpieces make for another worthy film from King Hu. It's more action-oriented than his best films while still delivering crisp drama and compelling characters.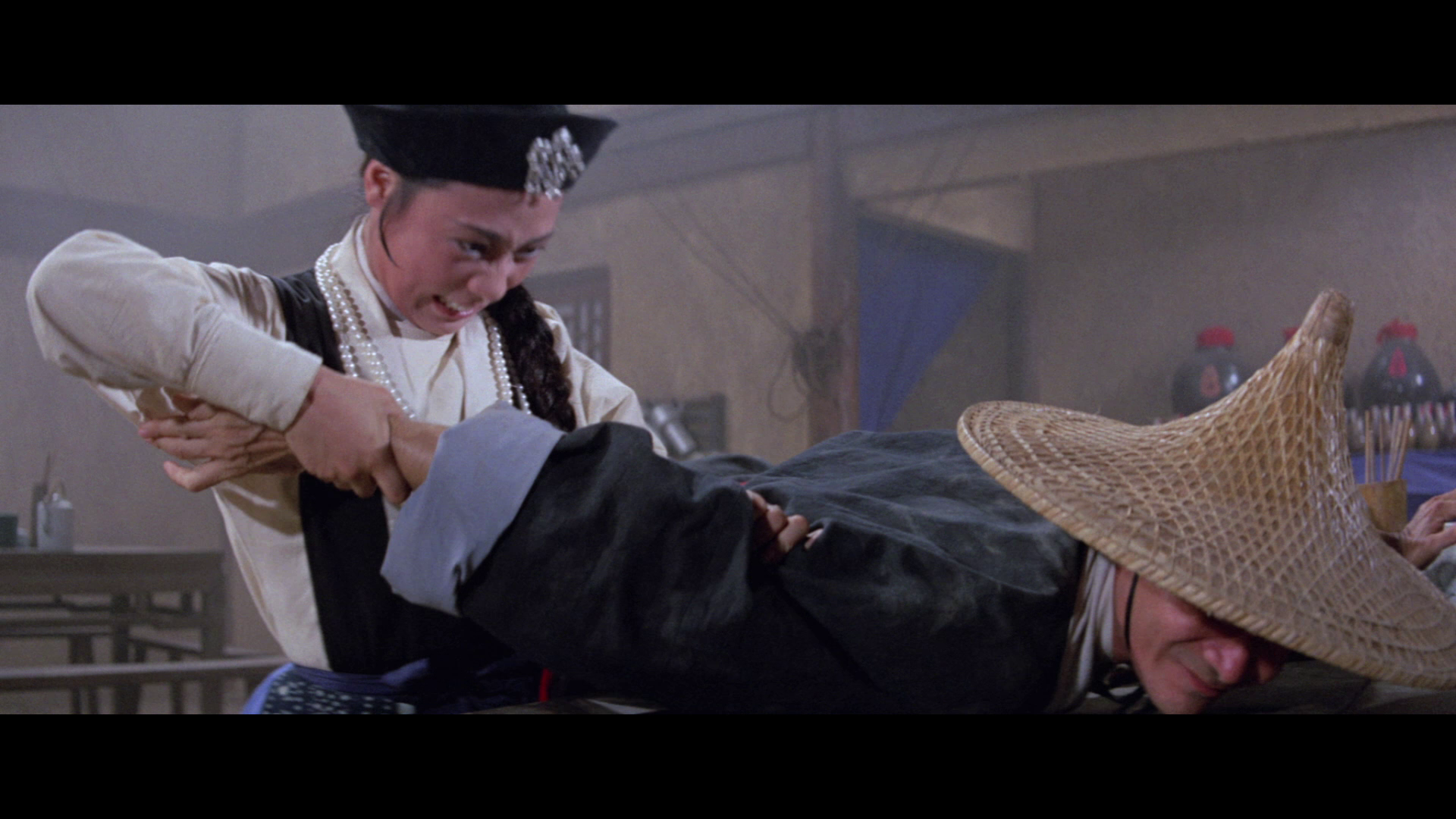 Video
Film Movement gives The Fate of Lee Khan an excellent showing on Blu-ray with a new 2K film restoration licensed directly from Fortune Star. Presented at its original 2.35:1 theatrical aspect ratio in highly refined 1080P resolution, the original elements appear in superb condition with meticulous grain reproduction. The high-bitrate AVC encode transparently handles the 1973 movie's occasional rough patches with ease. The main feature runs an uncut 105 minutes on a BD-50.
This is a strong unfiltered film restoration from stable elements, pulling excellent texture and razor-sharp detail from the occasionally soft cinematography. Some scenes have superior depth and focal length, especially exteriors. The steady contrast and serviceable black levels are rather nice for an older Hong Kong movie. Colors are generally over-saturated, especially reds, despite a few scenes that are washed out. Flesh-tones are warm and inviting.
Audio
The remixed Mandarin 5.1 DTS-HD MA soundtrack delivers crisp sound and fine dialogue reproduction. One thing lacking here is that the original theatrical audio is absent. This new surround remix clearly includes a few new sound design elements that weren't present in 1973. The sound effects for the martial arts fights have been "enhanced" and revised, which will be noticeable to long-time fans. The traditional score by composer Joseph Koo (The Way of The Dragon) is heard in perfect fidelity with strong timbre and dynamics.
Also included is a solid English dub in 5.1 DTS-HD MA with excellent voice acting. It's a straightforward translation that doesn't take many liberties with the movie's original intent and doesn't receive an over-the-top delivery common to many Hong Kong flicks from the 1970s.
Companion 5.1 Dolby Digital soundtracks in Mandarin and English are included. They have less pleasing sound than their lossless rivals. Optional English subtitles for the Mandarin audio remain inside the scope framing at all times.
Extras
Film Movement has always closely emulated Criterion when it comes to Blu-ray releases. This edition for The Fate of Lee Khan fits right alongside Criterion's A Touch of Zen Blu-ray on your shelf in perfect harmony.
The nicely-appointed 12-page booklet comes with colorful pictures from the film and a new essay on director King Hu's film by Chinese movie expert Stephen Teo. A separate flyer advertising other Film Movement releases is also included. The set arrives in Film Movement's traditional clear keepcase, familiar to Criterion fans.
Discussion: "The Fate of King Hu" (15:54 in HD) – David Wilentz and NYAFF festival director Samuel Jamier hold a conversation about the movie and its filmmaking. A brief snippet is played at the end of one of the actresses giving a stage interview before the crowd.
The Fate of Lee Khan Trailer (01:39 in HD)
The Fate of Lee Khan Original Trailer (03:34 in HD)
Heroes Shed No Tears Trailer (04:08 in HD)
The Great Silence Trailer (01:44 in HD)
Violent Cop Trailer (01:21 in HD)
Film Movement Classics Promo (01:25 in HD)
Full disclosure: This Blu-ray was provided to us for review. This has not affected the editorial process. For information on how we handle review material, please visit our about us page to learn more.
The Fate of Lee Khan
Movie
King Hu's early wuxia masterpiece deftly combines suspense, drama and strong martial arts sequences.
The 15 unaltered images below represent the Blu-ray. For an additional 19 Fate of Lee Khan screenshots, early access to all screens (plus the 100,000+ already in our library), 75+ exclusive 4K UHD reviews, and more, support us on Patreon.