Cop Stuff
"Despite a tonal shift away from antics, Crime Story's remarkable action is no less a signature. Multiple car chases are thrilling, including a wild downhill stunt that should have killed someone, yet is pulled off with the grace only Chan is capable of. A teetering rumble on top of bamboo stage rafters is unforgettable, and the finale loads itself with shattering neon lights, collapsing structures, and explosions that occur immediately behind the actors. Planned flames or not, the heat is enough to prove how close the stuntwork is to a potentially charred reality. It is all on film, selling the chaos and a pseudo-reality that only comes from Hong Kong action."
Read our previous Crime Story Blu-ray review for more
Video
After the dismal Echo Bridge release in 2013, Shout Factory makes things right. A beautiful, rich, clear scan reveals the improvements immediately. Textural qualities appear incredible, and that's with or without the comparison to the previous disc. This flawless film stock and its natural, light grain appears entirely modern. Zero compression appears.
Hardened color palettes often favor warmth or solid blues, but that doesn't mean the other primaries fall off. They excel too in the right circumstances. Crime Story doesn't look digitally graded, but natural to the film stock, and absolutely pure.
A little crush looks inherent to the cinematography. Given the limited detail lost and the visible depth that results from those intense shadows, that becomes a fair trade-off. The spotless print shows no damage or fading, leaving the contrast pristine too.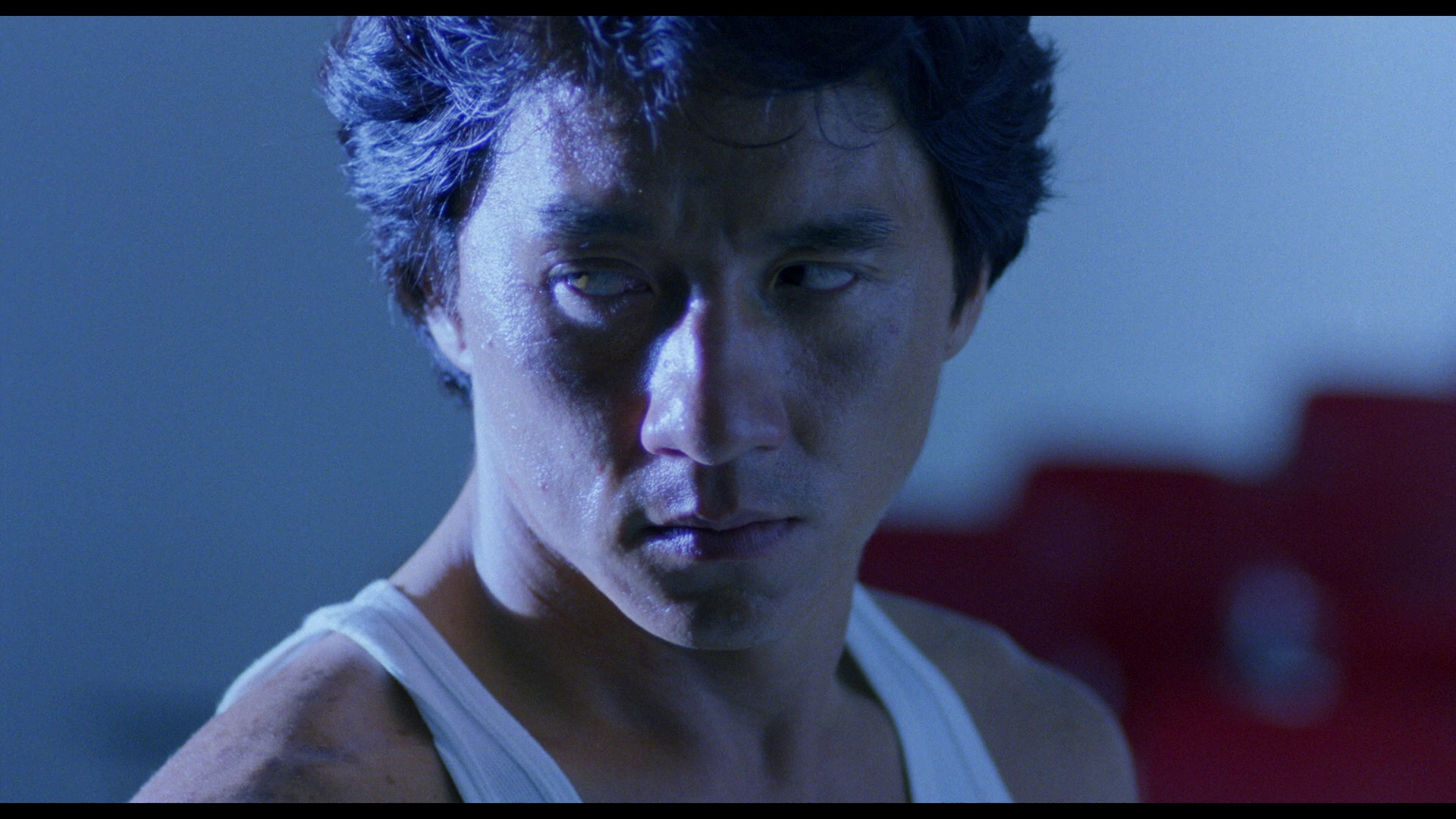 Audio
A bevy of options include Cantonese mono and 5.1, plus the English dub, also mono or 5.1. Note the dub tracks are Dolby Digital. Cantonese mono is the default, so sticking with that, it's a problematic mix. While the puffy treble causes general concerns, typical of Hong Kong action movies from this era, it's the blown out bass causing issues. Something as simple as Chan setting down his keys pushes through the subwoofer. Dialog even causes a small burst of bass, whether the speaker has a soft voice or not. With the score and other elements, the room lights up. It's far, far too much, even bizarre for a mono track.
Extras
Critic James Mudge provides a commentary, while a new 10-minute featurette focuses on the tonal shift in Chan's career with critic Andrew Haskins. Interviews include writer Teddy Chan and director Kirk Wong. Deleted scenes from a Singapore version come next, and a trailer follows as the closer.
Full disclosure: This Blu-ray was provided to us for review. This has not affected the editorial process. For information on how we handle review material, please visit our about us page to learn more.
Crime Story (1993)
Movie
Despite a tonal shift, Crime Story still offers fantastic, even dangerous Hong Kong action scenes.
The following six screen shots serve as samples for our subscription-exclusive set of 38 full resolution, uncompressed HD screen shots grabbed directly from the Blu-ray:
---