The Mean Machine
The Longest Yard begins with an abusive anti-hero pushing his wife then dangerously driving drunk through the city. Still not done, he punches some cops. By the end, he's the one worth rooting for.
Taking the core of Cool Hand Luke and turning Steve McQueen's rebellion into a more literal form, Longest Yard must overcome what Cool Hand Luke did not – Longest Yard has to turn rapists, murderers, and other criminal elements into a team worth rooting for.
The Longest Yard doesn't tweak the prison genre formula
To do so, Longest Yard finds villains worse than those imprisoned: the cliché cruel prison guards and their warden Hazen (Eddie Albert). The Longest Yard doesn't tweak the prison genre formula, but is willing to address racial disparities alongside the corruption and power trips from Hazen. That's Longest Yard's easiest method to establishing heroes – the guards show their racism, the prisoners bring anyone into the group.
Burt Reynolds must counter that, this after his abusive introduction that lingers in the backdrop. He's portrayed as a man caught in uncontrolled greed, making decisions based on his own sense of invulnerability. The script then knocks Paul Crewe (Reynolds) down, emotionally and physically, even if he rarely loses his sense of calm rebellion (again, taking from Cool Hand Luke). Even if the end, it's difficult to look beyond Crewe's actions, but there is a sense he's matured and understands his mistake. Crewe's arc is predictable and routine, but in circumstances that create a challenge for viewers, adding depth to otherwise simple material.
Bit parts add to the story, from Richard Keil having a blast pummeling people during the inmates-versus-guards football game in Longest Yard's funniest moment, to other individual tales of regret, and the men looking for any glory behind prison gates. Eddie Albert is spectacular too, spewing disgust and rage toward the camera in a flawlessly villainous way. It's a departure from his time as the affable Oliver on Green Acres, which ended its run a few years prior to Longest Yard. Against Reynolds, their purely verbal duel holds thematic weight, and can carry this oddball football flick through to a rudimentary conclusion.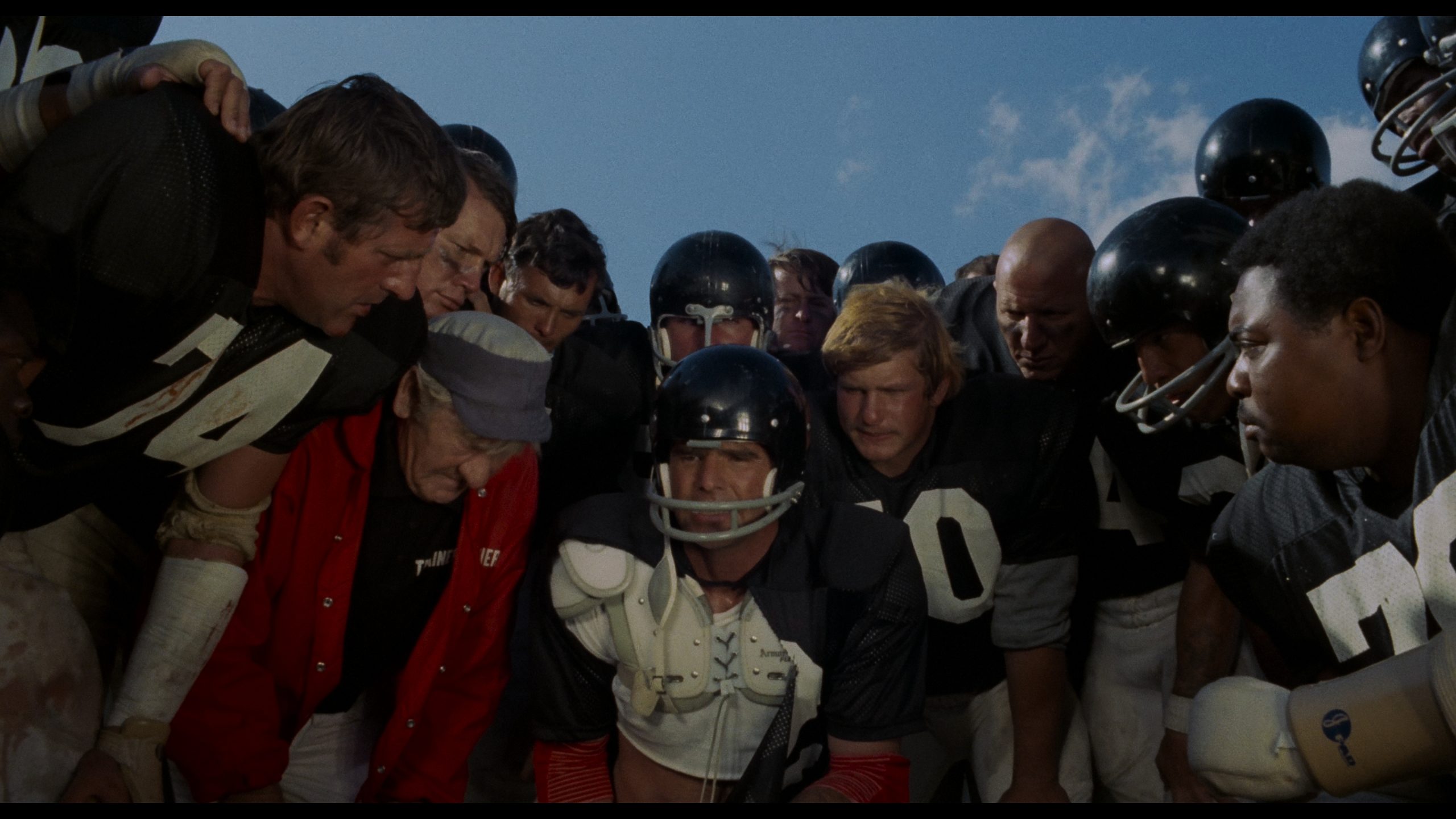 Video
Crisp, sharp, and pristine from a fresh master, Kino introduces Longest Yard to UHD in gorgeous fashion. Immediately lighting up with saturated color, primaries hold a zest they lacked in previous home video masters. Thank Dolby Vision/HDR for that, along with the exceptional brightness too. Black levels recede to their purest depths, sustained and pure.
Hearty grain stays in check, handled by the compression naturally. Longest Yard looks like pure film, and the result is detail galore. Sharpness rarely wavers from its high peak unless cinematography turns softer. Organic texture fills the frame, benefiting from the added resolution on this format. Certain mid-range shots suggest the slightest filtering (Eddie Albert's first appearance in particular), but to minimal detriment.
Audio
In stereo, the channel split is non-existent, but DTS-HD does well enough to handle this vintage track. Puffy dialog and screechy action scenes (especially the opening car chase) struggle to resolve the audio. High treble wanes in every instance, if no worse than most films of Longest Yard's age.
Extras
Co-authors Alain Silver and James Ursini, who penned a book on director Robert Aldrich's filmography, provide a commentary. An older commentary includes Burt Reynolds and writer/producer Albert S. Ruddy. Two generic featurettes and a trailer remain (the latter bonuses on the Blu-ray only).
The Longest Yard
Movie
Dealing in race, rebellion, and crude prison conditions, The Longest Yard is better than it has any right to be.
The following six screen shots serve as samples for our subscription-exclusive set of 46 full resolution uncompressed 4K screen shots grabbed directly from the UHD:
---