Feelin' Like a Machine
Dynamically exiting the Civil Rights era, Shaft's lock on black culture defined a crucial exploitation genre, and unlike its imitators, developed a character both hardened and genuine.
Shaft's (Richard Roundtree) apartment sees limited screen time during the movie, but the homestead bases the aggressive detective in an inviting, educated space. Behind his couch sit shelves stuffed with books. On his walls, high-end artwork. There's a balance here, selling Shaft as impossibly gruff and cool on the streets, yet intellectual. Shaft isn't ashamed of success.
Shaft is as much a celebration as it is a plea
Shaft is as much a celebration as it is a plea. Produced at a decidedly white-led studio, Shaft doesn't appear restricted or censored, but approaches the material for mass appeal, defining the zeitgeist. Roundtree's ability to land quotable lines with force and slight camp (but never losing the intensity) brought this New York private detective his culturally significant stamp.
Much as he wields guns for their power, Shaft exudes an empathy. He willingly gives a cold, hungry child cash to buy food. He talks down angry black men who assume he's the enemy rather than kill them. Disgusted by the racism around him, Shaft chooses to do better.
Of course, Isaac Hayes' immaculate music helps, including the catchy, brilliant theme that hasn't lost any relevance over 50 years. Equally important is the smooth "Soulsville," a calming and acknowledging masterpiece bemoaning the racial inequities seen in Shaft's backdrop. This puts pressure on Shaft himself to bridge a community, not through raw, uncontrolled violence, but firm-handed verbal defiance. So he does.
There's no background on Shaft. It's never explored why he chose to become a detective or how his upbringing influenced his life. What's obvious is he endured through the dynamic shifts a decade prior, using his frustrations to better himself and ease the challenges that press on the black neighborhoods he patrols. Shaft takes money – egregious money – from a local black kingpin, but like a contemporary Robin Hood, uses it to help, not hoard. The hard times for Shaft turned him against the system, a black outsider in a white world, yet with pride.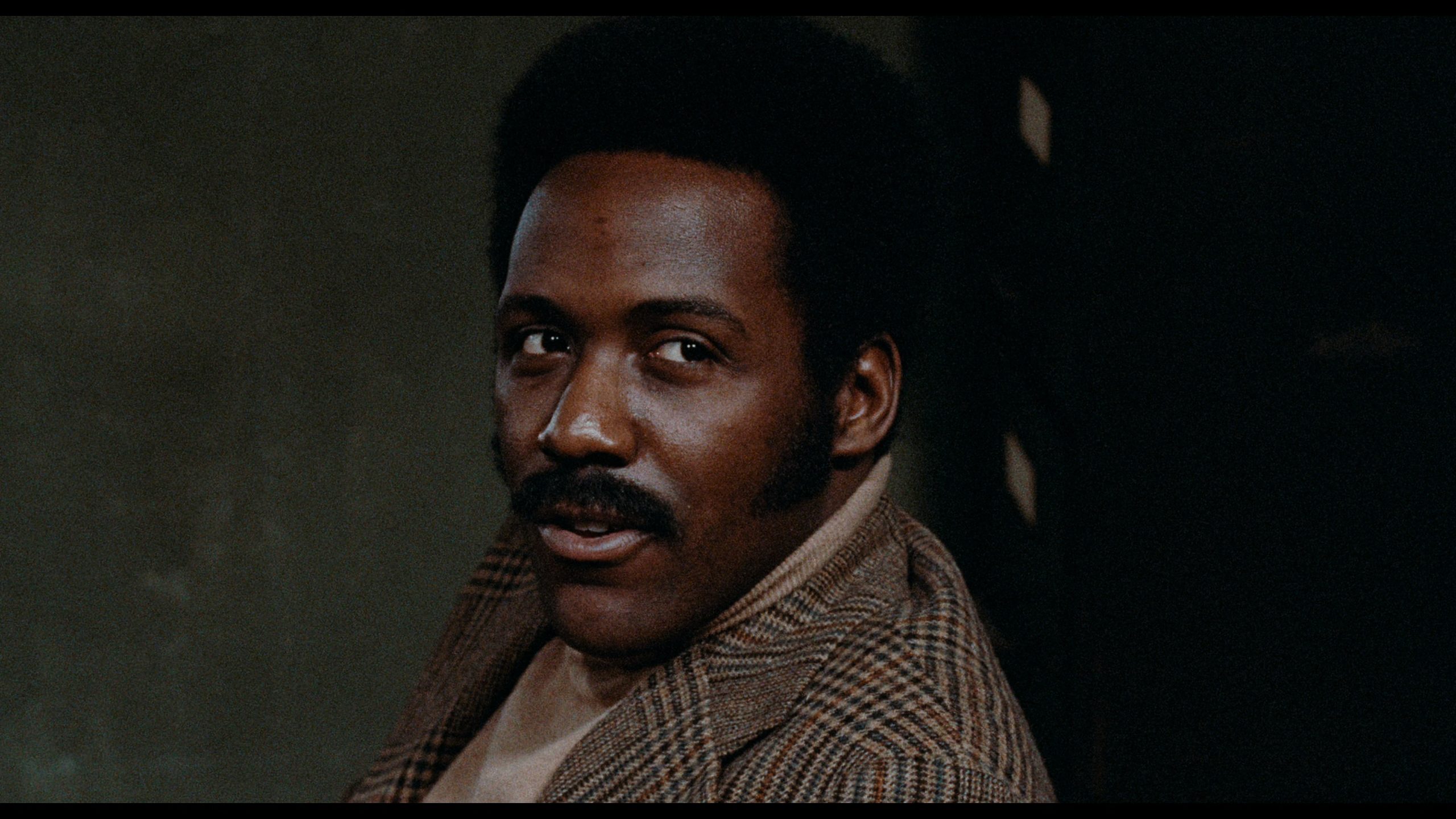 Video
Criterion's impeccable presentation sports all the hallmarks of a top-end 4K master. Grain flawlessly resolves, wholly natural. It's a pristine print without a speck or scratch to notice.
Detail falls into place, notably the ridiculously strong facial definition. Close-ups draw out fidelity left unseen by previous Shaft discs. Environments and exteriors resolve the tiniest element, like price signs on storefront windows; every one is legible. Texture shows everywhere.
The genuine difference maker is the image density. That's all credited to the HDR/Dolby Vision, which boosts color and depth. Primaries around New York glow from shopfronts and flesh tones land precisely on point. Shaft looks totally dynamic. Generous shadows fill the frame (crush inherent to the cinematography) then nicely helped by a satisfying, natural contrast. Criterion doesn't overload the highlights, retaining the film stock's natural quality.
Audio
Differences between the mono and stereo tracks lie entirely with the iconic soundtrack. Stereo gives Isaac Hayes' memorable theme song space, if no additional fidelity. Shaft's dialog sounds coarse, scratchy, and worn. Age and source materials take their toll. At least there's a little depth in the music given how flat the rest is.
Extras
Two Blu-rays contain the bonuses, alongside the bonus sequel, Shaft's Big Score. The first opens with a new half-hour retrospective with fresh and archival interviews. A 10-minute location featurette was shot during the movie's filming with plentiful raw set footage. Next is a 2010 interview with Richard Roundtree, lasting 12-minutes. Isaac Hayes features in a French-produced piece from back in 1974, and this lasts 34-minutes. Music scholar Shana L. Richmond discusses the music in a another fresh featurette, this one 12-minutes. Then, costume designer Joseph G. Aulisi chats about his work for 15-minutes.
On the second disc, an early '70s interview with director Gordon Parks runs for 19-minutes. A three-part documentary explores the series, the characters, and influence over 44-minutes. Criterion invites scholar Kinohi Nishikawa and writer Walter Mosley to discuss Shaft over 25-minutes.
Shaft (1971)
Movie
Infinitely quotable, crass, and socially defining, Shaft's legendary status hasn't diminished in 50 years.
The following six screen shots serve as samples for our subscription-exclusive set of 34 full resolution uncompressed 4K screen shots grabbed directly from the UHD:
---