Off-Beat Romance From The 70s
Bored by his family's wealth and driven away by an aloof mother, a young man interested in death falls in love with a free-spirited woman nearing eighty. Harold and Maude certainly stars one of the oddest and most memorable pairings in film history. The polarizing romance from Paramount took years finding an audience and remains a love-it-or-hate-it cult classic.
Hal Ashby's quirky coming-of-age comedy subverts everything you know about romance and love on screen, subtly mocking genre conventions. Its pitch-black humor pokes fun at the contemporary establishment of the early 1970s, including the military, religion, and "newfangled" computerized dating.
Harold and Maude is an odd couple romance if there ever was one
Oscar winner Ruth Gordon is the feisty, carefree Maude. The 79-year-old woman has more life in her than most teenagers. She thinks nothing of breaking the law and tackles each day with a devil-may-care attitude.
Harold (Bud Cort) is a moribund 19-year-old obsessed with all things death. He's constantly staging gruesome, fake suicides for his clueless mother and uses a hearse for driving around town. Harold's favorite pastime is quietly visiting the funerals of strangers.
Harold and Maude meet by accident attending a funeral and the two soon form a friendship despite their vast personality differences. Learning from the eccentric Maude, the friendship blossoms into something stronger than friendship. Fed up with Harold's behavior, his mother decides the best thing for her unhappy son is marriage. Harold is set up on a series of increasingly disastrous dates with girls his own age.
There's a hint Harold is looking for a mother figure in his life, as his own mother is an out-of-touch socialite with no practical understanding of her son's emotional needs. Maude fills that void with her open personality, giving Harold the attention he has so desperately craved for years. The elderly Maude is simply looking for a little fun, knowing her remaining time is limited. She believes in living life to the fullest each day.
The most enjoyable part of Harold and Maude may be its lilting soundtrack provided by Cat Stevens, then at the height of his musical powers in the 1970s. He crafted several songs explicitly for the film and they are an indelible part of the Harold and Maude experience.
Wes Anderson's fans should immediately recognize shades of Harold and Maude in his Rushmore, a quirky gem in its own right. Anderson borrowed heavily from the cult film for setting up his characters and its tone.
Harold and Maude is an odd couple romance if there ever was one. The characters and narrative are not driven by passion like most Hollywood screen romances. They are two lonely outsiders living in a strange world who connect over shared interests.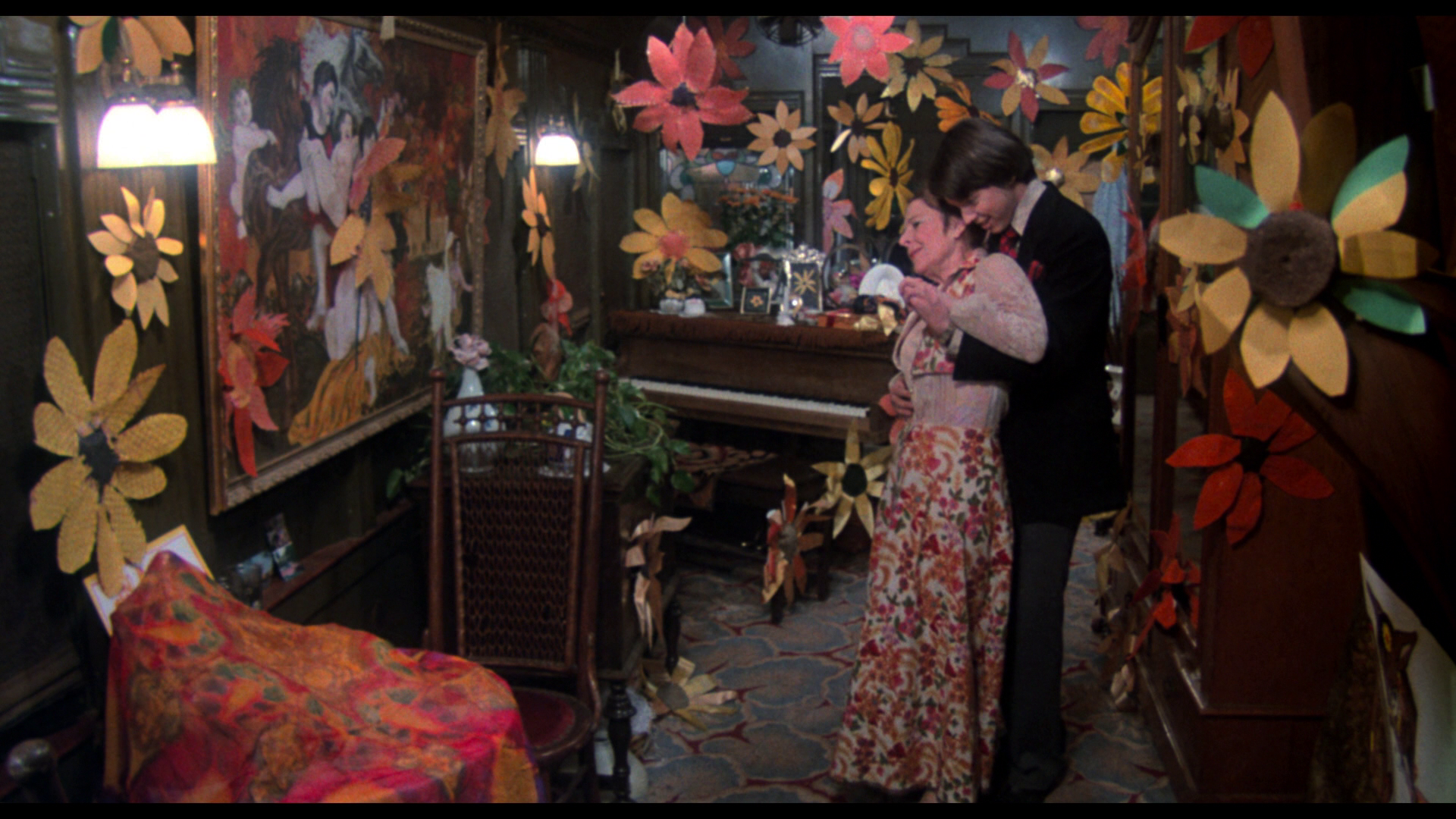 Video
Harold and Maude has been newly restored by Paramount with excellent results, though owners of the previous Criterion BD shouldn't necessarily run out and buy this new edition. What we get here is a technically astute remastering of an older film which marginally improves on the 2012 Criterion BD's picture quality.
The original Technicolor negative from 1971 was scanned in 4K resolution. Then careful color correction and minor cleanup were undertaken to pay homage to director of photography John Alonzo's stark work on the film. To my eye, the composition and slight frame adjustments are a welcome improvement over older transfers. These are solid elements receiving fine care and proper technical expertise.

Harold and Maude is a gritty film with a thick grain structure, somewhat muddy shadow delineation, and occasionally dingy colors. The new 4K film transfer offers fantastic grain reproduction and unfiltered detail, even if the overall video quality is soft and more film-like than overwhelmingly sharp. The high-bitrate AVC encode handles the tougher shadows and grain fields with ease.

It should be mentioned that while Paramount skipped releasing Harold and Maude on 4K UHD, it is available in 4K on streaming services with Dolby Vision. Frankly, this type of cinematography doesn't benefit a great deal from an expanded HDR palette.
Audio
The only English audio choice included by Paramount is a newly remixed 5.1 Dolby TrueHD soundtrack. The studio drops the original mono and stereo theatrical mixes, a curious choice considering the soundtrack by Cat Stevens highlights several key scenes. The audio restoration is exemplary, bringing out more depth and pristine acoustics.
The front soundstage does almost all the lifting in the surround mix. The songs by Cat Stevens have been given a real studio remaster, mixed with more clarity and separation than they've ever been heard before. These are outstanding recordings with superb acoustic space and imaging.
The 1971 film offers cleanly intelligible dialogue and stout dynamics. For what was a low-budget comedy, it's a quality soundtrack which holds up in terms of lush upper frequencies and smooth fidelity.
Optional English, English SDH, German and French subtitles play in a white font. French and German mono dubs are available in 2.0 Dolby Digital.
Extras
Criterion beat Paramount to the punch on Harold and Maude, putting out a Blu-ray loaded with special features back in 2012. For most fans, the big lure here is the addition of a digital copy and the new film transfer. Paramount drops those existing special features for a new featurette with Cat Stevens on the film's music and a commentary with director Cameron Crowe. Neither are a great replacement for Criterion's more extensive and well-rounded efforts.
Harold and Maude is #29 as part of the Paramount Presents line with a collectible slipcover featuring a foldout image of the film's theatrical poster and an interior spread with key movie moments. This release aesthetically mirrors earlier Paramount Presents editions.
A digital copy for the film is included which redeems in HDX quality on either iTunes or VUDU. It is not part of Movies Anywhere.
Yusuf/Cat Stevens On Harold and Maude (05:48 in HD) – The famous singer/songwriter discusses how he came on the project and his thoughts on how his music fits the mood.
Commentary With Larry Karaszewski and Cameron Crowe – The screenwriter for Ed Wood and the director for Almost Famous sound like two old friends having fun, though it's not a highly technical or informative discussion. This is not on par with the commentary produced by Criterion, which featured Hal Ashby's biographer.
Harold and Maude Theatrical Trailer #1 (02:49 in SD)
Harold and Maude Theatrical Trailer #2 (03:03 in SD)
Full disclosure: This Blu-ray was provided to us for review. This has not affected the editorial process. For information on how we handle review material, please visit our about us page to learn more.
Harold and Maude
Movie
The polarizing cult film's quirky romantic pairing has its moments but the topical humor hasn't aged well, making this less of a classic and more of a cultural relic.
The following six screen shots serve as samples for our subscription-exclusive set of 45 full resolution, uncompressed HD screen shots grabbed directly from the Blu-ray:
---