A Mamet Mistake
William H. Macy stars in the disappointing thriller Edmond. David Mamet (Glengarry Glen Ross) adapts his own stage play for the screen with poor results. One of Mamet's earliest works, Edmond is a confused and angry diatribe by the writer on masculinity, racial strife, and gender relations which hasn't aged well since its 2005 premiere. Made on a smaller budget, the all-star ensemble cast likely regrets appearing in director Stuart Gordon's misguided drama.
Edmond's roster is littered with stars from the early 2000s. Besides Mamet's own wife Rebecca Pidgeon popping up, the dark thriller has Joe Mantegna, Denise Richards, Bai Ling, Julia Stiles, Dylan Walsh, Mena Suvari, Debi Mazar and more. Stuart Gordon of Re-Animator fame even sneaks in a Jeffrey Combs cameo.
As Edmond stumbles in the final act, it becomes a tedious exercise of self-indulgence
A 47-year-old man (William H. Macy) suffers a mid-life crisis and suddenly walks out on his marriage. Wandering the rough streets of New York after dark, Edmond seeks out female companionship celebrating his newfound independence.
Haggling his way through a series of prostitutes and pimps, his journey reveals an increasingly disturbed and unhinged man. Encountering a strange and seedy set of city dwellers promising Edmond a good time, the night turns darker and deadlier.
Mamet's screenplay has his trademark dialogue cadence and snappy banter. The movie devolves over time as Edmond's encounters build in a raging crescendo, increasingly improbable and more ridiculous with each situation. Mamet holds nothing back as Edmond spews venomous racist and sexist tirades, supposedly reveal the inner monster lurking within us all.
Barely running 75 minutes, the final act is a bizarre rumination as William H. Macy and Bokeem Woodbine become cellmates in prison. As Edmond stumbles in the final act, it becomes a tedious exercise of artistic license and self-indulgence. Maybe there's an audience waiting for an exhausting diatribe from David Mamet. Edmond lacks the writer's usual polish and memorable characters.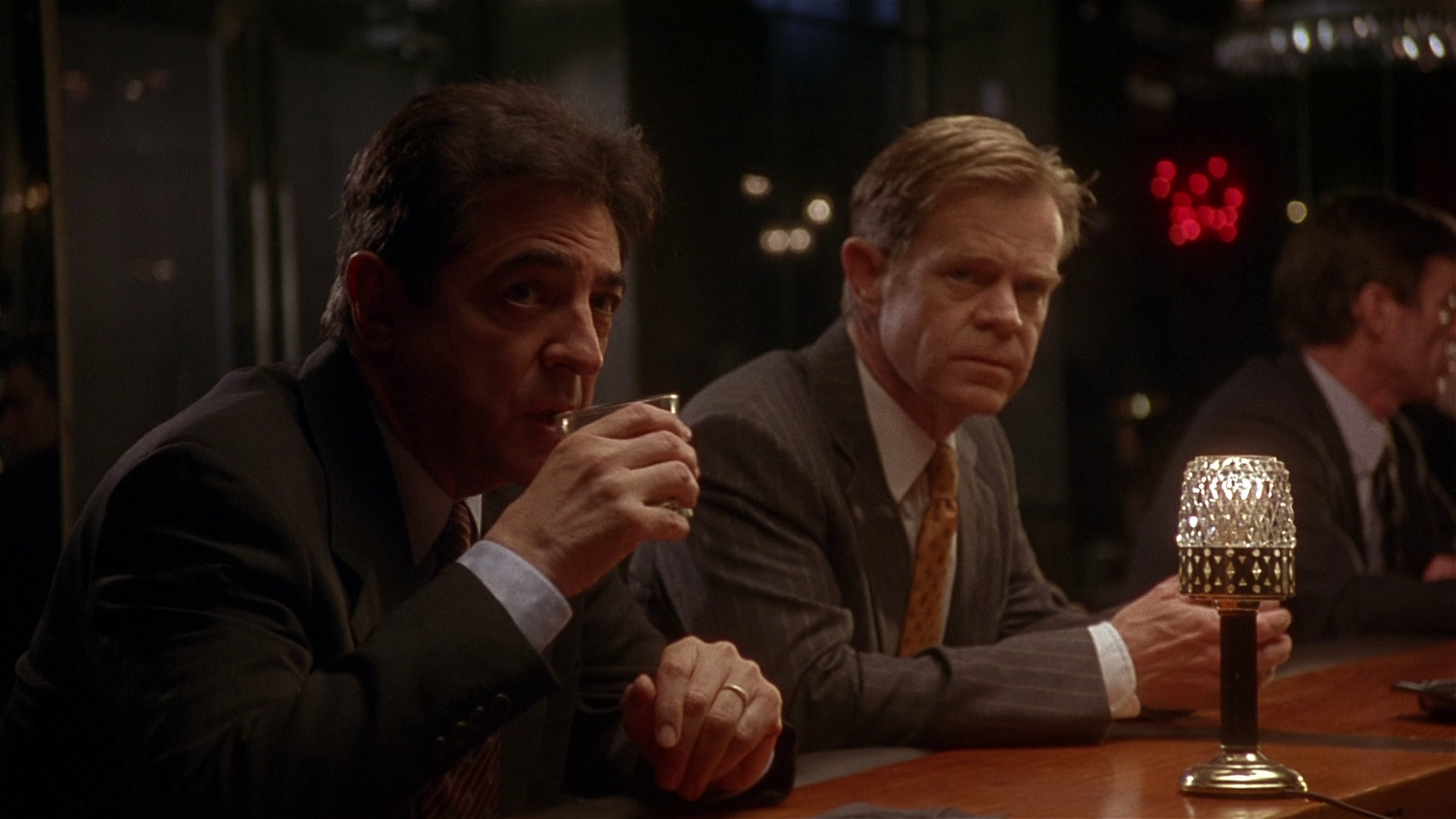 Video
MVD's 1.78.1 presentation is decidedly lackluster, coming from an older film scan with average clarity. Definition is soft with underwhelming detail.
The biggest issues are thick halos. Grain hasn't been filtered out but this is not a film-like transfer without heavy-handed processing. Several scenes have ringing with major amplitude. It wouldn't stun me to find out the HD transfer was struck many years ago. The elements are in serviceable condition. Minor debris is evident.
Edmond's niche status as a controversial, failed indie project likely means this BD will be it for quite awhile. The AVC encode could be more transparent. Despite decent colors, darker shadows have clipping and poor delineation.
Audio
Two vastly different audio soundtracks are included for Edmond. The stereo 2.0 PCM audio is much louder in volume and compression. It also features a curious drop-out one hour into the movie which may have been a result of choppy sound editing.
The dialogue-driven film doesn't give the 5.1 DTS-HD MA surround option many immersive choices. It's a lightly discrete mix with quiet dynamics and a smattering or urban noise filling the rear channels.
In spite of its occasionally muffled and weak sound design, the surround audio is likely your best choice.
Optional English subtitles are provided.
Extras
Edmond is released on Blu-ray as part of MVD's Marquee Collection. It pulls over all the special features found on the original DVD release, including two commentaries.
Those looking for insightful comments from David Mamet on his solo commentary should keep their expectations in check. He's silent for long stretches and contributes little beyond a few pithy observations. It's an underwhelming listen from the acclaimed writer. The group commentary is far more illuminating behind the movie's creation.
Audio commentary by director Stuart Gordon, producer Duffy Hecht and actor/producer Lionel Mark Smith
Audio commentary by writer David Mamet
Deleted Scenes (06:46 in SD)
Every Fear Hides a Wish: The Edmond Diary Featurette (11:11 in SD) – Cast interviews are interspersed with set footage and behind-the-scenes material.
Edmond Theatrical Trailer (02:11 in SD)
Full disclosure: This Blu-ray was provided to us for review. This has not affected the editorial process. For information on how we handle review material, please visit our about us page to learn more.
Edmond
Movie
Adapting one of David Mamet's early stage plays for the screen, the star-studded ensemble is an unchecked mess depicting masculinity in crisis.
The following six screen shots serve as samples for our subscription-exclusive set of 46 full resolution, uncompressed HD screen shots grabbed directly from the Blu-ray:
---