A Fond Look Back At The Brothers Gibb
If you aren't a fan before catching The Bee Gees: How Can You Mend a Broken Heart, the celebratory documentary may very well turn you into a passionate follower. Filmmaker Frank Marshall (Arachnophobia) crafts an intimate and moving look at the iconic music group backed with extensive archival performances. The Bee Gees are primarily known today for their Grammy-winning soundtrack album to Saturday Night Fever which became a worldwide disco sensation. Together Barry, Maurice and Robin Gibb left a lasting mark on popular music with massive hits ranging from the immortal "Stayin' Alive" to the hauntingly beautiful "Massachusetts."
A warm and rousing romp through the Bee Gees' career and musical legacy, their story is told primarily through the lens of their last surviving member, eldest brother Barry Gibb. His input here guides the fascinating story of the Gibb family, three young brothers from Australia who would go on to write 20 number one hits and build a career spanning decades. How Can You Mend a Broken Heart isn't exactly a hard-hitting dissection of the Bee Gees and their personal lives but offers interesting profiles for each brother's personality. Their passions, conflicts and disagreements over the years are sprinkled into the stellar music coverage.
The Bee Gees: How Can You Mend a Broken Heart is fantastic if you've ever enjoyed the pop group's timeless music
Detailing the ups and downs of fame and success starting in the 1960s, their biggest triumphs and the fan backlash to disco in the early 1980s, the documentary reflects back using a wealth of never-before-seen archival footage and rare performance clips of the Bee Gees in concert. The primary focus lands on their biggest hits and albums through the late 1970s. Scant attention is paid to their music after the 1980s, when they started writing hits for other acts like Barbara Streisand.
The well-crafted film features fresh interviews with musicians such as Eric Clapton, Noel Gallagher, Nick Jonas, Chris Martin, Justin Timberlake, Mark Ronson, singer Lulu, and other record industry types. Who better to comment on the challenges of being in the world's most popular band with your own brother than Noel Gallagher of Oasis?
Given access to the Bee Gees' personal archives, Marshall and his team produce a sharp, insightful encapsulation of their musical highlights and many problems navigating the tumultuous record industry. The conflict between Barry and Robin Gibb, the break-up in the early 1970s as their lives drifted apart, drug and alcohol problems, it's all lightly covered. The fall-out from the disco implosion is extensively documented, though the Bee Gees are only peripherally involved.
The biggest issue in the otherwise perfect documentary is that twin brothers Maurice and Robin have both passed away and appear through older interviews recorded years ago. Youngest brother Andy Gibb is given only token coverage, a teen idol in his own right who tragically died in 1988 right before planning to join the group himself.
The Bee Gees: How Can You Mend a Broken Heart is fantastic if you've ever enjoyed the pop group's timeless music. Even newcomers will possibly discover an appreciation for the Bee Gees through this engaging documentary. Far more than a mere disco group or passing fad, the Bee Gees were consummate song writers able to adapt over time to the changing demands of pop radio.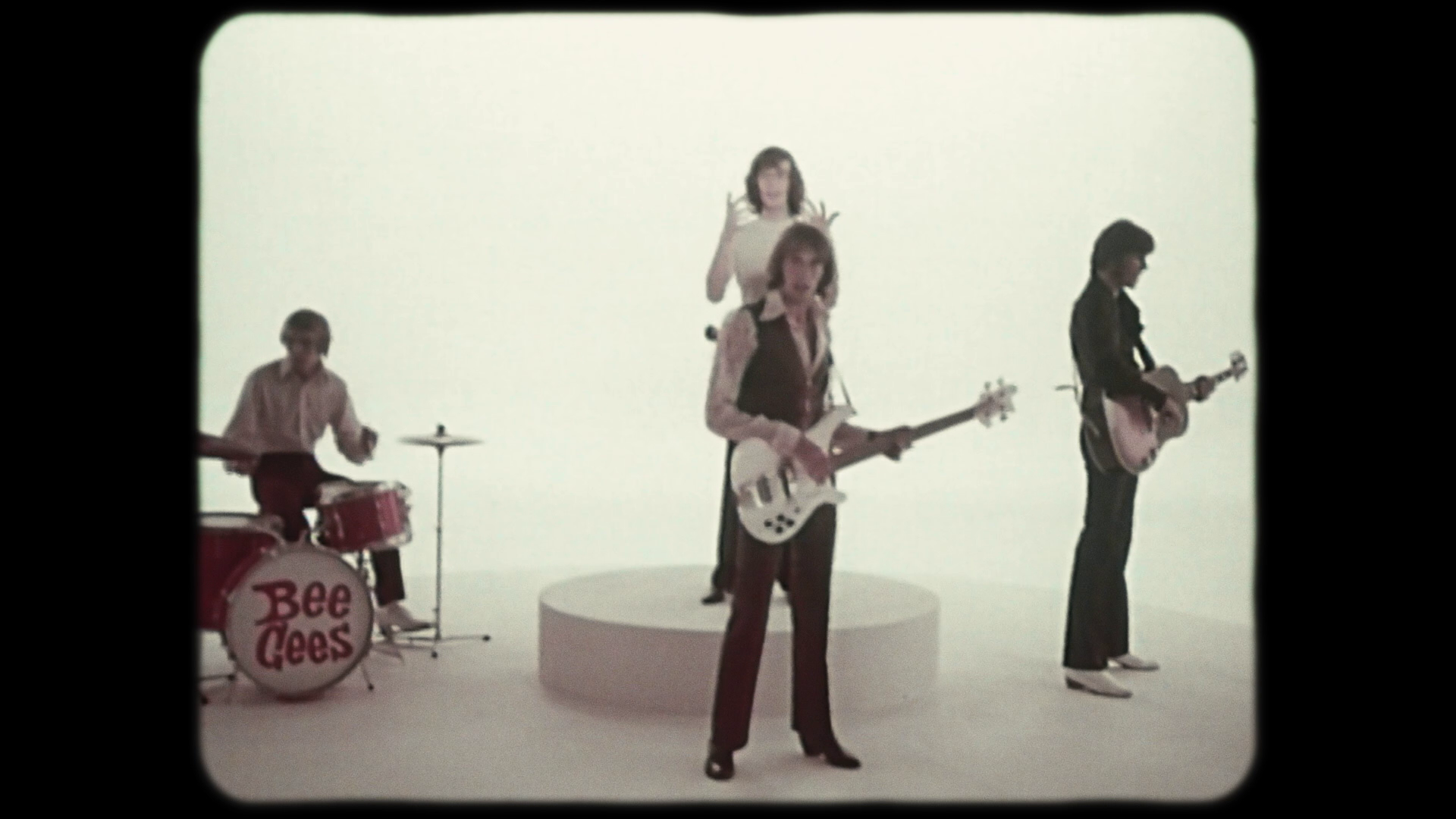 Video
Warner Archive provides an immensely satisfying 1.78:1 presentation which exudes high-def video quality and strong clarity. A mix of different sources, ranging from standard definition to new digital footage, are integrated as well as can be expected given the disparity in resolution. Probably the weakest footage stems from Maurice Gibb's dated-looking 1999 interview.
The 1080p video does a fair job upscaling everything like an ancient appearance by the Bee Gees on Merv Griffin's talk show, without introducing noticeable aliasing artifacts and other unsightly remnants. Vintage sources offer less visible detail and definition but blend better than expected.
The documentary runs 110 minutes on a BD-25 in satisfactory AVC. It's a technically competent digital transfer with no visual problems, resulting in largely crisp video. Fans of the group will be happy how everything looks on Blu-ray.
Audio
The HBO documentary offers smooth, effortless 5.1 DTS-HD MA audio filled with extended musical performances. The rich, open surround mix is pleasantly relaxed with a generous low end amplifying hit songs from the Bee Gees.
Each clip is heard in strong fidelity, including archival clips taken from television shows such as Top of the Pops. It's a surprisingly robust sonic package with studio-quality recordings and rare demos. Fans should eat up snippets of the drum loop recording for Stayin' Alive and other monster hits.
Music from the Bee Gees is given the royal treatment in this cleanly immersive surround mix. Dialogue is crisply handled with excellent dynamics and channel separation.
Optional English SDH subtitles play in a white font.
Extras
Warner Archive includes a pair of short deleted scenes for the special features.
Deleted Scenes:
Meeting the Bee Gees (02:04 in HD)
Bands of Brothers (01:14 in HD)
Full disclosure: This Blu-ray was provided to us for review. This has not affected the editorial process. For information on how we handle review material, please visit our about us page to learn more.
The Bee Gees: How Can You Mend a Broken Heart
Movie
A moving and thoroughly enjoyable look back at the Bee Gees and their wonderful musical career as told by the last surviving brother, Barry Gibb.
The following six screen shots serve as samples for our subscription-exclusive set of 41 full resolution, uncompressed HD screen shots grabbed directly from the Blu-ray:
---