Romantic Audrey Hepburn Musical
Stanley Donen's Funny Face is a fluffy, sweet Hollywood concoction made by Paramount in the tradition of MGM's finest musicals. As someone once said many years ago, the best MGM musical not made by MGM itself. Star Audrey Hepburn is romantically paired with an older Fred Astaire in a lighthearted plot filled with lively song-and-dance numbers.
Set against the backdrop of iconic Parisian scenery, Audrey Hepburn lights up the screen in a multitude of dresses by French designer Hubert de Givenchy. Singing and dancing her way into the audience's heart, Funny Face endures as a venerable crowd-pleaser.
Funny Face is a marvelous tribute to Audrey Hepburn's talents
Shot in VistaVision, the romantic 1957 musical is a bold vision of Hollywood acumen creatively merging high fashion and scenic stage numbers. It's a beautifully lensed film based on the Broadway play by George Gershwin. Kay Thompson leads one of the most memorable song numbers in Hollywood history with her opening set piece performing "Think Pink!"
The great Fred Astaire gives one of his last iconic performances on screen as fashion photographer Dick Avery.  The photographer for Quality magazine, a fictional stand-in for Vogue, Avery accidentally discovers Jo (Audrey Hepburn) working as a bookstore clerk. He is soon pushing her as the next big thing in modeling to his boss, the formidable Maggie Prescott (Kay Thompson). Whisking Jo off to Paris, he soon falls for his young companion and romance blooms.
Reprising his Broadway role, Astaire dances his way into Jo's heart without a care in the world. Audrey Hepburn demonstrates real talent as a dancer, producing moves Michael Jackson would copy years later. The brisk pacing and snappy singing move things along from one stunning set piece to the next, ensuring Funny Face's consistent rhythm and chipper mood.
Funny Face wasn't the monster box office hit Paramount expected but its easygoing romance and charismatic stars have given it a long life since the 1950s. It's a joyous musical with well-crafted songs and delightful Parisian scenery. Funny Face is a marvelous tribute to Audrey Hepburn's talents. She elevates what could have been a rather average musical into a classic worth remembering.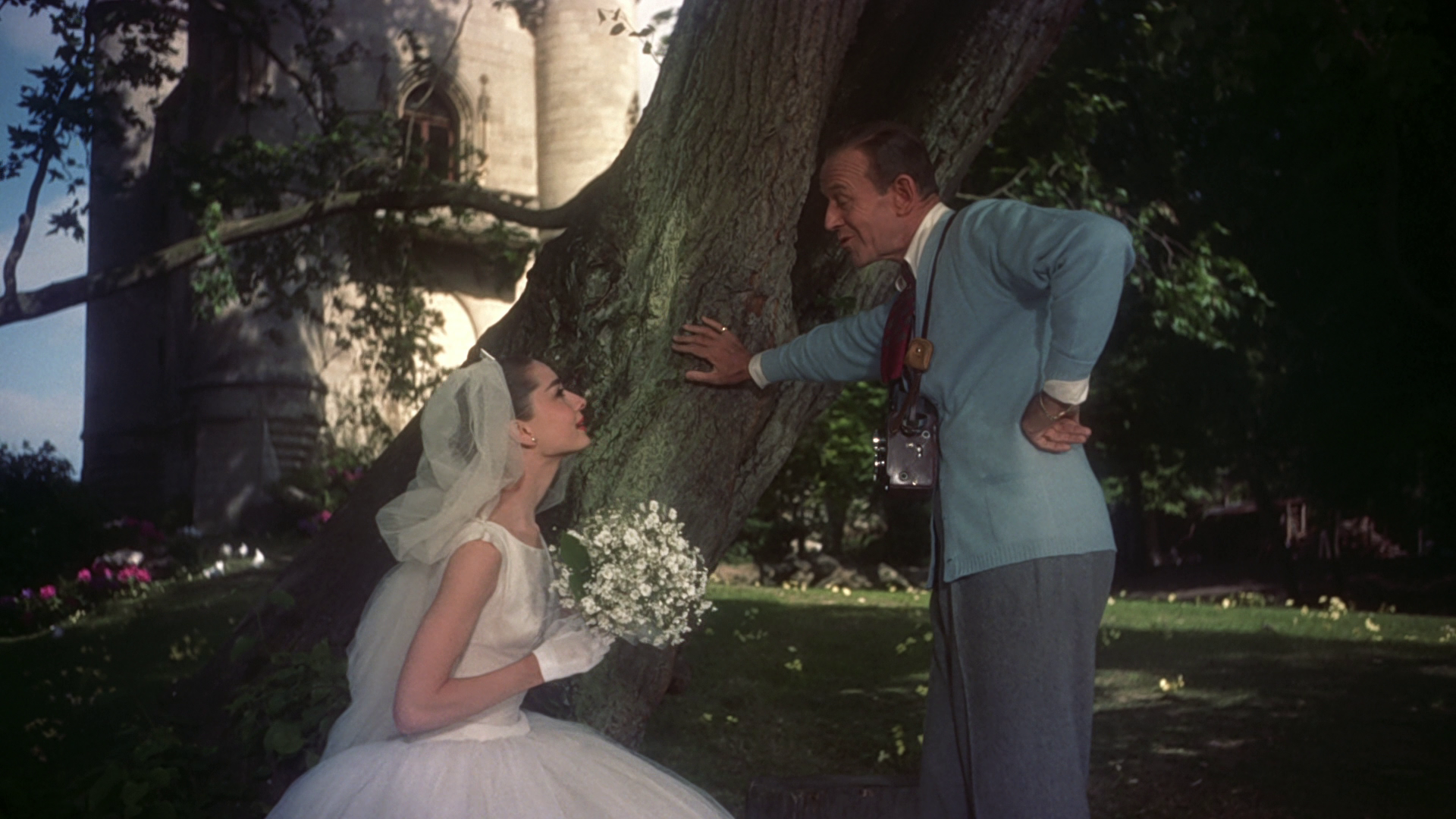 Video
It should be noted Paramount has reissued the same, occasionally problematic transfer Funny Face received for its 2014 solo release as part of the 7-Movie Audrey Hepburn Collection box set.
While a superficially impressive 1.78:1 presentation, the magnificent VistaVision film deserves far better with a completely organic film scan. It's only serviceable video for what should be one of the format's best-looking discs. It's possible this transfer struck by Paramount dates back to 2009. Definition and detail are below expectations given the pristine elements and stunning cinematography.
The crisp palette of bold, highly saturated primary colors shine even at 1080p resolution. Outside of the superb color rendition, the transfer is on the soft side and shows evidence of inappropriate ringing and possible tampering. Fine detail is suspect for a well-made VistaVision movie, indicating an older scan with hints of filtering. Good news includes a consistently rich contrast and outstanding black levels. Clarity is outstanding.
Funny Face runs 103 minutes on a BD-50, the AVC encode isn't perfect but competently handles grain reproduction and darker shadows. When this disc was first issued by Warner in 2014, it was merely a disappointment. Now in the 2020s, Paramount should have found the resources for a new 4K scan. The VistaVision negative could look vastly better than this decidedly average showing on Blu-ray. See the results on Paramount's gorgeous My Fair Lady restoration for comparison.
Audio
If the original theatrical soundtrack is your preference, Paramount offers it in surprisingly crisp mono 2.0 Dolby Digital. A "surround" remix is provided in excellent 5.1 DTS-HD MA audio. Scare quotes are used because there is virtually no action happening in the rear channels outside of a couple stray effects. Recorded well, Funny Face's musical soundtrack hasn't aged a day.
Songs are delivered in resounding clarity through the front soundstage. Unlike My Fair Lady, Audrey Hepburn's singing voice wasn't dubbed by someone else in Funny Face. The lively song-and-dance numbers have pure fidelity and robust dynamics.
Optional English SDH, French and Spanish subtitles play in a white font. French and Spanish dubs are offered in mono 2.0 Dolby Digital.
Extras
Funny Face is reissued on Blu-ray as part of Paramount's Audrey Hepburn 7-Movie Collection. The eight-disc collection includes War and Peace, Roman Holiday, Paris When It Sizzles, My Fair Lady, Sabrina, and Breakfast At Tiffany's. If you own the prior Funny Face Blu-ray, this is the same disc with identical content and transfer. All seven movies are packaged together in one box set approximately the depth of three standard cases.
Paramount provides a separate digital copy for every movie in the 7-Movie Collection. Each digital copy redeems in HDX quality on either VUDU or iTunes. It should be noted that Paramount isn't part of Movies Anywhere, so the digital copy doesn't port to other providers.
The featurettes below have all been ported from Funny Face's 2009 Centennial Collection DVD set. There's no fresh content.
Kay Thompson: Think Pink! Documentary (26:35 in HD) – Her biographer and others discuss Thompson's life and work.
This is VistaVision Featurette (24:42 in HD) – A look at Paramount's foray into large-format filmmaking during the 1950s.
Fashion Photographers Exposed Featurette (17:54 in HD)
The Fashion Designer and His Muse Featurette (08:08 in SD) – Explores the connection between French designer Hubert de Givenchy and Audrey Hepburn, beginning with Sabrina.
Parisian Dreams Featurette (07:40 in SD)
Funny Face Theatrical Trailer (02:23 in SD)
Full disclosure: This Blu-ray was provided to us for review. This has not affected the editorial process. For information on how we handle review material, please visit our about us page to learn more.
Funny Face
Movie
Audrey Hepburn and Fred Astaire team up for a grand MGM-style musical in this dazzling Hollywood concoction from the 1950s.
The following six screen shots serve as samples for our subscription-exclusive set of 56 full resolution, uncompressed HD screen shots grabbed directly from the Blu-ray:
---