Affable Rom Com For Tennis Lovers
Kirsten Dunst and Paul Bettany star in the enjoyable Wimbledon, Richard Loncraine's effort to marry two seemingly incompatible genres. Ostensibly a romantic comedy about a journeyman tennis player making one last, miraculous run at Wimbledon, the sport's greatest prize, the breezy narrative falls into the traditional sports mold without much effort. How successful you'll find Wimbledon's friendly storytelling depends on your appreciation for tennis and your opinion on Dunst and Bettany as a couple. The stellar supporting cast includes a young James McAvoy, Sam Neill, and Jon Favreau.
Kirsten Dunst and Paul Bettany star in the enjoyable Wimbledon, Richard Loncraine's effort to marry two seemingly incompatible genres
One of Bettany's first major starring roles, the movie's light romance is built around his British charm and Kirsten Dunst's raw screen appeal meshing for decent chemistry. They make for a likable couple, though their romance is developed with less care than the overall tennis story. Richly taking advantage of access to Wimbledon's hallowed grounds for filming, Loncraine and the cute screenplay devote a lot of energy ensuring this is a rousing adventure for tennis enthusiasts. The movie is certainly a romcom aiming for both male and female audiences.

Rising American tennis star Lizzie Bradbury, played by Kirsten Dunst during the peak of her days as a leading lady back in the 2000s, encounters retiring British journeyman Peter Colt (Paul Bettany) near the end of his playing career. Having decided this will be his last Wimbledon before he hangs things up, Colt accidentally meets Lizzie and they instantly become smitten. Lizzie is a female John McEnroe, a brash and talented female tennis prodigy lorded over by her father. The always reliable Sam Neill adds seasoning to the movie as her overbearing but well-meaning dad. Driven on and off the court, sparks fly between Lizzie and Peter while playing Wimbledon despite their mutual success on the court.
Like any good romantic comedy, the pressures of stardom and living the life of a professional tennis player pose challenges for the couple. The main obstacle between the couple is Lizzie's domineering father, who finds any romance a distraction while playing. A feel-good vibe from Peter's unexpected run at Wimbledon dominates the tennis sub-plot, as the UK goes crazy a Brit is making it deep into the tournament. Made before the rise of Andy Murray, British tennis was in a sorry state when this movie was released and a British man playing in the finals would have been considered sensational.

Fans with an appreciation of tennis will certainly enjoy the movie. The actual action on screen isn't particularly inspiring – Paul Bettany doesn't move in any way like a pro tennis player fighting for the sport's ultimate prize. But it gets the culture of pro tennis fairly correct, including brief cameos by legends Chris Evert and John McEnroe as commentators.
The screenplay caters to English tennis fans circa 2004, long before Andy Murray would end the country's extended Grand Slam Championship drought nearly a decade later. Peter makes an improbable run to the Finals of Wimbledon while romancing Lizzie and dealing with his impending retirement.
Wimbledon is a warm, competently funny sports movie with romantic undertones. While the movie is thoroughly English in outlook, Kirsten Dunst as a hot-shot American player feels like a nod by producers hoping to sell Wimbledon across the Atlantic Ocean.
Wimbledon is mostly Paul Bettany's movie, which both works for and against the romcom. He's not quite up for the part of dashing male lead opposite Kirsten Dunst, who is her usual effervescent self. Bettany is best playing the more deprecating aspects of Peter Colt, injecting a pithy sense of self-deprecating humor and wit.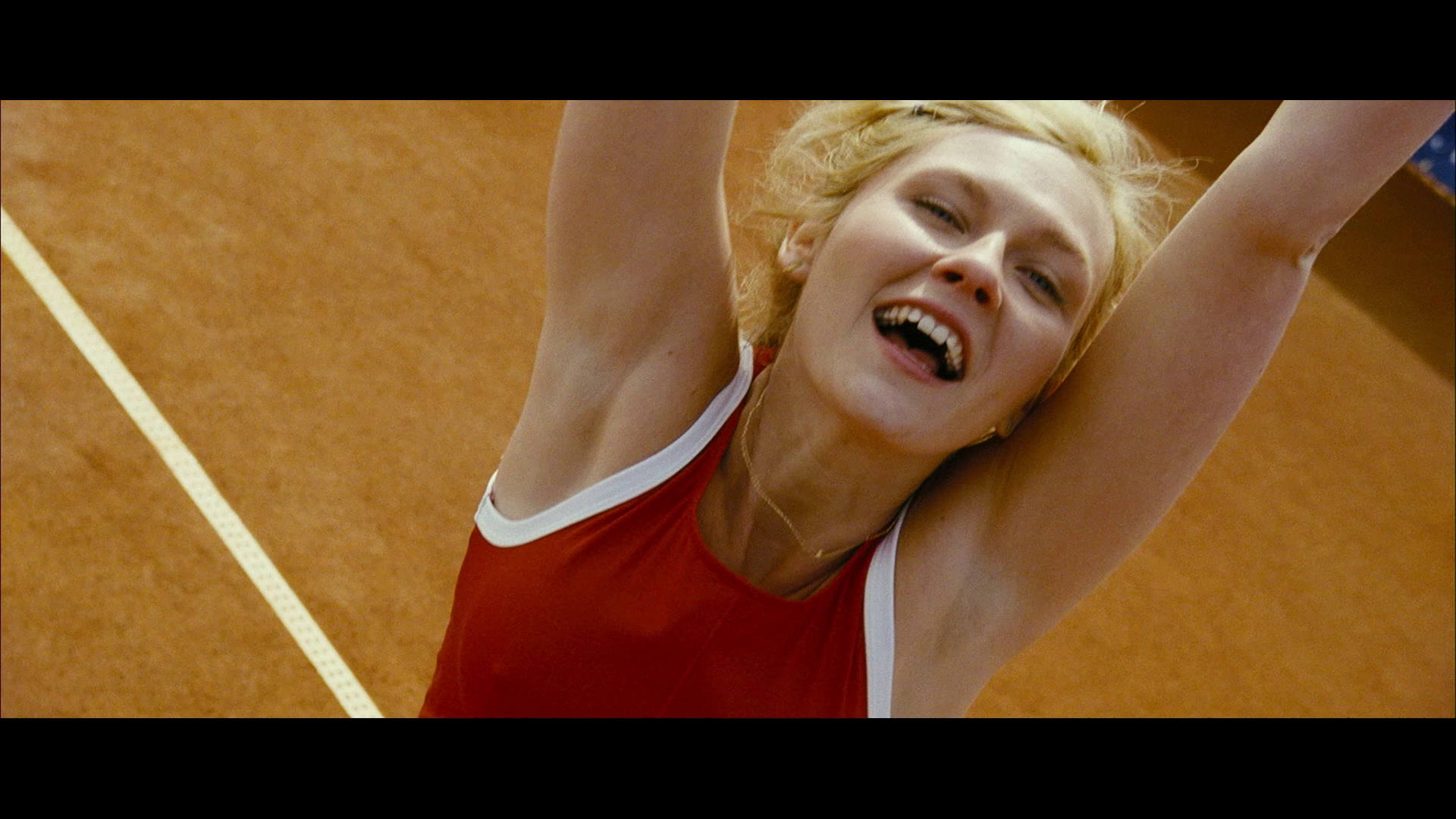 Video
Wimbledon's tidy cinematography is a real looker, capturing Wimbledon's famous Center Court in all its immaculately manicured glory. The 2004 romcom's picture quality thrives on Blu-ray with a stark improvement over DVD, showcasing crisp clarity and a variety of British locales. The green grass almost dazzles with lush saturation and a perfect contrast. Fleshtones are a bit warm. The lovely 1080p video is packed with definition and fine detail, bolstered by razor-sharp depth and dimension.
Wimbledon shares a single BD-50 with Meet Joe Black, encoded in adequate AVC without major issues. Without having seen Universal's earlier Blu-ray release, I'll guess the so-so compression from Mill Creek here is a tad less transparent. The film transfer, possibly supplied by European distributor Studio Canal, is almost certainly from Wimbledon's negative and boasts excellent grain reproduction in unfiltered quality. Easily one of the better catalog efforts from the 2000s in terms of PQ.
Audio
Wimbledon's 5.1 DTS-HD MA audio isn't a powerhouse but offers fine immersion, directional cues, and discrete activity which swirls around the soundstage. Most of the more involved sonic effects are reserved for critical moments in the tennis matches. Dialogue reproduction is nicely balanced with a rousing, upbeat underscore. Expanded dynamics highlight the smooth bass and clean musical fidelity.
Optional English SDH subtitles play in a white font outside the scope presentation.
Extras
Only one year after Universal themselves released Wimbledon through their MOD program on Blu-ray, Mill Creek releases it as part of a "Girls Night In" double-feature with Meet Joe Black. There are no special features included for either movie in the one-disc release. That's a shame as Universal included several featurettes from the original DVD and a commentary recorded by actor Paul Bettany and director Richard Loncraine. If those are essential for you, get Universal's BD.
Meet Joe Black (HD; 5.1 DTS-HD MA w/ optional English SDH subtitles)
Full disclosure: This Blu-ray was provided to us for review. This has not affected the editorial process. For information on how we handle review material, please visit our about us page to learn more.
Wimbledon
Movie
An engaging and witty, if lightweight, romantic comedy about pro tennis players finding love at Wimbledon with a dramatic run to the title as background fodder.
The following six screen shots serve as samples for our subscription-exclusive set of 57 full resolution, uncompressed HD screen shots grabbed directly from the Blu-ray:
---