Jungle Warfare
Lauded photojournalist Avery (Zoe Bell) is assigned to follow a missionary group through a nondescript South American jungle. To Camino this is just a setting.
A few years ago, videogame developer UbiSoft released Ghost Recon: Wildlands. The studio claimed their game was apolitical, a comical response given the game centered on US troops invading a foreign country chasing the drug trade. Camino is like that.
Camino doesn't seek depth; it simply wants thrills and tension
Avery stumbles on murder and yes, drugs. She's chased by a brutal leader for a solid hour of Camino, picking off his underlings individually as the story progresses. But there's no wider context or viewpoint – Camino assumes a South American country is run by cocaine dealers, its people are inherently poor, and live in squalor. For a film about journalism, few of the basic standards were applied in developing this concept, leaving Camino raggedly thin and borderline racist caricature.
Credit where it's due though: Camino does sport reliable tension. Its cruel, raw violence feels especially nasty, and while bloody, that's only an accentuation, not splatter. The pace enters a careful crawl, with both sides stalking one another in well-composed scenarios, ironically separated as if part of a videogame boss rush.
In attempting to elevate Avery, she's given a backstory – literature and cinema's self-destructive, depressed artist archetype. She deals with the loss of her husband, envisions him, even speaks to him as if he were there. The extent of her character ends there, Camino instead focuses on Avery's burly guerrilla fighter tactics and giving audiences another brawling woman sans any additional depth. Her adversary, Guillermo (Nacho Vigalondo) is thinner still, an archetypal, egotistical, power-driven Cuban-esque dictator, as if this were the only villain available to a such a story.
Camino doesn't seek depth; it simply wants thrills and tension. To a degree, that works, and the setting finds places away from thick foliage to stage its brawls. There's variety in everything other than its sorry, limp real world circumstances. Camino assumes in the worst of ways. It feels guilty trying to watch and feel something knowing how crassly judgmental Camino is being, and pulling its tropes from the grimmest political talking points. Root for Avery, if only so she can escape the blatant cliché.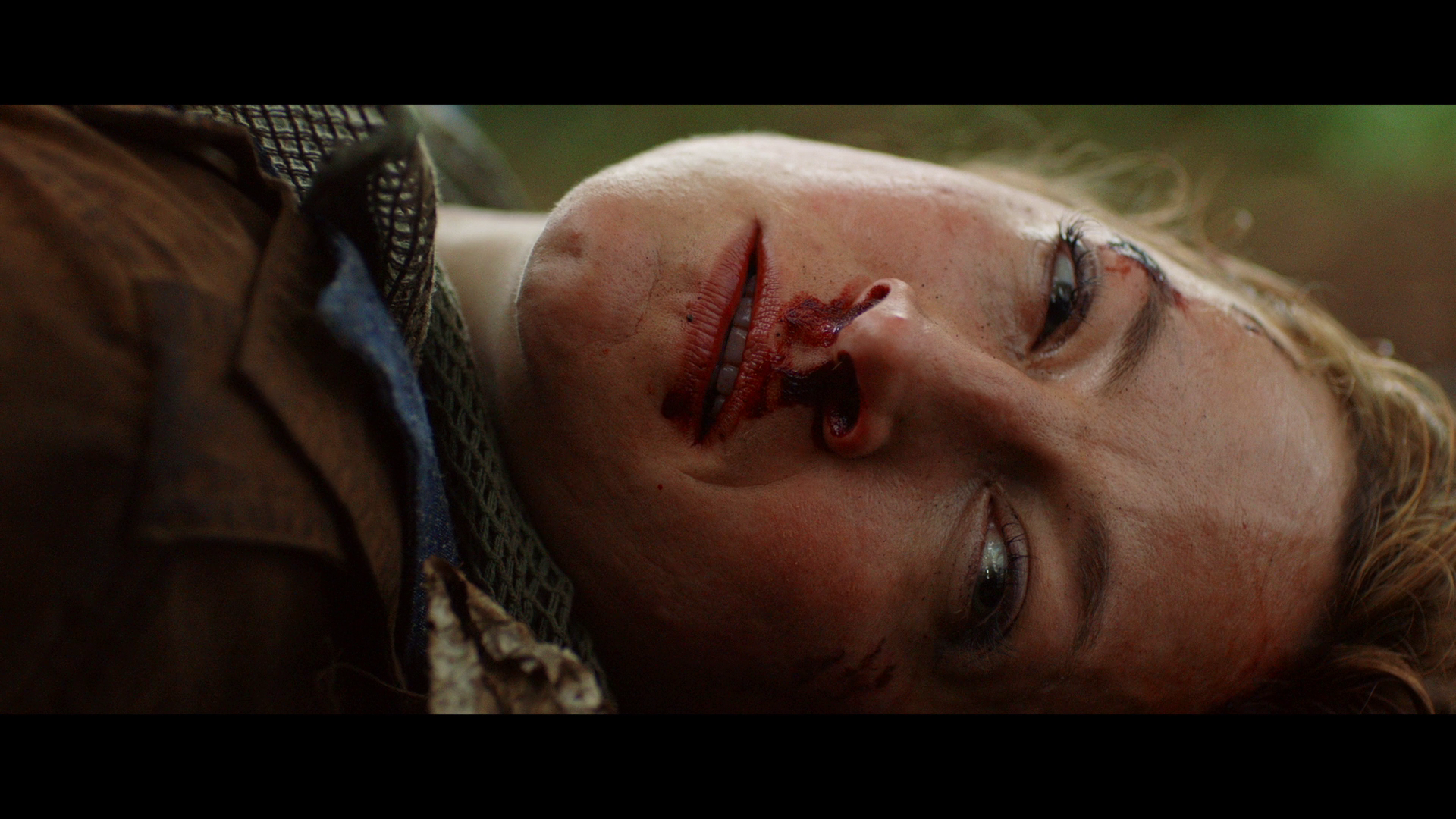 Video
Dense digital video begins at the outset, displaying immense, tight shadows. Black levels become Camino's greatest asset, not to discount the steep drive toward bright contrast too. A mixture of jungle sunlight and nightfall allows both frequent use. There's nothing disappointing in either.
Same goes for exceptional clarity, presented (almost) sans any discernible noise. That exceptional clarity lets the resolution flourish. Textural elements resolve gorgeous scenery, and thickness of the forests display grand sharpness. Camino is appealingly pristine HD video, near faultless.
Color grading favors warmth, although that doesn't diminish primaries or their potency. Greens establish themselves given the setting. Flesh tones maintain an accuracy even with the drift toward amber hues. In villages, clothing glows like red shirts. Earth tones popping out from dry grass and branches provide a notable baseline.
Scenes later ditch a chunk of this, simulating night via grayed out black levels, near monochrome color, and dim contrast. It's completely divested from the rest for stylistic reasons.
Audio
Offered in DTS-HD 5.1 and PCM stereo, either mix works, but the surround track provides additional weight. A droning score drops some deep electronic hums, the bass hefty enough to sustain a rumble. Gunshots barely reach the sub, merely bringing light support. Hefty volume and range push the tension higher as needed.
Open air extends to the rears, giving the mix a persistent ambient state from birds and chirping insects. Bullets jump around with light stretching to the surrounds. In terms of action, it's a marginal, lower budget affair, but more than enough to sustain Camino.
Extras
A fine three-part making of runs close to a half hour. That's followed by a soundtrack promo and trailers.
Full disclosure: This Blu-ray was provided to us for review. This has not affected the editorial process. For information on how we handle review material, please visit our about us page to learn more.
Camino
Movie
While Camino is capable in driving consistent tension around its journalist protagonist. it's hampered by indifferent, cliche stereotypes and crude political stands.
The following six screen shots serve as samples for our subscription-exclusive set of 41 full resolution, uncompressed HD screen shots grabbed directly from the Blu-ray:
---