Babes in AdultLand
John Hughes didn't write/direct a comedy about a couple pressured to start a family; he wrote about a couple pressured to start a family in the late '80s. There's a difference.
In-laws don't understand what's changed during an awkward barbecue. They had kids young. Two years into their marriage, Kevin Bacon and Elizabeth McGovern still don't have offspring. But that was a looming reality, better seen today than on release. New couples worry about financial security. Early in She's Having a Baby, Bacon tosses a newspaper into the fireplace that represented an end table. "We can't afford that." Entry level salaries in the '80s pinched furniture buying, let alone paying for a kid. Extended family laments that McGovern needs to work, unable to comprehend the economic pinch experienced between these generations.
She's Having a Baby doesn't date itself
There's a sterility to She's Having a Baby, acting like a sequel in Hughes' romantic universe. Often centered on high schools, here's what happens afterward, the domesticated kids looking for fun in a suburb interested in lawnmower models and bland gossip. A musical number centers on lawn care, effectively a nightmare of what Bacon's life is becoming.
Compared to the typical emotional swerves in Hughes' work, She's Having a Baby often carries a chill. Bacon and McGovern spend most of the movie fuming at one another. Temptation looms. At times, it's a wonder if they'll split. Come the climax, Bacon looks skyward and reflects on the positive moments She's Having a Baby hid from the viewers. It's a message on how it's too easy to let those ugly memories persist and consume people. Conflict is stronger than moments of bliss. When it matters though, what remains is a lifetime of togetherness, cementing the couple as husband and wife.
She's Having a Baby doesn't necessarily stray from Hughes' work. If anything, it's a movie suffocated by his more celebrated teen dramas. That's unfair, because for the authenticity in those archetypal high school throwbacks, She's Having a Baby doesn't date itself. Fashion changes, technology changes. Yet, the burdens on newlyweds to simply integrate into dry suburban living, to match their parents step-for-step, and to keep the common male/female power structure, still works. It's not a situation that needs smartphones to feel credible, because that American middle class hasn't changed. Rather, She's Having a Baby seems tepid when compared to today's realities. That's the lasting John Hughes fantasy.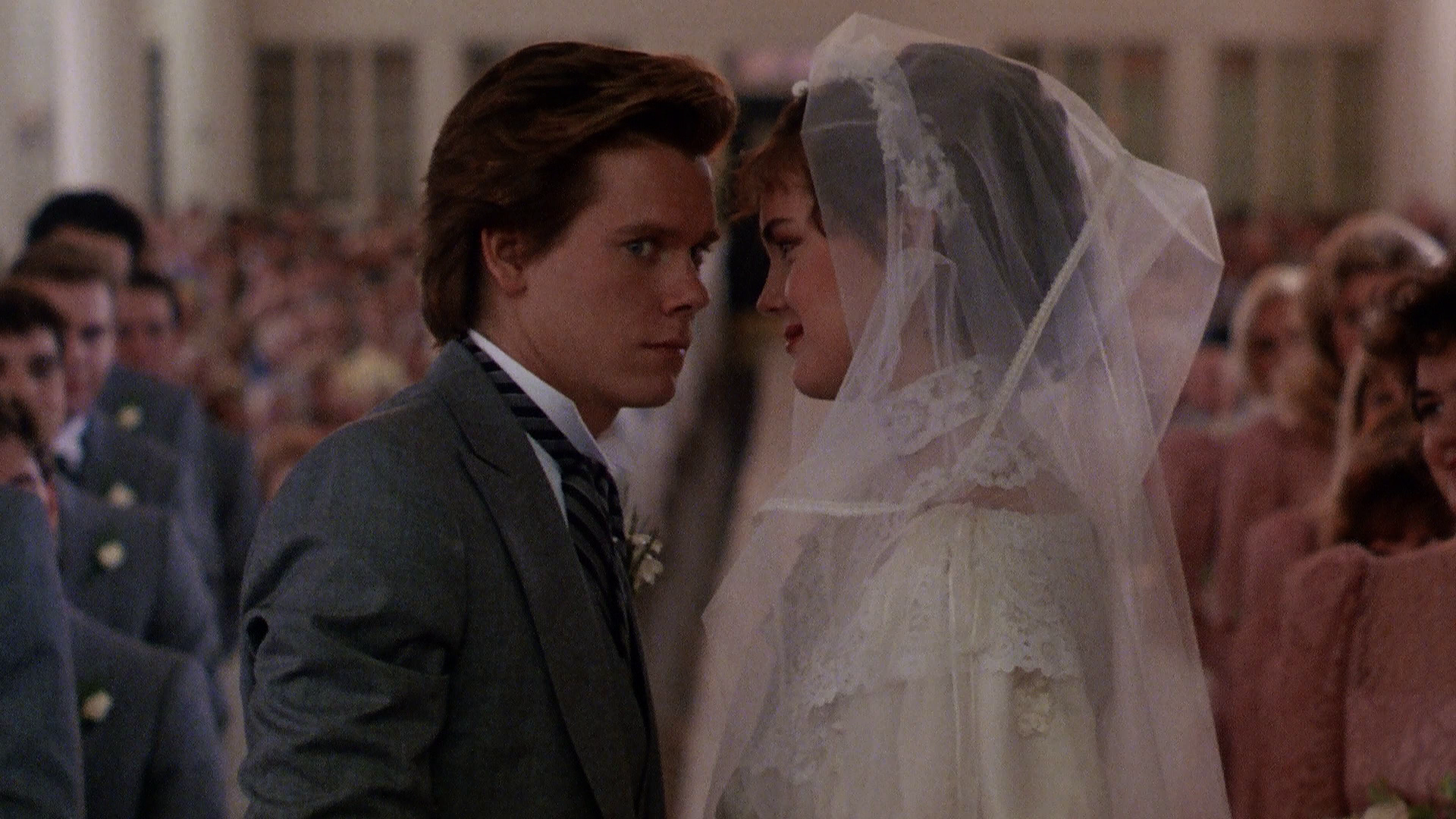 Video
There's a reason Paramount debuted She's Having a Baby inside a box set with previously released John Hughes discs – this transfer. Smothered by digital processing, the grain structure turns the imagery into a moving watercolor. Grain hovers across the screen, so it's preserved, but ruined by tools. It's not so apparent when in close, but the distance shots, medium or longer, where She's Having a Baby falls apart on Blu-ray.
As expected then, detail falters with such an output. While cinematography steers hazier (and that's no help), even the lighter textures can't escape.
Sadly, the rest looks great, hiding an apparently recent mastering. Light damage on the print aside, it's bright and features stable black levels. Strong saturated color steers flesh tones warm (too warm) but other primaries push gorgeous extremes. Excellent reds and vivid blues stick out from the overall rich presentation.
Audio
The 5.1 track naturally extends the soundstage away from the center. It's not a constant, but key elements like a train signal pop up in the rears. During a neighborhood party, ambiance spreads into each channel. There's a fun split when Bacon drops loose change on the floor. Coins roll between the sides in a clever moment. Little touches like that bring life to an older, what was originally a stereo track.
Soundtrack choices energize the range, popping the low-end and offering clean treble. Pleasing stuff.
Extras
A fun 24-minute piece has Kevin Bacon interviewing John Hughes, and the original trailer follows that.
Full disclosure: This Blu-ray was provided to us for review. This has not affected the editorial process. For information on how we handle review material, please visit our about us page to learn more.
She's Having a Baby
Movie
Lost amid John Hughes teen dramas, there's more relevance to She's Having a Baby than any high school-focused romance.
The 15 unaltered images below represent the Blu-ray. For an additional 36 She's Having a Baby screenshots, early access to all screens (plus the 120,000+ already in our library), 120 exclusive 4K UHD reviews, and more, subscribe on Patreon.
---