Party Dwarves
The Hobbit bears a prequel curse. Of its main characters, the stakes are few. Enjoyable as Martin Freeman is as Bilbo, bringing a wry British demeanor to Lord of the Rings' often stuffy seriousness, it's clear where Bilbo's journey ends. Same with Gollum, introduced in an Unexpected Journey via an overlong, sagging riddle game where neither key player in this saga will meet any end.
Unlike watching, say, Anakin Skywalker drift toward evil, in Bilbo's world, his journey exists as mere adventure – Bilbo the character isn't poised for any grand transformation after the first act. That makes Unexpected Journey particularly ponderous, and for its flashes of creativity, often recycles thrills. Instead of the snow avalanche in Lord of the Rings, it's rocks in Unexpected Journey. One troll becomes three. Orcs ride on Warfs to chase down the heroes at the film's end, just like in Fellowship.
Unexpected Journey stages ridiculous yet fun battles
Even the script falls to redundancy, numerous scenes forcing Bilbo to question whether to stay in the party. Doubt is fine. Three times the doubt is not, even if the arc finds a proper conclusion.
What Unexpected Journey offers though is heart. Where Frodo became the unlikely hero, so too does Bilbo. It's made obvious by Gandalf (Ian McKellen) who states, "Everyday deeds of ordinary folk keeps the darkness at bay." That's lacking in subtlety, if inspiring to this team made only of dwarves and a Hobbit. In every scene, their stature becomes a focus, always made out as feeble and tiny against ever greater enemies. The visual allegory never loosens its grip.
Released a decade after Fellowship, An Unexpected Journey provides whiffs of nostalgia in places. Keeping musical themes and revisiting places all drift back to those Peter Jackson-led originals, let alone the necessary story beats that connect into the next chapters.
At least it's livelier though. Playing in a world where goblins, orcs, and trolls wander, Unexpected Journey stages ridiculous yet fun battles. Watching the heroic group escape goblins by luckily sliding down a mountain to a comfortable stop belies reality, appropriate since the world as a whole does too. Also, it's an energetic offset to the concurrently dry Bilbo/Gollum confrontation. Then, in those final moments, Unexpected Journey lays into the luster and glow possible in such fantasy, flying toward a sunset on the backs of giant eagles, a visually scintillating series of images, even if the previous two hours were absolutely exhausting.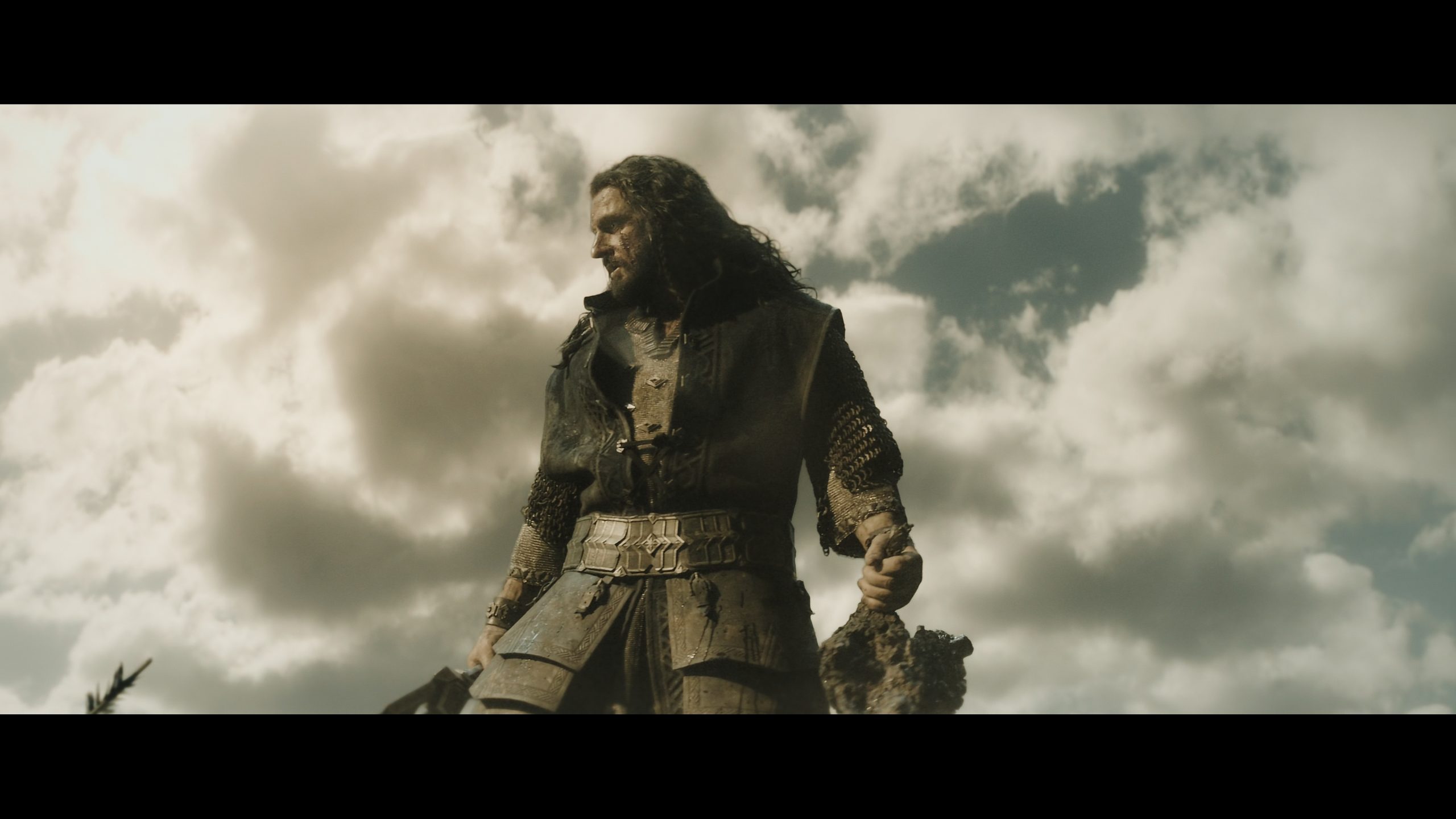 Video
Unlike Lord of the Rings, Hobbit went before an entirely digital lens. The result is a 2K finish, and this UHD upscale is… fair. Note this does not look akin to a 4K source. From the earlier generation of Red cameras, the image struggles in resolving complex detail at medium or long range. A pervasive edginess lessens fidelity (look for ringing during the Gandalf/Sauruman meeting in Rivendell). Shots of the Shire pitifully handle the tall grasses, patches looking like blobs. Dwarf beards often suffer the same fate. Whatever remastering took place in preparation for this release, it didn't (or couldn't) overcome the dated technical stakes.
That's not to say Unexpected Journey is without impressive sights. Texture and detail in close persist. Facial definition and the like produce texture in droves, up close anyway. Costumes excel given the added resolution. Not all is lackluster.
Color grading employs warmth almost constantly, aside from night, of course. There, deeper blues understandably take hold. Greenery pops, still flush with orange though by design. Primaries follow the aesthetic.
Via Dolby Vision, punchier contrast helps Unexpected Journey glow. Fire shows a strong intensity. Sunlight and moonlight too. Genuine gains in black levels increase dimensionality a notch over the Blu-ray, deeper and more nuanced. Gorgeous, A-class stuff even if the rest isn't.
Audio
Adventurous in the best ways, Atmos design has a blast, and is totally fearless in tracking the material. Invading the troll camp, voices spread across every channel. It's more than the action ending the scene, but prior as Bilbo stealthily wanders, troll chatter keeping a constant sense of space. Even height matters, dialog above Bilbo accentuating his shortness. Rain and thunder sound exquisite.
Superb action design matches Lord of the Rings easily. Clashing swords and shields clank in every channel, supported by spectacular range used to push the low-end whenever necessary. The opening attack from Smaug builds a fire wall, filling the room. Trolls stomp about, each step powerful and tight. The stone giant brawl adds some deep bass support, while crumbling rocks fall everywhere. An audio spectacle.
Extras
Nothing other than the extended and theatrical cuts on separate discs.
Full disclosure: This Blu-ray was provided to us for review. This has not affected the editorial process. For information on how we handle review material, please visit our about us page to learn more.
The Hobbit: An Unexpected Journey
Movie
The Hobbit begins with An Unexpected Journey that's too often expected and too long, if still enjoyable fantasy fare.
The following six screen shots serve as samples for our subscription-exclusive set of 68 full resolution uncompressed 4K screen shots grabbed directly from the UHD:
---