Watery Graves
Being of the Cold War, the underground research base in DeepStar Six is loaded with nuclear missiles. When a scientist asks to explore a new cave system, she's overridden – better to blow it up, because weapons need a home.
DeepStar Six does involve a monster, although barely. Much of the action is about people yelling orders to flip a switch, bypass power, shut a hatch, or other commands beyond an audience's knowledge. The crew borrows archetypes common to such movies, not only the late '80s underwater base genre (that popped up seemingly overnight), but Alien too. It's a working class, blue collar group, some military in their thinking, others not, and then another dooming the mission as they succumb to insanity.
Thin as DeepStar Six ultimately is, it's competent stuff
There's some irony in DeepStar Six's limited depth, given the setting. Characters amount to little, and to raise some stakes by the end, there's a surprise pregnancy to cement a relationship. What's never made totally clear is the base's origin, maybe government, maybe privatized, but most likely both given the Navy leadership and profit motives. People just wanted a job, so they took this one exploring the ocean floor; they don't seem to care where their checks come from.
Atmosphere salvages this passable thriller. The constant water threat always drips into the frame somewhere, enough to keep the humidity high, building on tensions. In saving gore for the final act, DeepStar Six nicely escalates, jumping from equipment disasters to hungry beasts. It's a capable critter too, if sadly hidden from the camera too often. DeepStar Six unleashes this unidentified thing early on, but only puts it into full attack mode after the crew detonates their radioactive payload. Man's hubris and all that, finishing off this team piece-by-piece.
Thin as DeepStar Six ultimately is, it's competent stuff, and directed by Sean Cunningham whose Friday the 13th series finally found an end point in 1989 (for Paramount, anyway). Pacing leaves little room to get comfortable, and there's a consistent reason to keep encountering the star attraction, including broken auxiliary systems and decompression chambers. As with space movies in this vein, there's nowhere to go, only now, there's a chance of the ocean's pressures popping someone – and that happens, to make sure there's no confusion.
There's no sequel to DeepStar Six. That's a shame because the set-up offers room to consider an added chapter. One can assume the political (and nuclear) fallout over igniting weapons in international waters, and the rush to profit from newfound undersea species. But no. DeepStar Six is what it is, a pleasant one-off that sinks into a crowd.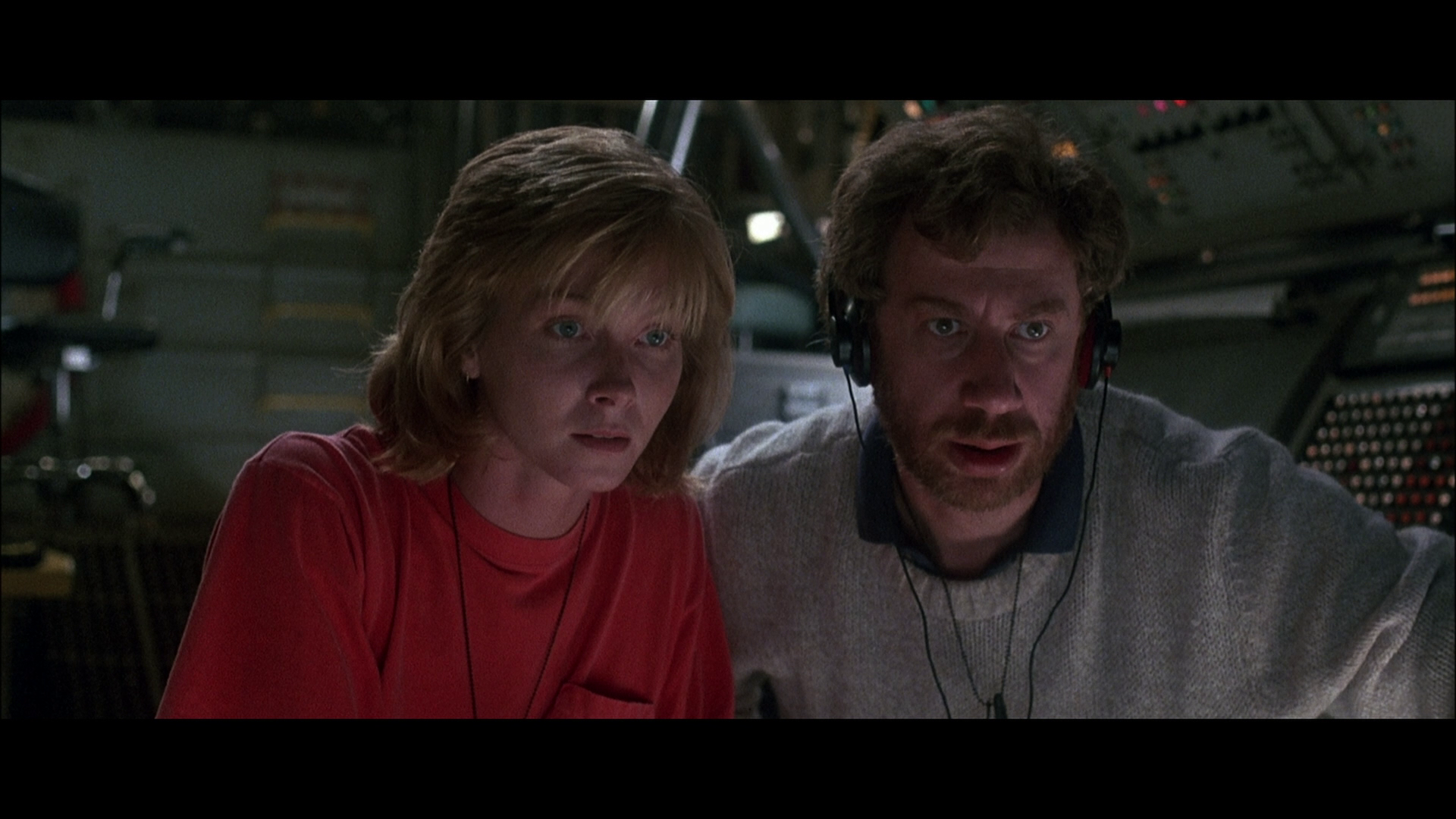 Video
Although a bit gritty, potentially indicating a slight sharpening filter (but not enough to leave halos), Kino's Blu-ray nicely renders the source video. Grain replication poses no real challenge to the encode. Image consistency holds, and the print shows no real damage short of a dirt/dust speck on rare occasion.
Steel and rust limit the palette, giving DeepStar Six a definite (and appropriate) gray overcast aesthetic. Primaries run on low energy, but set design involves multi-colored buttons, all nicely saturated when on screen. Flesh tones dry out, but again, sensibly so given the environment.
A pleasing clash of light and dark elevate things. Lighting stays unexpectedly bright, hitting a great peak and maximum contrast. DeepStar Six practically glows at times. Plus, black levels reach suitable density. Dimensionality props things up, solidifying a dense, natural HD image.
Audio
A gorgeous score from Henry Manfredini reaches full range via PCM stereo. Crisp horns meet the leering bass line at both ends. There's zero fidelity loss overall. Dialog follows suit, if slightly aged at the source, but never lost amid the action.
Dripping water, electrical sparks, and crumbling walls utilize a spacious front soundstage, leaving no question as to the channel split. It's effective and pure, using the format as intended (and accurately).
Extras
Director Sean Cunningham joins visual effect supervisor James Isaac for a commentary track, and another follows from writers James Abernathy and George Miller. An isolated score fills space with a Henry Mandredini interview. The three key players from the effects team speak in separate interviews edited together, running 21-minutes. Stars Nancy Everhart and Greg Evigan add their piece about the filming for 17-minutes. Kane Hodder who handled stunts finds 13-minutes sufficient for his thoughts. Some raw set footage runs four minutes, vintage interviews reaching eight minutes, followed with an EPK and promo materials.
DeepStar Six
Movie
While lacking in story or character depth, DeepStar Six nicely mixes the underwater disaster and creature feature genre.
The 15 unaltered images below represent the Blu-ray. For an additional 19 DeepStar Six screenshots, early access to all screens (plus the 120,000+ already in our library), 120 exclusive 4K UHD reviews, and more, subscribe on Patreon.
---