Meta-Comedy Horror Anthology
Seven unconnected, low-budget tales of gore and goofy horror fill the extremely uneven Scare Package. Coming from Shudder, the original anthology is more spoof than serious horror.
Framed around a demented rental store owner and his new employee, Scare Package tries its best being a funny send-up of horror tropes and largely fails. The lone highlight is a rare appearance by legendary television host Joe Bob Briggs, appearing as himself.
You would think given seven chances that Scare Package could serve up a few effective frights mixed in with the comedy. Cheap gore and heavy make-up effects are sprinkled in the lazy storytelling, mostly used tongue-in-cheek for hammy laughs.
Scare Package isn't very good unless you are looking for a lot of blood and cheap gore mixed with a lame comedy spoof
The self-aware characters love mocking classic horror tropes as they become caught up in the action themselves. Chris McInroy's "One Time In The Woods" is over the top, a poorly-acted mess that feels like a sketch comedy skit. It only stands out because the jokes hit home a little better than the other shorts.
Each short shares the same basic ethos – basic but barely serviceable production values, unformed screenplays with few true laughs, unknown casts, and a willingness to mercilessly mock the genre.
Scare Package isn't very good unless you are looking for a lot of blood and cheap gore mixed with a lame comedy spoof of horror movies.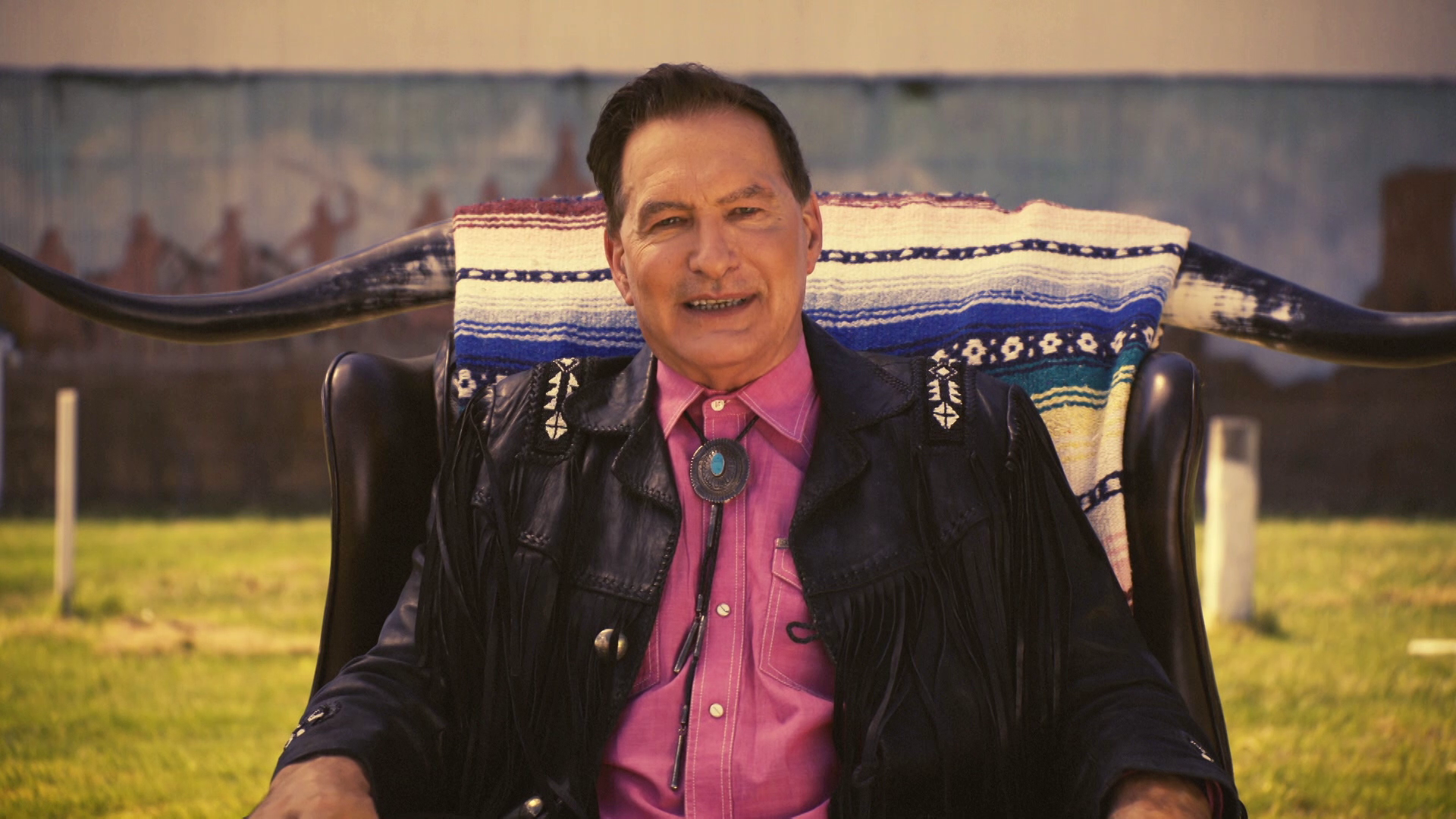 Video
The low-budget horror anthology has cheap HD video quality that emphasizes clarity at the expense of everything else. Made by several different directors, this is not a uniform viewing experience. Oddly framed at 2.00:1, the interlaced 1080i presentation has a bright, over-driven contrast.
RLJ Entertainment provides a strong AVC encode on a BD-50. The movie runs 107 minutes, while the longer cut including the Joe Bob Briggs' segments runs 143 minutes.
The bright, unpolished picture quality probably works for Scare Package since the anthology is more comedy than serious horror. It appears that little thought was given to each tale's cinematography beyond seeking a crisp Hi-Def picture with substantial definition. I do wonder if an interlaced presentation was intended for the main feature. It's possible the variety of different shorts necessitated leaving it interlaced.
Audio
Scare Package's 5.1 DTS-HD MA audio belies its anthology status. Made by different directors, the sound design and surround mix are all over the map in terms of staging and presence.
Dialogue is well-prioritized and intelligible, though often taking a backseat to louder and more dynamic cues coming from the rear channels. There's enough bass and channel separation for a fully discrete experience, but Scare Package doesn't wow with immersion.
Optional English SDH and Spanish subtitles play in a white font.
Extras
Scare Package comes with a hefty set of special features, including the full Joe Bob Briggs special episode that it first aired with on Shudder. The Blu-ray is coded for Region A and RLJ Entertainment includes a cool embossed slipcover.
Audio Commentary – Aaron Koontz and Cameron Burns discuss their conception of the project and putting together an anthology in this largely forgettable commentary. Interestingly enough, most of the other filmmakers and talent for Scare Package hail from Austin, Texas.
Locker Room Z Short Feature (08:58 in HD) – This zombie tale set in a gym was apparently filmed as part of Scare Package. No reason is given for why it got cut from the anthology.
Rad Chad's Rad Ad (01:32 in HD) – Chad makes a commercial for his video store.
Blooper Reel (05:29 in HD)
Original, Not As Good Ending (01:25 in HD)
The Last Drive-In With Joe Bob Briggs: Scare Package Episode (143:30 in HD) – Horror host Joe Bob Briggs and mail girl Darcy introduce Scare Package in this lively and fun episode from the long-running horror show. Having appeared himself in the movie, Joe Bob Briggs is candid when giving his opinion of its successes and failures. The long running time is mostly for including Scare Package, the Last Drive-In segments amount to about thirty minutes of material.
Full disclosure: This Blu-ray was provided to us for review. This has not affected the editorial process. For information on how we handle review material, please visit our about us page to learn more.
Scare Package
Movie
Even the great Joe Bob Briggs can't save this horror-comedy anthology from Shudder.
The 15 unaltered images below represent the Blu-ray. For an additional 23 Scare Package screenshots, early access to all screens (plus the 120,000+ already in our library), 120 exclusive 4K UHD reviews, and more, subscribe on Patreon.
---