Stop Thinking Human
There's no truer '80s adolescent male fantasy than The Last Starfighter. Star Wars or The Goonies didn't do what The Last Starfighter does, which is make an average, unremarkable, lower middle class teen-ish guy a galactic hero because he's good at videogames.
For The Last Starfighter, it's more than space battles. On Earth, Alex Rogan (Lance Guest) nears a high score in the Starfighter arcade game, and his entire trailer park complex rushes to watch him play. Friends, senior citizens, his girlfriend – they all care and admire his utterly useless talents. Best as The Last Starfighter established, Rogan has nothing else. Colleges rejected him, he does paltry handyman work (so the elderly can watch soaps on time), and he never leaves his home. That videogame gives him the needed escapism.
… even after admitting to knock-off status, there's still not much else like The Last Starfighter
To build a hero, Rogan's game playing needs to matter. WarGames dealt with this same arena a year before, but with real world consequences. Here, it's all geek-dom, drawing on the decade's pop culture obsessions to shoot laser beams, pilot spacecraft, and defeat evil. Oh, and in the end, the girl agrees to go along, held in Rogan's arms, as his heroism is celebrated.
There's not much depth to The Last Starfighter. That too pairs to gaming, where subtext was secondary to high scores. Upon arriving on planet Rylos, Rogan never questions his enemy. He just goes along with what he's told. For all he knows, he's fighting FOR Space Nazis. But who cares if even the olds fancy his digital flying skills?
On screen, it's a delight, and while mimicking Star Wars (from Rogan unable to join friends because of chores or an alien arm sliced off), Last Starfighter makes a daring visual effects progression. Unarguably dated digital effects now appear unusually glossy, even smeary in regards to things like asteroid textures. Yet consider in-home high-tech back in 1984 resided inside the Atari 2600, where a stick figure represented a dragon-fighting knight. So imagine sitting in the cockpit of a machine that could only exist within future technology, a unique surrealism indicative of a different millennium. It's not about what looks real, so much as what a kid could reasonably imagine after flipping the power switch on their Atari.
Then, imagine that same kid, immediately after, receiving cheers after saving Earth from Space Invaders. That's what Last Starfighter represents, so even after admitting to knock-off status, there's still not much else like it.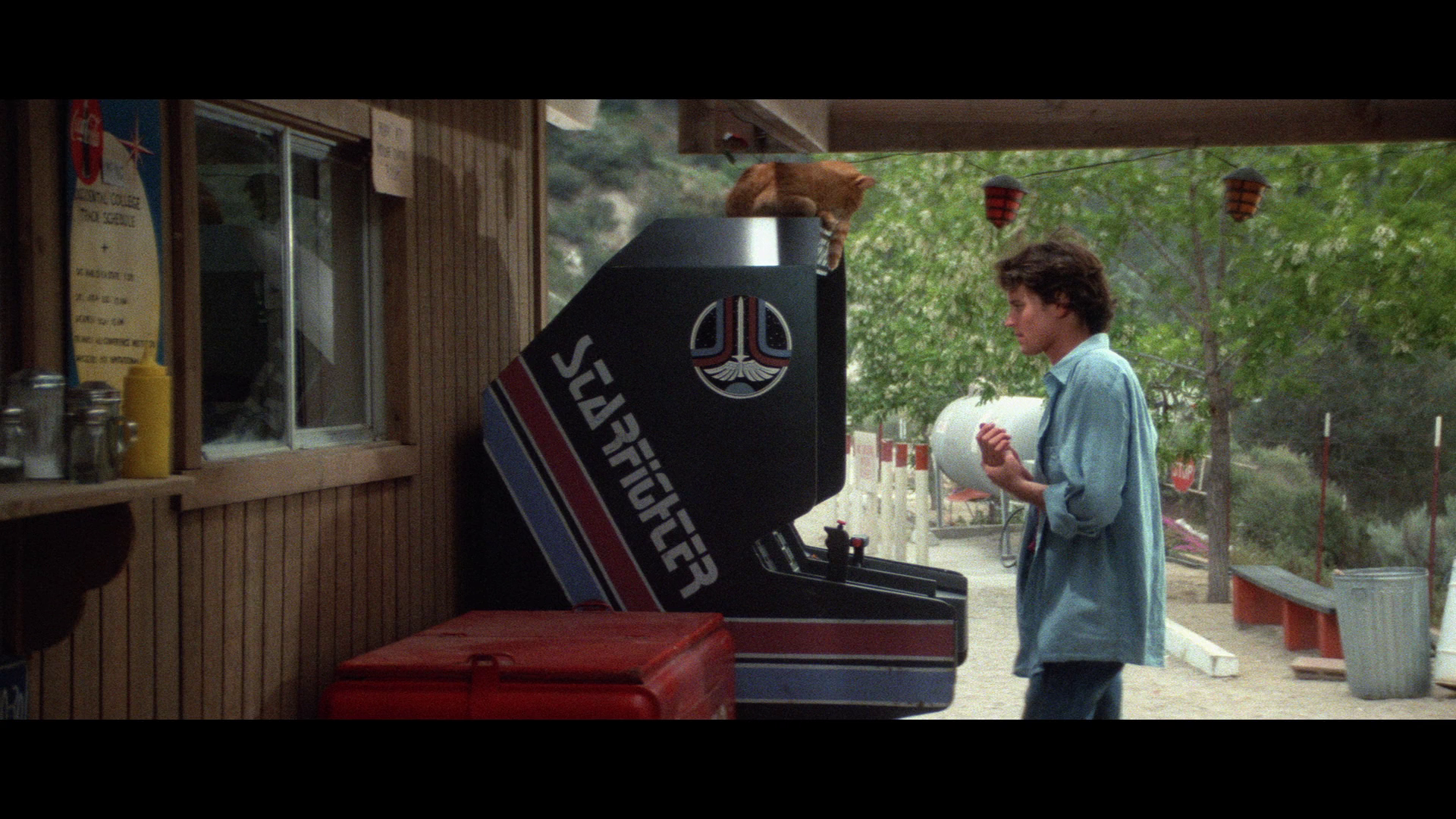 Video
Debuting a new 4K scan, Arrow presents a glistening, gorgeous new master for this Blu-ray, infinitely sharper than earlier Universal discs that suffered significant DNR. Now, grain is preserved, at times thick, but naturally resolved. Obviously, some composites and other effects create imperfections at the source. Also, a few vertical scratches lightly appear, mostly repaired and only a faint remnant left.
Exceptional sharpness and detail bring out facial definition. This goes for human and alien, the makeup work easily appreciated. Exteriors on Earth capture the location shoot in full. Into space, set work is revealed, holding up against this high resolution scrutiny. Well-aged CG does involve a little aliasing, unavoidable considering, while still offering incredible images from nearly 40-year-old tech.
Color runs slightly flat, but wastes nothing to saturate laser beams and planetary sights. It's easy to forgive the primary's lacking dynamics elsewhere once deep into the action. Plus, perky contrast keeps everything bright, and black levels provide a suitable counter, if not always the purest black. Space is deep enough to convincingly render a void behind the starfields though.
Audio
Options come in triplicate, all DTS-HD. Stereo, 4.1, and 5.1 cram into the sound selection menu. Any of those three produce well managed audio. Fidelity between them doesn't present any striking difference, although the score's boomy low-end is better captured by the surround tracks, logically so. Explosions rarely rattle anything (although engines nicely rumble as they pass).
Rear channels pan things around as needed, also offering ambiance. Listen for a hearbeat-like effect in Xur's command center. Craig Safan's awesome score spread outward, making full use of the soundstage. There's slightly better discrete work in the modern 5.1 track, but it's a negligible upgrade.
Extras
First up in the menu is an interview with Catherine Mary Stewart, running for just under 10-minutes. Composer Craig Safan speaks for 12-minutes. Jonathan Betuel takes the hot seat to speak about his script for a bit past nine minutes. SE Supervisor Kevin Pike adds his thoughts over 10-minutes. A feature on Digital Productions, who handled the groundbreaking CG, runs shy of eight minutes. Collector Estil Vance is pulled in to talk about the arcade game. A great retrospective reaches 24-minutes. Next is a 32-minute making of, definitely older compared to the latter extra. Image galleries and trailers follow.
Head into the audio menu for a triple commentary, the first with Lance and his son Jackson Guest. Second involves director Nick Castle and production designer Ron Cobb, the third bringing in podcaster Mike White.
Full disclosure: This Blu-ray was provided to us for review. This has not affected the editorial process. For information on how we handle review material, please visit our about us page to learn more.
The Last Starfighter
Movie
As pure an '80s adolescent fantasy as anything else during the decade, The Last Starfighter is a clever, wild spectacle.
The 15 unaltered images below represent the Blu-ray. For an additional 37 The Last Starfighter screenshots, early access to all screens (plus the 120,000+ already in our library), 120 exclusive 4K UHD reviews, and more, subscribe on Patreon.
---