A Key to Nowhere
Becky is a lot of kids now – their innocence is taken by violence, rage, or anger at far too young an age. It's cruel. So is Becky.
A Nazi enters Becky's (Lulu Wilson) life right as she becomes a teenager. If not a school shooter or parental abuse, then a social reality represented by Dominick (Kevin James), a prison escapee, covered in Hitler's symbology. His head, his chest, his back; all of Dominick celebrates hate, and the only thing stopping further coverage was his imprisonment.
Something snaps in Becky. Her mother recently died. She's turned into a resentful teen, lashing out at her dad and stepmom. Anger like that only needs a catalyst to explode. Hence, Dominick, a home invader torturing Becky's guardians and killing her dog.
Becky's most memorable moments don't come from Lulu Wilson, rather the vicious kills
The process is instant, but designed as to shed Becky's childhood. Her first kill involves a ruler and colored pencils, back-to-school supplies employed to their gruesome possibilities. Then, more brutal attacks. A wooden board (nails jutting out), a boat propeller, a lawnmower. Becky spares nothing in its gore. It shouldn't either. As a twisted, cruel revenge fantasy, it's a film considering communal effects on a kid likely not even in high school yet. The more cruelty kids see, the more they'll potentially act on it.
As a thriller, Becky only hits rudimentary norms. Genre predictability means one of the crooks reconsiders their actions, others too stupid to use logic, and their leader increasingly hateful. The few racial elements lack nuance, specifically a direct back-and-forth between a Nazi and mixed race couple. Hate is all too familiar, or worse, standard.
But this isn't a straight home invasion story. It's something more insidious, if unsuccessful. Consider Becky's most memorable moments don't come from Lulu Wilson's performance and transformation, rather the vicious kills. Seeing an eyeball hang out (then cut off) and someone's face ripped in two (complete with lingering close-up) says less about a loss of purity than it does a fetishism for showing this stuff in the first place.
There's reason why Dominick chose the specific house. Turns out, that object is more allegorical in the end, something for Becky to look at and consider in the aftermath. When credits roll, there's an unnerving feeling that these events leave kids staring down two paths. Only a few need to take the wrong one before there's a newsworthy reaction; Becky might be one of them.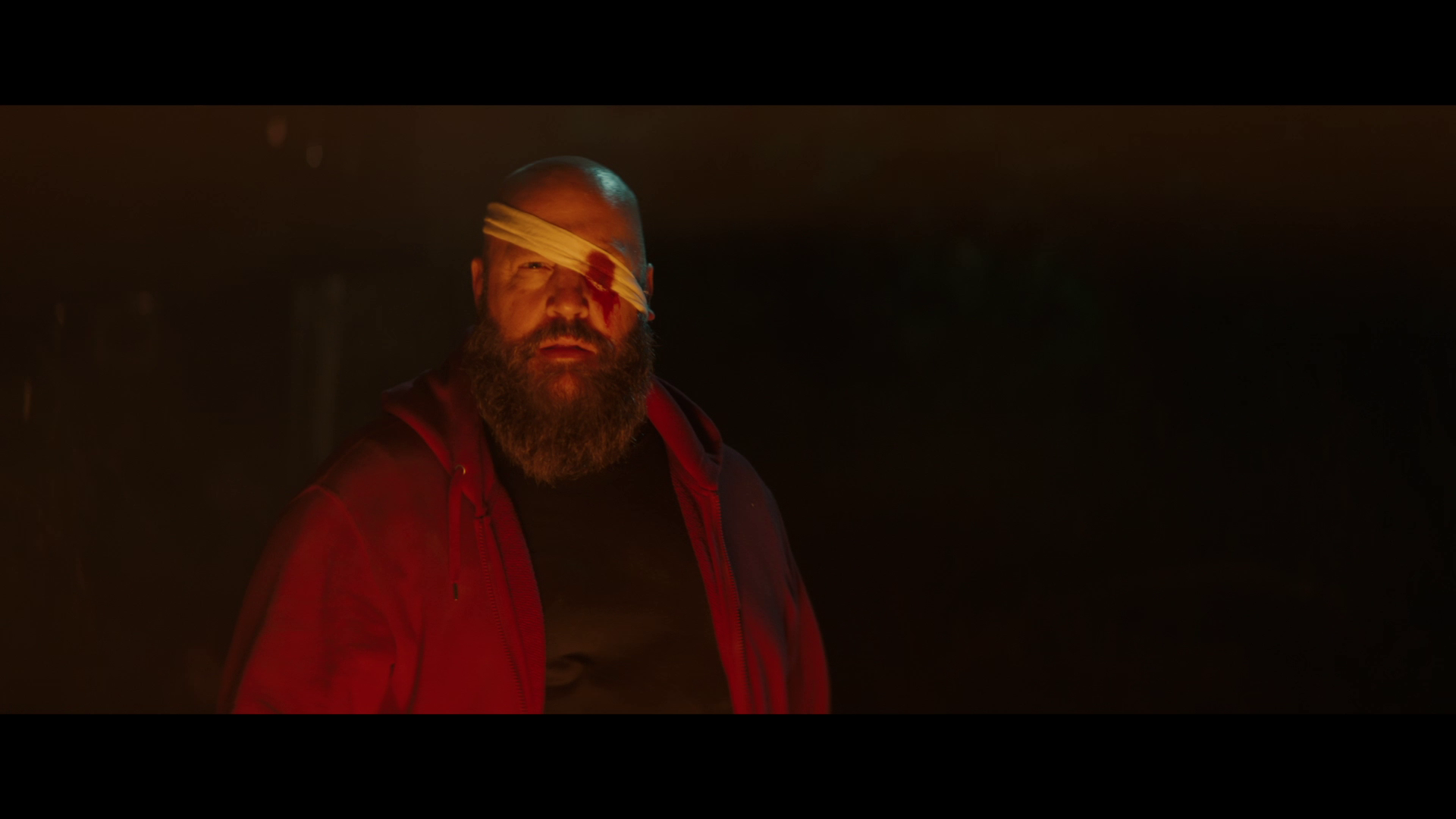 Video
It's as if Becky came to Blu-ray out of spite, rather than linger on streaming services. For one, this dismal encode, rife with extreme banding and often, thick blocking. Artifacts cloud otherwise clear digitally-shot images, running detail into the ground.
Resolution sags, adequate, but nothing more. Sharpness allows a few moments to stick out, mostly provided by the environment. Becky's outdoor, forested areas allow texture to flourish on occasion. Trees, leaves, bark, etc. all have their moments.
Shadows tend to bring a definite cost though. Black levels fail to reach any major depth, allowing added crud into the transfer. Compression doesn't keep up as needed, but this is true in the bright contrast too. Opening and closing scenes fade in from pure white, and the transition brings the banding into view.
Aesthetic design favors flatter color, lightly dusted with limited pop. Flesh tones sag, primaries dry up, but it's appealing dullness suited to the story.
Audio
More evidence Becky isn't meant for Blu-ray? Dolby Digital. Compressed audio lacks in range, offering little low-end other than occasional tension beats in the score. Gunshots flail, minimal in punch.
Despite ambient possibilities given the forest setting, there's nothing happening there either. Stereos handle most of the work, surrounds barely a presence.
Extras
The final proof? A trailer. That's it for bonuses.
Becky
Movie
Kevin James takes on a brutal villain's role in Becky, a film willing to ask what happens when society forces kids to grow up too fast.
The 15 unaltered images below represent the Blu-ray. For an additional 23 Becky screenshots, early access to all screens (plus the 120,000+ already in our library), 100 exclusive 4K UHD reviews, and more, subscribe on Patreon.
---