Follow the White Rabbit
There's a lot of Ronald Reagan in this movie. Not literally or physically, just his leadership era. Although the camera pans past homeless living in boxes and alleyways capturing New York's crime wave high, Fatal Attraction focuses attention on the ritzy. Lawyers and clients and politicians, all worried about their image despite their fortunes. They attend parties, mocking the Japanese who were beginning to assimilate their business ventures Stateside to the worry of some. Then, of course, sex is bad.
Sex is the downfall of everything in Fatal Attraction. Giving in to lust, having an affair – nothing is worse in this conservative world. Sex makes women crazy and men paranoid. It breaks families apart, and leads to abortion. To Fatal Attraction, New York was like it was because those at the top gave in to desire, and their focus became insular.
In the first shot, the camera pans over the city's skyline at sunset. New York is about to sleep. Quiet ambiance turns to agitation. Horns begin honking at rush hour. Police sirens start ricocheting off concrete. Near street level, lawyer Dan Gallagher (Michael Douglas) prepares for a business event that will change his life. New York sleeps, but its people don't. Or rather, they do: with each other.
Fatal Attraction is masterful at quiet tension
After his weekend stand with Alex Forrest (Glenn Close), he tries to leave her apartment. In retaliation, she cuts her wrists. In the bathroom, Gallagher patches her up, while outside, a red light flashes in the window, the warning sign he doesn't see yet the camera does. Fatal Attraction often frames events in such a way, like Gallagher standing in an alley, considering his next move as a monumental shadow is cast on the wall, overtaking him. Forrest's presence looms just as large, and is equally inescapable.
Domesticity is so plain in Fatal Attraction. There's nothing to it. A wife, one kid, one dog. A rabbit, later, at least for a short while. Routine as married life seems, it's also stable and pure. In a way, Americana too, with the family looking to move from an apartment to a suburban home. Upward mobility, success, at least until sex ruins it all. Fatal Attraction is masterful at quiet tension. There's always a chance the phone will ring or for a knock at the door.
Truth is waiting to invade and disrupt the upper class normalcy. Eventually it does, and if Psycho made people fearful of showers, then Fatal Attraction does the same for a full bath. What was once a conflict spread across multiple buildings and offices comes down to a single small bathroom. Hidden truths eventually close us all in.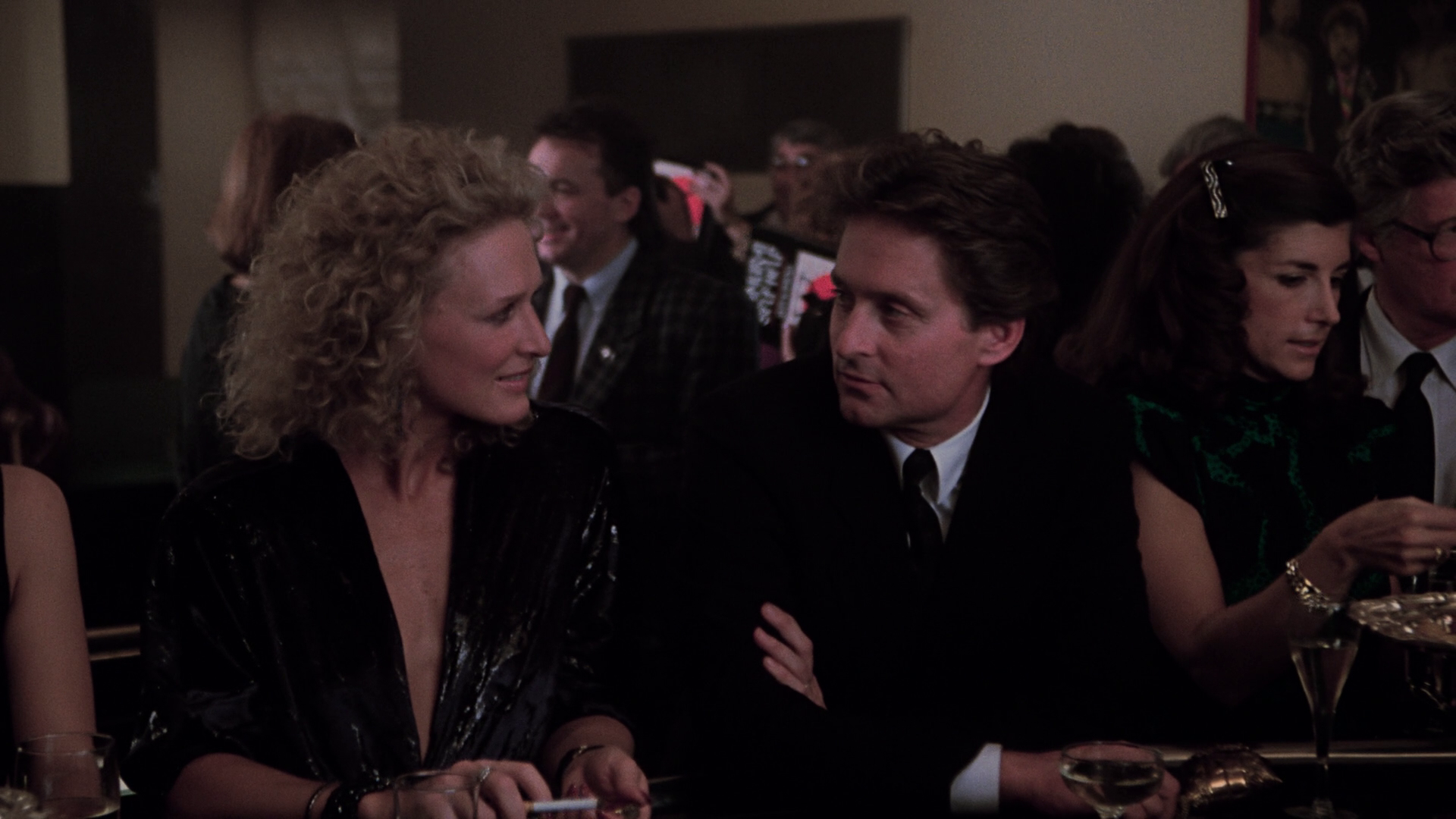 Video
Paramount brings a new 4K scan to this Blu-ray release. It's a little inconsistent. The first act is bothered by light filtering. Grain structure smears and ghosts with motion, but oddly stops as Fatal Attraction moves on. Then, the transfer comfortably settles in, managing a strong, typical '80s era film stock. Superb encoding doesn't cause compression. Instead, the filmic aesthetic holds up.
In comparison to previous Fatal Attraction discs, color grading changes too. Flesh tones now carry a digital hue. While saturation stays appropriately muted (proper to the source), skin pushes a chalky tone. That's odd: the other grading touches look fine and pure.
Non-existent print damage keeps Fatal Attraction clean. No specks or scratches here. Overall contrast avoids dullness, and black levels look fantastic. In avoiding crush, the master pushes the format's potential, especially with Douglas' darker suits. Detail isn't lost.
Audio
The TrueHD 5.1 soundstage generally plays with the stereos. Sound naturally separates between the fronts. Nothing betrays the original design to any notable degree. Rear speakers rarely do anything other than send out limited ambiance on city streets or at parties. A roller coaster ride is the only standout moment where surrounds pick up.
Sharp fidelity preserves dialog sans problems. Age-related grit mirrors the usual roughness from the period.
Extras
Director Adrian Lyne steps in to look back on his work, running a little under eight minutes. He's also involved with a solo commentary, an introduction to a lengthy alternate ending (12-minutes), and brief rehearsal footage.
Full disclosure: This Blu-ray was provided to us for review. This has not affected the editorial process. For information on how we handle review material, please visit our about us page to learn more.
Fatal Attraction
Movie
Pure in its '80s allure, Fatal Attraction uses New York's seedy backdrop for a moral tale of secrets, lust, and revenge.
The 15 unaltered images below represent the Blu-ray. For an additional 17 Fatal Attraction screenshots, early access to all screens (plus the 100,000+ already in our library), 100 exclusive 4K UHD reviews, and more, support us on Patreon.
---