Play Ball!
Rather than the entire town pushing into the Griswold home akin to It's a Wonderful Life's ending, a SWAT team breaks through the windows. It's a cap on Christmas Vacation's flawless parody, that of the family man who endears himself to the perfect, nostalgic holiday like those when he was younger.
While a squirrel leaping from the tree, a cat scorched by lights, raw sewage explosion, and unexpected visitors make for boomy comedy, Christmas Vacation succeeds at the little things too. Trapped in the attic, Clark Griswold (Chevy Chase) digs up 16mm reels of his baby boomer past. In one clip, he reaches for a gift in an open car trunk; his father aggressively slaps his son's hands away and mom turns to a worried expression. Like Clark, we always remember the good stuff even if that shakes off some truth.
Things weren't the same and weren't as nice by the '80s; Christmas Vacation acknowledges the decade's cynicism. It's a Wonderful Life was a wartime fantasy, and where Jimmy Stewart was merely annoyed by a loose newel post on the stairs, Griswold takes a chainsaw to his. Problem solved.
Christmas Vacation is that rare truthful American holiday movie
The entire holiday changed since Griswold grew up. No one worked for themselves anymore. Instead, Griswold turns into an unappreciated corporate slave, holding out hope that a bonus will see him through. Brian Doyle Murray plays the Mr. Potter character, but with distance. Murray's office is a 20-foot long table, made so as to never get close to his employees. On the opposite end of the room, a row of suck up gifts – each one the same thing.
Next door to the Griswolds live two materialistic yuppies, the cliché '80s pair making it big in Reagan's economy and dreaming of the day they leave this upper middle class neighborhood. And no wonder – the holidays invite Cousin Eddie (Randy Quaid) who parks his trailer in the driveway and empties his toilet in the sewer. Even Clark wants out.
It's comedic brilliance mashing this entire family together, mixing generations as much as income brackets and with no way to escape one another. That rising tension spreads across Clark's face the longer he sticks with it, the fake platitudes and sarcasm eventually not enough to shield himself from a changed reality. His breakdown is what everyone wanted at one time or another, hacking at trees, clubbing squirrels, and holding his boss hostage – indirectly, anyway. Christmas Vacation is that rare truthful American holiday movie… just slightly exaggerated.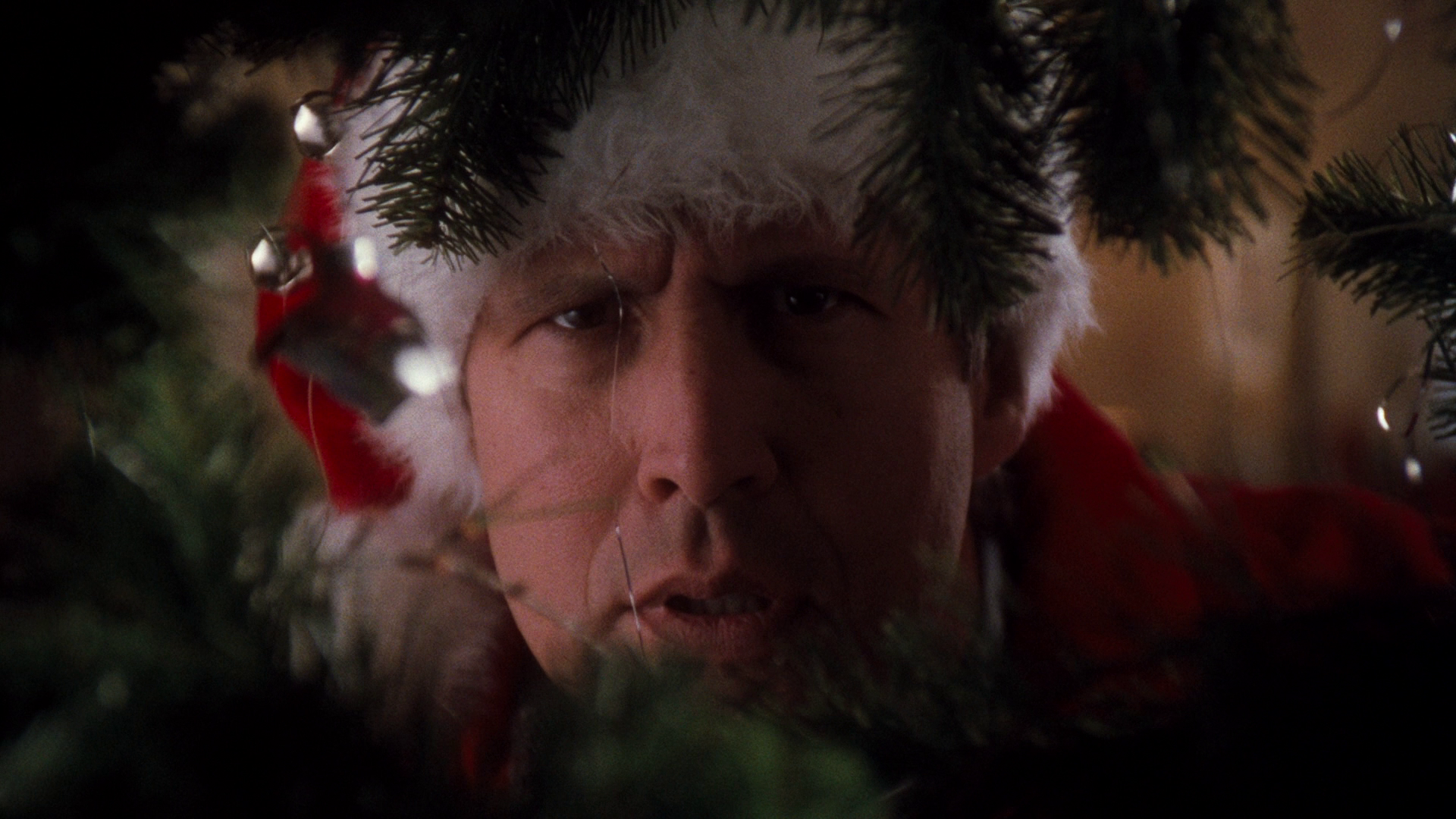 Video
Edit – A reader informed us Warner quietly issued this new scan in the old packaging with re-releases back in 2015. Original text:
With zero fanfare, Warner sends Christmas Vacation out in a new Steelbook edition (a Best Buy exclusive) with a new transfer. The art makes no mention this is new, but it's clear during the opening animation: A digital halo no longer surrounds the moon. The merciful edge enhancement removal makes a difference.
Don't get too excited though. It does not appear Warner went to the original negative. Grain is simply too heavy for a camera negative, even a low-grade stock. Better encoding parameters treat the source well, avoiding pockets of noise that were typical of early Warner compression. Christmas Vacation looks like film now, even if not the best film.
Whatever the resolution, sharpness improves. Maybe not dramatically, but enough to make facial texture visible and turning the Warner backlot neighborhood gorgeous when in view. When Clark finally gets his light show working, it's easy to differentiate between the bulbs.
Also better is contrast, brighter and heartier than before. During the sledding scene, black levels produce fantastic depth. No crush is noted. Color earns a boost too, maybe a little too saturated when Clark is looking out from the kitchen fantasizing in his red robe, but otherwise pure. Flesh tones gain luminescence, and primaries add to the holiday sparkle.
Audio
Also new: uncompressed audio. Previously, the Blu-ray used Dolby Digital; now it's DTS-HD. While not rich in fidelity, the undervalued score and theme song bring enough range in this stereo mix. The beat sends weight to the low-end, and treble survives unscathed.
Pure dialog doesn't indicate any aging. A few stereo effects add energy (Clark passes side-to-side on the sled) where needed.
Extras
While the rest is new, the same cast commentary as before is still the only bonus.
Christmas Vacation
Movie
Relentlessly cynical and hilarious, Christmas Vacation brought the American holiday experience into the '80s, screaming the entire way.
The 15 unaltered images below represent the Blu-ray. For an additional 27 Christmas Vacation screenshots, early access to all screens (plus the 100,000+ already in our library), 100 exclusive 4K UHD reviews, and more, support us on Patreon.
---