Farrah Fawcett Changes The Television Landscape
Despised by critics and dismissed as "jiggle tv" by naysayers, Charlie's Angels hit the airwaves in 1976 and became an instant ratings smash thanks to its trio of stunning female stars.
One of the decade's most iconic and sexiest television shows, three beautiful female leads play private investigators stopping crime as directed by an unseen man named Charlie. Running five seasons, it lost mega-star Farrah Fawcett after only one season and severely dropped in ratings by season four when new Angel Shelley Hack replaced original Angel Kate Jackson.
Super-producer Aaron Spelling's show ran five seasons on ABC and made household names out of original stars Farrah Fawcett, Jaclyn Smith and Kate Jackson, not to mention Cheryl Ladd as Fawcett's replacement. Actor David Doyle served as John Bosley, Charlie's assistant that often worked alongside the Angels.
It's hard for someone today to understand how Farrah Fawcett became such a huge cultural sensation starring on Charlie's Angels after just one season. The wife of Lee Majors, the original bionic man, Aaron Spelling cast her as Jill Munroe and quickly became a break-out star in season one. The sexy blonde's iconic, suggestive poster sold millions in the '70s, virtually becoming ubiquitous across America. Her feathered hairstyle spawned millions of female imitators, looking for "the Farrah Fawcett." Few television stars in any era have had such influence.
… Charlie's Angels remains compelling entertainment for older fans who want to revisit the 1970s
Every fan of the show was intensely disappointed when Fawcett left after only one season, making the jump to movies and other projects. Cheryl Ladd was successfully brought in to replace Fawcett, playing her younger sister. Sued by Spelling for breaking her contract, Fawcett would return for six episodes in seasons three and four.
Filled with beautiful female leads fighting crime, often in stylish outfits, Charlie's Angels fits comfortably within the landscape of '70s network television. The three Angels would solve a new case or mystery each episode, directed by their mysterious benefactor and boss, Charlie. Wonderfully voiced by John Forsythe, Charlie never appeared. His assistant Bosley would serve those duties, often assisting the Angels on their case. Packed with action and intrigue, viewers tuned in each week to see the Angels kick butt and solve mysteries.
Charlie's Angels was an immensely popular show during its heyday and has remained a cult favorite over the years, surviving long after cancellation through syndication. Two different reboots have been attempted on the silver screen, first by Drew Barrymore in the early 2000s and most recently by Kristen Stewart and Elizabeth Banks this year. The original's enduring appeal is almost certainly due to its stunningly attractive and charismatic cast. Even after Farrah Fawcett left for a movie career, Jaclyn Smith, Cheryl Ladd and Kate Jackson were major television stars.
It's not a television show that could be made today but the original Charlie's Angels remains compelling entertainment for older fans who want to revisit the 1970s.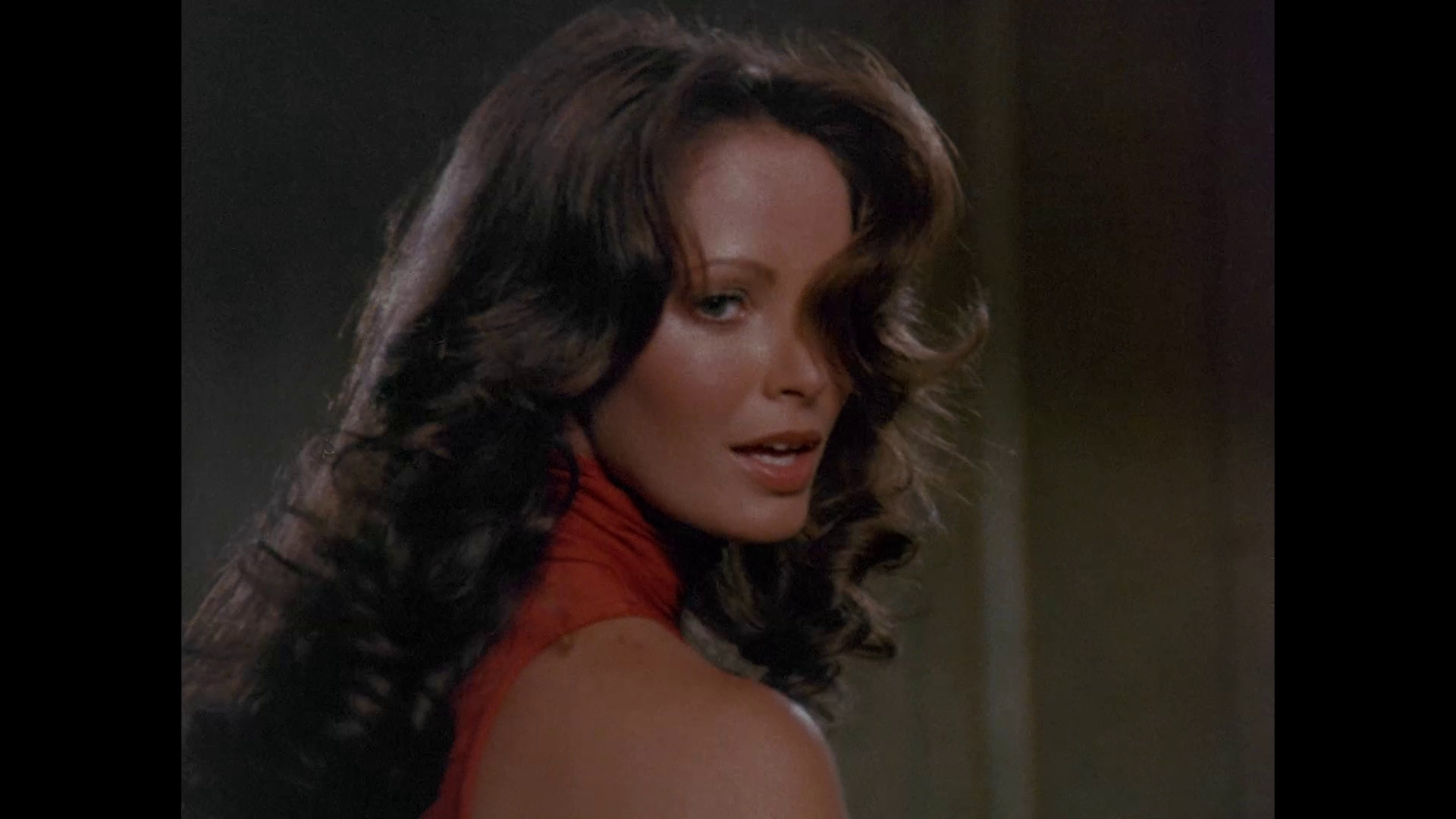 Video
Mill Creek licenses the complete Charlie's Angels, all 110 episodes broadcast between 1976 and 1981, from Sony. It was Sony that struck this fine HD transfer from available broadcast elements. The 1080P transfers were made for syndication and streaming distribution.
Mill Creek spreads the episodes over nineteen BD-50s, leaving the last disc for the 2011 reboot. There is an issue with the two-part episodes spread throughout the five seasons – they were originally broadcast as feature-length episodes but were cut up into two-parters for syndication. Small amounts of footage have been cut from them to fit into two episodes. These uncut feature-length episodes have not been released on home video.
The picture quality here is quite strong at times with striking clarity and textural detail, although print damage does appear. Debris on the print isn't a real issue as elements are in fine condition. The damage is minor in scope, ranging from small white specks to bigger splotches, but there are occasionally larger scratches. The 1.33:1 presentation has fairly nice color and contrast. Primary colors are nicely saturated, aided by the superb craftsmanship of network television cinematography in this era before networks started storing their television masters on low-resolution videotape.
Averaging five or six episodes per disc, the AVC encode holds up surprisingly well thanks to the brightly lit cinematography and little action on the screen. Grain reproduction is nicely film-like without major processing. It's a fine film transfer handled with best practices by Sony.
Audio
Not expecting much from a network television series made in the 1970s, the 2.0 DTS-HD MA audio is reasonably serviceable. The opening credits and its iconic voice-over dialogue come through clean and crisp in decent fidelity.
Occasional action moments are less than spectacular compared with today's expansively discrete soundtracks. The score and music offer a better platform for the audio, opening the soundstage a tiny bit. The bass-shy audio is somewhat thin, performing better in the studio-filmed interior scenes.
Optional English subtitles play in a white font. These are unusual subs in that they jump around on screen from line to line.
Extras
Mill Creek provides simple but effective packaging for a set containing 20 Blu-ray discs. Two over-sized Blu-ray cases hold ten discs each in a cardboard slipcase. The packaging is rugged, if a bit plain for such an expensive set. No episode guide or booklet is included, though each disc's face list which episodes it includes. The menus are incredibly basic and do not include pop-up menus when playing an episode.
Licensed from Sony, it's believed the entire set is coded region-free for international customers.
There are no bonus features per se for the original show, but Mill Creek has included the entirety of the aborted 2011 television reboot starring Minka Kelly. The show only ran eight episodes on ABC before stopping production. They get a disc of their own in the 20-disc set.
Charlie's Angels: The Complete 2011 Series (1080P 1.78:1; 5.1 DTS-HD MA w/ optional English subtitles) – Created by Smallville producers Miles Millar and Alfred Gough for ABC, this television reboot starred Minka Kelly and Rachael Taylor. While the new show retained some of the original's premise, characters like Bosley were greatly changed. Bosley became a handsome hacker who helped the ladies out, clearly intended to be a romantic foil unlike the original character. It's glossier than the original with more action, the three Angels updated with new gender politics strengthening their roles as protagonists. Shot in HD, picture quality is reminiscent of early 2010s television with slightly softer digital video despite the generally pleasing clarity and definition.
Full disclosure: This Blu-ray was provided to us for review. This has not affected the editorial process. For information on how we handle review material, please visit our about us page to learn more.
Charlie's Angels: The Complete Series
Series
Changing the landscape of television forever in the 1970s, Farrah Fawcett and the other Angels tackle weekly mysteries in style.
The 15 unaltered images below have been taken from the Blu-ray. For an additional 55 Charlie's Angels screenshots (and screens from the 2011 reboot), early access to all screens (plus the 100,000+ already in our library), 100 exclusive 4K UHD reviews, and more, support us on Patreon.
---