Stacy Keach Pairs Up With Jamie Lee Curtis
Called the Hitchcock of Australia, director Richard Franklin (Psycho II) crafts a sly suspense thriller starring Stacy Keach and Jamie Lee Curtis. While the Hitchcock comparisons are overblown, Road Games comes out of the early 1980s as a convincing cat-and-mouse hunt between a truck driver and the maniac he's following.
Bringing to mind such road hunt gems as Steven Spielberg's Duel, Road Games borrows heavily from Hitchcock's Rear Window. Stacy Keach is Pat Quid, a truck driver on the lonely roads of Australia. His only companion is a lovable dingo that rides by his side. The inclusion of Jamie Lee Curtis might fool you into thinking this is a lurid, sleazy slasher. Road Games relies more on psychological terror than visceral frights. This isn't Halloween.
Quid is a lone wolf that likes amusing himself with little games to pass the time driving trucks. The news of a grisly serial killer running rampant piques Quid's interest in a man he crosses one lonely night on the road. Curious, Quid plays detective and begins following the man he thinks is the killer.
… easygoing chemistry between its two stars and carefully scripted suspense
In the course of his misadventures, Quid stumbles upon a free-spirited young woman hitchhiking her way across Australia. Jamie Lee Curtis plays Hitch, a nickname given to her by Quid. Looking for excitement, the young woman is just as interested in solving the mystery of the maniac as Quid. Running into a colorful line-up of Australian characters across the Outback, the duo are on the hunt for a killer.
Road Games is unusual for its era. Clearly made with an eye on the American market with two well-known Hollywood leads, the Australian film is less concerned with grindhouse thrills than you'd expect. The movie is actually rated PG, though a hard PG that would get a harsher rating today. Opening with a lurid scene of murder, Road Games derives most of its entertainment from the easygoing chemistry between its two stars and carefully scripted suspense. Stacy Keach builds a playful character in Quid with a performance that owes much to Clint Eastwood.
The effective Australian thriller isn't quite the shocker promised in trailers. However, it delivers credible suspense and likable characters. Richard Franklin's Road Games recalls the premise of Rear Window transplanted to the open road. The storytelling could have used a little more edge. Stacy Keach and Jamie Lee Curtis work out well in their roles. Followers of their work will find Road Games a fine entry in their careers.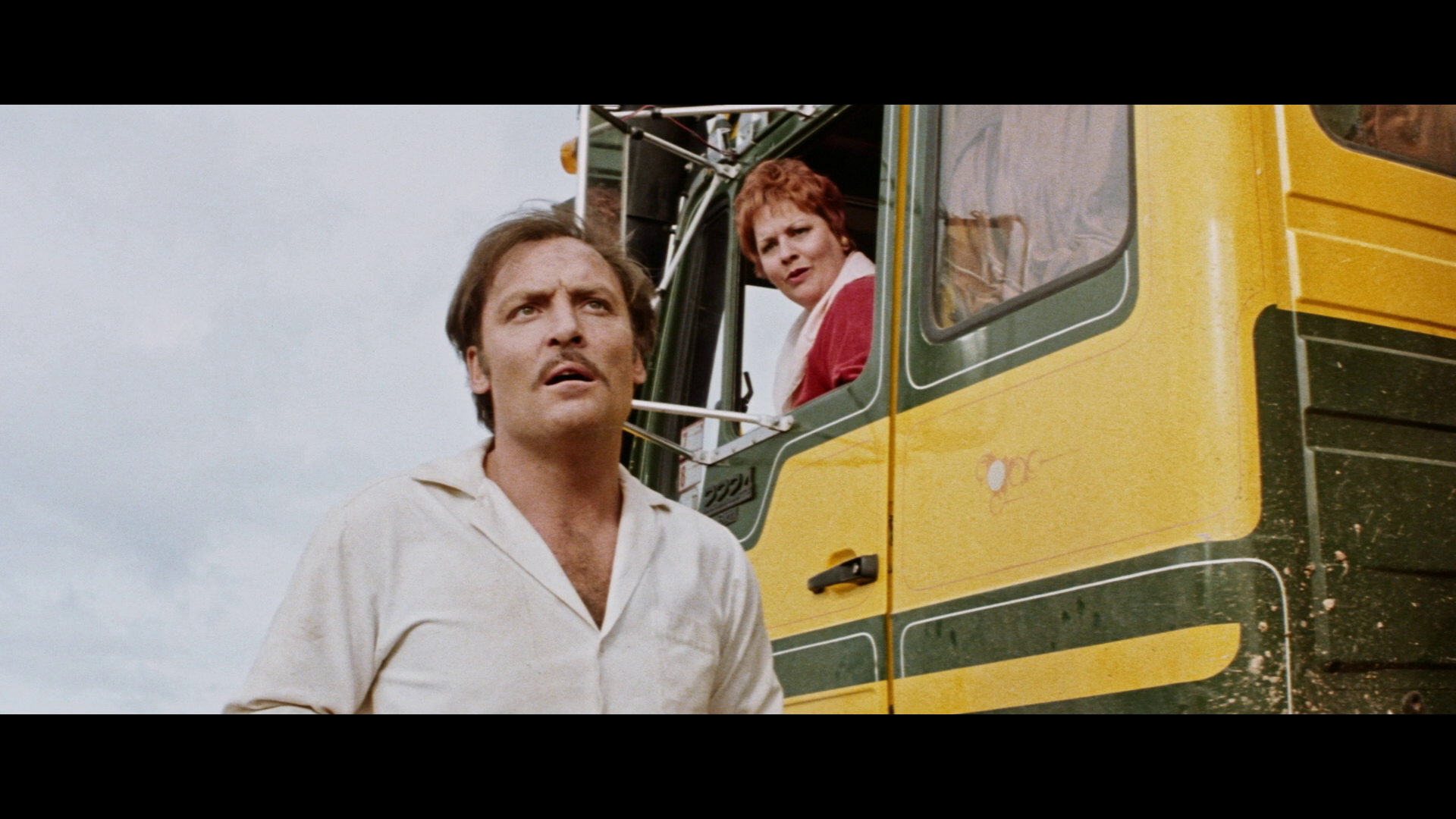 Video
Scream Factory borrows the 4K film transfer struck back in 2016 for the Umbrella Entertainment BD released in Australia. It has been licensed from StudioCanal. It's a decent scan of film elements with pleasing texture. However it is not taken from the original camera negative, which is unfortunate but not uncommon for older Australian movies. This is definitely a lesser source than is ideal.
The 1080P picture quality is serviceable with some dust and debris evident in the largely unrestored print. Clarity and definition are average for an older slasher. A hint of ringing can be spotted but the transfer has little overt processing. The thriller has appreciable fine detail for low-budget fare, it's a well-made production done by experienced filmmakers.
Presented at its intended 2.39:1 aspect ratio, the 100-minute main feature receives a superb AVC encode on a BD-50. Grain reproduction is largely film-like and natural. Scream Factory's encode is sharper and more refined than the Australian import. The Panavision film has tolerable black levels, if somewhat limited shadow delineation. There's been no real attempt to transform the movie's color palette for modern tastes. Colors are largely flat and muted, dabbling in brownish earth tones. Flesh-tones are healthy without appearing overly warm. This is one case where punching up the contrast may have worked out.
Audio
The original mono audio is heard in fairly crisp 2.0 DTS-HD MA. The lossless audio is an improvement over the lossy audio found on the Umbrella Entertainment BD. Missing is the 5.1 surround remix found on that Australian import. Composer Brian May (not Queen's lead guitarist) fashions a score filled with Western flourishes, somewhat unusual for what is a suspense thriller.
Dialogue is crystal clear and there's a ripe, rich fullness to the score, balanced nicely together. It's nicely remastered without the usual recording issues for low-budget films from this period.
Optional English SDH subtitles play in a white font. They remain inside the scope presentation at all times.
Extras
Scream Factory's collector's edition is positively loaded with a wide array of bonus materials. Arriving with a slipcover, their treatment includes a new audio commentary and new special features exclusive to this Blu-ray. By comparison, the region-free Umbrella Entertainment Blu-ray released in Australia drops the lossless audio and has a couple unique special features of its own.
The Blu-ray is coded to Region A. The slipcover is guaranteed available in its first three months of release. The newly commissioned artwork comes from artist Joel Robinson (The Blob, Vice Squad, Candyman). The tasteful art is front-facing and the reverse side of the wrap features the original theatrical artwork. The first 500 orders from Shout Factory's site will receive an exclusive limited-edition 18" x 24" rolled poster of the new art.
NEW

Interview with actor Stacy Keach

(13:25 in HD) – The actor recalls working with Richard Franklin and Jamie Lee Curtis, discussing his experience in Australia.
NEW

Audio Commentary

– A group discussion with cinematographer Vincent Monton, production coordinator Helen Watts and costume designer Aphrodite Kondos, moderated by filmmaker Mark Hartley.
NEW

1980 Script Read

(116:30 audio only) – Producer/director Richard Franklin and actors Stacy Keach and Marion Edwards read through the entire screenplay.
NEW

Composer Brian May music demos accompanied by stills and poster gallery

(04:15 in HD)
Audio Commentary from 2003 by director Richard Franklin & documentary producer/writer Perry Martin
Kangaroo Hitchcock: The Making of ROAD GAMES (20:23 in upscaled HD) – A 2003 featurette with interviews from director Richard Franklin and actor Stacey Keach.
Extended interviews from Mark Hartley's 2008 documentary 'Not Quite Hollywood' (63:19 in HD) – Individual segments featuring Jamie Lee Curtis, Stacy Keach, director Richard Franklin, Stunt Coordinator Grant Page, screenwriter Everett De Roche, cinematographer Vincent Monton and assistant director Tom Burstall
Lecture on the making of Road Games (130:22) – 1980 lecture with Richard Franklin, co-producer Barbi Taylor & composer Brian May, introduced by critic Tom Ryan.
Profile on Richard Franklin (24:35 in SD) – 1981 profile of the director and his work.
Audio Interview with Richard Franklin From 2001 (23:28)
Audio Interview with actor Stacy Keach from 2016 (09:10)
Audio Interview with stunt coordinator & actor Grant Page from 2016 (32:48) – The actor that played the killer covers working on the movie.
Gallery of stills, Production Shots, Storyboards, Newspaper Reviews, Promotional & Artwork Materials (32:13 in HD)
Theatrical Trailer (02:11 in HD)
Full disclosure: This Blu-ray was provided to us for review. This has not affected the editorial process. For information on how we handle review material, please visit our about us page to learn more.
Road Games
Movie
A decent Australian thriller on the road starring Stacy Keach and Jamie Lee Curtis that relies more on twists and suspense than lurid action.
The 15 unaltered images below represent the Blu-ray. For an additional 28 Road Games screenshots, early access to all screens (plus the 100,000+ already in our library), 100 exclusive 4K UHD reviews, and more, support us on Patreon.
---