Isabela Moner Becomes A Teen Dora
Nickelodeon's Dora The Explorer finally hits the big screen with a live-action adventure. It was only a matter of time before Hollywood adapted the popular property for a movie.
Led by Isabela Moner (Transformers: The Last Knight) playing a teenage version of the beloved animated character, Dora and the Lost City of Gold is a refreshingly positive and upbeat family flick. It is a real delight for its intended younger audience. Adult cast members include Eugenio Derbez, Michael Peña, Eva Longoria, and Danny Trejo in a special voice role.
Director James Bobin (The Muppets) and company hit a home run transforming the popular children's show into enjoyable fun for the whole family. Tossing in nods to Dora's animated roots, fans will enjoy the self-aware references. The hokey humor doesn't always work but earnest teen characters like Randy provide amusing laughs. Dora's frequent animal companion is Boots, an adorable CGI monkey that helps her out of some tough spots.
An adventure film loosely molded around a quest inspired heavily by Indiana Jones and the Last Crusade, Dora faces the most dangerous jungle of them all – high school. Having been home-schooled by her loving parents deep in the jungles of South America during her formative years, Dora has grown up to become a relentlessly optimistic teenager. It's how the movie explains teen Dora keeping the same pleasing personality as her six-year-old animated counterpart.
… a refreshingly sweet and positive movie aimed at young fans that grew up with Dora the Explorer
Prone to bursting out in song and dance when happy, Dora has trouble fitting into high school life after her parents ship her off to California. There Dora reunites with her cousin Diego (Jeff Wahlberg), embarrassed by her awkward behavior. Done with a positive attitude, younger viewers should have no problems with the jokey storytelling.
Dora and her high school friends get thrown into a dangerous quest looking for Parapata – the fabled lost city of gold from Incan legend. It's a race to keep ahead of villainous treasure hunters and find her parents.
The PG adventure works well and should find a following with children who grew up on Dora the Explorer. Isabela Moner brings the spirited animated character to life in plucky style.
Dora and the Lost City of Gold is excellent family entertainment with wholesome values. The sweet and positive movie is geared for younger audiences but provides youthful energy pleasing anyone.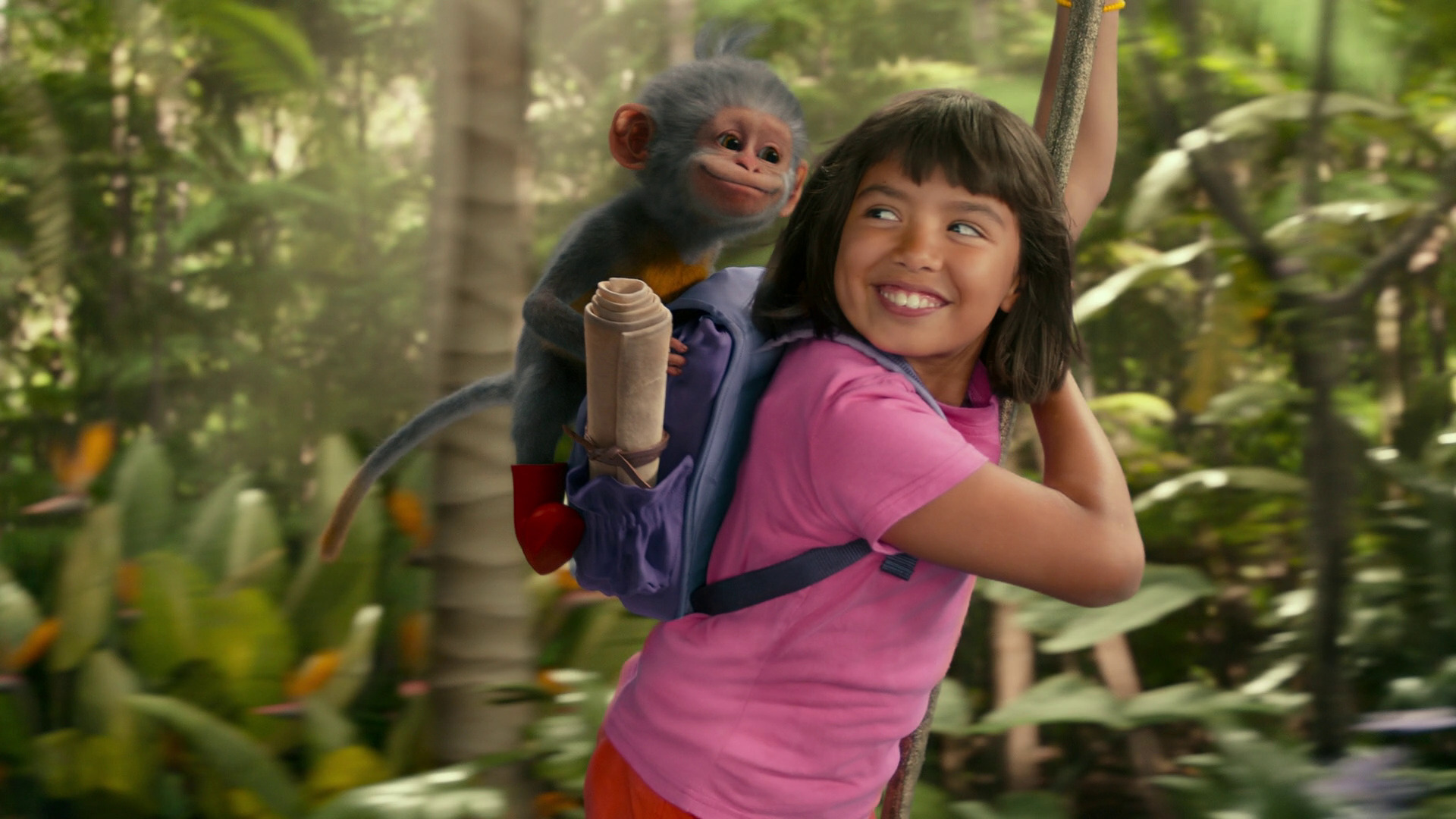 Video
Why didn't Paramount release Dora and the Lost City of Gold on UHD? That is the question everyone will be asking after seeing this beautiful Blu-ray presentation.
The reference-quality 1080P video has stunning clarity and razor-sharp definition. The live-action adventure was finished at 4K and filmed using ARRI Alexa tech. Impeccable definition and clarity bring Dora's adventures to vibrant life in a variety of settings. Its perfect contrast, deep black levels, and exacting fine detail create stellar picture quality.
Paramount encodes the main feature in completely transparent AVC on a BD-50. The pristine presentation highlights the lush colors seen in the jungle. Made as eye candy for children, the impressive visuals are a feast for the eyes.
Audio
The Dolby Atmos soundtrack features a solid mix of immersive elements and distinct audio objects, especially during the jungle scenes. The active audio design has effective directional cues and lively bass when necessary, as seen when a log rolls down a jungle wall.
Surround elements range from lightly atmospheric to decidedly more aggressive, creating a well-defined soundstage. Dialogue is immaculately reproduced in the expansively mastered audio. While lacking the constant engagement of the best Atmos audio, Dora delivers a full range of impressive moments.
As many as eleven optional subtitles are included, everything from Chinese and Thai to English SDH. They play in a white font. 5.1 Dolby Digital for Spanish, French, Japanese and Thai dubs are included, not to mention a Descriptive English Audio track.
Extras
Paramount brings Dora to home video in a Blu-ray and DVD combo package. A slipcover is available. The included digital copy redeems in HDX quality, good for both iTunes and VUDU.
I'm not sure the target audience for Dora cares that much for these types of glossy, superficial EPK featurettes more aimed at adults. Director James Bobin and stars Isabela Moner, Eugenio Derbez, and Eva Longoria contribute interview segments.
Bloopers (02:12 in HD) – Mishaps and bloopers from the cast on set.
Deleted and Extended Scenes (12:35 in HD) – Eleven scenes left out of the final cut can be played together.
All About Dora (08:40 in HD) – Discover how Isabela Moner and James Bobin transformed Dora into a jungle-savvy teenage adventurer in this behind-the-scenes featurette.
Can You Say Pelicula? (04:33 in HD) – A brief featurette exploring the underwater stunts and quicksand scene with comedian Eugenio Derbez.
Dora In Flower Vision (04:16 in HD) – Actor Jeff Wahlberg discusses the movie's playful animated sequence and its nod to Dora's cartoon origins.
Dora's Jungle House (03:45 in HD) – Isabela Moner guides a look behind the scenes with a tour of Dora's home in the jungle.
Full disclosure: This Blu-ray was provided to us for review. This has not affected the editorial process. For information on how we handle review material, please visit our about us page to learn more.
Dora and the Lost City of Gold
Movie
A lively family movie that nicely updates the childish cartoon character's adventures for the big screen with Isabela Moner.
The 15 unaltered images below represent the Blu-ray. For an additional 37 Dora and the Lost City of Gold screenshots, early access to all screens (plus the 100,000+ already in our library), 100 exclusive 4K UHD reviews, and more, support us on Patreon.
---