More Hot Action From Andy Sidaris
Using a bevy of buxom Playboy playmates in lead roles, Andy Sidaris takes his campy formula of girls, bullets, and action to new heights in Do or Die. The cult exploitation filmmaker from the '80s, known for such b-movie gems as Picasso Trigger and Hard Ticket To Hawaii, turns the heat up in this explosive action thriller from the early '90s.
Consciously making films for late-night cable outlets like HBO with steamy action, Sidaris specialized in gorgeous women with revealing outfits kicking butt. Usually involving nudity and a hail of gunfire, all his films are pure b-movies made for men.
Pat Morita has a turn as international crime lord in Do or Die's heady mix of hot babes and wildly over-the-top action from Malibu Bay Films. Former television star Erik Estrada and playmates Dona Speir, Roberta Vasquez, and Cynthia Brimhall go up against Morita's deadly assassins.
…all his films are pure b-movies made for men
Set in a variety of exotic locations from Hawaii to Vegas, Do or Die unfolds as a series of surprisingly fun, if disjointed, action scenes loosely held together by a flimsy narrative. The female characters end up out of their clothing for the flimsiest of reasons.
A pair of sexy undercover female agents are targeted for death by Kane (Pat Morita) after causing too many problems for his business. Kane sends teams of assassins after top federal agents Donna (Dona Speir) and Nicole (Roberta Vasquez). The pair get help from an agent played by Erik Estrada and other beautiful women well-known to regular Sidaris fans.
Do or Die has plenty of eye candy and delivers competent action scenes. Sidaris isn't shy about showcasing the ample assets of Speir and Vasquez, nor Carolyn Liu's character serving Pat Morita. Fans of The Karate Kid will see Mr. Miyagi in a whole new light.
Andy Sidaris made one kind of film and Do or Die is one of his top efforts. The movie isn't anything more than a sexy romp showcasing its female cast in high-octane action sequences. It's b-movie entertainment from the days when you could get away with that type of material aimed solely at male audiences.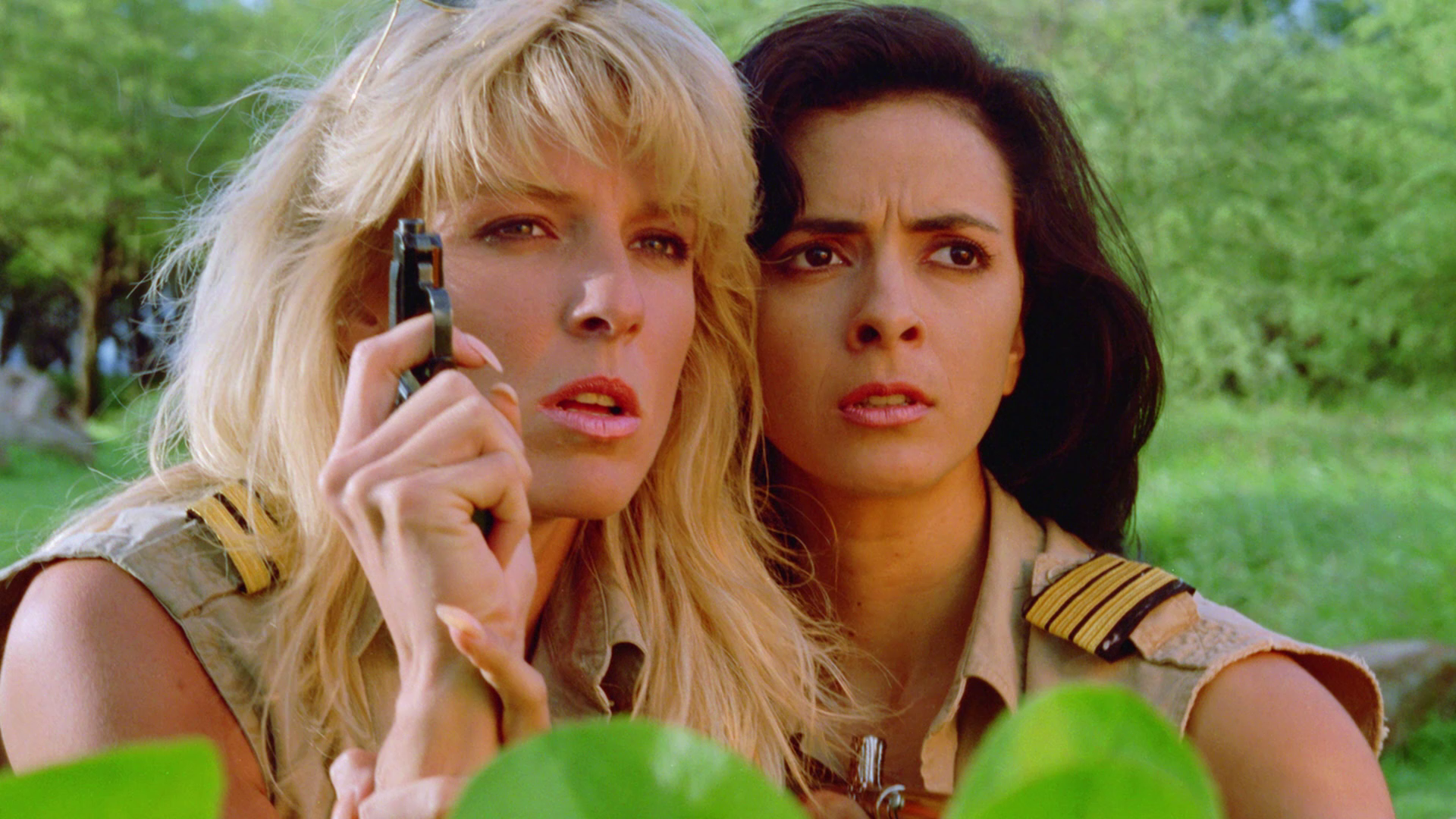 Video
Available on Blu-ray for the first time, Mill Creek Entertainment gives the 1991 production a 4K restoration. The elements haven't undergone significant restoration, but the new film scan pulls out satisfying detail and texture in a largely untweaked transfer. The 1.78:1 presentation has a few quirks as a result of its low-budget pedigree – a recurring vertical stripe down the middle of the movie appears in select scenes, apparently a production error. The untouched color grading has too much of a red push and occasionally washed-out colors, but overall displays solid clarity and definition.
The main feature runs over 96 minutes on a BD-50, encoded in fine AVC. Grain reproduction is okay, though a few noisy scenes drag the picture quality down. Its brightest exteriors are clearly the movie's best eye candy – many of the action scenes have impressive cinematography and make a real visual impact. Some ringing is present in the opening scenes.
Do or Die's picture quality generally improves as the movie proceeds. The early Hawaii scenes don't look so hot with crushed shadow delineation and soft, mushy grain. Once the opening act is over, the video becomes far more consistent with an even contrast and sharper definition.
Audio
The 2.0 DTS-HD MA audio largely satisfies with a basic mix featuring intelligible dialogue and cheesy music by Richard Lyons. Serviceable-sounding explosions and gunfire are vaguely muffled in volume, lacking some low-end impact. Do or Die doesn't have the pinpoint imaging and percussive power of today's home theater mixes. What it has is a compressed and limited range with average fidelity.
Optional English SDH subtitles play in a white font.
Extras
The extras included here for the 1991 movie are brought over from BCI Eclipse's old DVD set of Andy Sidaris' movies. Mill Creek provides a digital copy, albeit only good on a site called moviespree.com. So no luck if you were hoping for an iTunes or Movies Anywhere code.
Film Introduction (00:58 in SD) – Director Andy Sidaris and a topless Julie Strain help introduce the main feature.
Audio Commentary – The husband-and-wife filmmaking team of Andy & Arlene Sidaris discuss making Do or Die in this fun, down-to-earth listen. Andy Sidaris doesn't pretend he's making anything but exploitative b-movies and the couple share an easygoing chemistry that fondly reminisces over behind-the-scenes topics.
Behind The Scenes Featurettes (38:42 in SD) – Seven different archival featurettes are strung together in a row, most featuring footage from the set of movies like Hard Hunted and others as Andy Sidaris provides commentary. It's an interesting array of insight into Sidaris' hokey brand of filmmaking. One featurette has Andy and Arlene getting interviewed by TV host Joe Bob Briggs.
Malibu Bay Films Trailers – Over ten different Sidaris movies are included: Hard Ticket to Hawaii (1:38), Picasso Trigger (1:28), Savage Beach (1:38), Malibu Express (2:19), Guns (1:27), Hard Hunted (1:05), Fit to Kill (1:43), Enemy Gold (2:26), The Dallas Connection (1:26), Day of the Warrior (2:03), Return to Savage Beach (2:23)
Do or Die Trailer (01:19 in HD)
Full disclosure: This Blu-ray was provided to us for review. This has not affected the editorial process. For information on how we handle review material, please visit our about us page to learn more.
Do or Die
Movie
Those familiar with Andy Sidaris' brand of campy action films, made with Playboy playmates and vaguely familiar actors like Pat Morita, will find a lot to enjoy in this steamy action thriller.
The 15 unaltered images below represent the Blu-ray. For an additional 29 Do or Die screenshots, early access to all screens (plus the 100,000+ already in our library), 100 exclusive 4K UHD reviews, and more, support us on Patreon.
---