Drummer Stewart Copeland's Private Home Movies of Sting & Andy Summers
The Police's drummer Stewart Copeland had the foresight to purchase a Super 8 movie camera before the popular rock band had ever hit it big. Beginning in 1978, Copeland started filming "home movies" with his camera behind the scenes and on the road, capturing a unique perspective on band members Sting and Andy Summers as the group rose to international stardom.
Everyone Stares: The Police Inside Out is a documentary of sorts looking at the early touring years of The Police, written and directed by Stewart himself. He also scores the film using various snippets of Police songs. Employing almost all of his own self-shot footage, Copeland narrates this quirky and raw personal look at the band's formative years. Taking a scattered look at the group, with more of a focus on their antics on the road than their classic songs, this is not made for the casual fan.
More a collection of random private moments from the band's early years than a mature and professional documentary detailing their history, the film jumps all over the place. We get glimpses of early concert performances, mostly from the back of the stage, in grainy Super 8mm footage with serviceable audio at best. If you are looking for revelatory archival concert performances by the Police in studio-quality audio, look elsewhere. The included performances are fragmentary glimpses of early concerts.
…quirky and raw personal look at the band's formative years
Copeland narrates Police: Everyone Stares, rarely elaborating enough to make complete sense of everything seen and heard on screen. In fact, you'll need to hear the included commentary by Copeland and Andy Summers for better comprehension and understanding.
We get a lot of Sting mugging for the camera, including one friendly struggle with guitarist Andy Summers on a train. There's an interesting focus on the group's growing fan base after they start bagging hits and becoming popular. The band members barely escape a concert venue after one show, practically having to plow through a crowd of eager fans in their vehicle.
Most noticeable in the documentary's footage is Sting's growing status as the group's front-man, separating himself apart as the band gets more famous and successful. Beyond the personal behind-the-scenes footage showing a different side of the band, fans should enjoy seeing the rare live performances and hearing studio "derangements" of classic Police songs used in the score.
Subjects covered include the group's early tours in both America and Europe, an early video shoot for a music video, their appearance at the US Festival, and members of the band's entourage including roadies and various managers.
Made for the group's biggest fans, Copeland's Police: Everyone Stares certainly has its share of interesting moments, if scattered and freewheeling. It gleans some insight into the Police's music and personal lives during their touring years. But the documentary's very loose structure, and lack of discipline telling a coherent narrative, makes it tough viewing for anyone but die-hard fans.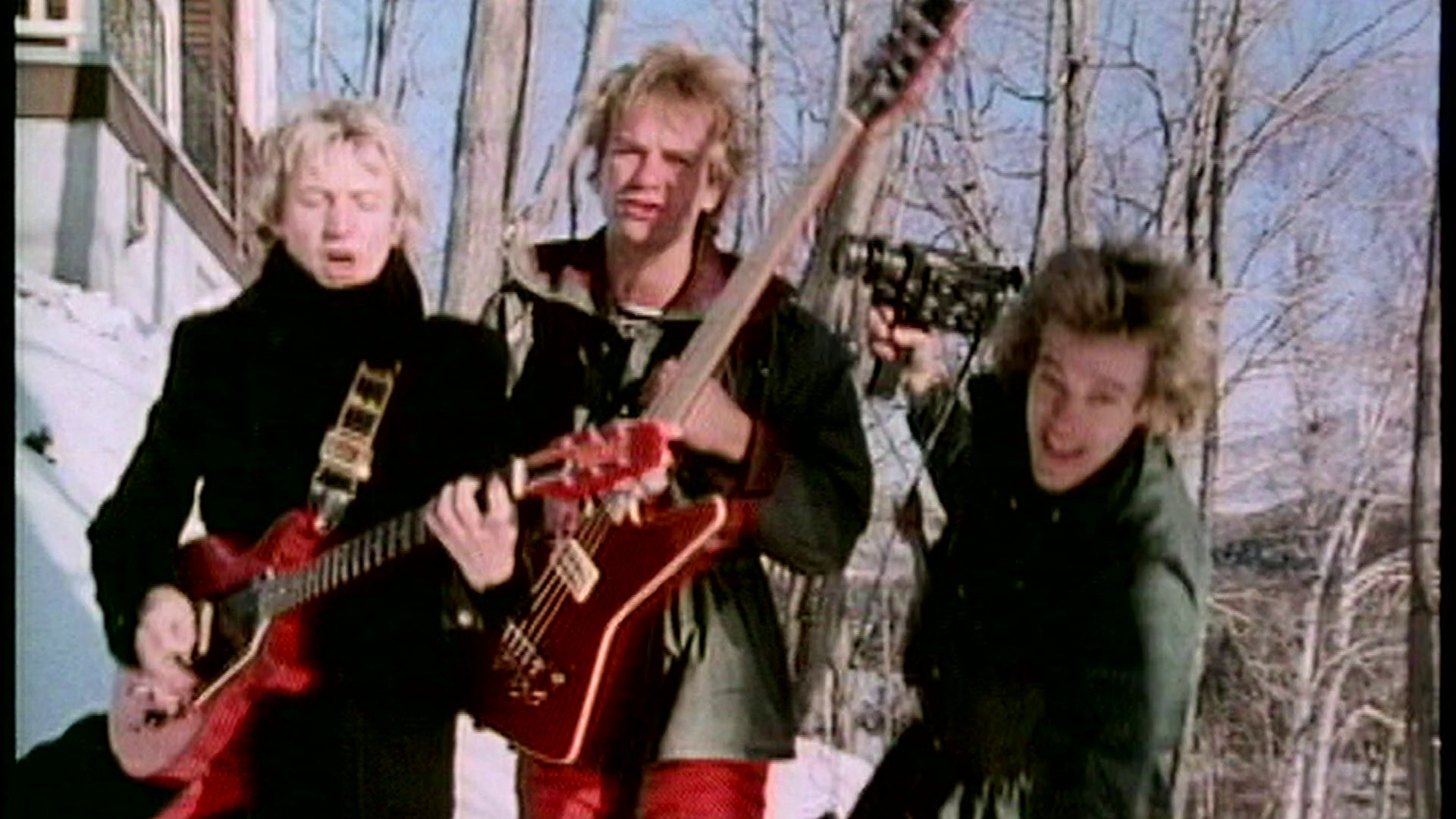 Video
Eagle Rock Entertainment and Universal Music Group present Copeland's The Police: Everyone Stares on Blu-ray with limited video quality. This is one release where releasing it on BD was almost entirely due to the audio, as its "HD" video looks dreadful.
Almost the entire documentary consists of rough Super 8mm footage personally filmed by Copeland during the late 1970s and early 1980s. Limited visible resolution and erratic picture quality dominate most of the main feature's 73 minutes. The 1080i presentation comes in at 1.78:1.
Encoded in AVC on a BD-50, the serviceable compression does its best with the inconsistent contrast and black levels. Some video footage is clearly upscaled from sub-HD sources, introducing combing and aliasing. It's likely nothing could have been done to enhance the rough Super 8 footage's picture quality. The lack of modern "talking head" interviews makes Everyone Stares a visually tough watch. You just never get a break from all the rough footage, which lacks good-looking material.
Audio
The audio soundtrack comes in two flavors. The 5.1 DTS-HD MA soundtrack is at its best during Copeland's own score, which incorporates original Police hits, rare live performances and seven previously unreleased "derangements" of classic Police songs made solely for this documentary.
Copeland's limited narration floats above the soundstage, slightly detached from the inferior-sounding Super 8's murkier audio. Dialogue in the archival clips is hit or miss, as clarity switches from perfect to muffled on occasion. The score's music has solid fidelity in a pleasant mix with substantial bass. It's not heavy on the surround immersion but adds a nice sense of space and ambience.
A secondary 2.0 PCM soundtrack narrows the soundstage in terms of depth with the same general fidelity as its surround cousin.
Optional English, German, Spanish, French, and Portuguese subtitles play in a white font.
Extras
The Blu-ray is coded for all regions. The included booklet has a small essay by Stewart Copeland explaining his work on the film and its history.
The audio commentary is essential. In fact, I wouldn't watch Everyone Stares without hearing it.
Behind Andy's Camel (14:16 in HD) – A series of ten clips in 1080i video that didn't make the final cut. This is Super 8 footage of amusing moments that likely didn't fit the film's grander narrative.
Live "Shards" (10:20 in 1080i HD; 2.0 PCM) – Ten clips of various live and rare performances, mostly from the European leg of the group's early touring. Includes various song performances in France, Belgium and Spain, among others. Includes hits like Roxanne, Message In A Bottle and Can't Stand Losing You. The sound quality is really only so-so.
Audio Commentary – Stewart Copeland and Andy Summers give this highly amusing "commentary" as they recall the Police's early years. This audio commentary actually makes the film because it's fairly dull and repetitive without their input adding to its atmosphere. Copeland leads the discussion but Summers throws in his memories when necessary. There's no real dirt thrown around but the discussion makes the film far more revealing.
Full disclosure: This Blu-ray was provided to us for review. This has not affected the editorial process. For information on how we handle review material, please visit our about us page to learn more.
The Police: Everyone Stares
Movie
The Police's Stewart Copeland presents a fragmented film on the band's early touring years as they rose the charts to international superstardom.
The 15 unaltered images below represent the Blu-ray. For an additional 14 Police: Everyone Stares screenshots, early access to all screens (plus the 30,000+ already in our library), 75+ exclusive 4K UHD reviews and more goodies, support us on Patreon.
---