Cleaning Up the Town
Rick Moranis awkwardly stumbles through the streets as Ghostbusters' third act begins. He's possessed. He's muttering nonsense. Nearby, a reggae street band plays, oblivious to the city around them. A horse carriage operator asks if Moranis needs anything; Moranis' eyes glow, he growls. The carriage operator doesn't see much wrong with this situation, short of dealing with another city-dwelling jerk.
This movie is so New York.
Look at how Ghostbusters portrays this city. It's messy, dirty, it's neighborhoods match those of a "demilitarized zone." That's the perception of New York from the '80s. To everyone in this movie, their New York is normal. Not only for the possessed among us, but even casually as Sigourney Weaver walks across the street to her apartment. A car nearly slams into her. She doesn't flinch. Everyday she probably makes that walk and everyday a car stops inches from her legs. Normal.
It's necessary to establish New York as it was, and in many cases still is. Only in New York could a bunch of college rejects (with PHDs, though) begin a business catching ghosts. The city has enough eccentrics to pay their salary for years. Ghostbusters' twist is that specters do exist, and as (mostly) portrayed here, maniacally comical, slobbering spirits, another nuisance to join the rats.
… few pieces of summer popcorn entertainment do this better
Off Ghostbusters goes, spinning up into a brilliant Reagan-era satire. Led by a cynical shyster in Peter Venkman (Bill Murray), the original trio turn into long-suffering, forever dirty, likely smelly blue collar workers. Against them is everything – it's not only undead things. There's the EPA's Walter Peck (William Atherton), a pesky anti-pollutant crusader who shuts down the bustin' capitalists. Looking back (and forward for that matter) Peck likely had a point in this era of climate change. But Peck is played for laughs, the hapless bureaucrat who wants to shut down a legitimate business and ends up covered in marshmallow goop. How perfect and miniaturized a tale to encapsulate the Wall Street era, complete with smattering examples of male-dominated sexism.
Then the mayor. Poor Lenny (David Margulies). He invites the bishop to confer about ghostly things, to which Venkman can only roll his eyes, but then sees a chance. He appeals to the mayor's selfish, political vanity – not offering to save the people, but voters. Lenny smiles. He relents and gives the team what they want. That's the entire National Guard, police escort, crowd barriers, and likely millions in tax dollars. You know, for the voters, even if none of those government forces do anything.
Self-funded, blue collar workers remain the (all male) heroes, going so far as to make a potentially life-ending sacrifice to save Earth. And that comes after combating a giant corporate mascot in a witty twist on the small business versus big business tug-of-war running through America's veins.
That's a mere slice in how whip-smart this movie is, from its organic method of bringing in the rules and lore, to minimalist gags that define characters, plus the sensational blend of visual prowess, energized pop music, and Elmer Bernstein's faultless classical score. As a package, few pieces of summer popcorn entertainment do this better. Ghostbusters defines lighting-in-a-bottle studio filmmaking, doing so through a time-capsuled lens that earned every ounce of nostalgia generated in the intervening years.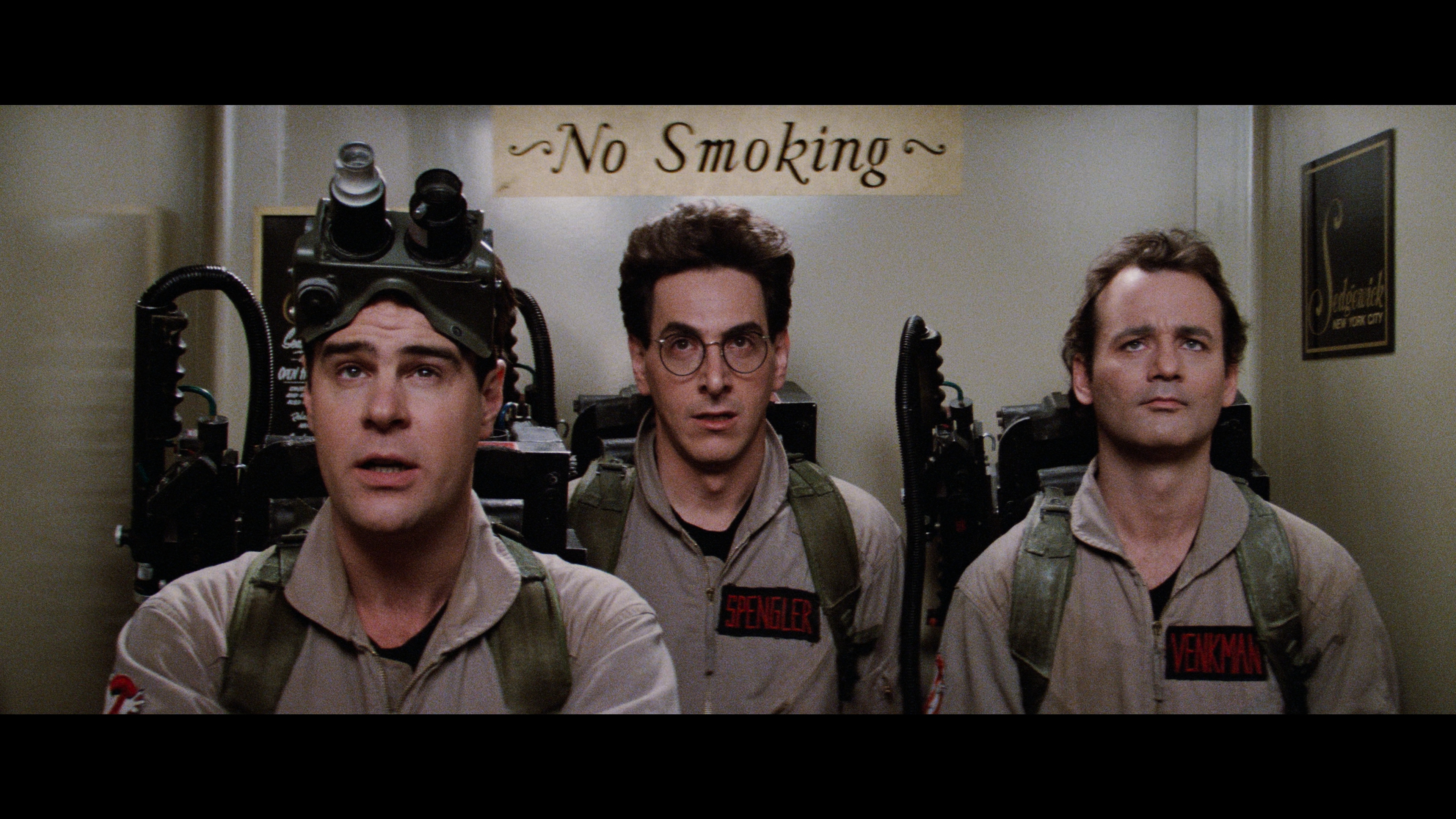 Video
For the 35th anniversary, Sony re-releases the same disc previously sold separately, but now pairs it with the sequel in a snazzy Steelbook package. Other than different disc art, in terms of visuals and sound, this is the exact same disc. Same encode, same parameters, same menus.
In Sony's defense, the 4K master produced for the 30th anniversary doesn't offer much to improve on. Ghostbusters grit comes via a hearty, hefty grain structure. That's never changed. In the jump to UHD however, the benefit comes from expanded bitrates, preserving the look with transparency to the source. In achieving authenticity, Sony's transfer earns deserving high marks. In terms of preserving an accurate aesthetic, this release is dead on.
With direct comparisons, the already excellent Blu-ray will offer similar levels of texture. A small uptick in 4K, if unsubstantial. Say, more refined facial detail and certainly better resolution in long shots, if little else.
However, don't come to the 4K disc for resolution. Stick around for the HDR benefits. The boldness of Ghostbusters' color looks visible for the first time. It's little things too, from the richness of greens in the grass to the red's vibrancy when looking at the Ghostbuster logo. Flesh tones suffers no ills. Plus, the contrast is marvelous. From sun reflecting off concrete to the blazing oranges of proton streams; all of that creates intensity. Watch the simple stuff too. Say, when Egon shines the head lamp at Venkman. That's blinding. The same goes for Dana's fridge when she first encounters Zuul. The added life given Ghostbusters is worth the jump.
Audio
While the Atmos mix isn't the most natural, it is pure. Few signs of degradation remain in the source material. Dialog consistency does impress, as do the high-ranges as proton streams race across the frame.
Ghostbusters isn't afraid to chase the surrounds. Slimer bellows as he's chased, switching channels as he goes. Debris fields and destruction pan about. Those rears sound lifted as to draw more attention so things sound a little out of whack, if no less impressive. The way streams shoot front-to-back, it's impressive to think this was primarily released in stereo.
Luckily, the LFE creates a better rumble. When the firehouse's power is cut, the explosions that result leave their mark. First firing up their packs in the elevator, the nuclear hum makes a solid, sustained rumble. Stay-Puft's footsteps slam down mightily. It's potent.
Extras
Here's the reason to upgrade. On the UHD, the commentary with Ivan Reitman, Harold Ramis, and producer Joe Medjuck remains. This was recorded a while back, and it's included on the Blu-ray too. On that Blu-ray comes another commentary with five super fans, with members of GhostCorps, podcasters, and a prop re-creator. They spot everything. Ever notice an extra doubled in scenes? They have. Ever pick up on the librarian's unfinished lipstick? They did. Need to know the brand of clothing? You will. It's a track filled with finding tiny details that help bring out new stuff, making the 1000th watch unique. Fantastic. A picture-in-picture feature joins a trivia track.
Here comes more good stuff. On a new bonus disc, a slew of deleted scenes show up. Seventeen of them, including the infamous Fort Detmering footage. It's, uh, not worth the wait, but at least it's finally out. Other cuts (including Murray and Aykroyd playing street bums) debuted a while back, but a few new ones with Moranis on his possessed rampage earn laughs.
The full 30-second TV commercial is here, but that's not the cool part. Instead, it's the five minutes of outtakes from that scene, including some flubs and, since this was shot before a finalized title, they do the routine under names like Ghoststoppers. A sell reel for Show West lets Aykroyd and Murray go a bit off-the-cuff to sell the movie. It runs 12-minutes and it's a fun bit of promotion. A minute-and-a-half of takes for TV hold a few censor-friendly gems. Two '84 EPK featurettes stick around, as does an interview with Boss Effects team.
From here, the 30th anniversary material carries over. That includes a 24-minute sit down retrospective with Aykroyd and Reitman, a look at restoring Ecto-1, storyboards, multi-angle features, a photo gallery and trailers.
As a final bonus – and this is being credited to the first movie just because – there's a restoration of the Real Ghostbusters pilot. Admittedly, the source wasn't great, but the heavy DNR and overblown color doesn't make this attractive.
Full disclosure: This Blu-ray was provided to us for review. This has not affected the editorial process. For information on how we handle review material, please visit our about us page to learn more.
Ghostbusters
Movie
Ghostbusters remains one of the most exemplary examples of Reagan-era New York, comically vibrant, original, and in its subversive way, truthful.
The following six screen shots serve as samples for our Patreon-exclusive set of 62 full 4K screen shots grabbed directly from the UHD:
---