Do Not Replicate
The opening scene of Replicas sees scientist Keanu Reeves uploading the consciousness of a dead soldier into a robot. That's Replicas at its most coherent. What follows jumps from robots to human cloning, leaving an audience to wonder what one has to do with the other. By the end, that's still not clear.
Reeves is faced with a moral quandary here, which in terms of sci-fi, is where Replicas hunts for its purpose. It's an interesting concept, exploring consciousness as a device to preserve life. Replicas isn't out to explore though; it's out for exploitation, turning mad scientist Reeves into a hero, misunderstanding the core of Frankenstein. FYI, the doctor wasn't a hero.
It's not long until Replicas turns loopy. Reeves' impossibly perfect, upper class screen family dies in a car crash. Soon, he's stealing millions in equipment to regenerate his wife and kids – in his basement. Thomas Middleditch serves as a moral center, repeatedly telling Reeves how wrong this all is, then going through with it all anyway.
Replica discards two previous acts on the hunt for an action-laced third
A good chunk of this sci-fi lark is spent trying to cover the litany of obvious plot holes. It takes 17 days to build a new wife. Other people begin to wonder where she went. Then the kids – what happened to school? Replicas never tries to explain what happened to the crashed car. No one found it, apparently.
Then comes the twist, explaining away a portion of the absurdity. Suddenly though, Replicas is more anti-government, anti-militarism than anything else. Forget scientific principles. Now it's Reeves saving his cloned family, their problems and glitches no longer relevant. Replica discards two previous acts on the hunt for an action-laced third.
Gone is the mournful tone. Instead, Replicas churns out car chases, a shoot-out, and a killer robot. In only 95-minutes, Replicas goes on a remarkable journey and transformation, seemingly written as is it goes without a suitable finish in mind. The final shot is a warning of technological progress, pertinent, but leaves Reeves without a solution and turning the entire fiasco into a story of "right."
Mainstream studio Hollywood churns out some dismal sci-fi at times. And occasionally, they make a Replicas, something so tone-deaf, illogical, and baseless as to shift the barometer for the next anti-philosophical gunk.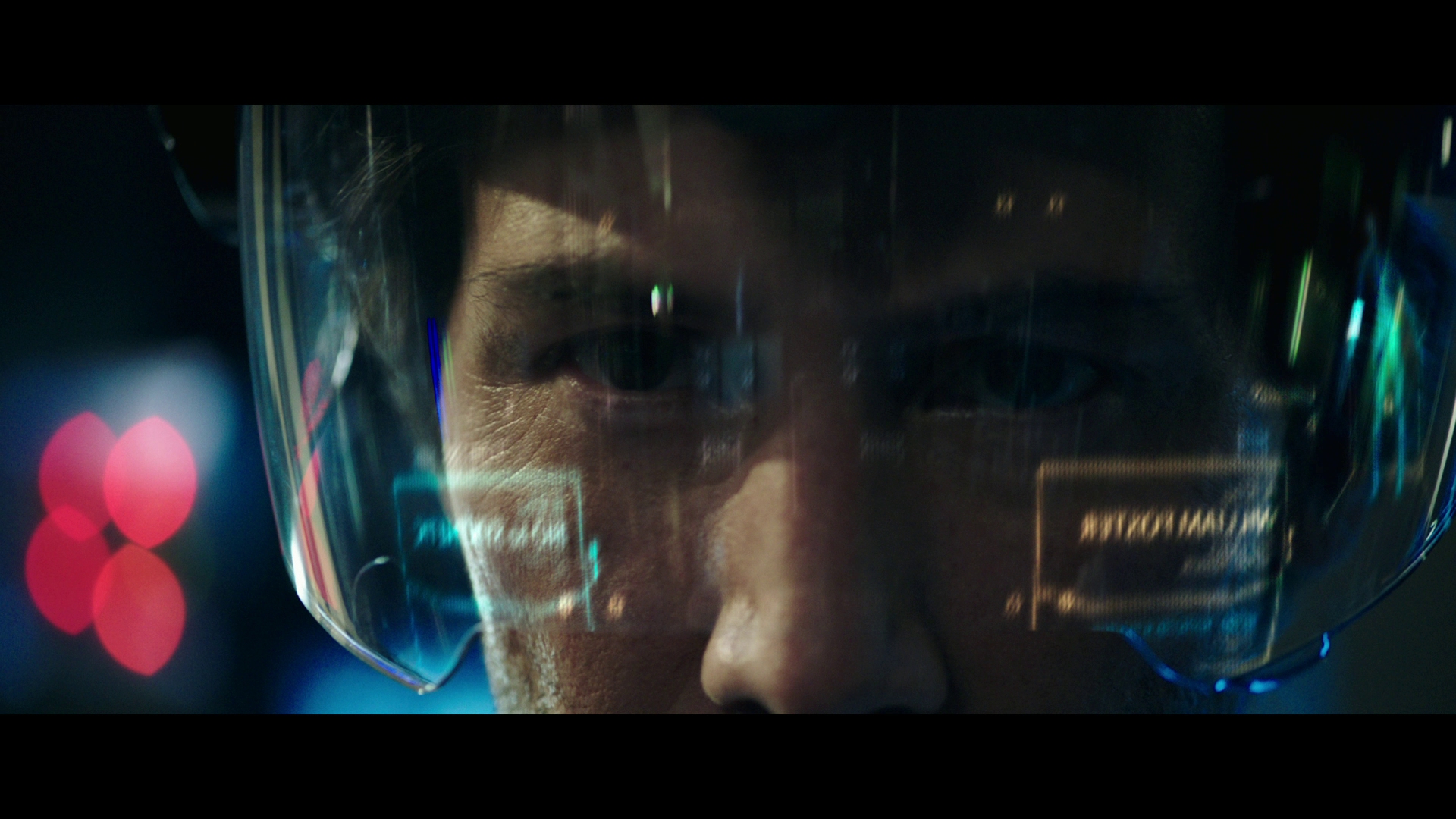 Video
A digital production, this Blu-ray presentation reflects a pleasing level of definition. Close-ups reach superb resolution, resolving minutiae in full. High-end clarity fends off noise in spots, otherwise clean and unobstructed.
With an eye for cooler tones, Replica's color palette manages pure flesh tones, and the evident blues still allow for primaries to show. Outside Reeves' home, greenery stands out for an example.
Overall contrast pushes heavy brightness, at times giving a washed out aesthetic during the first act. Things calm down in time, producing the needed black levels to install dimension into the imagery. Depth stands out, rich and satisfying.
Audio
Pedestrian DTS-HD 5.1 offers a handful of high spots. A car accident rumbles amid a heavy downpour. Surrounds splash water and track the car as it weaves around. With the finale, guns punch up the low-end with positional kick to spread the soundstage.
Away from the action, lab ambiance pops up in the rears. Exterior touches give life to otherwise static scenery.
Extras
Director Jeffrey Nachmanoff joins producer James Dodson for a commentary track, with Imprint Complete following as the lone featurette, running 25-minutes, a typical making-of. Eight minutes of deleted scenes join trailers at the end point of the extras menu.
Replicas
Movie
Replicas' disjointed sci-fi doesn't seem to know where it's going, and its eventual twist spins up a series of derivative action scenes.
The 15 unaltered images below represent the Blu-ray. For an additional 12 Replicas screenshots, early access to all screens (plus the 20,000+ already in our library), 75+ exclusive 4K UHD reviews, and more, support us on Patreon.
---