Another Straight-To-Video Thriller from Nic Cage
Vengeance: A Love Story sees a single mother brutally beaten and raped in front of her 12-year-old daughter. That terrifying moment is the centerpiece of this uneven thriller. When the legal system fails in a miscarriage of justice, a cold-blooded detective played by Nicolas Cage takes matters into his own hands.
The revenge thriller gets the basics right in director Johnny Martin's uncomfortable film, but script problems and cardboard villains undermine everything else. Cage plays it aloof as a detective tired of playing by the rules. The most memorable part of the performance may be his fabulous hairpiece.
The 2017 thriller is based on the 2003 novel Rape: A Love Story by Joyce Carol Oates. The film stars Nicolas Cage, Don Johnson, Anna Hutchison, Talitha Bateman and Deborah Kara Unger. It's a veteran cast that knows their way around a set. They are easily the best thing about Vengeance: A Love Story.
… a fairly generic genre exercise albeit with an excellent cast
The movie may have turned out better if Don Johnson's loathsome defense lawyer had more screen time. It's a glorified supporting role and he only gets one good scene playing off Cage. His lawyer is the real villain in the film, not the mindlessly crude caricatures that sexually assault the woman and act like props to push the plot forward. Child actress Talitha Bateman does a fine job as the young daughter dealing with the aftermath of her mother's horrific experience.
Nicolas Cage gives his standard generic, off-beat performance as a heroic cop pushed to the brink. Detective John Dromoor gets fed up when he sees the legal system fail in delivering justice to the criminals. If you've been watching Cage's string of direct-to-video movies in recent years, you'll recognize most of the beats.
The movie wastes much of its potential with court drama that largely breaks the willing suspension of disbelief. Vengeance: A Love Story first nicely sets things up in a smooth opening act which introduces the key characters and lays the movie's foundation. It's the aftermath of the rape and some ludicrous scenes in court where the movie starts falling apart. Cue Nicholas Cage's rogue cop saying enough is enough when the legal process turns on the victim. The detective proceeds to administer his own brand of retribution.
Vengeance: A Love Story isn't an unwatchable Nicholas Cage vehicle if you can look the other way about the court drama. The action certainly has its moments and there's enough suspense to keep tension high in the narrative.
Background characters are rather flimsy and the script takes several unnecessary shortcuts, despite running almost 100 minutes. More from Don Johnson's excellent character may have balanced out the plot better. The revenge thriller is a fairly generic genre exercise albeit with an excellent cast.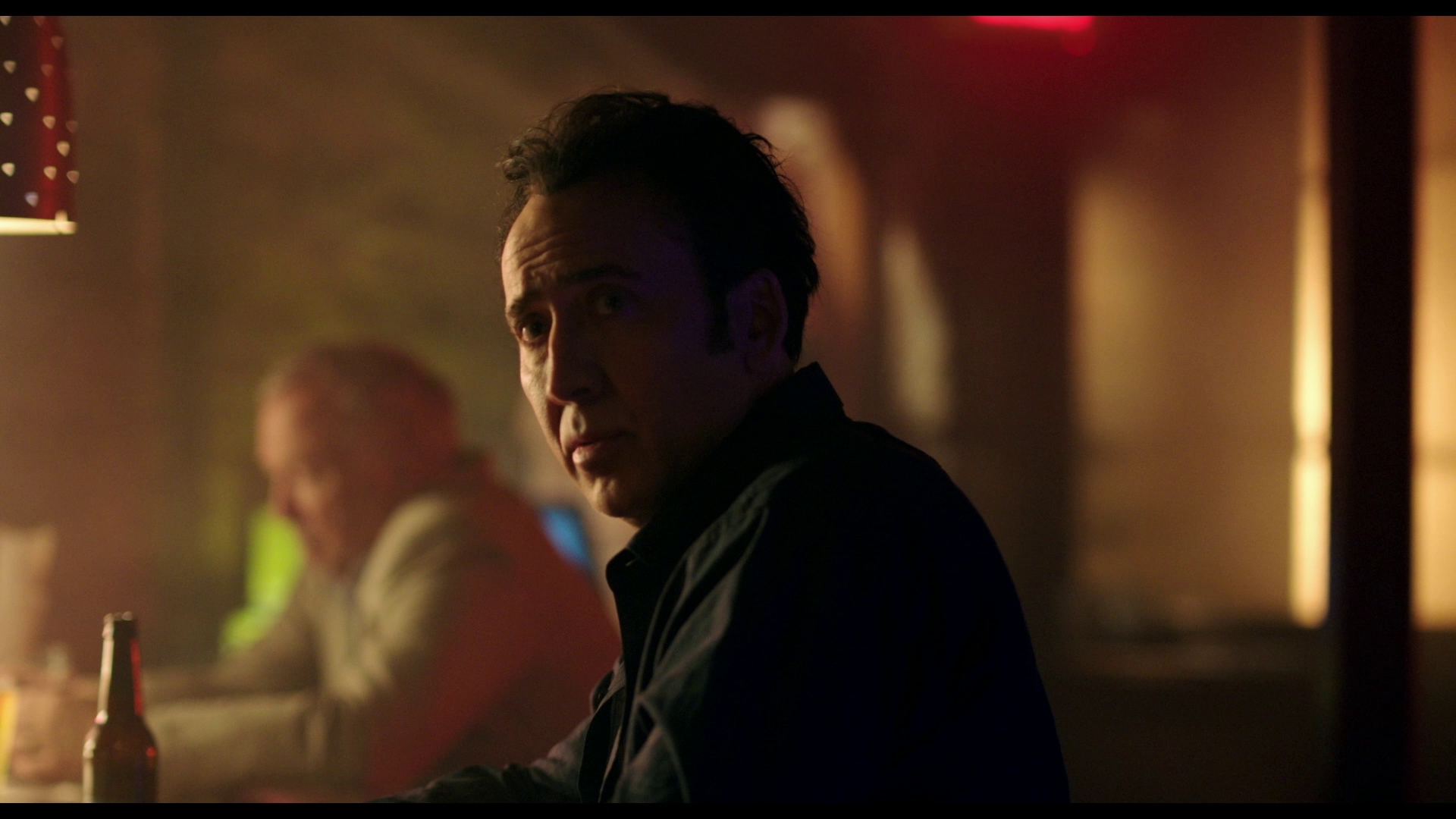 Video
FilmRise first issued Vengeance: A Love Story on BD-R back in 2017. Now distributed by MVD, the movie has been reissued as a regular Blu-ray in this new edition. The A/V quality is likely identical between both versions.
The 2017 digital production has crisp definition and strong clarity, without coming close to demo potential. The color palette has a neutral grading with excellent contrast and naturalistic flesh-tones. There's nothing happening here which is too exciting but the video quality is good for direct-to-video fare.
The 99-minute main feature is encoded in AVC without artifacts on a BD-25. The 1.85:1 presentation arrives in 1080p resolution from a clean digital intermediate. It's an unprocessed transfer that likely replicates the movie's master with a high degree of accuracy.
Audio
FilmRise hasn't been big on including lossless audio for their Blu-rays. Only a lossy 5.1 Dolby Digital soundtrack is included. The surround mix has a lively combination of directional cues and strong channel separation in several action scenes. Dialogue is clearly intelligible and balanced with the score throughout the film. Cage's action movies all seem to have good sound design and that trend continues here. The bass does not seem affected by the lack of lossless audio.
Optional English SDH subs play in a white font. A secondary 2.0 Dolby Digital track is included that largely replicates the wider surround mix.
Extras
Vengeance: A Love Story Trailer (02:26 in HD)
Full disclosure: This Blu-ray was provided to us for review. This has not affected the editorial process. For information on how we handle review material, please visit our about us page to learn more.
Vengeance: A Love Story
Movie
Did the world need another Cage thriller that skipped theaters? A rough tale of revenge for a brutally assaulted woman as her knight-in-shining armor delivers retribution.
The 15 unaltered images below represent the Blu-ray. For an additional 20 Vengeance: A Love Story screenshots, early access to all screens (plus the 20,000+ already in our library), 75+ exclusive 4K UHD reviews, and more, support us on Patreon.
---