Post-War Anguish
The Guilt of Janet Ames is a post-war recovery film. Janet Ames (Rosalind Russell) becomes physically paralyzed by grief – her husband took a grenade blast to save his squad when in combat. It's a film that delves into personal anguish, with immediacy after WWII left countless women widowed. The reality of war, as viewed through the lens of 1947.
Ames deals with her circumstance in surreal dreams. She visits the men her husband saved. Internally, she wonders why they were allowed to live, projecting her own trauma at a metaphysical level. It's harrowing to watch Ames breakdown, convincingly portrayed by Russell with plausible anguish. After years of films laced with pro-war propaganda, Guilt of Janet Ames deals with the real world after-effects in a surreal, evocative manner.
In the end, Guilt of Janet Ames is a story of two people who need to find one another. There's Ames, but also Smitty Cobb (Melvyn Douglas), an alcoholic war veteran. Smitty encapsulates the other half of post-war America, the heavy drinking meant to drown experiences still lingering in their minds even when back at the home front. Undiagnosed PTSD, years before understanding its toll.
Guilt of Janet Ames thesis is that life isn't designed for fairness
Moments in Guilt of Janet Ames seem cruel. Smitty lashes out Ames, calling her cowardly, whining, and bitter. Others have it worse than her. Suck it up, move on. That's the old way of doing things, of which Guilt of Janet Ames willingly confronts. It's a film determined to change the dialog, co-written by a woman showing it's not weakness to feel depressed over loss; it's a universal feeling, as depicted in the climax.
For a time, the plot sluggishly moves forward, peering into lives of wartime survivors and their value to society. The twist comes later, and for a film designed to bring comfort to those who lost loved ones, Guilt of Janet Ames thesis is that life isn't designed for fairness. Rather, war takes the best of us, leaving others to mourn or surrender to their regret. In spite of the dream-like hypnosis that makes up Ames' status for much of this runtime, there's ultimately no means of escape other than acceptance.
Guilt of Janet Ames whittles down to only two characters. No one else matters, not even a comically out of place cameo from Sid Caeser. In the final thematic push, the story is about time, nothing more. Time to heal, time for sympathy, and time to help those in need. Inspiring, but never coated with a Hollywood ending.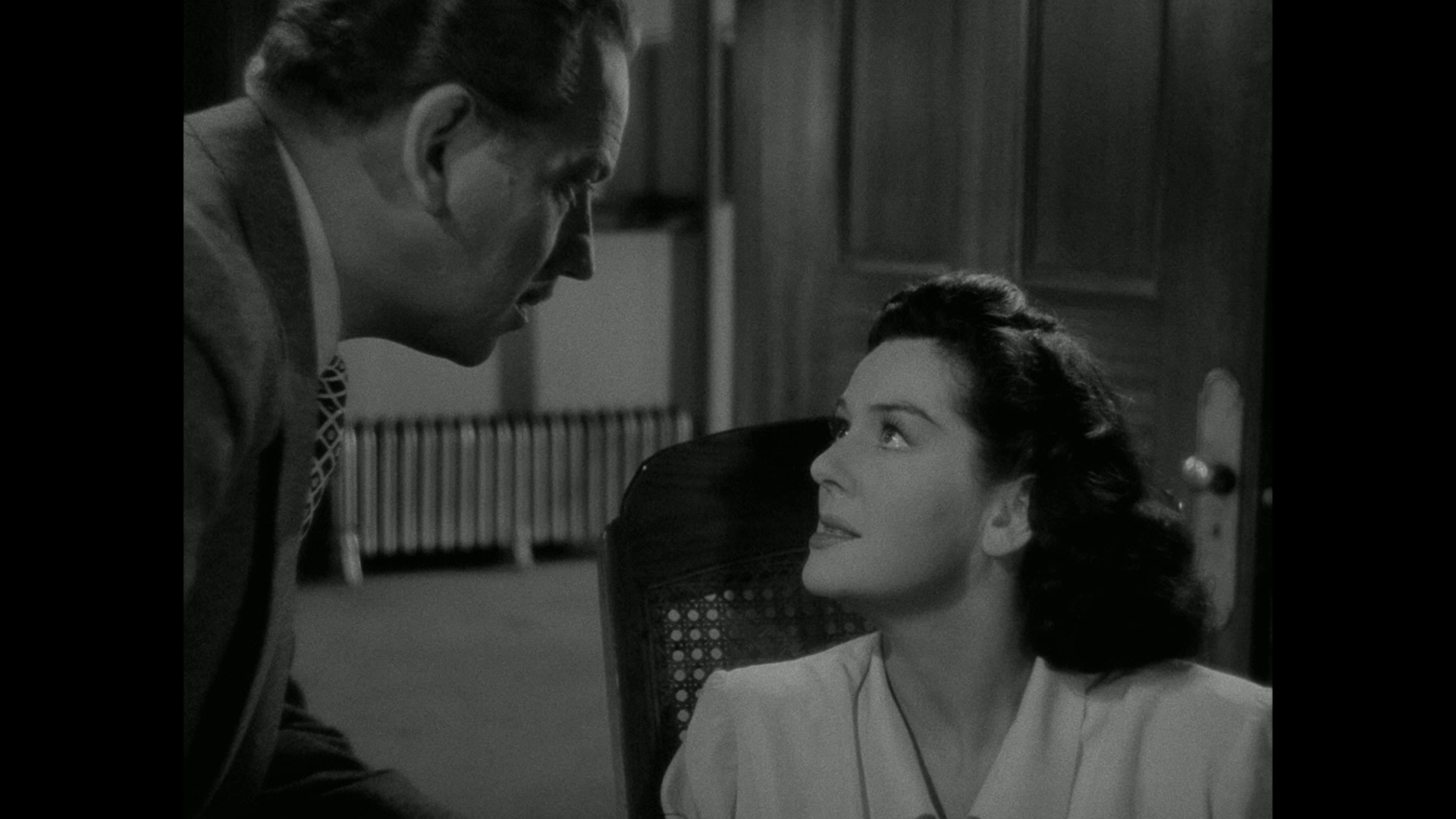 Video
Gray scale poses the first issue of an average presentation. Guilt of Janet Ames doesn't reach the best extremes, muddy and imprecise in replicating B&W cinematography. Full black is rarely on display. Same goes for pure white. Everything exists as a mid-tone.
For being one of three films on the same disc, the mild grain is generally well resolved. A few spikes in compression pass by without too much instance. The appearance maintains a filmic look, softened by way of cinematography, not this transfer. While not the greatest of high-res transfers, some high-frequency detail does appear.
Two early shots suffer from brutal gate weave, enough to leave behind image doubling. Those comprise less than a minute of runtime, so it's a minor worry. Condition otherwise holds to minor scratches and occasional hairs near the frame's bottom.
Audio
Mixed quiet, this DTS-HD mono affair suffers from the low volume. Bump this up a number of notches to achieve audible dialog. Luckily, the jump will not reveal any underlying age, free of static or other age-related defect. The purity of this track is commendable given the age.
The score is comprised of violins primarily, reaching those treble highs without a loss of definition. Dynamics hold up to scrutiny.
Extras
None of the movies/discs in this nine film Noir Archive contain extras.
Full disclosure: This Blu-ray was provided to us for review. This has not affected the editorial process. For information on how we handle review material, please visit our about us page to learn more.
The Guilt of Janet Ames
Movie
An early look at the anguish of World War II survivors, The Guilt of Janet Ames deals with the effects of loss and grief in a unique way.
The 15 unaltered images below represent the Blu-ray. For an additional 14 Guilt of Janet Ames screenshots, early access to all screens (plus the 20,000+ already in our library), 75+ exclusive 4K UHD reviews, and more, support us on Patreon.
---