[amazon_link asins='B07DKMRLCH' template='ProductAd' store='doblumovies-20′ marketplace='US' link_id='aab924a4-d609-11e8-8252-6720a82f742c']
Not a Bother
Where the lauded Get Out finished on a series of horror movie tropes to condense the experience of black America, Sorry to Bother You flourishes with a blast of absurdist creativity. No cliches here; nothing in Sorry to Bother You was attempted prior.
To be upfront, Sorry to Bother You is an often bizarre, surrealist adaptation of the lower working class. Tessa Thompson plays an artistically inclined sign twirler. Danny Glover has a super power – the ability to speak like and appeal to white America. There's star Lakeith Stanfield, sensationally subdued in his role as Cassius Green, living in his uncle's garage, still unable to pay rent, and taking a commission gig as a telemarketing encyclopedia salesman.
Director Boots Riley crafts a stellar breakdown of black identity when faced with corporate values. Green can't get ahead by being friendly to possible clients. He's consistently rejected. "Stick to the script" is the corporate mantra, which in these terms means disguise any evidence of your blackness less you cause fear in customers. Slowly, desperate to get ahead, Green sheds his personality, his color, his uniqueness, assimilating for a steady paycheck.
Sorry to Bother You is as hilariously wacky as it is potent
Sorry to Bother You holds a captivating presence. Green serves as a logical center, surrounded by his colorful fiance (Thompson) and wild co-workers looking to maintain their selves by forming a union. Green, in defiance of their values, chooses to (literally) ascend the corporate ladder.
Riley's ferocious satire is more than a movie of color. It takes shots at the whole of capitalist culture, turning a cocaine-snorting CEO Steve Life (Armie Hammer) into a national hero for finding a solution to America's economic woes. People sign ludicrous lifelong contracts to work for Life's company, losing their dignity, their space, and their wages in exchange for a bed and three square. Yes, that's prison, and when accused of slavery, the company stock value rises. An uncritical press follows along.
This all feeds into the American war machine – Life's company is a production line of weapons. Green, by selling the wares, is feeding both an element of slavery and weaponizing a country.
While often well lit, Sorry to Bother You is a near future, near-view dystopia that doesn't look like any other screen dystopia. Riley's thesis is that as a country, this future is already here, a place where personalty is distilled to crushing corporate values and wage slavery impacts us all. Only desperation keeps us in this cycle.
As a cap, Riley puts on a goofy but purposeful climax on Sorry to Bother You. Green realizes his mistake, what he's given up in pursuit of American (or, white American) success, and finally chooses to take a stand in the film's climatic, seemingly drug-induced images. It's as hilariously wacky as it is potent. That goes for all of Sorry to Bother You.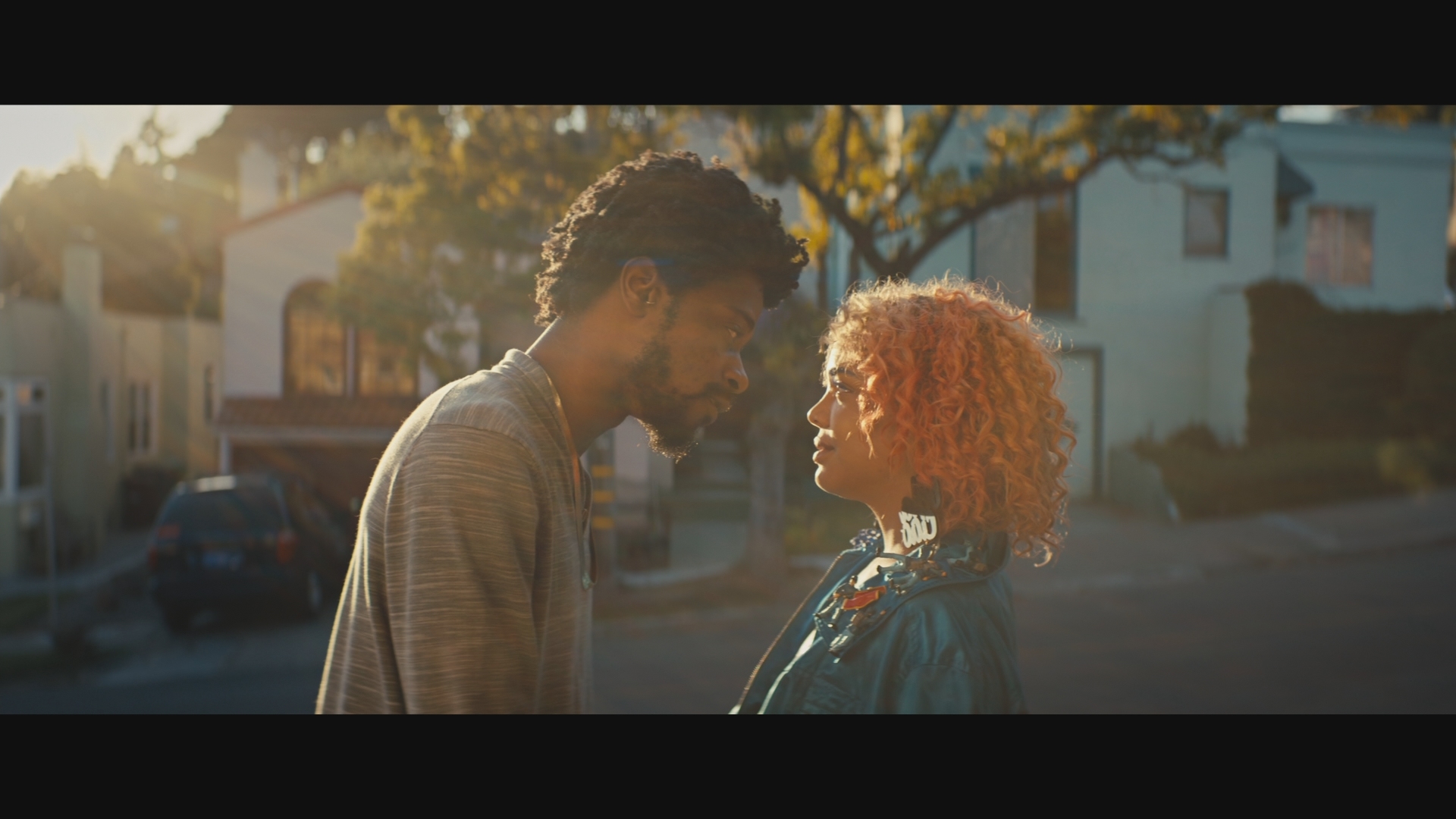 Video
A good portion of Sorry to Bother You takes place in dimly lit clubs. These drift toward a washed out look, turning shadows gray and eschewing true black. Image density, by design, suffers. Yet, the look works in establishing mood and tone and Fox's disc is capable of handling this digitally shot material. It's free of noise, completely and totally.
On the opposite end, contrast flares. Brightness runs high with heavy bouts of sunlight laying into the images. Some clipping is noted, but like the gray shadows, a specific design choice.
Detail reaches a suitable if unimpressive peak. Fidelity looks reserved and held back by lagging resolution. Slight softness doesn't mar the overall presentation. Facial definition does jump out in close. Medium shots present enough fidelity to get by.
To fit with the hypnotic style, color use is abrasive and vibrant. Flickering, flashing lights frequently fill in the backgrounds. An almost uncomfortable warmth fills the palette, normalizing the images of people slaving in an office. It's attractive in an unusual way, giving vibrancy to scenes meant to be downers. The look pairs well with the satire.
Audio
So little of Sorry to Bother You's world is alive. It's a dour, deadened existence in Los Angeles, where the occasional break in silence comes from a bar or a biker pushing through the background. The routine DTS-HD 5.1 mix capably adds this ambiance to limited effect.
LFE support comes from the soundtrack, pushing tight, steady beats into the low-end. At multiple points, Green is "sucked" into conversations with clients, the scenery switch leading to a strong dose of subwoofer support.
Extras
Boots Riley discusses his work in a commentary track, Riley continuing into Beautiful Clutter, a 12-minute featurette that weaves in and out of various topics. Some promotional materials and trailer gallery remain.
Sorry to Bother You
Movie
Boots Riley's provocative, surreal Sorry to Bother You is a funny and sensational look at how white America forces people of color to conform.
The 15 unaltered images below represent the Blu-ray. For an additional 18 Sorry to Bother You screenshots, early access to all screens (plus the 17,000+ already in our library), 50+ exclusive 4K UHD reviews, and more, support us on Patreon.
---