[amazon_link asins='B07C5M3FP5′ template='ProductAd' store='doblumovies-20′ marketplace='US' link_id='ad4e8251-c1f2-11e8-8bde-97588f4906cb']
All Moll'd Up
While drawing comparison to Mad Max: Fury Road isn't fair, Molly brings it on by itself. Here's a scuzzy, near future apocalypse where a woman struggles to survive against male oppressors. Molly even features a woman with a bionic arm.
Molly doesn't have the glamour of Mad Max. This is micro sci-fi, squeezed into a budget, if with no less of a fight. Molly's persistence is admirable, shared with title-named main character (Julia Batelaan). Left to fend on her own after events leave Earth depleted, Molly wanders the remains, scavenging for food. She's a fighter. Each kick of hers is capable and her makeshift sword cuts deep.
Living inside a makeshift ocean palace – seemingly the remains of an oil rig – Deacon (Joost Bolt in a sub-par performance) runs an underground fight ring. All he wants his Molly, the one woman he can't bring under his dominance or control. He sends out goons to track her down, each losing to Molly's ferocious drive to live. Unlike Mad Max, Molly doesn't have a male counterpart to help. She's isolated. Her toughness is entirely of her own doing.
each brawl looks less rehearsed, done live with natural aggression rather than in-studio cleanliness
This Dutch film is of few words. That's probably for the best. Each word is delivered with grating stiffness, inauthentic even for a future setting like this. What matters here is the action, building Molly's resolve through her actions rather than dialog. That's where Molly excels. Without the time as allowed by better financial backing, each brawl looks less rehearsed, done live with natural aggression rather than in-studio cleanliness. That fits the world. Each movement has a degree of sloppiness, seemingly normal given the circumstances, made more impressive considering the third act's tight corridors.
By the time of the finale, Molly is effectively done. There's nothing left to do – Molly has her goal, the villain takes cover until she fights her way to him. It's all of the depth of a vintage videogame, and even the costume work suggests that of the same media.
That aside, the last 30 minutes play out as a continuous take, one extended cluster of fighting and stabbing and shooting. While some of the fake cuts reveal themselves, Molly still relies on over a dozen hyper-extended, choreographed battles to see itself through to the end. At one stage, Molly hangs upside down for a number of minutes, scrambling to right herself. It's outstanding work, and worth dealing with a few sour performances to get there.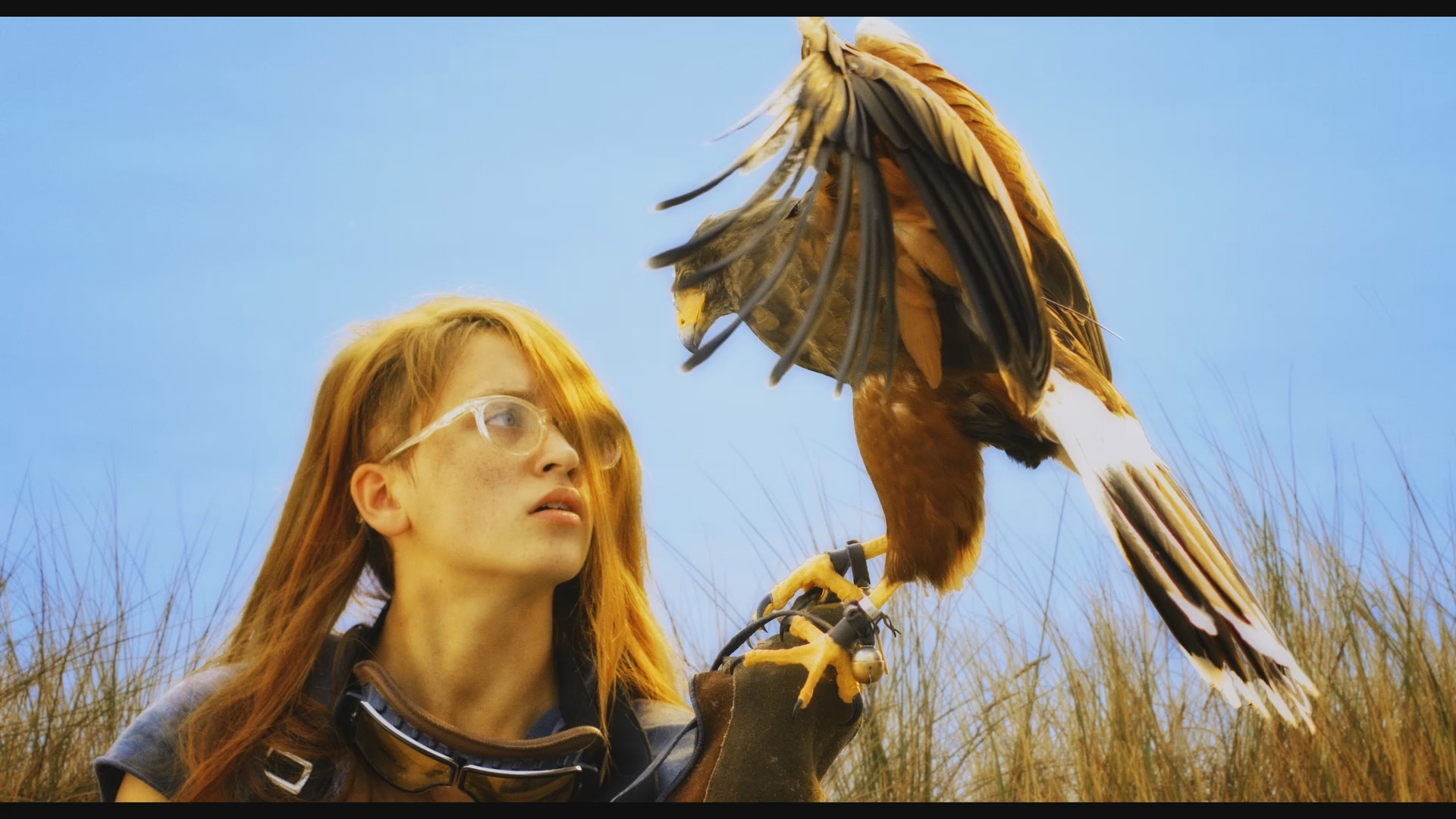 Video
The digital cinematography is definitely unique. Used a super-warmed color palette with high saturation, colors bleed. In the earliest shots, dry brown grass spreads into a densely blue skyline. Additional filters add to the haze, creating pockets of blooming. It's a lot of post-production touch-up being applied to the imagery.
Likewise, contrast exaggerates, often clipping. Black levels don't pair the same way, a little too light and revealing some blocking in the shadows. A bit of banding creeps in too, eroding image stability. Some aerial views shot from a drone appear to use a camera phone as their source. The less said for their quality the better.
Where possible, texture stays high. Clarity at its peak is substantial. Facial definition stands out, and the world design provides the rusting metal. Blood-splattered walls show with all of their grisly touches. As a whole, Molly's world is presented with clarity and sharpness benefiting this Blu-ray presentation.
Audio
Dolby Digital is all Molly gets. The loss comes from the low-end, imprecise and murky when used. During a fight inside of a pit, the thuds of a body being thrown into metal walls sounds entirely artificial and false. That doesn't change for the rest of the runtime.
Surround use provides clean, discrete channel usage. The same goes for the stereos. Each speaker sees work, adding to the depth of action scenes. Interiors use clanging metal to reverb into the rears. Crowds nicely fill the soundstage to create full sonic environments.
Extras
A 30-minute making-of doesn't feature the typical interviews. Rather, it's a mix of raw on-set footage and finished shots, melded together to bring the work together as a whole. It's great. First time feature co-directors Colinda Bongers and Thijs Meuwese also offer a commentary track.
Full disclosure: This Blu-ray was provided to us for review. This has not affected the editorial process. For information on how we handle review material, please visit our about us page to learn more.
Molly
Movie
Molly's mini-budgeted Mad Max features outstanding, raw action scenes mixed with a so-so vision of an apocapytic future.
The 15 unaltered images below represent the Blu-ray. For an additional 15 Molly screenshots, early access to all screens (plus the 15,000+ already in our library), 50+ exclusive 4K UHD reviews, and more, support us on Patreon.
---