[amazon_link asins='B0776K4VGT' template='ProductAd' store='doblumovies-20′ marketplace='US' link_id='fdd2235a-c28b-11e8-8c3a-476a0213c9a3′]
Superhero Antics Across History
Prepare for the wrath of Beebo, as the time-traveling Legends battle anachronisms across history in this jovial third season that doesn't take itself too seriously. By the end of season three, everyone will know the frightening power of Beebo.
DC's Legends of Tomorrow has always been the oddball or misfit series in the Arrowverse. While its other shows on the CW are based on a singular hero like Supergirl or the Green Arrow, DC's Legends of Tomorrow has always been a showcase for the other programs' cast-off characters and rejects. It took a couple of seasons to find a footing but the show has decided it will be the goofier younger sibling, embracing all sorts of superhero silliness in this generally light and entertaining third season.
The comedic undertone allows these second-string heroes and villains to breathe, letting Legends of Tomorrow find its own niche within the Arrowverse's diverse line-up of superhero fare. After saving the timestream from the Legion of Doom in season two, season three finds the team racing across time to stop anachronisms that have arisen from their past actions.
It took a couple of seasons to find a footing but the show has decided it will be the goofier younger sibling
How does Gorilla Grodd running amok in the Vietnam War, or Helen of Troy mingling in 1930s Hollywood, sound to you? Those are some of season three's better highlights. The team must return these out-of-time anachronisms to their rightful points in history, or face the wrath of Rip Hunter and his Time Bureau of agents. That is if they can survive a coming darkness by the name of Mallus.
New cast members help round out the team aboard the Waverider in season three. An outlaw hacker from the future, Zari, quickly becomes a useful ally. Her abilities include access to a family totem that grants her power, much in the same manner seen with Vixen. Fans shouldn't be worried, Vixen returns once more for season three. Kid Flash permanently joins the team, coming over from The Flash. Guest stars include returning favorites like Jonah Hex and a few other surprises. A couple of the underperforming Legends say their goodbyes during season three.
While I've always liked Kid Flash, it's clear the producers had little idea on how to fairly incorporate his superpowers over the long season. He's often left doing unimportant things in the season's battles. Kid Flash is almost the same repeat of what happened to Firestorm in previous seasons. They are overpowered compared to the rest of the group. The writers struggle to effectively use their powers in scenes. Which makes sense on the television budgets these shows operate under.
Season three sees a few lightly recurring romantic sub-plots. Nate and Vixen grow closer, without distorting either character. Sara eyes Ava, one of Rip's lead agents in the Time Bureau. There is even a surprise relationship that forms between Ray and the daughter of the team's most dangerous enemy, Damien Darhk. More interesting, Brandon Routh's wife actually plays the character.
The Big Bad of season three is a time demon, voiced by the always dependable John Noble. Fans of John Constantine (Matt Ryan) will want to catch the episode he guest-starred in this season. He has a surprising moment with team leader Sara. The big news about Constantine is that he's becoming a permanent addition to the show in the upcoming fourth season.
DC's Legends of Tomorrow does veer away from familiar superhero tropes in season three. The team barely wear their superhero costumes anymore. That is partly the fault of the episodic formula that has been established. The team will travel to a distinct setting in history and usually dress in authentic period costumes, changing from episode to episode. Popular destinations include the Old West, Vietnam, Jack the Ripper's London, and a visit to 1950s Memphis meeting Elvis.
Many long-time viewers of Arrow and the other CW shows think the current iteration of DC's Legends of Tomorrow had the best season of the group this year. It's less uptight than the others and has far more effective humor, albeit it strays far from standard superhero conventions. If you are looking for a lighter touch that doesn't rely on overly serialized plotting, this is your show in the Arrowverse.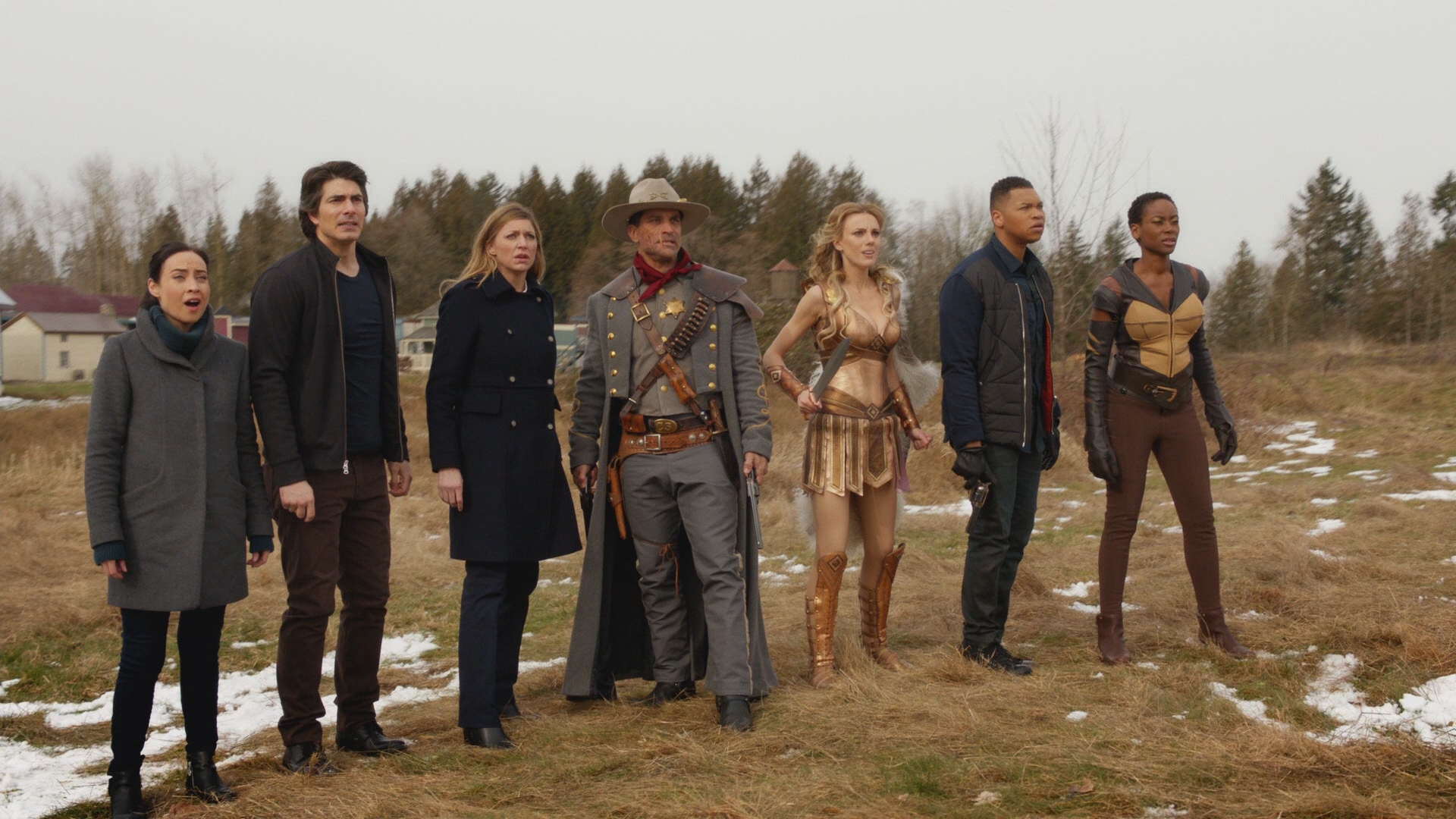 Video
Warner Bros. properly presents DC's Legends of Tomorrow's third season in bright, glossy 1080P video that surpasses its original Hi-Def CW broadcast. Twenty-one episodes, including all eighteen episodes from this third season, are tightly spread over three BD-50s. That squeezes the AVC compression rates in the low teens, barely averaging 12 Mbps.
This is clean, crisp picture quality shot for clarity and pop. While some softness is introduced due to regular CGI and VFX effects, this is a sharp 1.78:1 presentation. The 1080P resolution offers razor-sharp texture and detail that highlights the changing period costumes worn each episode.
The digital cinematography aims for the sterile aesthetic of network television. The contrast and color saturation are outstanding, highlighting strong detail. Aside from a few of the darker scenes, shadow delineation and black levels generally rate highly.
The only nagging flaws in the pristine video are some leftover compression artifacts, when the hectic action scenes and CGI become too much for the low-bitrate AVC encode.
Audio
Dipping more and more into sci-fi territory in its third season with jaunts all throughout recent world history, the 5.1 DTS-HD MA audio offers a visceral mix of action in strong fidelity. The surround mix has excellent discrete moments with tight bass and distinct channel separation. LFE is nicely integrated when necessary for characters like Gorilla Grodd or Mallus.
Dialogue reproduction is flawless in the highly dynamic soundtrack. Action is nicely spread across the entire soundstage. DC's Legends boasts some of the stronger audio design found on television and is one of the few network shows that takes proper advantage of all 5.1 channels.
WB includes nine optional subtitles in a white font, covering most everyone's needs. They include English SDH, French, Portuguese, Spanish, Danish, Dutch, Finnish, Norwegian and Swedish. A lone Spanish dub in Dolby Digital 2.0 audio is included.
Extras
DC's Legends of Tomorrow receives a fairly substantial line-up of special features. However, a couple of the longer featurettes have previously been included on the Blu-ray sets for Supergirl's third season, Flash's Fourth season, and Arrow's Sixth Season. Those sets also contained the bonus crossover episodes included here for the massive Crisis On Earth-X that ran throughout all the Arrowverse programs.
Like prior sets, the three-disc Blu-ray set comes in a slipcase. Warner is possibly the last studio still handing out UltraViolet digital copies for select television sets. This third season set includes an UltraViolet digital copy good on VUDU for all eighteen episodes in HDX quality. A one-page episode guide is included inside the package.
Inside The Crossover: Crisis On Earth-X (41:59 in HD) – You've seen this featurette before on several of the other Arrowverse program's most recent Blu-ray seasons. Executive producers from Arrow, Supergirl, The Flash and DC's Legends discuss the logistics of four separate television shows staging the epic crossover event.
The Best of DCTV's Comic-Con Panels San Diego 2017 (58:27 in HD) – These light teasers held by the entire cast before the San Diego Comic-Con crowds are always immense fun. This is the same featurette carried over from the other Arrowverse sets. It features each DC show's panel.
The Time-Calibrators: Legends Assemble! (17:52 in HD) – Executive producer Phil Klemmer discusses three of the season's more memorable episodes, including Ray's trip back to the 1980s where he met himself as a child, Mick's meeting with his father and Gorilla Grodd, and Beebo. No cast members are interviewed, albeit the featurette is cut with many clips from the episodes.
Post Production Theater (06:12 in HD) – The production team shows off their flimsy acting ability in pick-up footage intended only to be seen by producers and network executives. These are the stand-ins for VFX scenes.
Gag Reel (07:28 in HD) – A series of bloopers and cast member flubs.
Deleted Scenes (All in HD) – Around sixteen deleted scenes are spread across ten various episodes. Most don't run much longer than a minute and appear to have been cut primarily for time reasons. They are only playable separately from their associated episodes.
Full disclosure: This Blu-ray release was provided to us for review by the studio. For information on how we handle all review material, please visit our about us page to learn more about DoBlu's editorial policies.
Legends of Tomorrow Season 3
Movie
Legends of Tomorrow takes a more lighthearted approach to superhero storytelling that sets it apart from the other Arrowverse programs.
The 15 unaltered images below have been taken directly from the actual Blu-ray. For an additional 19 screenshots taken from GDC's Legends of Tomorrow: Season Three, early access to all screens (plus the 15,000+ already in our library) in full resolution, dozens of exclusive 4K UHD reviews and other goodies, support us on Patreon.
---