[amazon_link asins='B07C5K7SDR' template='ProductAd' store='doblumovies-20′ marketplace='US' link_id='42903023-9298-11e8-9a04-93bdb45fcee2′]
Blast Off to Nowhere
When the real world stops producing compelling stories, find stuff that might have happened. So is the logic of B-tier action schlock Blast, taking a planned terrorist attack from the 1996 Atlanta summer games and producing a "what if?" scenario.
Terrorists snatch the American women's swim team during a practice, lace the facility with bombs, and then toss out threats to Atlanta's mayor. The set-up is for karate-kicking Linden Ashby to rundown stock villains as he attempts to rescue his kidnapped wife. It's every bit the cinematic cheese chunk expected of a late '90s DTV video store shelf clogger.
Ashby's former Olympic bronze medalist (also a recovering alcoholic) stretches dramatic tripe from even the soapiest of soaps. He sometimes limps from an Olympic injury. Other times, he sprints like the champion he once was. Eventually, he's covered in more bullet holes than Bruce Willis in Die Hard, but still kicking; so is his supposedly injured leg.
It's every bit the cinematic cheese chunk expected of a late '90s DTV video store shelf clogger
Stock as Blast is, there's enough screen chewing from head terrorist Andrew Divoff. There's also some hamminess from Rutger Hauer, mostly confined to a shadowy room playing an anti-terrorism expert as he barks orders toward Atlanta's mayor. Keep an eye out for Shannon Elizabeth too in her first non-TV role. Combined, they're all the reason to watch Blast, assuming the library of prime Van Damme and Segal flicks is complete. Blast has the same aspirations, but on a budget.
Much is made of this scenario's plausibility. Radio hosts speak of high Olympic security. That's not the case considering it comes down to a single janitor to stop the perps. Where oh where those security forces lie is anyone's guess. Divoff's angry crew marches into the stadium with little resistance. Off-screen, President Clinton (never named) strolls into town in spite of the attack. Way to go Secret Service.
Who needs Presidential protection when an invincible Linden Ashby is on patrol though? Unconvincing as Ashby is, he fits into the allure of Blast's overwhelming schlock value. His recovering alpha male routine is a spark for this corny tale. The cover art that shows a high-rise erupting in flames with Ashby nursing a gun on his shoulder doesn't happen anywhere in Blast, yet that's clearly what this murky anti-terrorism, good-guy-with-kung-fu flick is going for. How little it reaches that goal is the fun part.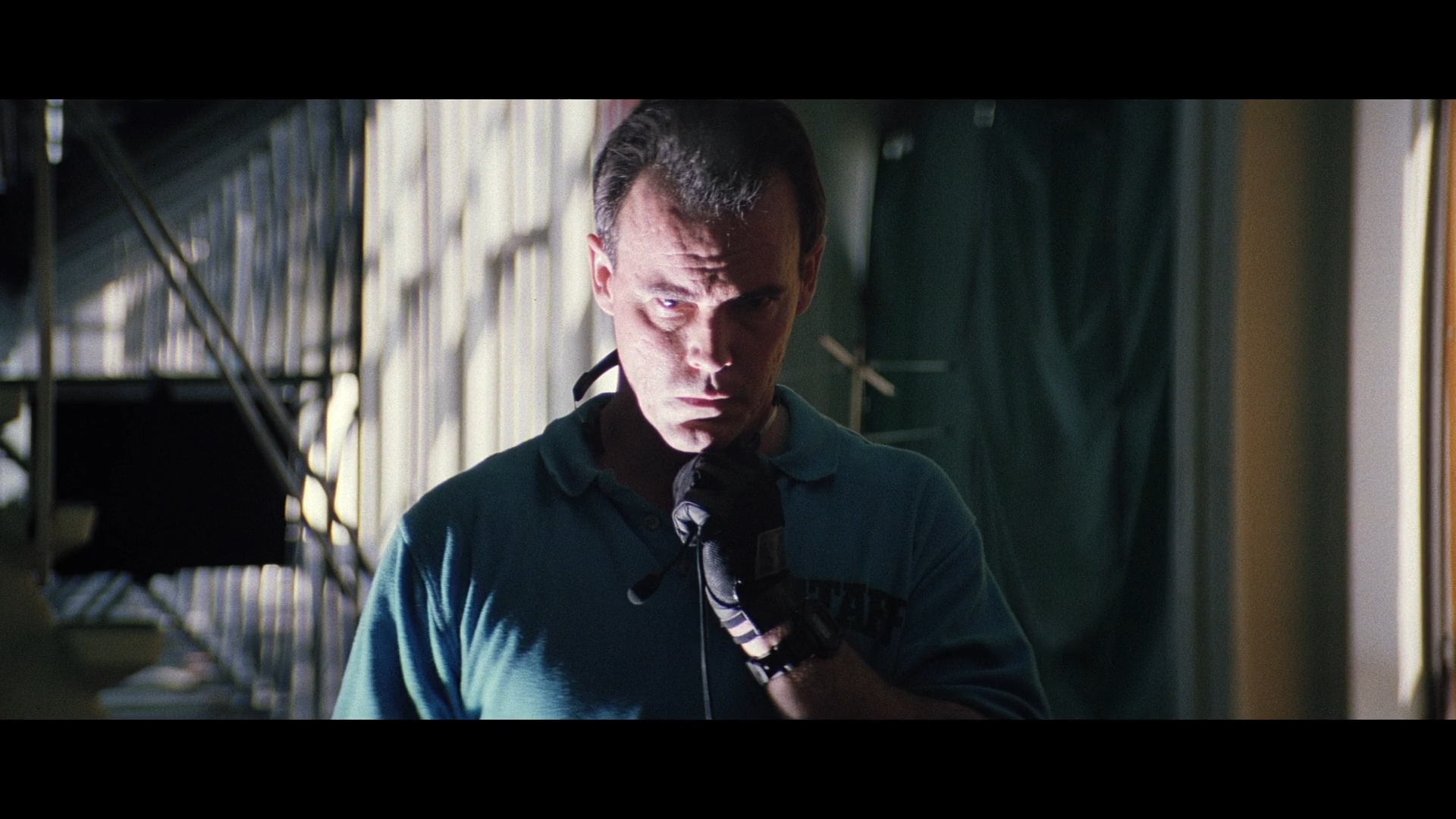 Video
Blast joins the first round of MVD's Marquee Collection series. If this represents the whole, continue with high expectations. With a precise grain structure and strong encoding on a BD-25, Blast delivers natural, sharp imagery. High-resolution material provides the necessary sharpness, capturing the fine lines of Atlanta's architecture as much as facial detail. Consistency keeps Blast attractive.
Age doesn't fade this minuscule production. If anything, saturation reaches attractive levels, including the swim team's red suits and Ashby's blue event staff garb. Primaries reach suitable highs without bleeding out. The same goes for contrast, well calibrated with some pleasing extremes. Black levels deliver generally deep shadows, notable in those scenes featuring Hauer. While not full black, the depth is still satisfying.
Presented in 2.35:1, outside of the opening credits, damage and dirt stay away from this print. Hardly any tiny specks or scratches impede the imagery. That's impressive for a relatively unknown flick.
Audio
Age begins to reveal itself here. Dialog pops from this 2.0 PCM track with a rough quality. There's graininess in the audio, if without significant faults like pops or skips. Everything is audible, but on a lower tier.
Stereo work moves between channels, typically for ambiance rather than action. A background radio or TV spreads into specific speakers, while any gunshots lack directionality. It sounds cheap, and undoubtedly Blast was.
Extras
A handful of trailers (in often abhorrently low quality) reside here. That's it.
Full disclosure: This Blu-ray was provided to us for review. This has not affected the editorial process. For information on how we handle review material, please visit our about us page to learn more.
Movie
At best a guilty action-based pleasure, Blast drones on with hokey fight scenes and a weird role for Rutger Hauer.
The 15 unaltered images below represent the Blu-ray. For an additional 19 Blast screenshots, early access to all screens (plus the 13,000+ already in our library), 50+ exclusive 4K UHD reviews, and more, support us on Patreon.
---