[amazon_link asins='B07BZBD1VH' template='ProductAd' store='doblumovies-20′ marketplace='US' link_id='e52a8349-70ff-11e8-b81b-fb3e2bf452c4′]\
Woo-ing Audiences
Critical and audience response to the first Mission: Impossible took potshots at the script's complexity. It was fair criticism. Mission: Impossible II's production team responded.
The result is this lean and derivative story, told with ridiculous clarity. Expository foreshadowing hovers over the scene it's foreshadowing. LCD timers explicitly lay out the time frame needed for characters to act. Vials of a virus and antidote come color coded – and still dialog reaffirms that point. No one looks directly into the camera to narrate for the audience, but they may as well.
Mission: Impossible II's heart is then in the hands of director John Woo. In the middle part of his six-film stint Stateside, Woo glosses Mission: Impossible with frenzied energy. Woo's flash cuts, slow-motion, interrupting style, and doves collides into an American summer blockbuster. It feels like Michael Bay – except Bay took his own cinematic fetishes from Woo.
… the focus on "cool" over subtext rules all
Good thing Woo's here too. Mission: Impossible II is otherwise a groaner. At once an inorganic, anti-capitalist tale and flighty action spectacle, Tom Cruise plays a role typically reserved for Hong Kong cinema star Chow Yun-Fat, albeit with less booze and more smiles. The over-arching government agency, IMF, hardly matters. It's more Cruise, on a full bullrush toward stock market swindlers seeking to cash in on America's drug market.
It's a direct line from A to B, even involving a marathon romance between Cruise and Thandie Newton. She's locked to a Bond girl routine, utterly helpless beyond sex appeal and requiring the men around her for a save. Newton is as underwritten as the narrative itself, existing for a splash of urgency when the lackadaisical capitalist routine expires. Cruise still needs something to do.
He finds stuff to occupy his time. Cruise dives around, firing dual pistols. He slides around on a motorcycle. He stylishly walks in fire and drives through it too. There's mountain climbing in the beginning and romancing in the middle. Woo's action-focused talents deliver in the second hour, leaving the first strangled by simplicity.
While splashy and chaotic, the maturity evident in first Mission: Impossible is wiped clean. Metallica shreds an electric guitar to produce the classic theme, and the focus on "cool" over subtext rules all. Mission: Impossible II doesn't question the use of violence. No superiors begrudge Hunt for barreling through pedestrian roads or getting into a flirtatious paint-scraping match with a friendly target. It's all fun to Mission: Impossible II. Good thing John Woo's affinity for sparks decorates the scenery.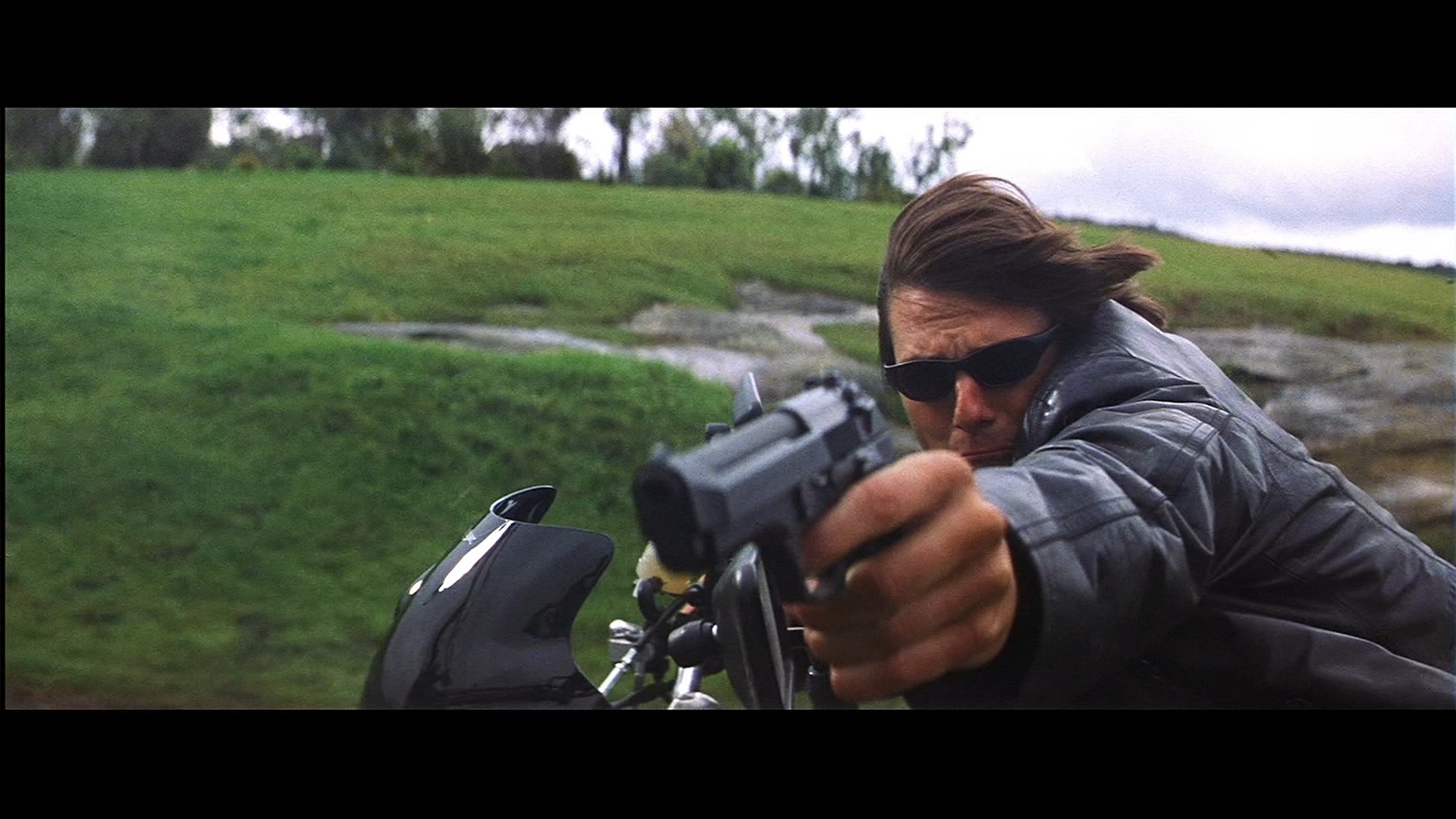 Video
Paramount pushes Mission: Impossible II to UHD with sharp results. Excusing some early green screen compositing, nearly every frame of Mission: Impossible II looks spectacular. The 4K scan transparently moves the film stock to a digital medium. Expert grain reproduction keeps each scene natural and without errant compression.
With the added resolution comes added fidelity. Close-ups work over facial detail, gorgeously rendered and clear. Worldwide scenery resolves rock facades and oceans as well as various cities. It's impeccable stuff.
A new color pass removes the push toward warmer hues of previous home video releases. Mission: Impossible II no longer feels as if trapped in perpetual sunset. Although flesh tones still veer warm, there's variety in the palette, pulling out greens, blues, and other colors. Primaries pop out rather than lose out to early digital color grading styles.
As for the HDR pass (Dolby Vision), while not the most aggressive, heavy, weighted contrast adds to the image bulk. Black crush persists, much in the way it does in any Michael Bay production. While not the same strength, qualities of Transformers slips into this presentation. Powerful highlights keep depth at a consistent level, crush or not.
Audio
The TrueHD 5.1 soundstage here suffers from dated design. It's flattened and lacking in precision. Dull shoot-outs rarely employ the rears. Explosions capture a suitable rain of debris, if briefly. During the finale, cars pan around as they sweep the camera, fine if not overwhelming or to scale.
There's also a lack of dynamics. Explosions add only sleight weight to the images. Fireballs struggle to sound equal to their appearance. When Hunt blows up a door to begin the third act, the boom is muddy and scratchy, to the degree of classic cinema. This one needs a do over.
Extras
Director John Woo provides a commentary track for the UHD and Blu-ray. From there, everything else is on the the Blu-ray, beginning with Behind the Mission, a 14-minute feature from the bowels of the DVD era. Mission Incredible follows, detailing the action for five minutes. The biggest piece is Impossible Shots, a 34-minute breakdown of key scenes with John Woo discussing his work. An alternate title sequence, music video, and two Tom Cruise award promos (the latter shared with the first Mission: Impossible disc) come in last.
Full disclosure: This Blu-ray was provided to us for review. This has not affected the editorial process. For information on how we handle review material, please visit our about us page to learn more.
Movie
John Woo's direction and style saves Mission: Impossible II from total tedium in telling a direct, generic action story.
The 15 unaltered images below represent the Blu-ray. For an additional 18 Mission: Impossible II screenshots, early access to all screens (plus the 13,000+ already in our library), 50+ exclusive 4K UHD reviews, and more, support us on Patreon.
---