[amazon_link asins='B07BC2X5MJ' template='ProductAd' store='doblumovies-20′ marketplace='US' link_id='ae0f6bc6-57a0-11e8-b406-ff652b1c6c13′]
Glossy Noir Starring Karl Urban & Sofia Vergara
A star-studded cast led by Karl Urban and Sofía Vergara headlines Bent, a sleek direct-to-video cop thriller from director Bobby Moresco. The movie is based on characters from author J.P. O'Donnell's 'Danny Gallagher' line of novels. Bent also stars Andy Garcia, Vincent Spano and Grace Byers (Empire). Karl Urban and Andy Garcia help elevate what is otherwise a paint-by-numbers murder mystery into a watchable piece of neo noir. Bent doesn't rewrite the book on suspenseful intrigue but delivers an enjoyable, if somewhat disposable, thriller.
Urban (Dredd) stars as ex-cop Danny Gallagher, a discredited narcotics detective fresh out of jail and looking to right some wrongs. He's seeking revenge on the criminal that framed him and killed his partner in a drug bust that went wrong. Kate (Grace Byers) is the woman that got away, when Danny was sent off to jail for crimes he didn't commit. Danny longs to get back together with Kate.
Danny comes across a mysteriously seductive government agent played by Sofía Vergara on his personal quest for justice. What does she know about Danny's investigative subject, and is she friend or foe? The one person to stick by Danny after jail is Jimmy Murtha (Andy Garcia), a father figure to the disgraced cop. Danny leans on Jimmy for support and guidance.
The scenes between Urban and Garcia are a master class in understated acting excellence
If one thing works in Bent, it is Karl Urban. It's been disappointing Hollywood hasn't made him the lead in more action films and thrillers. His star power is on full display in Bent, even when you know where the plot is going and the thriller becomes predictable. The scenes between Urban and Garcia are a master class in understated acting excellence. They both play off each other very well, as if they've done this before. If I were looking for a father-son pair to cast in a movie, these two would be it.
The big issue in Bent is actress Sofía Vergara (Modern Family). I'm sure there were good marketing reasons to have her name appear on the cover, but she's woefully miscast as a duplicitous federal agent. Her romantic chemistry with Urban is surprisingly lackluster. She doesn't have the acting range, at least in English, to handle the role. The aging television star was cast for name recognition.
You can almost buy Vergara's shady character early in the movie. However, it gets increasingly tough to accept her in the role as the final drama unwinds. It's not a deal-breaker for an otherwise slick thriller with mostly engaging performances. The movie would have simply been more than direct-to-video fodder with a more appropriate actress in the role.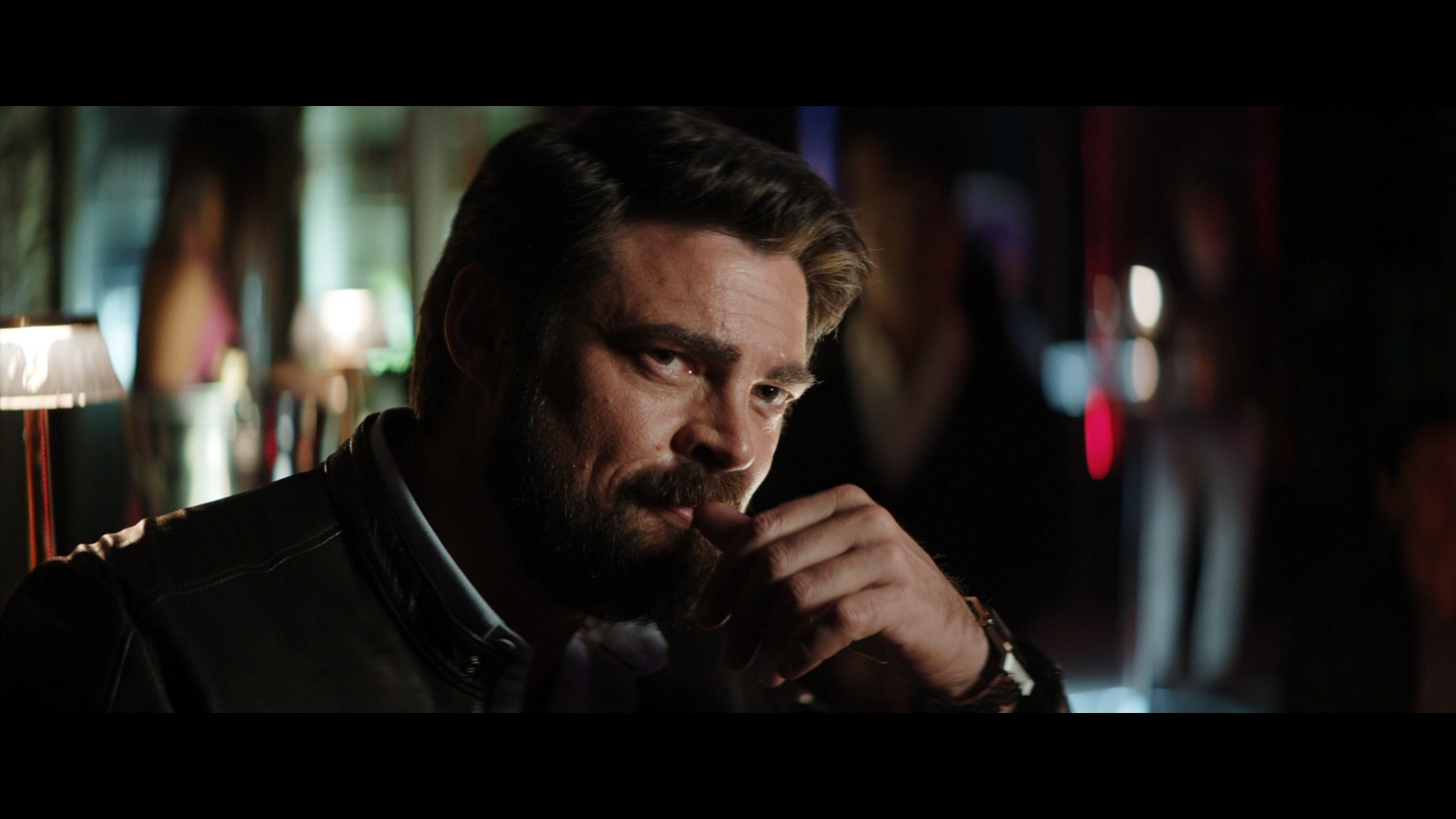 Video
Superb clarity and razor-sharp definition mark Bent's stunning Blu-ray video. The new production, filmed with Alexa XT and Alexa Mini cameras, looks incredible with unfiltered texture and detail. Bent's well-shot cinematography takes full advantage of the 2.40:1 aspect ratio. The flawless AVC encode easily handles the perfect digital transfer without visible artifacts. Struck directly from Bent's digital intermediate, Lionsgate has done a great job here.
While the movie itself is so-so, there is nothing ordinary about its picture quality. The 1080P video consistently exudes depth and dimension, possibly with a slight teal push in the otherwise neutral color grading. This is nigh reference material.
You can't get better than its beautiful contrast and black levels in exterior shots. If you watch Bent, make sure you see its scenic eye candy on Blu-ray. One wishes this film had seen a UHD release with HDR grading.
Audio
The 5.1 DTS-HD MA soundtrack has clean, dynamic sound. This is an effortless surround mix with solid directionality and extension. It's an active, engaging audio experience perfect for Bent. The dialogue remains intelligible throughout the film, smoothly balanced into the front soundstage.
There may not be as much action as one may expect from the film's marketing push, but the lossless audio delivers when required. An early scene has pinpoint imaging when gunshots ring out. The lush score and occasional music have pristine fidelity. This is a nice-sounding movie ready-made for a home theater.
Optional English, English SDH and Spanish subtitles play in a white font. Subtitles remain inside the scope presentation at all times.
Extras
Lionsgate hasn't joined Movies Anywhere yet for their digital copies. An UltraViolet digital copy that redeems in HDX is included. First pressings should include a slipcover. Best Buy is supposedly carrying copies of Bent for release week.
A few interviews comprise most of the included special features. Frankly, the movie doesn't have the depth to require a closer examination than this lot.
Behind The Scenes of Bent (10:35 in HD) – A concise, snappy featurette with footage from the set and interview clips with director Bobby Moresco. A couple of cast members appear in it, apparently snippets taken from the longer interviews found elsewhere.
Bent Trailer (02:09 in HD)
Cast & Crew Interviews (24:23 in HD) – Separate interviews are included with director Bobby Moresco, Karl Urban, Sofia Vergara, Andy Garcia and the movie's cinematographer, Gianfilippo Corticelli. The actors don't give much insight beyond trite answers often found in EPK material, but Moresco explains what he desired in making Bent.
Lionsgate Trailers (08:48 in HD) – These trailers play before the main menu and also can be selected in the bonus features: Acts of Violence, Unlocked, The Show, Cops & Robbers, and First Kill.
Full disclosure: This Blu-ray was provided to us for review. This has not affected the editorial process. For information on how we handle review material, please visit our about us page to learn more.
Bent
Movie
The Karl Urban cop noir rises above typical direct-to-video fare but uses too many generic plot cliches for it to be anything but decent.
The unaltered images below are taken directly from the movie's Blu-ray. For an additional 12 Bent uncompressed screenshots, early access to all screens (plus the 12,000+ already in our library), exclusive UHD reviews, and more, support us on Patreon.
---