[amazon_link asins='B079J8RD2P' template='ProductAd' store='doblumovies-20′ marketplace='US' link_id='b9bcd695-4ccc-11e8-a78d-371170ffcb28′]
Gumming Up
Can it be a Tremors movie without Michael Gross? Maybe it's time. Onto his sixth sequel, Gross' second amendment-worshiping Burt Gummer has played the series lone recurring character. It's a shtick trapping the series in routine. While comfortable, Cold Day in Hell needs an injection of new.
With a plate of stock character archetypes – the ones doomed to die and those who won't – Cold Day in Hell resets itself into the Canadian Arctic. In actuality, this is South Africa. It's easy to tell in the opening. The snow is clearly sand; color correction turns it blue. Later, the rocky mountain region that houses much of Cold Day in Hell exists in any mountainous place. But it's Canada, so says the script.
Global warming led to this infestation. Tremors is a climate change series now. Don't worry – the issue of iceberg thaw is a mere background event. Glaciers melted, Graboids moved in, putting a research base in their (non)sight. At least Cold Day in Hell is trying for newness.
… this Tremors is doing all it can to keep the monsters off-screen lest the costly CG chew on the budget
There's potential in Burt Gummer's arc though. He's aging, clearly too old to hoist up his rifles, more so to run away from oncoming dirt eruptions. Cold Day in Hell forces him to deal with an infection, yet like the climate change, it's only there for script convenience. Gummer doesn't grow or change or learn as a result. As a result, the series doesn't either.
Cold Day in Hell runs through the typical traps of this series, with less of a budget. The C-grade, DTV cinematography inspires little confidence from the outset. Later, this Tremors is doing all it can to keep the monsters off-screen lest the costly CG chew on the budget. Kills close-in on victim's grimacing face, Graboids out of frame. If nothing else, the crew behind these movies know how to make dirt explode. That's most of what the audience sees.
The spirit of the franchise sticks around. Gross spits up a number of teeth-clenching, frustrated one-liners. Gummer locks into his masculinity further as Tremors moves forward. Creative methods to keep Graboids at bay come into play, outside of those "shoot aimlessly at the dirt" moments. At this point though, the mundane approach to action and continual tight bookkeeping on the part of home studio Universal left the series without any room to expand.
Oh, and Jamie Kennedy is back from Tremors 5: Bloodlines. He's an afterthought, much like this closing line.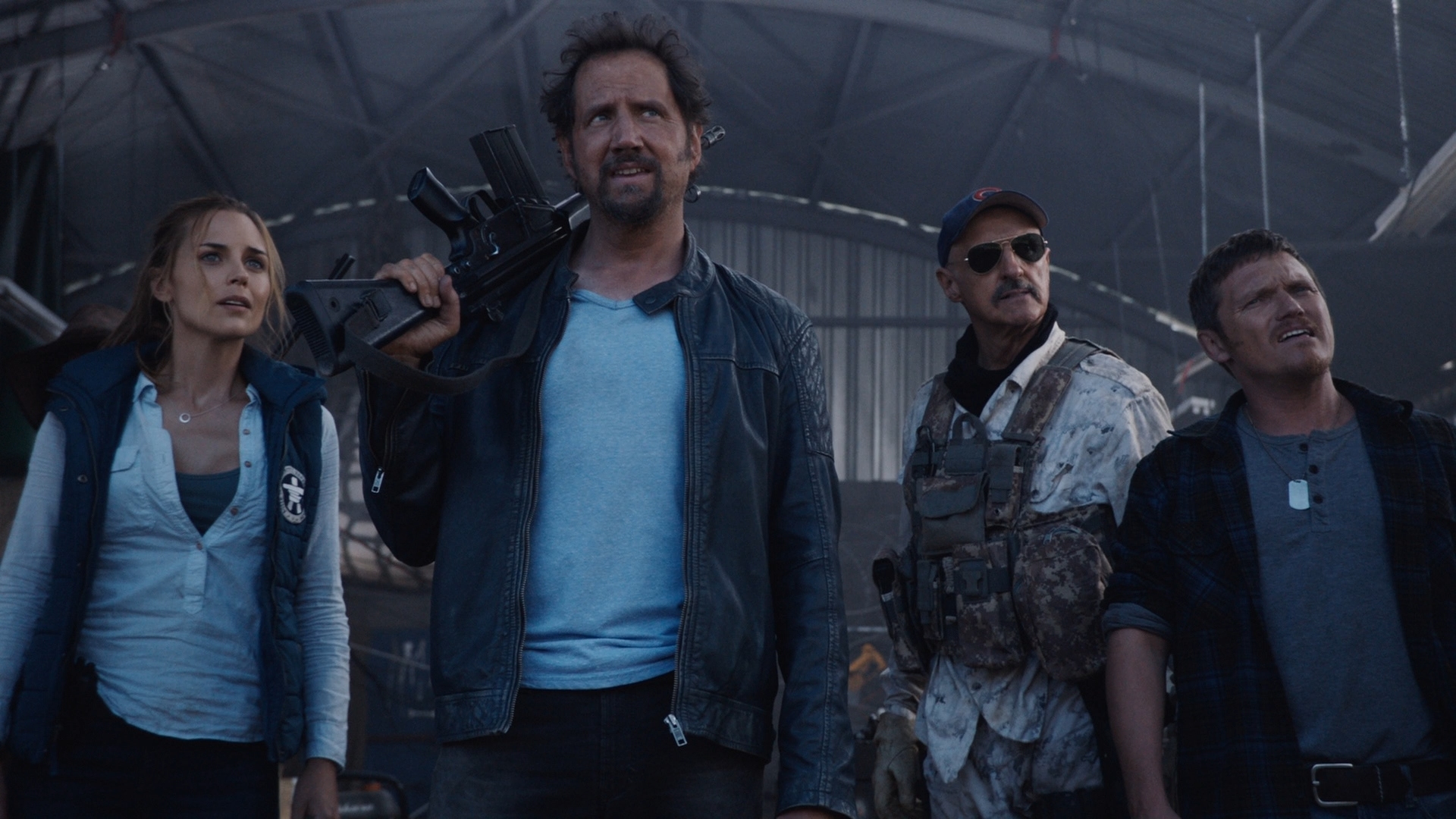 Video
Since only a few scenes use it, ignore the painfully obvious "cold" filter applied to the earlier arctic-but-really-desert scenes. The rest utilizes a cool palette focused on keeping the sense of mountain air. There's enough color to go around, assisting flesh tones and environments with a touch of saturation.
Sharpness peaks at a reasonable level with only light noise causing any obstruction. Close-ups revel in firm, fine definition. That's consistent. Long shots show off the location work. Encoding keeps up with the piles of strewn debris tossed up by the Graboids.
Shot entirely in daylight, contrast helps give the disc pleasing pop. Black levels counter as needed to deliver dimensionality. It's all attractive for a DTV offering these days.
Audio
With a DTS-HD track, Cold Day in Hell strikes as needed, but it's clearly held back by budget. Tracking into the surrounds is contained to a few highlight moments. The best comes as a flying Ass Blaster circles a plane. LFE and audio tracking to great effect, more so than with any of the underground Graboids.
Bullets fire off but with little sense of direction. Gunfire fills each speaker simultaneously, making it impossible to discern where the shots come from. Debris fields fare a bit better. Dirt spreads into stereos and surrounds well, if undeveloped.
Extras
A six-part making of seems like a great starting point for the bonus features, but at 14-minutes, this is more routine and thin than the movie itself. Anatomy of a Scene offers more at only four minutes, detailing a key attack sequence. Inside Chang's Market reveals the little touches inside a key set, running under three minutes.
Movie
Tired and reaching for anything new, the Tremors series reaching a breaking point in A Cold Day in Hell.
The 15 unaltered images below represent the Blu-ray. For an additional 17 Tremors: A Cold Day in Hell screenshots, early access to all screens (plus the 12,000+ already in our library), exclusive 4K UHD reviews, and more, support us on Patreon.
---