[amazon_link asins='B07BZC8BB3′ template='ProductAd' store='doblumovies-20′ marketplace='US' link_id='03e1e2da-f672-11e8-8bbd-4fb90d875fb6′]
Churchill's Lead
Both Darkest Hour and Dunkirk came up with Oscar nominations in 2017. It's coincidence, but surely someone considered a supercut of the two movies, as they deal with the same historical events. For one, it's the indelible perspective of soldiers trapped on beaches. For Darkest Hour, it's the political machinery designing a method to save them.
A potential supercut holds some intrigue, mostly for condensing Darkest Hour. It's notable for Gary Oldman's ridiculously pure performance of Winston Churchill (helped by equally remarkable make-up). Oldman's take is sincere, sure-handed, and believable. This, portraying Churchill's first five weeks as Prime Minister, throwing him into the political fire of war. It's an unstoppable series of tragedies and impossible decisions.
For Darkest Hour, these events show without earnestness. Although glossy, Darkest Hour has the eye of a meandering teleplay. The convincing Churchill comes at the cost of all else. His wife barely utters a peep comparably. His rapidly adjusted secretary falls to the wayside. Even King George, other politicians, and the whole of Parliament whittles to make way for Oldman.
Oldman's turn adds power to a complex, chain-smoking, hard-drinking politician
Call it an Oscar grab. It is, but a genuine and deserving one unlike others. Oldman's turn adds power to a complex, chain-smoking, hard-drinking politician without any set-in-stone allegiances to either party.
On occasion, Darkest Hour searches for something else. Lily James as Churchill's secretary Elizabeth Layton skims the inherent sexism of 1940s politics. She's denied access to any room of importance. Her office is a dark corner. That's all discarded though outside of visuals. Layton's impact appears negligible, and if Darkest Hour is true, then her employment mattered little.
The wider plot deals in Churchill's defiance of the Nazi regime. He refused to negotiate with them, a pertinent political line to draw, reason enough to justify Darkest Hour's release. Even with the possibility of losing the entirety of the British forces, bowing to fascists is only a tiny consideration when under duress.
Churchill is seen as a hero by the end for his refusal to give in and surrender. Darkest Hour considers the cost – Churchill knowingly sends a platoon their death – if treating war as politicians do: a numbers game. Inside the map room, an overlay shows overwhelming odds and numbers. There's little sense of the greater cost, an out of sight, out of mind mentality that avoids the emotional toll of warfare.
Darkest Hour creates a moment of fantasy before Churchill delivers his final speech of this film. Descending into the underground subway, Churchill meets with a cast of citizens who compel him to keep fighting; they would, they say in unison. People of color, women, men, kids; all of them agree. It's a fantastic moment that makes Darkest Hour about something other than smokey map rooms, but the whole of wartime. Darkest Hour needed more of that scaled perspective.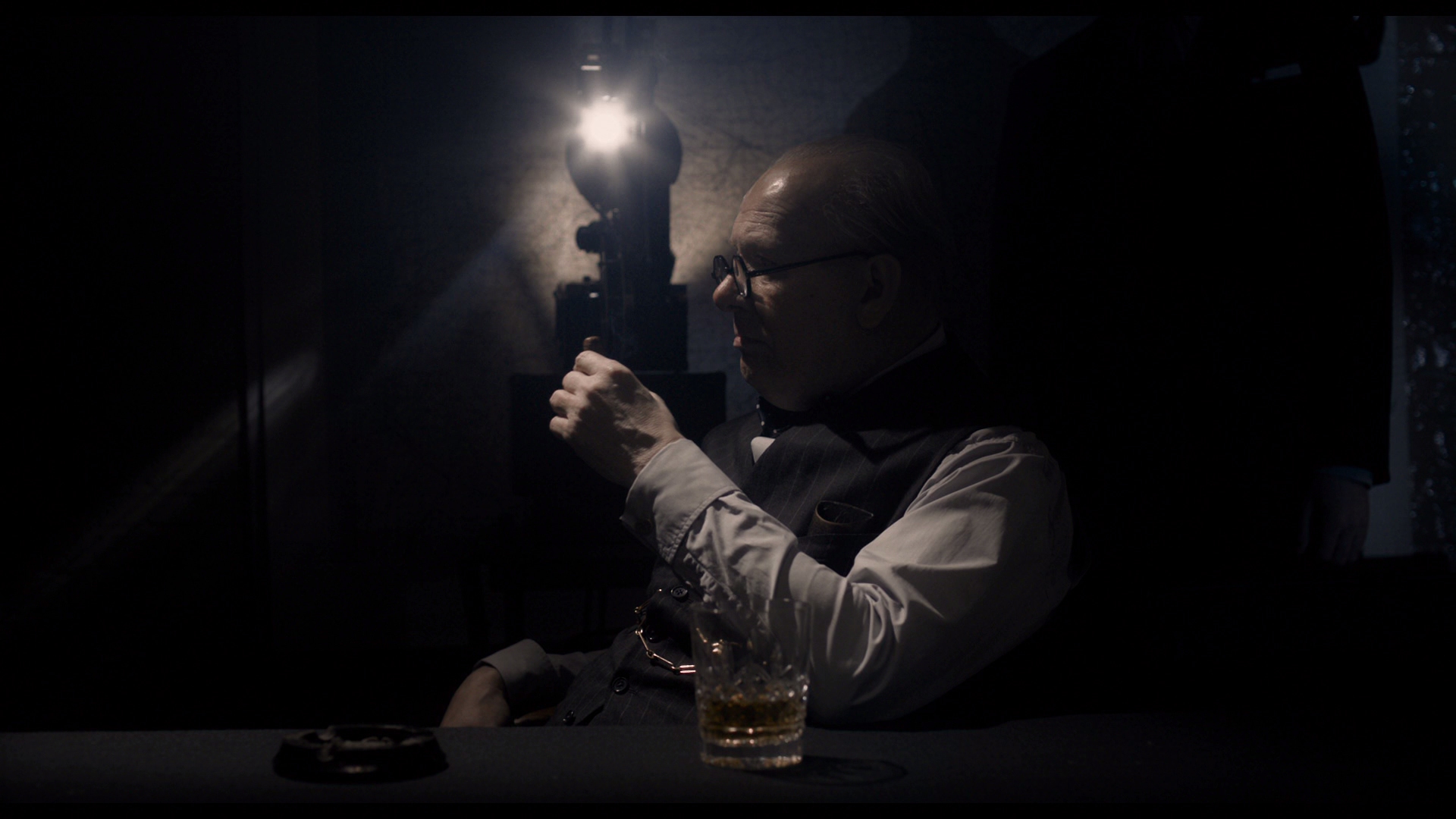 Video (4K UHD)
Outstanding sharpness pours from this 4K release. A 3.4k source produces sensational definition, that in turn leading to elevated fidelity. Textured close-ups and marvelous aerial shots bring out the time period's detail. A quick shot a filling wine glass, minor as that sounds, delivers every bit of line work on the glass.
Helping is the HDR pass, resolving the black crush of the Blu-ray. Shadows dominate, and do so sans any problems. Tremendous depth spreads across the screen, producing a level of dimension that appears natural. Clipping remains, although with the added nits, adds to the scenes rather than detract.
Noise does remain. Black levels may dominate organically, if not enough to hide those source artifacts. Scenes in the basement suffer from messy imagery, this in contrast to the flawless clarity exhibited elsewhere.
A muted color palette is appealing. Flesh tones tend to carry a faded look, akin to vintage color photography. That works. Blue douses the screen, giving things a persistent chill. The occasional warmth slips in (and there's a hyper red sequence at one point) to give balance.
Video (Blu-ray)
Universal brings Darkest Hour to Blu-ray in an often problematic release. Key to the issues? Black levels. Although fond of dim cinematography (and large swaths of the movie take place underground), the level of black crush is concerning. Churchill's black suits mold into a singular form. In a darkened room, those suits create a blob with a floating head above the blackness.
Maybe it's for the better. Darker hues on Universal's disc invites significant noise. The digital production carries an unclean appearance. It's generally fine in daylight unless the scenery uses smoke, or light softly filters in from a window. Come shadows, it's a messier, buzzier look. A key scene bathed in reds mirrors and old MPEG-2 encode on DVD.
The muted color palette favors sepia and blue, restricted if likable. Pasty flesh tones fill Darkest Hour, contrasting with those dense blues. It's proper for the tone.
In terms of fidelity, facial definition holds to a consistency. Make-up work on Oldman withstands the rush of resolution, and other close-ups deliver as needed. A bit of clipping in the light is nominal.
Audio
Fitted with an Atmos mix, the opening scene in Parliament buzzes with activity. Shouting members reach each speaker, enveloping the soundstage. Darkest Hour is quite fond of the fronts outside of these instances, spreading dialog and other cues (clacking typewriters move about) to the sides.
Where surrounds play is mostly ambiance. Map room sessions capture a consistent hum, powering the room. Inside a subway car, the track and general noise fills the car. With a few overhead planes, an impact is felt, in addition to a handful of bomb explosions. This isn't a war film, and instead fills itself with necessities in a convincing way.
Extras
Outside of director Joe Wright's commentary, Universal provides a mediocre set of extras. The two featurettes – one a general making of, the other on Oldman's role – reach only 12-minutes combined. Each is a bland EPK.
Darkest Hour
Video (4K UHD)

Video (Blu-ray)

Audio

Extras
Movie
Gary Oldman is a standout as Winston Churchill in Darkest Hour, but the rest of the film lets his performance stand alone.
The 15 unaltered images below represent the Blu-ray. For an additional 16 Darkest Hour uncompressed screenshots, early access to all screens (plus the 10,000+ already in our library), exclusive UHD reviews, and more, support us on Patreon.
The following six screen shots serve as samples for our Patreon-exclusive set of 30 full 4K screen shots grabbed directly from the UHD:
---