[amazon_link asins='B076HJZG8N' template='ProductAd' store='doblumovies-20′ marketplace='US' link_id='101a8ee4-f4ea-11e7-955b-539d8b965ff9′]
Fighting Mad Chan
The Foreigner calls upon the quiet, vengeful Jackie Chan. While Chan performed these roles previously, The Foreigner brings a true authenticity to a father mourning the loss of his daughter to a London terror attack. Through his career, Chan's emotive qualities remain an underutilized asset.
Chan is still a fighter. He's cast here as ex-military, favored in close-quarters combat. By the end, he's turned into a Chinese Rambo, recreating First Blood's forest trap sequence (traps, spikes, camouflage), if in different context. Rambo suffered PTSD; Chan doles out punishment to those hiding a list of bombing suspects. Chan channels his inner Liam Neeson with finesse, certainly with more kicks and a bit of MMA in his repertoire. It's splashy and flexible enough for the now 63-year old superstar. James Bond director Martin Campbell gives the choreography room to breathe on camera too.
There's a battle in the script to keep Jackie Chan the hero. He sets off bombs in government buildings, tracks a politician to his family home, and even blows up a car with a civilian inside (who, seemingly by chance, survives). For an otherwise kindly noodle shop owner, he holds his own in this revenge saga, even though he skirts morality. There's no question as to the villains, hyper-violent, nationalist IRA members who attack a shopping district, a bus, and plan additional strikes. Only in their egregious methods do they outrank Chan.
… the expectations for close escapes, hand-to-hand duels, and tense stand-offs meet in typical thriller fashion
Dealing in London-based terror, Foreigner deals in exploitative material. Pierce Brosnan, as a high-ranking official (with an unconvincing Irish accent) leans heavily into the politics of such attacks. No doubt Foreigner fans the flames of fear. Sticking the likable Chan in the middle gives audiences a recognizable, anti-terrorism face. Rooting for his success considering the real world implications creates an instant hero, a pallid set-up.
David Marconi's script tries for twists although the rather direct method of storytelling shows its hands with immediacy. The one-man-army approach sets up a small rampage for Chan, barreling headlong into an investigation with only one possible perpetrator. Chan's arc, too, leaves limited room for movement. While morally questionable, the expectations for close escapes, hand-to-hand duels, and tense stand-offs combine in typical thriller fashion. Foreigner isn't rewriting the genre.
There's a struggle to maintain pace. Foreigner's middle act, playing the long game in the wait for action, chugs along. Dialog isn't engaging without any plotting surprises. If the intent is to keep audiences off-balance, Foreigner fails. Even if the material is ailing, Chan pulls Foreigner up on his shoulders. It's enough.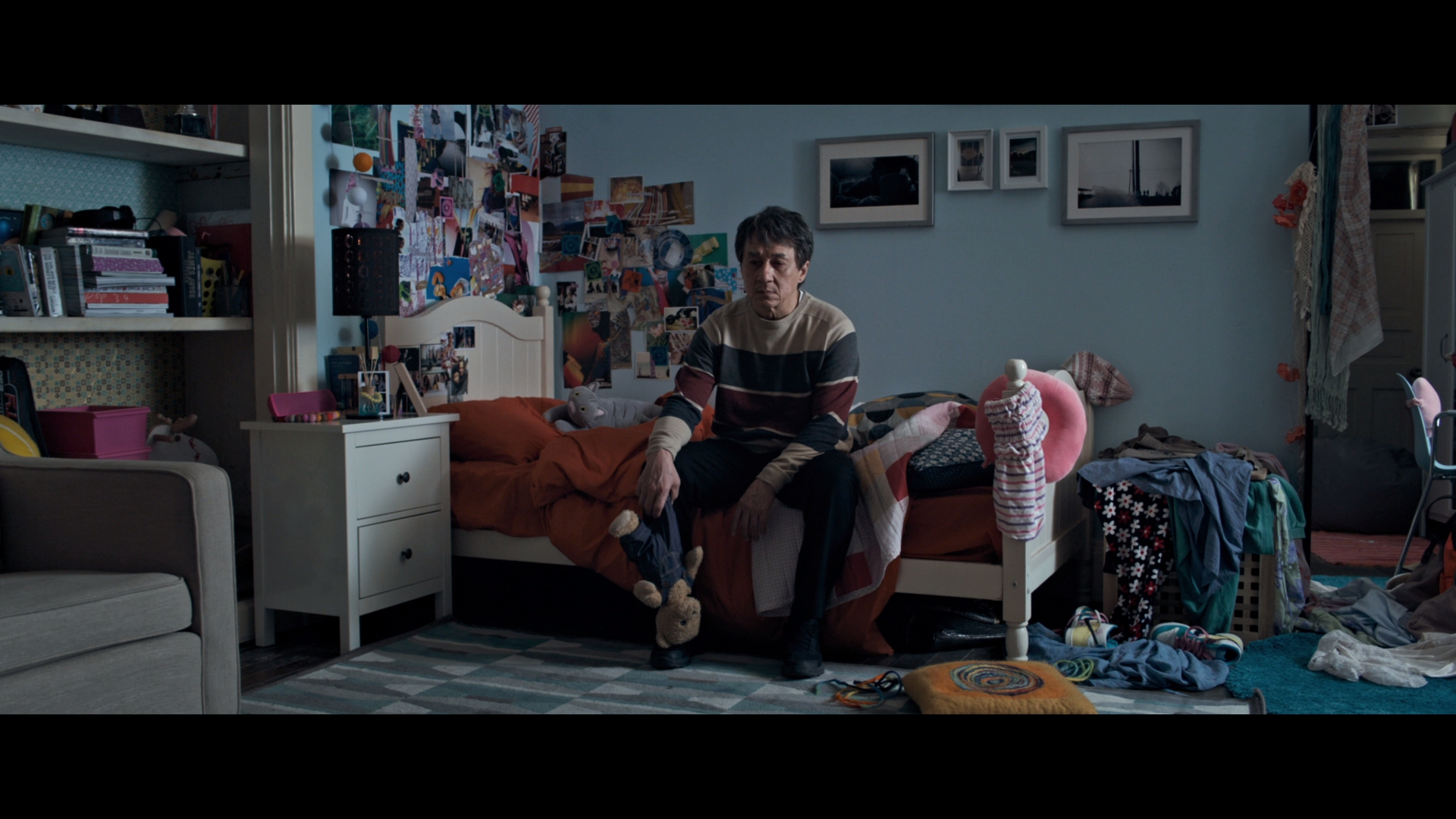 Video
A digital production, most of Foreigner produces clean, well resolved images. Close-ups chisel out extensive definition and a number of aerial views of London gorgeously show off the city. Universal's encode fends off some source noise cleanly. A bit of chroma noise is the only fault, and even then, contained to one scene.
If something is noticeably missing, it's black levels. Rarely does Foreigner employ them, instead ceding to the color grading. A lot of Foreigner drifts toward blue, black levels included. That causes an obvious drain in contrast. Under cloudy London skies, depth further falls to the wayside.
Even with the shift toward a dreary look, primaries pop out. Explosions bring out glowing fireballs. Flesh tones only suffer a bit of loss. Production design decorates locations with enough pizzazz to break from the cooler tones too.
Audio
Included is a peppy DTS-HD 7.1 mix, utilizing the full width of the soundstage. Debris-filled explosions send objects panning into the surrounds, with decent thrust on the low-end. A late apartment shoot-out contains sound to the tightened space. Expect bullets passing near in each channel with a strong echo. Fight scenes track the chaos too, punches and kicks well managed.
While on a dialog kick, Foreigner finds stuff to do sonically. After terror attacks, police radios pop from the surrounds. Helicopters pan overhead, switching between stereos and surrounds as needed to keep things in motion. Rain during a flashback is also intense.
Extras
Skip the making of. That's a two-minute trailer. The half hour or so of dry interviews fare better, if only in comparison.
Movie
Jackie Chan shows a strong flair for the dramatic in The Foreigner, a story of corruption, terrorism, and a bit of kung-fu.
The 15 unaltered images below represent the Blu-ray. For an additional 16 The Foreigner screenshots, early access to all screens (plus the 9,000+ already in our library), exclusive UHD reviews, and more, support us on Patreon.
---