Lock It Up
The twist in Unlocked concerns the villain. Using racial profiling, via Arabic dialect and vaguely Middle Eastern-looking actors, Unlocked suggests terrorists. It's a trap and the suggestive ploy plays into modern bias.
Unlocked's cleverness melts away from there. A crude use of London terror attacks casts a cheap emotional lure onto the lead character, Alice (Noomi Rapace). She's recovering after a failed intelligence sting led to numerous deaths, giving Unlocked an obvious character arc to root for. Alice is tough-willed, and Rapace muscles through the role with convincing force. She's the highlight.
Otherwise, Unlocked is tangled in a typical spy thriller scenario. There's MI5 and CIA involvement. Dramatic phone calls consider the possibility of rogue agents. Lots of shocked close-ups ensue and some storytelling razzle dazzle is meant to throw off the audience. Stakes in the background concern a potential bio-terrorism attack, plotted by a chain of suspects, all of whom Alice runs down.
It's easy enough to pry this plot apart, leaving the middle portion dragging along
Expect a bundle of generic, last-second saves when bad guys don't pull the trigger. Or, they conveniently miss despite evidence of better training. In spite of some sturdy brawls, a lot of Alice's success comes down to luck and timing; she's not so much a hero as a fortunate bystander, shot at by Star Wars Stormtroopers, or at least their real world equivalents.
A number of bit parts help get Alice where she needs to be. John Malkovich hams it up as a CIA lead. He has a blast doing so. Toni Collette is Malkovich's MI5 equivalent, a stern role without room to explore characterization. There's Michael Douglas too, a typical performance at this stage of his career, successful without moving beyond his comfort zone.
Much of Unlocked relies on the various stages of this twisty story, prodding Alice along through a "don't trust anybody" type of saga. That's taken to a literal degree; anyone Alice deals with is sure to be rogue. It's easy enough to pry this plot apart, leaving the middle portion dragging along. By the time of its finale, Unlocked reveals its enemy, as much political commentary as it is a story-driven surprise. Anti-government conspiracy is seeded into the middle, propelled by a fairly typical internal CIA drama. The chosen villain isn't a surprise, it's who they play for.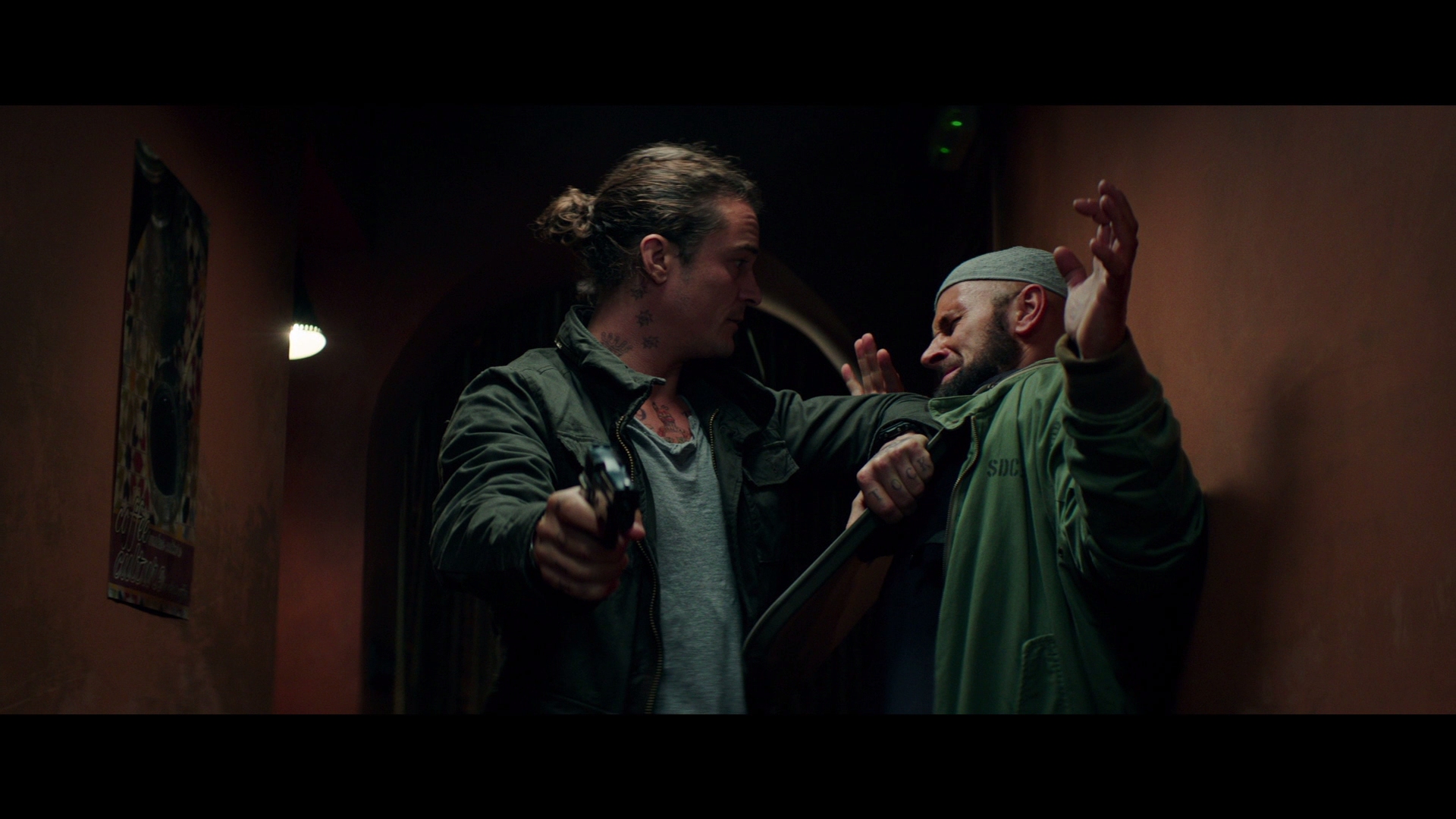 Video
Presenting with a pleasing color palette and natural sharpness, Unlocked's fine Blu-ray (via Lionsgate) offers plenty of appealing moments. Filled with cleanly resolved close-ups and fidelity, only a handful of cinematography quirks cause any drop in quality. Everything else in this digitally sourced feature is keen on maintaining high detail.
Aside from a bit of low light noise on occasion, Unlocked features great clarity. Black crush is involved at times. Otherwise, black levels pleasingly dominate and create an image flush with depth. Image density holds for the full runtime without any slip-ups.
Flesh tones carry natural warmth, excusing a handful of nighttime scenarios that skew toward blue. Primaries recess slightly, presenting a typically reserved thriller palette. Still, there's bite to this feature, densely saturated where needed with pleasing results.
Audio
The first shoot-out powered by this DTS-HD mix doesn't use the rear channels at all. It's strangely front-loaded (with fine stereo work), limited in dynamics. Into the London streets, ambiance remains low. What comes later dispels with those limits, with dominating assault rifles and crisp debris fields. Positioning turns prominent, with sharp attention to surround space.
A few guns fired in close quarters echo into the environment, spreading from the center. A grenade blast is potent. That's the hardest bass hit in Unlocked.
Extras
A 13-minute, generic making-of is a lonely bonus features.
Full disclosure: This Blu-ray was provided to us for review. This has not affected the editorial process. For information on how we handle review material, please visit our about us page to learn more.
Movie
Unlocked takes some shots at racial bias, but it's an otherwise pedestrian anti-terrorism thriller with a few standard twists.
The 15 unaltered images below represent the Blu-ray. For an additional seven Unlocked screenshots, early access to all screens (plus the 8,000+ already in our library), exclusive UHD reviews, and more, support us on Patreon.
---