[amazon_link asins='B0763V5KMD' template='ProductAd' store='doblumovies-20′ marketplace='US' link_id='21e712aa-a86e-11e7-942f-cf3d0febd811′]
Please Tell No More Tales
It took Pirates of the Caribbean 14 years to reach "torch passing" status. Henry Turner (Brenton Thwaites) and Carina Smyth (Kaya Scodelario) take over as the central romantic duo, stepping over Orlando Bloom and Keira Knightley. Turner and Smyth follow the familiar path. Their relationship is par for the series, divisive and sarcastic. They'll clearly end up together.
Back too is Johnny Depp, slurring speech, rotting hair, and an otherwise unkempt appearance. Hans Zimmer's magical Pirates theme? That's back too, and arguably Dead Men Tell No Tales' energizing point. The rest is living on borrowed time, bouncing between set pieces full of ambition, slotted together without any.
The script uses hard exposition to set up quickly. That's for the best. At two hours, Dead Men Tell No Tales is the shortest of the now five Pirates movies. They all needed a bit of trimming. Even if the form is unchanged for Dead Men Tell No Tales, someone is acknowledging near three hour runtimes as too much.
With less extraneous plotting – everyone here hunts for a magical trident – this means set-pieces take over. After the first one, a darling cartoon spectacle with horses pulling an entire building from its foundation (and then through a town), Dead Men Tell No Tales is practically exhausted. That's literally practical; the entire building run is done live with minimal computer generated help. Dead Men Tell No Tales is otherwise slathered in digital effects. It's showmanship for the sake of it.
Dead Men Tell No Tales has to write itself out of a corner



It's still impressive to watch two pirate ships at sea, slinging cannon balls at one another. Dead Men Tell No Tales has plenty of that. So much so, scenery brings in a handful of needless ships for the sake of destroying them. Then it flashes back, showing more ships taken to the deep. What was impressive turns quite tiring.
That's where Dead Men Tell No Tales becomes muddled. It's stuck between a franchise with a penchant for splintering wood and sword fights, stuck without much in the way of lore anymore. Dead Men Tell No Tales has to write itself out of a corner, bringing back Will Turner (a cameo role though) to satiate fans.
Everything is wordplay and laughs while the camera fawns for Jack Sparrow. He's still popular, even if the shtick expired years ago. A flashback looks back at a young Sparrow, explaining where the name "Sparrow" came from. It's an explanation no one asked for. But, it does allow for a showcase of special effects, de-aging Depp to a 20-something for a few minutes of screen time. Hopefully, this isn't a sign of a prequel to come.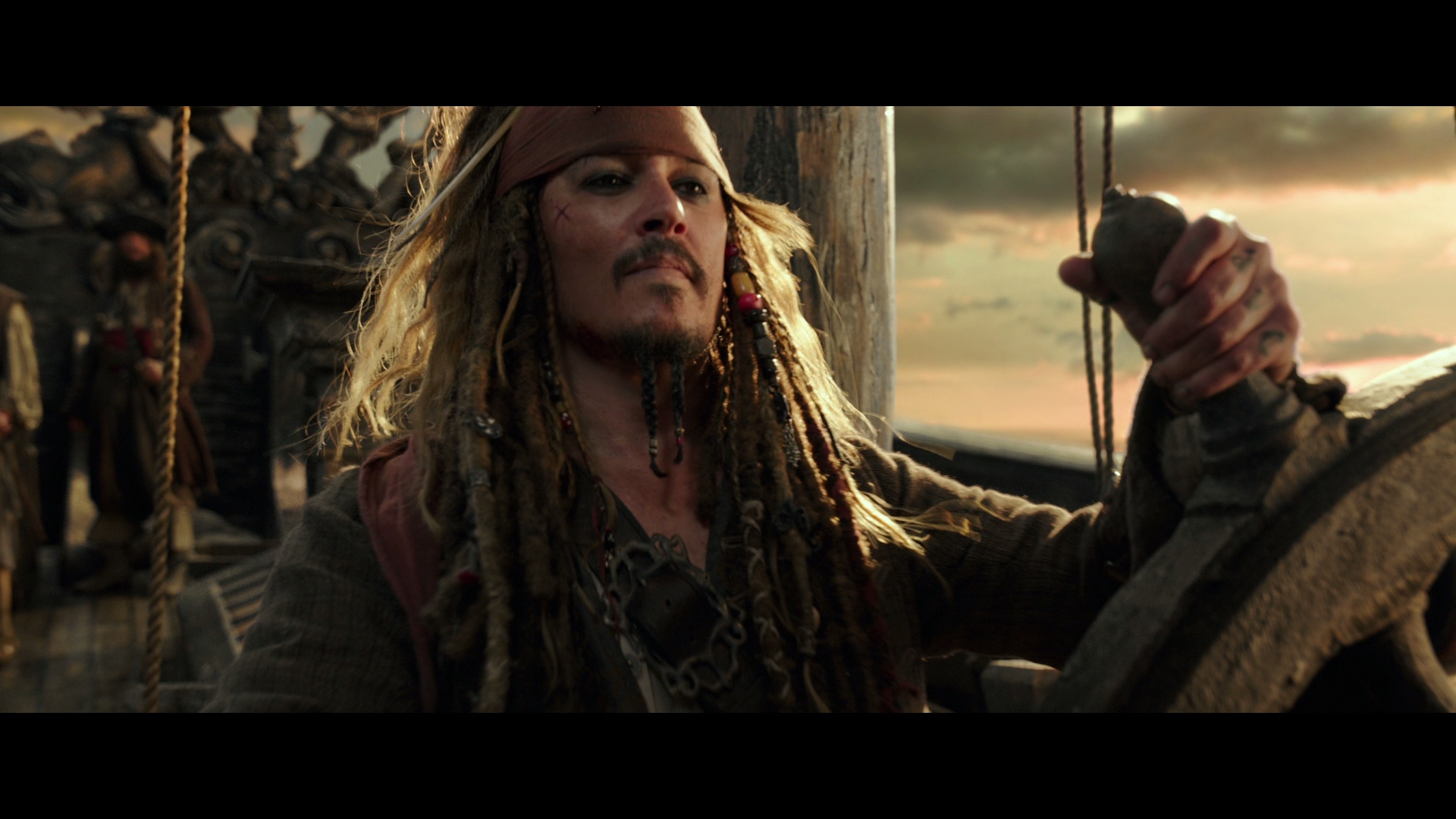 Video (4K UHD)
Disney returns to UHD with a stellar demonstration of the format. Texture, even from this 2K source, is pure. Close-ups keep fidelity coming, including the spectacular make-up in numerous scenes. Well worn ships look as much. Rotting wood surrounds characters as much as the oceans. Views into the horizon display awesome waves or sightly islands.
Dead Men Tell No Tales brings with it an immediate challenge. A young boy rows on the ocean at night. Moon light is the only illumination, creating deep, hard shadows. Then, he dives underwater to a scene dimmer still. The UHD flawlessly performs, keeping shadow detail in view with exceptional depth too.
During daylight, brightness bursts from the frame. HDR effects catch wave reflections and sunlight. A late scene on an island of diamonds shimmers beautifully, as intended. Dead Men Tell No Tales squeezes contrast onto the screen, establishing depth throughout.
Color palettes shift between warm and cool, flesh tones near burned when under the sun. Primaries escape only on occasion, and usually faded by the color grading. Density remains high though, adding depth to an undersea voyage or the finale, cloaked by a split ocean.
Disney's encode presents consistently clean images too. With only two examples otherwise, Dead Men Tell No Tales features almost no noise.
Video (Blu-ray)
Each Pirates set a standard for Blu-ray and each reached reference level in their time. Dead Man's Chest is required on any home theater's shelf, dated now or not. Add Dead Men Tell No Tales to the roster too.
Excusing pockets of black crush (in particular at night), Disney's disc is rich in depth. Strong dimensionality is a constant. Daylight scenes reach as far as this format allows.
At 1080p, there's hardly any loss of visible detail. Close-ups continue to push visual fidelity to a zenith, rich in clarity and texture. Dead Men Tell No Tales asks a lot of this format, especially in its sweeping vistas. The Blu-ray still captures a slew of resolution without aliasing or other artifacts. A few rounds of noise won't dim anything.
Audio
Almost too aggressive at times, the Dolby Atmos mix is as booming and boisterous as one can expect from a blockbuster at this scale. This mix tracks everything. In the beginning, footsteps creep in behind a character, audible in the additional surrounds. Immediately after, soft waves splash in that space.
Massive action scenes call for extensive tracking. The level of debris from cannonballs hitting their targets is working with a new level of precision. Swords clang in a full 360 degree soundfield, while seagulls call out above the battle. The clarity and dominance of the positional channels is unusually high, a near field mix with endless energy.
As it goes almost without saying, LFE support contributes the same. With outstanding bursts and drawn out rumbles, Dead Men Tell No Tales doesn't have a dulled instance. Low-end force varies as needed, but it's always satisfying. When an entire building is pulled past Jack Sparrow, it feels like an entire building.
Extras
Dead Men Tell More Tales deconstructs the production in a seven-part making-of, running 47-minutes. It's fine, if overly glossy and speaking little on production troubles. A short blooper reel, four deleted scenes, and a photo diary make up the extras.
Video (4K UHD)

Video (Blu-ray)

Audio

Extras
Movie
Dead Men Tell No Tales is hopefully the finish line for the tired Pirates of the Caribbean franchise as the act has worn thin.
The 15 unaltered images below represent the Blu-ray. For an additional 24 Dead Men Tell No Tales screenshots, early access to all screens (plus the 7,000+ already in our library), exclusive UHD reviews, and more, support us on Patreon.
---