[amazon_link asins='B071JW9SYY' template='ProductAd' store='doblumovies-20′ marketplace='US' link_id='e8949acd-9d5a-11e7-b2fe-b5184ab197ff']
Don't Call Me Stupid
The dog dies. No, correction, three dogs die in A Fish Called Wanda. Somehow, this John Cleese/Jamie Lee Curtis/Kevin Kline outing gets away with it too. It's rare to associate a floofy dog being crushed by a slab of concrete as hysterical. A Fish Called Wanda creates the right place of comical morbidity though.
After being on the run from cinematic serial killers for a decade by the time of A Fish Called Wanda, Jamie Lee Curtis takes the role of Wanda and creates a sexual power fantasy. A Fish Called Wanda is a heist movie, but one where the heist-ers fall apart as they cross one another. In the center is Wanda, wrapping herself around each of the male co-stars, using their simpleton minds, infidelity, and lack of hormonal control to her benefit. The seductions though, like the smashed puffball dogs, are hysterical.
It takes a precise sense of humor to laugh at A Fish Called Wanda. Not everyone will appreciate the darkened, British slant. Many do though, if the long stretching box office results from 1988 are still relevant.
Central to the success is a great heartbeat, keeping A Fish Called Wanda moving forward. It doesn't need action; it just needs Kevin Kline's irreverent idiot on screen for a few seconds. Or, John Cleese baring it all. Maybe a Fish Called Wanda lured audiences for its humor, maybe it was the shot of Cleese's pubic hair.
A memorable tale of mistrust and misdirection
Probably the former, you're right.
If not the pace then the comedic brain powering this one, antsy but positive in every gag. Even a set up as old as Curtis trapped in a room as Cleese's wife comes home early slickly dodges the potential tropes. Between the performances and a disruptive doofus in Kline, this sequence becomes A Fish Called Wanda's peak. The pay-off is substantial.
Were it not the characters and performances, A Fish Called Wanda doesn't stick. It's a memorable tale of mistrust and misdirection. A Fish Called Wanda could easily outsmart itself with this stale story of a diamond heist, but it's never about the diamonds, rather the people trying to get them – and those people act with total irreverence.
A Fish Called Wanda exists in its own bubble world. Everyone knows everyone else. They're like best friends who hold deep-rooted, unspoken resentment toward one another, then greed takes hold to flush it into the open. Despite the cruelty and stream of dark consciousness, this late '80s charmer wins with a British dryness rare to break through in the US.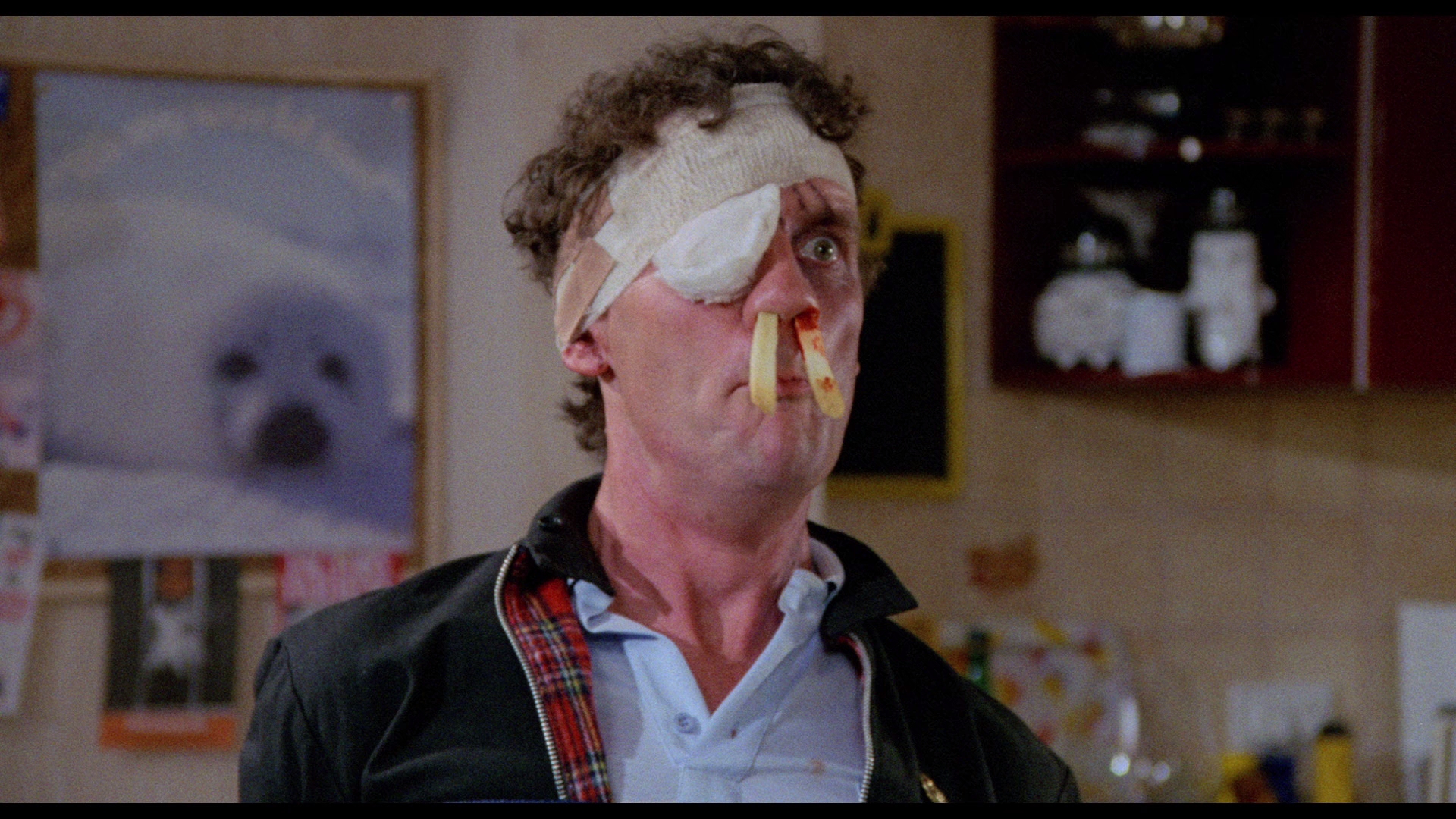 Video
Arrow treats this small scale comedy with the utmost care. Clearly taken from a high-res scan, A Fish Called Wanda displays excellent fidelity. Shots of London excel with their resolution, especially the brick work scaling up apartments buildings. Close-ups pull out facial detail, certainly unseen since the days of A Fish Called Wanda's theatrical showings.
Grain management keeps the imagery accurate to the source. Without compression issues, the high bitrate encode shows no signs of struggling. As another plus, the print used is beyond clean. Other than a speck of dirt on rare occasions, A Fish Called Wanda appears faultless.
Better still is the color, giving life and zest to this comedy. Jamie Lee Curtis sports a pink sweater at one point, lavish in its saturation without going overboard. Accurate flesh tones likewise look natural.
As with the rest of the disc, black levels and contrast create a superb quality. Depth is naturally accentuated and shadows add density. Despite the London overcast, exteriors provide plenty of brightness.
Audio
DTS-HD comes in mono and 5.1, your choice. The 5.1 mix uses the front soundstage to extend certain bits of action, say a car crash. Debris falls into the stereos. A few wrecks caused by Kevin Kline's character spread into the right front as well.
Mostly, the mix is centered, save for the score. The pure '80s saxophone and keyboards resonate without distortion from the sides of the soundfield. Like the video, audio work captures A Fish Called Wanda's source material without any real complaints.
Extras
John Cleese pops in for a commentary track, and separately, offers an amusing intro that coincided with the original theatrical release. Arrow digs up a 48-minute documentary on the production from 1988 with plenty of behind-the-scenes footage. From the 15th anniversary comes a 30-minute retrospective with a majority of the cast. A location tour likely comes from the same period as the latter, although it's not dated.
For this release, Arrow bring sin the BFI's Vic Pratt to dissect the film for 17-minutes. It's an enjoyable listen. They also find production design Roger Murray-Leach for a seven minute interview. A sizable selection of 25 deleted and extended scenes come next, followed by a trivia track, image gallery, and the original trailer.
Full disclosure: This Blu-ray was provided to us for review. This has not affected the editorial process. For information on how we handle review material, please visit our about us page to learn more.
Movie
John Cleese and Jamie Lee Curtis pair in this irreverent, dark, British heist comedy, A Fish Called Wanda.
The 15 unaltered images below represent the Blu-ray. For an additional 11 A Fish Called Wanda screenshots, early access to all screens (plus the 7,000+ already in our library), exclusive UHD reviews, and more, support us on Patreon.
---