[amazon_link asins='B01LTHMWR6′ template='ProductAd' store='doblumovies-20′ marketplace='US' link_id='fbec964a-8cfd-11e7-8cf1-670d623e862a']
Mad Hatter and the Court of Owls Terrorize Gotham
Full disclosure: This Blu-ray was provided to us for review. This has not affected the editorial process. For information on how we handle review material, please visit our about us page to learn more.
The premise is simple for Gotham. How does a city get so bad that it needs a costumed vigilante like Batman to save it? The city of Gotham is interesting and compelling in its own right with a line-up of terrifying villains, even if Bruce Wayne is still too young to take up his one-man crusade on crime. This third season sees young Bruce confronting the mysterious Court of Owls and the introduction of Jervis Tetch, better known as the Mad Hatter. It's an epic roller coaster ride that will see new alliances and conflicts arise between Gotham's underworld, including Edward Nygma finally assuming his criminal identity of the Riddler.
Gotham has always been heavily serialized from its first episodes and this invigorating season is no different. Season three picks up right where season two left off. Hugo Strange's monstrous freaks have escaped their imprisonment, unleashed on Gotham and roaming free. That includes a Bruce Wayne clone that plans to cause all sorts of confusion for those close to him. Jim Gordon (Ben McKenzie) has left the police force, now operating as an independent bounty hunter. There is a new love in Lee Thompson's life, putting distance between Jim and his former flame.
Gotham has never been afraid to change the status quo of its characters and chews through plot with the best of them. Much will change for series favorites the Penguin and Edward Nygma. Nygma is well on his way to becoming the Riddler over the course of season three. The Penguin decides to run for mayor in corrupt Gotham with Nygma as his right-hand man. Tabitha and Barbara Keen now run a fancy night club together with Butch in the mix.
Selina's friend Ivy sees the biggest change of anyone in the cast. Introduced as a homeless and much younger character in season one, through the magic of comic book science she will be aged up overnight into an adult woman, played by an entirely new actress. The show clearly prepares her to fill the seductive, deadly Poison Ivy character sooner rather than later.
Season three further continues the development and training of Bruce Wayne (David Mazouz) under the watchful eye of Alfred as a future crimefighter. Bruce is still the weakest member of the cast but Gotham as a series really revolves around Jim Gordon, not Bruce Wayne. Bruce Wayne still too often works as the damsel in distress on Gotham, needing to be saved by Jim, Alfred, and other adults when things get rough. We get mere glimpses of the costumed hero he'll be one day.
If the series could ever find the right footing for Bruce Wayne's role, it could be one of the best shows on the air today
The big arc of season three concerns the Court of Owls. Inspired by recent Batman comics, it's a shadowy group that most casual Batman fans will have never seen before. Bruce Wayne believes the mysterious criminal organization may have been behind his parents' murder and wants to take them down by any means necessary. Their tentacles will eventually ensnare every Gotham character in their hidden agenda.
For my money, the best part of this season is the Mad Hatter and his sister Alice. A wonderful addition to Gotham's assortment of twisted villains, Jervis Tetch infects people with a mind-control virus that turns them into impulsive, evil versions of themselves. It also gives them superpowers, threatening to destabilize a city already struggling with rampant crime. It's a great deal of fun when a couple of "good" characters get infected, unleashing their dark side.
Not everyone will be happy with how the relationship between the Penguin and the Riddler evolves over season three. The Penguin starts to fall in love with the Riddler. It's certainly a unique development never seen before in any Bat media. Their relationship becomes a clumsily handled arc that only works because it happens to include the two best performers on Gotham, actors Robin Lord Taylor and Cory Michael Smith. The show does eventually resolve things to a satisfactory degree without permanently affecting either character.
These 22 episodes of season three has all the twists, turns, and diabolical villains one wants from a show set in Gotham's pre-Batman era. More mature and sophisticated than the soapy teen drama often found on the CW's roster of DC entertainment, Gotham was more consistently entertaining than those shows in its third season. It's exciting to see the full realization of the Riddler into a deadly, serious criminal mastermind and season three delivers on that in spades. If the series could ever find the right footing for Bruce Wayne's role, it could be one of the best shows on the air today.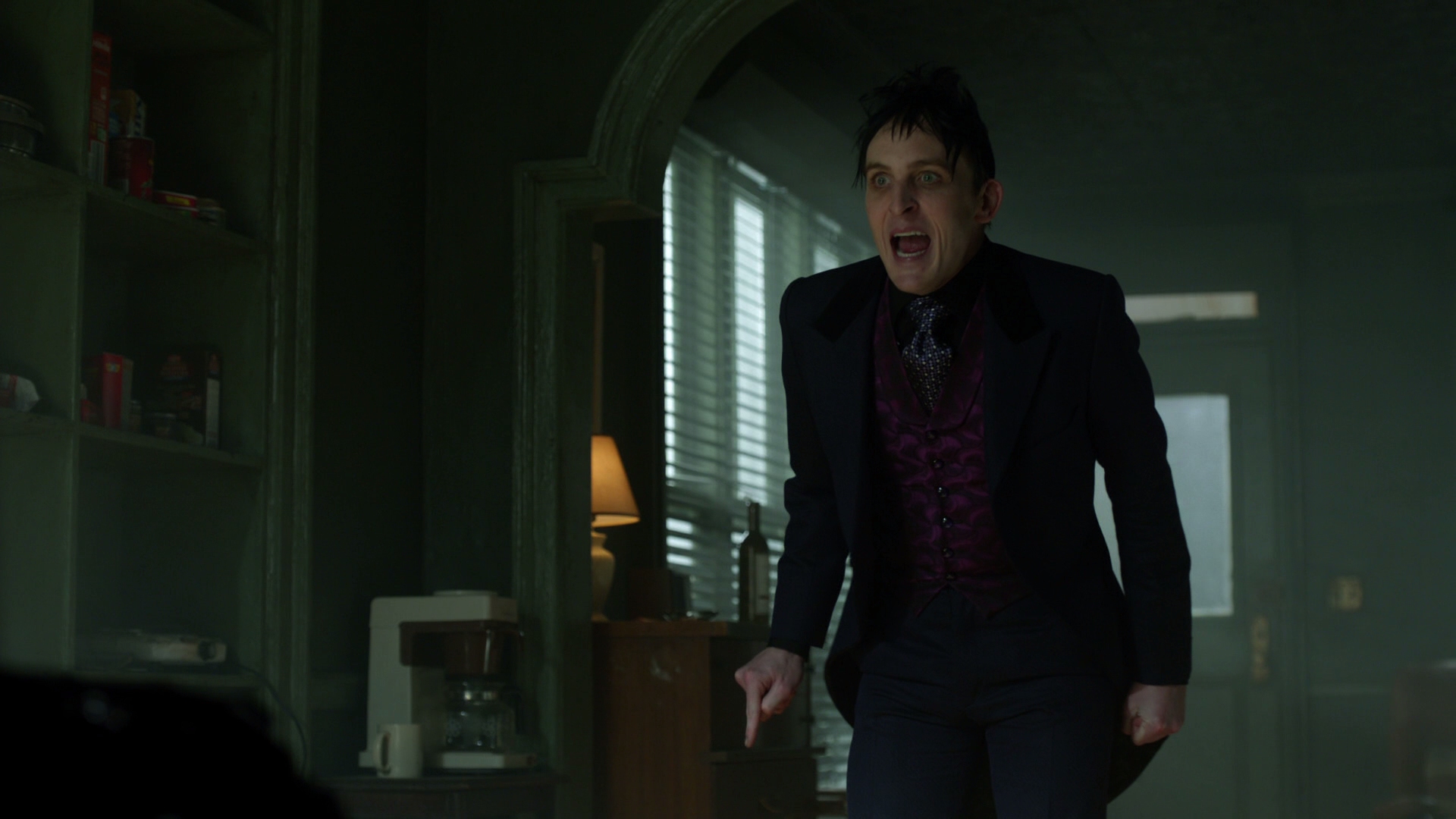 Video
Bleak but fluidly saturated, Gotham has always had a timeless, smoky aesthetic that translates well to 1080p. This third season looks better than ever with fantastic cinematography in sharp definition and prime contrast. Black levels are important to Gotham's moody set design. They are nigh perfect on this set, as silky shadows melt into the background with ease. There are minor bouts with softer, grittier scenes that introduce some inconsistency.
All 22 episodes of season three are included on four BD-50s in AVC. The video encode offers better than usual compression parameters from WB, largely averaging in the upper teen figures. This is a tighter, more efficient encode than most television product on BD. It's nearly flawless and captures the delicate nuances of Gotham's dirty world.
The video is presented at its expected 1.78:1 aspect ratio in crystal-clear resolution. This is razor-sharp imagery that exudes dimensionality in close-ups. There seems to be much less overt filtering to Gotham than most network television these days. Every intimate detail of the colorful costumes and make-up is vividly highlighted. Gotham is definitely a series made for gorgeous picture quality and shines in crisp wonder on Blu-ray.
Audio
Gotham offers excellent 5.1 DTS-HD MA audio in great fidelity. The surround mix is immersive and packs a punch in the low end, especially in the show's frequent set pieces. Action moments sound fantastic with crisp directionality and discrete channel separation. Quieter moments of dialogue are perfectly intelligible.
Gotham has some of the best production values for superhero action on television and sounds even better on Blu-ray in lossless surround. Its ample dynamic range is smoothly mastered without a heavy hand.
2.0 Portuguese Dolby Digital is the sole provided dub on this set. Optional subtitles include English SDH, French, Spanish and Portuguese. They display in a white font.
Extras
This third season of Gotham sees a light set of special features considering the show is superhero entertainment airing on Fox. One disturbing trend is the increasing lack of participation by cast members in the featurettes. Outside of the necessary Comic-Con panel with everyone in the cast, they are virtually absent from the talking head segments found in the featurettes. Executive producers are left to carry the burden alone discussing the show and its characters.
WB delivers the sturdy, 4-disc Blu-ray set in a slipcase. Included inside is an episode guide and a digital code good for UltraViolet rights on VUDU in HDX quality. There doesn't seem to be any special retail versions or exclusives.
The Dark Within the Dark: The Court of Owls (12:02 in HD) – A look at the mysterious cabal that secretly runs Gotham by the show's executive producers. Interspersed with footage from the series, they delve into its history from the comics and their motivations. The featurette is padded with repetitive material and doesn't really feature any insight beyond what was seen during the season.
Madness Rising: The New Villains of Gotham (10:00 in HD) – A concise, excellent featurette about Jervis Tetch's villainy and Mad Hatter's history in the comic books. Also discussed is the new appearance of Ivy Pepper, now grown up and closer to becoming Poison Ivy on the show.
Ben McKenzie Directorial Debut (02:20 in HD) – A cursory glimpse at actor Ben McKenzie directing episode 16, These Delicate and Dark Obsessions with the Court of Owls.
Gotham: 2016 Comic-Con Panel (28:22 in HD) – The entire cast and the show's primary producers hold this discussion. Most of it is taken up by questions from the audience. Gotham's Comic-Con panel felt much different than other ones I've seen due to the enormous size of the cast. There must be over 15 actors on the stage, everyone from the actor playing Butch to Ben McKenzie himself. At times no one knows who to answer, so some of the cast are basically left out. These panels run better with a smaller number of participants.
Deleted Scenes (All in HD) – Brief deleted material is included for episodes #1, #4, #5, #7, #9, #10, #12, #13, #15, #18 and #21. None of the deleted scenes run much longer than a minute or two. Removed from the context of their associated episode, it's hard getting excited about them. Most were cut for time pressures by the network and usually aren't revelatory in any sense.
Gotham: Season Three
Compelling supervillain entertainment set in Gotham before the rise of Batman, season three might be the best season yet.
The unaltered images below represent the Blu-ray. For an additional 13 Gotham: Season Three screenshots, early access to all screens (plus the 7,000+ already in our library), exclusive UHD reviews, and more, support us on Patreon.
---