[amazon_link asins='B073LF8C4K' template='ProductAd' store='doblumovies-20′ marketplace='US' link_id='9cd07fed-8776-11e7-ba12-db81cf53a8bf']
Well Guarded
It's a shame to see science fiction played without rules yet stay so close to formula. If director James Gunn waited his entire life to expend creative energy on Guardians of the Galaxy, then the sequel feels like the follow-up album: The best songs were already used and what's left is the B-side. Guardians of the Galaxy 2 cycles between familiar musical interludes, banter, and action with such force, how the movie fits anything of consequence is a minor cinematic miracle.
However, simple and routine as the story arc is, Guardians of the Galaxy is still a bucket of crazy. The formula is infallible. Good luck ruining a blockbuster space epic flush with infant tree root Groot, a sniveling trash panda, familiar pop rock tunes, and puffy cartoon action. Guardians of the Galaxy moves so fast and tosses such ample material on screen, blink and you'll miss Sylvester Stallone in a small role.
A barrage of jokes about nipples, bodily functions, and penises aim for the low brow, but it's damn fine low brow
Focus hones in Star-Lord's (Chris Pratt) past and his father, the too-obviously named Ego (Kurt Russell). Ego's egotism stretches wide. He erected an entire series of holographic monuments to his past – the Christian Stations of the Cross, albeit with less violence, more love, and brighter color. Why Ego did any of this, other than to explain this exposition to the audience, is an unexplained mystery.
The idea is Guardians of the Galaxy 2 is so entertaining, the audience isn't meant to notice. It works. A barrage of jokes about nipples, bodily functions, and penises aim for the low brow, but it's damn fine low brow. All of the back-and-forth ribbing and arguing builds better character than any of the drama. Drax (Dave Bautista) in particular breaks out, maintaining an awkward social presence while grasping – slightly – appropriate Earth-bound gestures.
To sell additional action figures, the script bulks up on new characters. If you miss Stallone, oh well. He's not valuable. If Guardians of the Galaxy 2 wasn't busy enough, add three layers of villainy, additional spats with new members of the team, and a predictable emotional pay-off when one character exhausted their story purpose in the wider Marvel arc. Luckily, Chris Pratt has enough screen presence to hold this all together, popping out as the likable centerpiece. If there's focus, it's on Pratt. He can handle it too.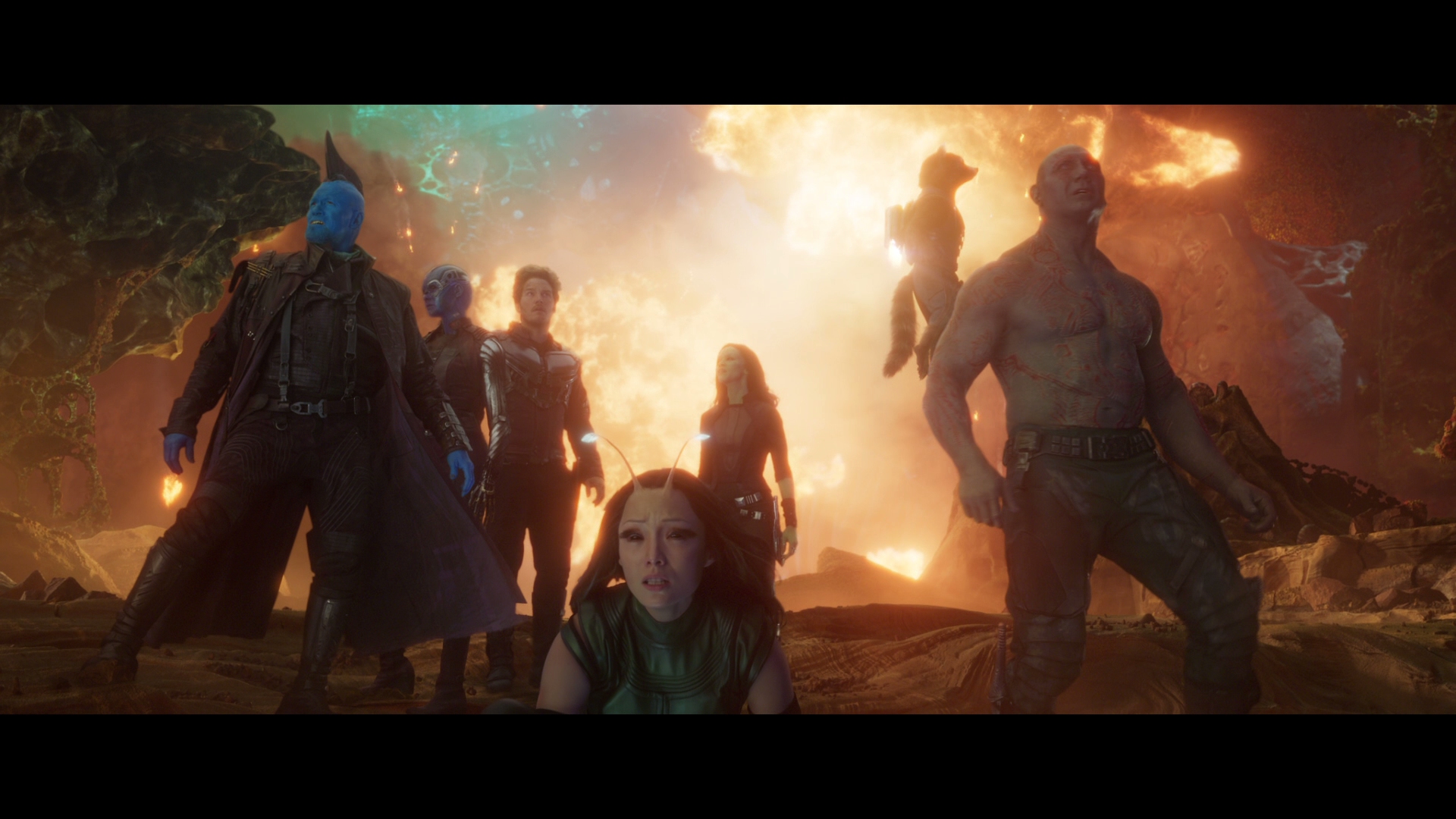 Video (4K UHD)
Home video historians take note – Disney enters the next-generation of home media with this disc, a fine choice. The kaleidoscopic tones arguably display the deep color properties of this format better than any disc so far. For Guardians of the Galaxy 2, it's a constant array of dazzling primaries, reaching a crescendo by the finale with a fireworks display of ridiculous beauty. Those come after intense sunsets and staggering forests pouring out every bit of power available in the color space.
Vivid HDR effects add further health to these perfect visuals, generating bright explosions and blindingly pure alien lights. In a movie like this, those elements exist in high quantity. The opening takes place near a bevy of sizzling light sources. All of the pew-pew lasers (and there are many) shine as they gleam through a multi-color vision of space.
A handful of scenes challenge UHD's capabilities. Midway through, Star-Lord and Gamora (Zoe Saldana) have a private chat in a secluded, darkened forest. Not only is the moonlight stunning, the shadows display a flawless streak, preserving detail and dimension. Guardians of the Galaxy 2 is laced with depth throughout, and every bit of it is successful.
And, even though Guardians of the Galaxy 2 comes from a 2K source, detail is unusually high. Facial definition sprouts in nearly every scene, and the level of clarity on make-up or costumes exceeds expectations. Absolute noise-free imagery keeps charging ahead. Despite the visual effects pouring in, Disney's disc doesn't display any apparent artifacts. Encoding is flawless.
Video (Blu-ray)
A stellar 1080p presentation is of little surprise. Marvel/Disney's offerings rarely suffer from any drastic concerns. Guardians of the Galaxy 2 won't be bothered in any significant way.
Doused with color, high saturation levels keep the pleasing array of hues coming. Space scenes rarely dive into black, choosing instead to showcase the full palette of this universe. It's gorgeous. Put a bunch of space battles, lasers, and explosions in front of this scenery, it's better still.
Excellent, strong fidelity proves consistent. Scenes on Ego's world blossom with resolution, showing off a lavish castle-like structure and winding forests.
Is it on par with the UHD? No. The zest is gone on Blu-ray. Guardians of the Galaxy 2 loses some dimension in the shadows too, but Blu-ray is a fine way to see this one.
Audio
Pure, blissful Atmos. Bass lovers can call this disc home, hitting the low-end with jarring force, coinciding with ship collisions or explosions. The bevy of boom on this disc means almost any scene is worthy of a demo. Plus, the music: vibrant, loud, and exhibiting wide range.
Given the number of ships (sometimes numbering in the thousands), the mix makes sure to amplify every bit of the soundfield. Lasers stream in with directional purity while ships pan around with equal effort. Fun mixing choices include Star-Lord asking for tape in the left side of the soundstage and a zero-G trap set by Rocket. The latter gleefully toys with the low-end as well as screams emanating from each channel.
Extras
While James Gunn offers a fine commentary, the other bonuses slack off. Some 37-minutes of featurettes play it safe, sticking with all praise and little production insight. A gag reel is fun, but how many aren't? Five minutes of deleted scenes and a music video round things off. Bummer.
Video (4K UHD)

Video (Blu-ray)

Audio

Extras
Summary
Familiar and safe, Guardians of the Galaxy 2 isn't a film risking much, but the bevy of gags keep the tone light enough not to care.
The 15 unaltered images below represent the Blu-ray. For an additional 37 Guardians of the Galaxy 2 screenshots, early access to all screens (plus the 7,000+ already in our library), exclusive UHD reviews, and more, support us on Patreon.
---