Mature superhero storytelling from the 1980s updated for today's audiences
Full disclosure: This Blu-ray was provided to us for review. This has not influenced DoBlu's editorial process. For information on how we handle review material, please visit our about us page to learn more.
Adapted from the classic run by writer Marv Wolfman and legendary artist George Perez on the 1984 DC comics series, this animated adventure introduces the troubled Terra as the newest member of the Teen Titans. The Judas Contract also marked the introduction of Dick Grayson's (the original Robin) identity as Nightwing. This updated group of Teen Titans, led by alien warrior princess Starfire, will face Brother Blood and their toughest foe yet, Deathstroke.
Christina Ricci and the late Miguel Ferrer are the most notable names as voice stars. Ricci plays new Teen Titans member Terra and Ferrer is voicing the mercenary villain Deathstroke. The movie is directed by Sam Liu (Justice League vs. Teen Titans) from a taut screenplay by Ernie Altbacker.
It adapts the classic story-line from Tales of the Teen Titans, one of DC's top comics in the 1980s. Some updates were made to make it more in line with today's DC Universe. Original Titans member Cyborg has been dropped, having become a Justice League member these days. The new additions to the line-up are Blue Beetle and the current Robin that also happens to be Batman's biological son, Damian Wayne.
It's taken years for The Judas Contract to get made, having been rumored as a potential DC Universe animated original movie for nearly a decade. The popularity of Teen Titans Go on Cartoon Network finally gave it the green-light. This PG-13 film is a far cry from the lighthearted comedy found on that younger-skewing cartoon. Sexual innuendo, graphic murder and violence all play key roles as the Teen Titans are betrayed from within by one of their own. While compelling entertainment for superhero fans, it's not intended for younger children. Teenagers shouldn't have a problem with its mature themes.
The current line of DC animated movies celebrates its 10th anniversary this year. Teen Titans: The Judas Contract sees returning DC voice actors Sean Maher, Kari Wahlgren, Jake T. Austin, Taissa Farmiga, Brandon Soo Hoo and Stuart Allan join the cast. Kevin Smith even makes a small cameo as himself in a fun moment with Beast Boy. Returning voice actors include Sean Maher (Firefly, Batman: Bad Blood) as Nightwing, Taissa Farmiga (American Horror Story) as Raven, Jake T. Austin (Wizards of Waverly Place) as Blue Beetle, Brandon Soo Hoo (Tropic Thunder) as Beast Boy, Kari Wahlgren (Phineas and Ferb, Legion of Superheroes) as Starfire, and Stuart Allan (Batman vs. Robin) as Robin/Damian. Gregg Henry voices the villainous Brother Blood.
New fans of the Teen Titans will find a lot to like about it
Teen Titans was DC's answer to Marvel's Uncanny X-Men in the early 1980s in a time when both comics were outselling their companies' more established stars such as Batman and Spider-Man. Under writer Marv Wolfman and penciller George Perez, Teen Titans hit a zenith with The Judas Contract storyline. It was the culmination of years of stories that saw the Titans — young heroes Starfire, Raven, Beast Boy, Robin and Cyborg — face the integration of troubled teammate Terra. The merciless Deathstroke plotted to take the Titans down with help from someone on the team.
This adaptation is a streamlined, fairly slick update of the classic comic book run. Does everything from the comics survive intact? No, Jericho is treated much differently and Terra's relationship is softened for squeamish fans. New fans of the Teen Titans will find a lot to like about it, even if they aren't familiar with The Judas Contract's huge plot twists.
More mature in focus than prior animated DC films, each character stays true to themselves. Lurking in the shadows waiting to destroy the Titans is Deathstroke. Having become one of the most popular DC Comics' villains over the past decade with a memorable run on the CW's Arrow, The Judas Contract is what first made Deathstroke's name as a popular character.
If you enjoy the adventures of Starfire, Nightwing, Beast Boy, Raven and the other Titans, Teen Titans: The Judas Contract is absolutely essential. It's tight superhero storytelling with an edge, made for today's adult fans of the genre. There is a small post-credits scene fans should keep their eyes on for hints of a potential sequel.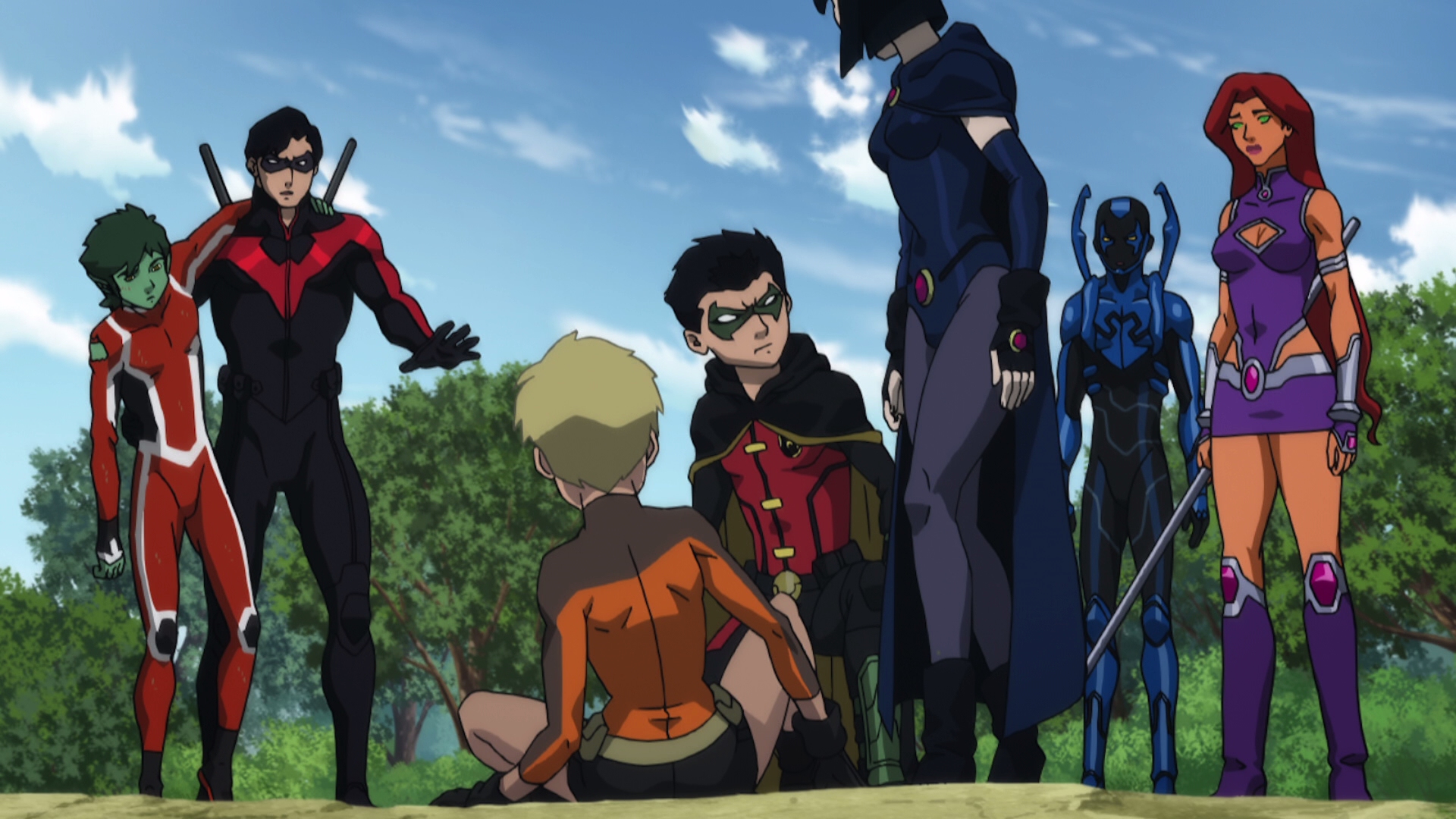 Video
Teen Titans: The Judas Contract is technically the 28th feature film from the DC Universe made by WB Animation over the past decade. If you have seen one of these animated features, you have a good sense of what its animation looks like in 1080P video on Blu-ray.
Natively animated in 1080P resolution, the 1.78:1 presentation offers bold colors and decent character designs in vivid quality. Running slightly longer than 84 minutes on a BD-50, the AVC encode does a satisfactory job of handling the clean animation. Its bright design is bolstered by perfect black levels and strong line art made with a program called DigiPaint.
Each animated DC property tends to include minor stylistic tweaks to the animation, depending on mood and tone of the film itself. The Judas Contract is slightly softer than normal for this kind of fare with greater diffuse shading in bright scenes. It does include fairly detailed character designs in accordance with DC's current superhero costumes. I've seen better-looking video from these DC Blu-rays and I've seen worse. The Judas Contract lies somewhere in the middle of their video quality continuum without any significant problems.
Audio
Like most newer animated productions, The Judas Contract's 5.1 DTS-HD MA soundtrack has strong separation and crisp fidelity. Mixed with occasional surround cues and LFE sprinkled in for effect, it's an engaging audio experience for home theater fans. Battles with Deathstroke and Brother Blood fill the entire soundstage. Mastered with dynamic range and clean dialogue, the surround mix provides a decent workout for your entire speaker package.
Warner has provided a plethora of subtitles and foreign-language dubs. Six subtitle options, including English SDH, display in a white font. Five foreign-language dubs are included in 5.1 Dolby Digital at 640 kbps.
Extras
I have to point out the absolutely delightful discussion between Marv Wolfman and George Perez for long-time fans in the special features. Creators of the original run in the comics, it's great fun hearing them reminisce over their shared experiences back in the 1980s.
There are a couple of different retail options available. Target has an exclusive Steelbook edition. A limited-edition (60,000 in number) gift set includes a Blue Beetle figure. Normal first pressings include an embossed slipcover. All editions include a UltraViolet digital copy and DVD.
A Sneak Peek at Batman and Harley Quinn (09:08 in HD) – Sneak peek at the next DC Universe Original Movie, Batman and Harley Quinn, featuring Bruce Timm and voice cast.
Titanic Minds: Wolfman and Perez (27:35 in HD) – This revealing documentary explores a creative partnership that has lasted decades as Marv Wolfman and George Pérez come together to discuss their careers and one of the most famous runs in Teen Titan history, The Judas Contract.
Villains United: Deathstroke (09:00 in HD) – This short featurette reveals the origin and unique abilities of this villain with Marv Wolfman and other people.
A Sneak Peek at Superman/Batman: Public Enemies (07:48 in HD) – A featurette previewing the movie released a few years ago.
A Sneak Peek at The Justice League: Flashpoint Paradox (10:39 in HD) – A featurette previewing the movie released a few years ago.
Trailers for the live-action Wonder Woman movie (02:34 in HD) and the upcoming animated Wonder Woman reissue precede the main menu.
A series of unrelated trailers for other DC productions are included.
From the DC Comics Vault – Two bonus cartoons from the original Teen Titans cartoon series that featured Terra's role on the team. Episodes "Terra" and "Titan Rising" are included in stretched 1.78:1 video, when they should have been presented in 4:3. The episodes themselves are great fun as most Teen Titans fans have fond memories of the series.
Teen Titans: The Judas Contract

Video

Audio

Extras
Summary
New teammate Terra introduces problems within the heroic Teen Titans in this entertaining animated adaptation of the classic comic book story-line.
Click on the images below for unaltered, full resolution screen captures ripped directly from the Blu-ray. Patreon supporters see our screen shots before publication, can view our entire library in .png format, and gain access to 10 The Judas Contract exclusives for as little as $1. They are perfect for custom cover art, film study, or other applications.
---