Not Quite Taken
The Take is little more than ugly, sensationalist fiction, crass and exploitative as any film of the post-9/11 terrorist era. Its theatrical existence, under the title Bastille Day, came one day prior to the attack in Nice, France – on Bastille Day. Cruel timing, if admittedly by chance, yet the film's insistence on predicating hate is indefensible.
Idris Ebla, effective despite his character archetype, dispenses anti-terrorist justice as an insubordinate CIA agent, pairing with a pickpocket turned accidental terrorist and a woman manipulated into an attack. The Take plows through action scenes, cutting through a narrative which bashes into mosques with guns aimed, advocates torture, and whips itself into an anti-protest frenzy.
Coincidence upon release, now shamefully acute in its ability to splurge on a wealth of right-leaning talking points. Protestors sprawl onto French streets based on false evidence, screaming at police before turning violent. Elba's Sean Briar shoves a gun into suspect's mouths for information, his actions bleeding from a narrative ill-concerned with procedure.
It's unscrupulous and selfish, undoing itself with a pedestrian thriller-like climax…
This isn't a Bond adventure with action fantasy excess. Rather, it's grounded, which even excusing the flukey timing of release, still pairs The Take to other real incidences. It's unscrupulous and selfish, undoing itself with a pedestrian thriller-like climax, dully configured through minimal character motivation.
Director James Watkins (responsible for the arduous Woman in Black) dots The Take with polished action scenarios, edited with a sharpened pace. The Take churns through tropes and characters, visually more so than its budget lets on. French locales, indecent as they are in context, produce an expensive film in appearance. The mise-en-scene otherwise feels tone deaf.
The Take believes in its own shrewdness, yet is coated in an unforgivable narcissism by using its context in support of religious and nationalist isolation. Those opposed skew young, perceived as naive, mask-wearing vigilantes disrupting "necessary" order at all costs.
Elba's a definitive action star and his internet-supported run toward Bond is deserved. Yet, taking roles like this, soaking in speculative fiction turned sorrowful reality, doesn't help. Sean Briar is a character trying to make right, but does so using dire tactics in a film dressed in uncomfortable talking points.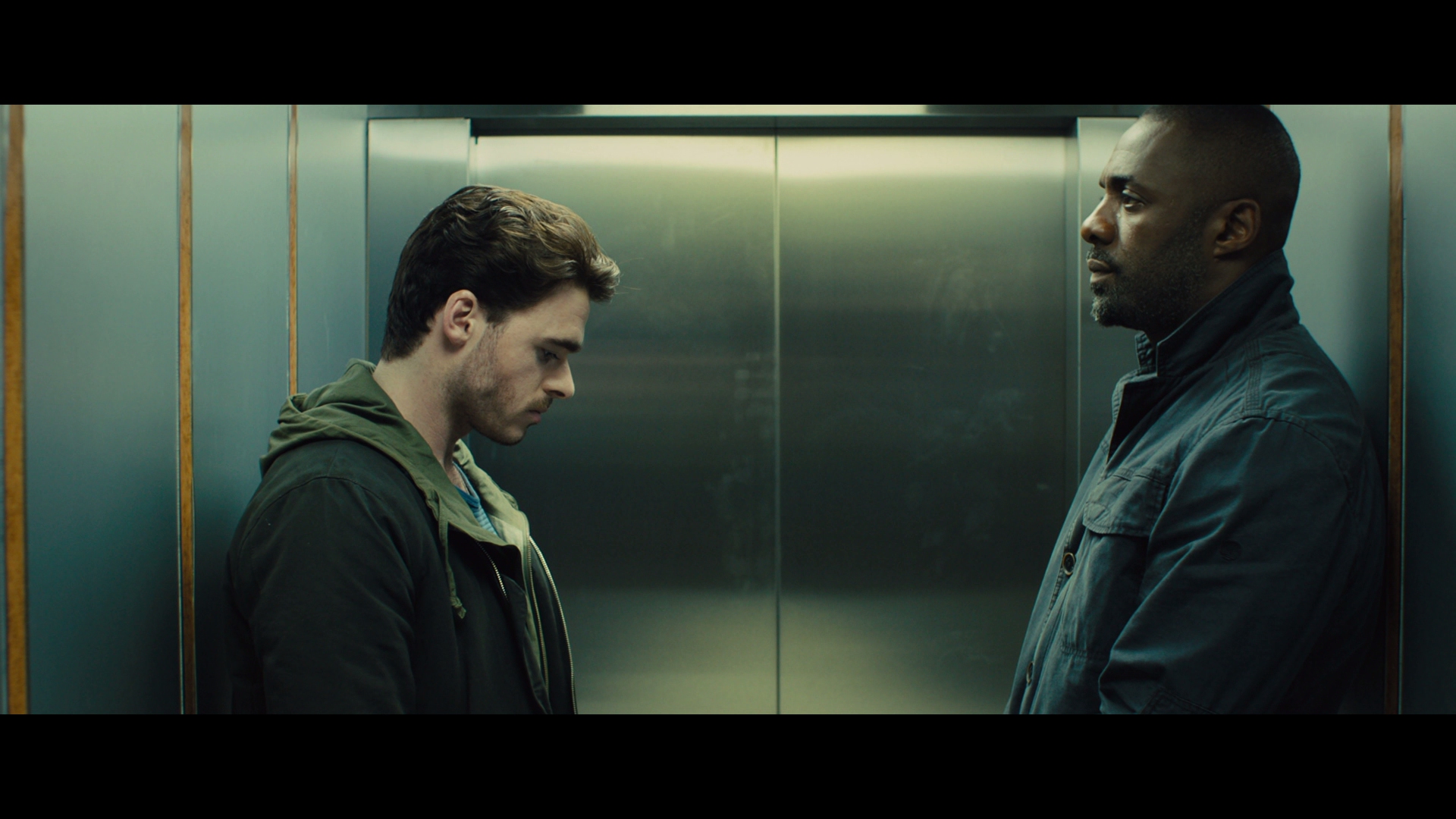 Video
In general, the video quality for The Take is exceptional. A strong sense of fidelity shows in close and from afar. Cinematography throughout France sizzles with sharpness, while close-ups fill the screen with gobs of fine detail.
Dense contrast plays to the film's heavy sense of depth. Dominating contrast and brilliant black levels create an intense level of dimensionality. Shadow detail is preserved. In terms of color, The Take usually leans toward a slightly warmed yellowed tint with blues coating the interiors. Spot on flesh tones and rich primaries keep images appealing.
On the underside is a disc struggling to match the upper end of the visuals. A near constant presence of noise saps clarity, paired with Universal's unusually chunky encode. Chroma noise batters the third act. Slight, almost imperceptible levels of sharpening play in, leaving some shots edgy even without the halos.
Combined, it's a digital sheen, reflective of those early adventures in digital video circa 2008 or so, with the progress evident in modern digital equipment. An odd pair which sours things a bit, if not enough to down the overwhelming resolution, detail, and contrast on display.
Audio
Unexpectedly mixed in 7.1 despite a smaller budget, audio splurges with wide channel separation, flawless pans, and strong surround use. Lively location work and protests fill the soundfield, with ambient cars passing through in the background.
Explosions, gunfire, and punches rattle the low-end, at times hyper exaggerated. A close quarters brawl in an apartment hallway raises the impact of kicks well beyond their visuals. Still, the climactic shoot-out beefs up assault rifles, with a grenade blast connecting deep.
Only one flub of note, some dialog around the 54:50 mark, taking place in a car but sounding as if recording in an empty studio.
Extras
A throwaway two-minute making of is the lone extra.
The Take

Video

Audio

Extras
Summary
Idris Elba leads The Take into a world of perpetuated fear, advocating torture and vaguely middle eastern threats in a pedestrian thriller.
Click on the images below for unaltered, full resolution screen captures taken directly from the Blu-ray. Patreon supporters see our screen shots first, view our entire library in .png format, and gain fast access to six The Take exclusives for as little as $1, perfect for custom cover art, film study, or other applications.
---