The 70's cult classic Vampyres gets a pulsating remake
Spanish filmmaker Victor Matellano (Wax) remakes the sensuous, euro horror film Vampyres in a very bloody and graphic update. Along for the ride is former genre icon Caroline Munro (The Golden Voyage of Sinbad, The Spy Who Loved Me, Maniac, Slaughter High) in a return to the screen.
Director José Ramón Larraz Gil's original 1974 film was a stylish, elegant piece of exploitation in the 1970s that is still fondly remembered by exploitation fans. This low-budget remake is perfectly fine indie horror fare with real atmosphere. It's bloody, gory, and definitely pushes an erotic edge at the viewer. A more refined story and better written characters could have made it an underground classic. Those looking for erotic horror will want to check it out.
Matellano's remake doesn't stray far from the original's basic story, upping its raw eroticism and sheer gore for the jaded horror fans of today. A pair of seductive, female vampires charm unwary travelers into joining them at their isolated home with the lure of sex, leading to what can only be described as blood orgies. Three campers accidentally stumble onto their property and decide to camp out in the nearby woods. Harriet, John and Nolan are waiting for their friends to arrive, not knowing they've already been taken by the vampires.
If blood, nudity, and vampiric sex are your thing, Vampyres surely delivers in spades
Filmed in Madrid, the European production is an English-language feature. Matellano's remake has its heart in the right place, even bringing back one-time Bond girl Caroline Munro for a small role. She plays a mysterious hotel owner that lives near the vampires. Barely running over eighty minutes, Vampyres seems more concerned with its nude set pieces than realizing a completely fluid narrative. If blood, nudity, and vampiric sex are your thing, Vampyres surely delivers in spades. This is underground filmmaking hoping to stick out with its raw sexuality and blood fixation.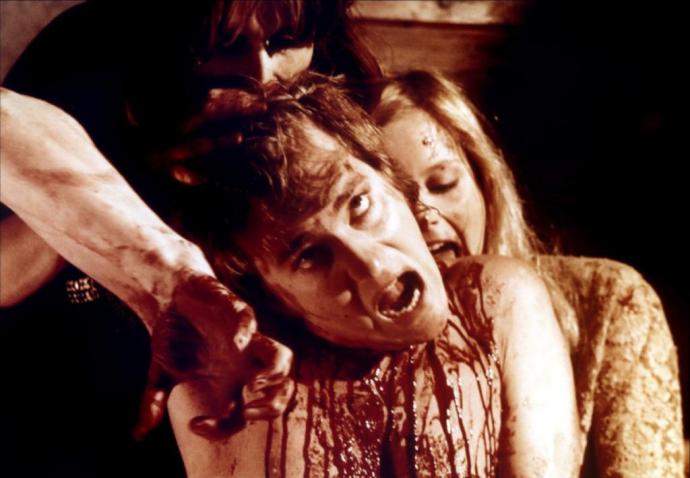 Actresses Almudena Leon and Marta Flich play the dangerously alluring vampires. The mysterious Miriam and Fran seduce their victims, leading to wicked orgies combining sex and blood that ultimately end in death for their victims. The term 'vampire' is never actually used but it's not hard putting two and two together. The two women sleep in a basement cellar during the day, approaching their victims at night. Despite somewhat thick English accents, Miriam and Fran offer the proper vibe of mysterious allure and sexy danger.
Vampyres isn't going to change the world of horror. The movie is a loving nod to underground Euro horror of the Seventies, updated with more visceral gore and and graphic sexuality. It was nice seeing Caroline Munro appear again in a genre movie, though her character doesn't play a huge role. She'll always be Carla to me from Captain Kronos – Vampire Hunter, one of the most underrated Hammer films.
Vampyres is distributed by Artsploitation Films on DVD and home video. The movie runs 82 minutes and is unrated. The DVD version offers 5.1 Dolby Digital audio and English subtitles. A brief interview with Caroline Munro and a making-of featurette is included on the DVD.
Vampyres
Summary
A super-charged erotic update to the original 1974 Vampyres with a small role by Caroline Munro.
Full disclosure: This DVD was provided to us for review. This has not influenced DoBlu's editorial process. For information on how we handle review material, please visit our about us page to learn more.
---