War. Good God Y'all
On Snowtime's home video cover sits a smiling dog, two happy kids, and a snow fortress. Like the film itself, the cover is unassuming, passive, and sterilized. For much of the runtime, Snowtime flickers along on the same line, a fond French Canadian story, adapted from a previous live action movie in 1984.
In the undercurrent though sits a stealthy, seemingly innocent anti-war allegory. All the while, that parable bubbles and waits to pounce with dramatic consequences. When events turn, it's tragic and harsh, without the appropriate build-up. Simple action along with timid plotting leaves kids blindsided instead of soaking up the lesson.
The soft, snowy village appears without adult supervision – the perspective lies entirely with kids, led by Luke and new girl Sophie. Snowtime picks up during a two week school break, set within an unspecified past; Polaroid cameras and CRT TVs remain in use. It's nostalgically cozy, with a pleasing sketch aesthetic to avoid the shallow quality of lower budget animation. Inviting, certainly.
Challenging material in an era of overgrown pop culture is welcome
Through character, Snowtime celebrates intelligence and personality. Also, dealing with loss – Luke's father died in combat, shown with a somber, deft hand-drawn style to break from the broadly appealing computer work. Most of the kids fall into routine stereotypes, glancing character traits, then holding to the story of snowball warfare.
Small events lead to a split into groups, the construction of an improbable snow fort, and then a multi-day standoff between the newly formed sides. Without thinking, a violent streak enters into the fray, with no thought of consequences, just victory. Sleds turn into catapults, with ice bricks piercing the fort. As dialog swings toward peace and harmless fun, Snowtime's aggressive side begins to show, if not enough for the eventual ramifications.
Subtly isn't likely to catch the target audience. Snowtime speaks to human nature and our penchant for fighting. "War is fun!" shouts a child. Another says, "It's just a war. There's no reason to hurt anyone!" espousing their naivete. Challenging material in an era of overgrown pop culture is welcome. In a movie dropping dog farts regularly, it's difficult to grab the deeper thematic merit.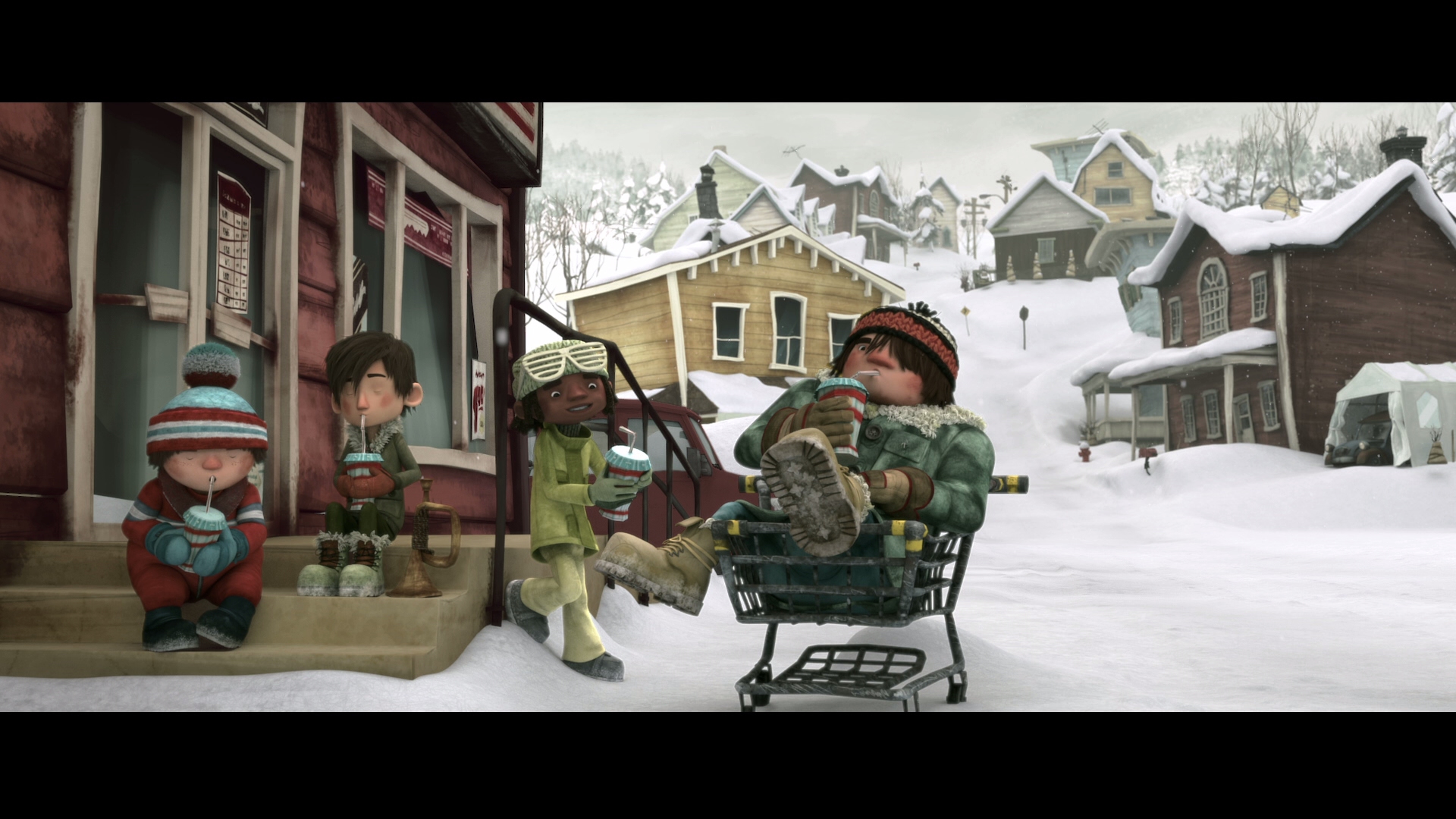 Video
A background of snow surrounds this movie, giving off an instantly pleasing contrast. All of the bright winter coats and scarves push primaries out in full. Natural sharpness when dealing with computer animation is a given.
Interesting here is the hand drawn/painterly aesthetic. Rough lines create details and brush strokes fill the background art as if traditional animation. Those touches exist throughout, adding to the nicely aged appearance.
Any concerns of budget quickly dissipate. Snowtime looks clean, sharp, and creative. Shout Factory's Blu-ray encode stays out of the way.
For a majority of the runtime, the 3D end often brings up a question of whether or not this is in 3D. Limited depth traps the images with a flat style, and those backgrounds which look like animation cells? So it is in 3D. Far too many shots appear backed by cutouts.
The format is acknowledged with flying toys coming toward the screen and snow tossed at the virtual camera. Establishing shots of the town flush with depth too. Rows of trees especially shine in this format. Everything else struggles to find footing.
Audio
Stereo or 5.1, both in DTS-HD. Those choices indicate an original stereo source, remixed into a surround option. When working, it's hard to tell this started life as stereo. Excellent directionality keeps audio moving between speakers whether in action or otherwise. Dialog moves the same. Positional use puts the listener at the center of snowball fights with impacts spreading across the available channels.
Some high spots include a cart ride in an escape tunnel, wrapping around and panning flawlessly. For a bit of bass, a giant snowball lands with a thud and the eventual collapse of the fort leaves an impact. Note some of the dialog falls out of sync, likely due to re-recording with American actors.
Extras
Brief interviews (between one and three minutes each) include Sandra Oh, Ross Lynch, Celine Dion, and producer Marie-Claude Beauchamp. A brief commercial for the music of the movie and trailers are left.
Full disclosure: This Blu-ray was provided to us for review. This has not affected the editorial process. For information on how we handle review material, please visit our about us page to learn more.
Snowtime

Video

Audio

Extras
Summary
A jarring anti-war allegory waits to strike in Snowtime, after the dog farts, snowball fights, and otherwise passive tone.
Click on the images below for full resolution screen captures taken directly from the Blu-ray. Images have not been altered in any way during the process. Patreon supporters were able to access these screens early, view them as .pngs, and gain access to exclusives.
---