R.W. Fassbinder's final acting role in this oddly dystopian, German cult classic
Noted German director and occasional actor Rainer Werner Fassbinder stars in his final role in Wolf Gremm's Kamikaze '89. Its strange plot set in a vaguely dystopian German future is loosely based off the novel "Murder on the 31st Floor" by Swedish mystery novelist Per Wahlöö. The German film is a deeply weird flick most known for Fassbinder's eccentric lead performance. An array of New German cinema luminaries appear, including Brigitte Mira (Ali: Fear Eats the Soul), Frank Ripploh (Taxi Zum Klo), and Gunter Kaufmann (The Marriage of Maria Braun).
Fassbinder plays Jansen, a cop living in the near future where a mysterious organization known as The Combine creates all media and entertainment for society. Everything from comics to television and newspapers. Their highest-rated show involves a bizarre laughing contest between citizens. After their headquarters receives several bomb threats, Jansen is tasked with solving this mystery within 96 hours. Known for his impeccable track record at solving crimes, Jansen encounters an increasingly bewildering array of people working at the Combine. It becomes clear that no one at the Combine is interested in solving this mystery.
Wearing an outrageous leopard print ensemble, Fassbinder embraces the role with a detached relish as he plays off the outlandish characters. Jansen even delivers a catchphrase as he navigates the underworld figures he comes across in his investigation, "Refrain from any unnecessary remarks." The alcoholic cop is accompanied by his sidekick and partner Anton in the investigation. Many have compared Fassbinder's performance in Kamikaze '89 to Orson Welles' acting in his own directed films. Bringing the experience and knowledge of a director to the role adds a certain electricity to Jansen.
… erratic filmmaking with some gloriously weird moments
The Combine is headed by an executive known as Blue Panther, a corrupt man that initially blows off Janesen's investigation. Employees whisper about the mysterious 31st Floor at the company, which intrigues Jansen. What is being produced in the 31st Floor as the company runs all media with quasi-state-approved control? How does Blue Panther's mistress, Playmate Elena Farr (Petra Jokisch), factor into Jansen's investigation?
While Kamikaze '89 is technically a mystery, it is not a plot-driven thriller in any true sense. Its freewheeling structure and Fassbinder's unhinged acting make it an amusing arthouse film. We learn the underpinnings of this futuristic society through its bizarre citizens. Wolf Gremm would go on to have a long and steady directorial career, but it's apparent that Fassbinder's innate force of nature possibly overwhelmed the intended movie's scope. This is erratic filmmaking with some gloriously weird moments, mostly provided by Fassbinder's off-beat performance. Expect out-there German filmmaking that may lose a few things in the cultural translation.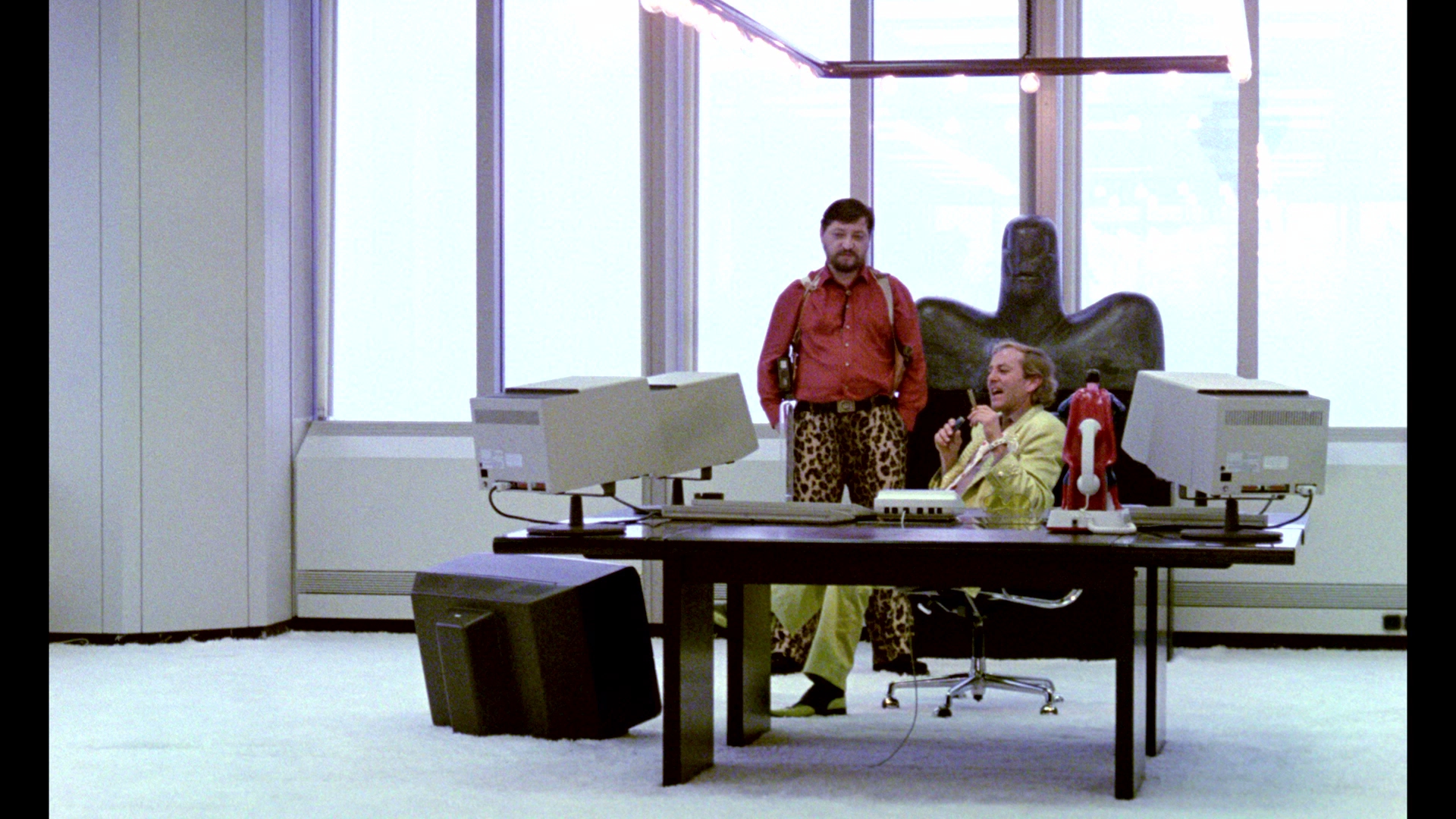 Video
Film Movement Classics gives Kamikaze '89 a new 4K restoration for this Blu-ray edition. The 1982 German movie looks serviceable in 1080P resolution with decent clarity and definition. The 4K restoration oversells the level of fine detail and grain structure evident. The 1.66:1 video doesn't look over processed but little has been done adjusting its color grading. This is a fairly plain, straightforward film transfer with slightly crushed black levels.
The print shows little visible wear, the elements are in mostly clean condition. Color saturation and flesh-tones tend to be on the dull side. This is not a vivid, striking presentation for a new transfer. No attempt has been made to play with the contrast, leaving Kamikaze '89 in neutral tones. Close-ups are sharper with more detail and definition. Longer shots tend to be softer. This is not filmmaking made with pristine picture quality in mind.
Keep expectations low for the video quality, Kamikaze '89 is low-budget but creative filmmaking.
Audio
The cult German classic features a soundtrack by Edgar Froese of Tangerine Dream. It's a typical electronic-sounding score from the early 1980s, heard here in fine 2.0 PCM quality. The German-language dialogue is intelligible but this isn't a dynamic mix. It offers decent sonic clarity without any bells or whistles.
Optional English subtitles display in a white font.
Extras
Film Movement Classics throws together a fairly nice package for Kamikaze '89, especially considering that Fassbinder passed away shortly after filming it. A 12-page booklet includes an essay by film critic Nick Pinkerton and an essay about the film's soundtrack, written by Samuel B. Prime. Everything is included in Film Movement Classics' standard, clear Blu-ray case.
A bonus DVD includes Wolf Gremm's moving Wolf At The Door documentary. It's a personal film memoir made by the German director as he was dying of incurable cancer over the course of three years. It aired on German television after his death just a couple of years ago. Wolf At The Door runs 76 minutes and includes English subtitles for the included German-language portions.
Audio Commentary – Producer Regina Ziegler gives a patchy solo commentary, quickly punching in and out of the movie with tidbits on the cast and set. The back half of the commentary offers little of interest outside of dedicated fans.
Rainer Werner Fassbinder: The Last Year (60:06 in SD) – Director Wolf Gremm became close to Fassbinder during his last year of life after filming Kamikaze '89 and captured extensive behind-the-scenes footage of the German directing legend, included here in a fine documentary format. Airing on German television in 1982, it covers Fassbinder's next project that he never finished, Querelle.
John Cassavetes' Kamikaze 89 Radio Spots (4:24)
Trailer (01:34 in HD)
Film Movement Trailers (All in HD) – Violent Cop, The Quiet Earth, Mad Tiger, The Pillow Book, Full Moon in Paris, Once Were Warriors
Full disclosure: This Blu-ray was provided to us for review. This has not influenced DoBlu's editorial process. For information on how we handle review material, please visit our about us page to learn more.
Kamikaze '89

Video

Audio

Extras
Summary
Wolf Gremm's dystopian German future features Fassbinder's final acting role.
Click on the images below for full-resolution 1080P screenshots taken directly from the Blu-ray. Images have not been altered during the process. Patreon supporters are able to access these screens early, view them as .pngs, and gain access to exclusives.
---