One of Barbara Steele's lesser gothic chillers
Barbara Steele, the queen of Italian gothic horror, stars in The Horrible Dr. Hichcock. She's the primary reason it's getting released in 2016 on Blu-ray by Olive Films. The 1962 Italian production is directed by Riccardo Freda from a screenplay by writer Ernesto Gastaldi. Despite an invitingly rich atmosphere and the charismatic Barbara Steele, The Horrible Dr. Hichcock falls flat. Languid pacing and tepid thrills make it a lesser gothic horror film from the Sixties. The English-language version included here made for America is adequate for hardcore goth horror fans. Others may grow bored with the tame visuals and lackluster drama.
The film takes places in the London of 1885, a few years before Jack the Ripper terrorized the city. The secretive Dr. Bernard Hichcock (Robert Flemyng) hides a terrible predilection from the world. The inventor of an early anesthetic, he likes experimenting with it on his wife Margaret (Teresa Fitzgerald). While she is comatose under its influence, he likes playing kinky games with her. Made during the Sixties under the Hollywood production code, the movie suggests he's a necrophiliac instead of explicitly showing it. Everything in The Horrible Dr. Hichcock is rather tame, including the most suspenseful moments.
During one of these experiments with Margaret, she accidentally dies. Dr. Hichcock disappears for one year, only to return with a new wife Cynthia (Barbara Steele). Cynthia believes she's being haunted by his dead wife's spirit as Dr. Hichcock still seems lost in Margaret's memory. Little does Cynthia know that Dr. Hichcock is plotting to use her blood to reanimate Margaret's corpse.
This is straightforward gothic horror done in a faintly British style, almost echoing Hammer Films.
If you are wondering about the odd name, Hichcock is meant to be suggestive of Alfred Hitchcock. The Italians changed it to avoid getting sued by the famous director. The best thing about The Horrible Dr. Hichcock as a movie is its classic gothic atmosphere, dripping with elegant terror. While lacking the colorful style and direction of fellow Italian horror directors like Mario Bava, the film has its charms. The score is not one of them. It is an over-the-top, plodding abomination that feels leftover from a tacky soap opera.
Something seems missing in Gastaldi's dry script, unusual compared to his latter giallo efforts. This is straightforward gothic horror done in a faintly British style, almost echoing Hammer Films. The one serious twist on the standard formula is Dr. Hichcock's perverse desires. It should make him a more interesting character but Robert Flemyng is fairly dull as Dr. Hichcock. The entire film may have turned out far differently with an actor like horror greats Peter Cushing or Christopher Lee in the lead role.
The Horrible Dr. Hichcock is probably worth seeing for Barbara Steele alone. This is not a token role. Cynthia is at the center of Dr. Hichcock's sinister plot and interesting in her own right. She trusts her new husband far too much and that could ultimately doom her.
This is not classic filmmaking but a sturdy, competent genre effort from the Sixties.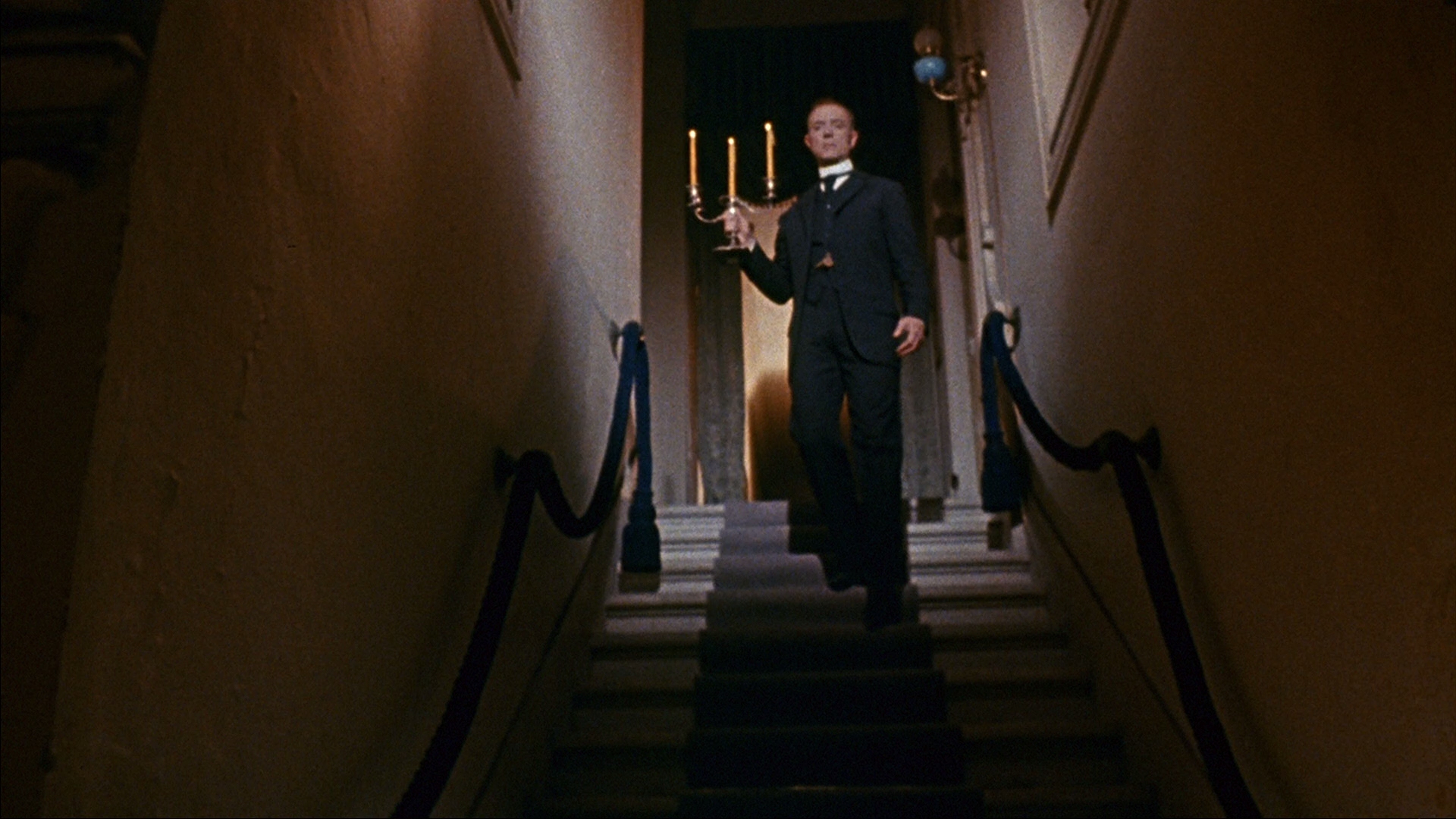 Video
It should be noted that Olive Films has dug up the shorter American version of The Horrible Dr. Hichcock at 76 minutes. This has been cut down from the longer Italian version, which runs several minutes longer at 88 minutes. The international version has not been included on this disc. It is unknown if the camera negative still exists. It certainly wasn't used in this HD transfer.
Olive Films puts out this 1962 Italian production starring Barbara Steele on a BD-25. Alas, they dig up a fairly antiquated telecine transfer from Paramount's vaults. The Technicolor film as seen here has limited color saturation and murky shadow delineation. Merely adequate levels of definition and detail smear the film's native grain structure.
Some edge enhancement with halos are noticeable. The picture is soft and muddy, though the film elements are largely undamaged. I've seen worse vintage catalog transfers but a new HD transfer would have turned out much better. Dated telecine transfers from secondary sources rarely produce stunning picture quality and this is no exception.
The best one could call this 1.78:1 presentation is serviceable. Despite an AVC video encode averaging in the 30s, the grain structure exhibits rough compression fidelity.
Audio
The American cut's English mono soundtrack is heard in an underwhelming 2.0 DTS-HD MA option. Clearly taken from unrestored reels, the audio is filled with pops and hissing. There is nothing inherently wrong with the dialogue, heard in acceptable clarity. The symphonic score runs hots with compression. This is clearly rough audio possibly limited by the original dubbing.
Optional English subtitles display in a white font.
Extras
No special features are included. The cover art is fairly attractive, likely taken from original movie poster.
Full disclosure: This Blu-ray was provided to us for review. This has not influenced DoBlu's editorial process. For information on how we handle review material, please visit our about us page to learn more.
The Horrible Dr. Hichcock

Video

Audio

Extras
Summary
Italian Gothic Horror that should be more entertaining but does feature Barbara Steele.
Click on the images below for full-resolution 1080P screenshots taken directly from the Blu-ray. Images have not been altered during the process. Patreon supporters are able to access these screens early, view them as .pngs, and gain access to exclusives.
---